I work in a niche of audio that only exists in in the TV business, but involves technology many of you will find familiar. My job is setting up, coordinating and running the wireless equipment and communications for live TV shows. It's one of those odd jobs that's highly specific but covers a lot of ground. So I thought in this first entry, I'd give a quick overview of what I do.
Many of the shows we're hired to do are one-offs, and we custom build all of our racks based on the specifications of that one show. As many of you know, when it comes to wireless and communications, having the right equipment and tools is critical to success. We take a lot of different factors into consideration when we do a build to get the most versatility and performance, but there are some basic requirements that are constant.
The very most basic part of communications (comms) is getting the people in the TV truck talking to the people inside the venue.
TV trucks are an incredibly cool technology fit into a compact space. They all have the same general setup and recently I was fortunate enough to have the time on the Imagine Dragons show that aired on CBS during the Grammy's to take some pics.After they're parked, they expand to make enough space for everyone to fit inside. Every truck is a bit different, so they each get their own name, this one is Crossroads.
The outside of the truck has a variety of connections for the cameras, audio, and comms that are covered by panels when the truck is on the move.This picture doesn't do any justice to just how many connections there are.
Inside you'll find one end is video world, and is for video engineers to 'paint' (their word for mix and enhance), the video images coming from the cameras inside the venue. Behind this position is a patch bay for cameras and a lot of other camera related gear I have no idea how to use. Adidas bag optional.
In the tape room, all the cameras are isolated, and all of the individual feeds are recorded. There's also a master that records the 'line cut', that's the show the Director calls during the performance.
The middle section is the largest and accommodates several rows of seating all facing a wall covered in monitors. The Director, Assistant Director, Switcher, and similarly tasked people sit here to determine and call camera shots for the show.
At the other end is audio world, where the TV audio mixer (also called an A1) mixes the show going out on the air.
There's not a lot of room so I couldn't fit the whole console in the pic without smooshing up against this patch bay behind me.
On live shows, we also have at least one satellite truck that does exactly what you think it does. I included a pic because they just look the coolest, especially when you get more than one of them.
All the people in the trucks need to be in constant communication with each other and the rest of us in the venue. Inside the venue, you'll find stage managers, lighting crew, audio crew, camera operators, producers, and everyone else who make a show happen. All these different groups have unique communication needs, and we use a combination of wired and wireless equipment, often interfaced with the tour or in-house comms systems, to accomplish it.
Even though the concept of comms is straightforward, on large shows it quickly becomes a massive and complex undertaking.
A quick example of some comms needs:
the Audio crew backstage needs to be in touch with the A1 in the truck and the FOH mixer
the Director is heard by all Camera Operators and the Stage Managers
those Stage Managers need to have wireless working not only on the stage but on the red carpet area outside, green rooms, and hallways
the Director also might want a private point-to-point line to a Producer sitting in the house,
that same Producer needs to be able to talk to the host on the stage in their IFB (listening device)
and the Producer needs to hear a pre-fade listen of the host mic to hear the talent when they talk back during the commercial break
…this is a tip-of-the-iceberg kind of list, but you get the idea.
Also inside the venue, you'll usually find yours truly next to the stage. Wireless Coordinators like to be close to work with the audio crew that's handing off mics to talent and handle any issues that might pop up. It's also helpful for keeping antenna cable runs as short as possible. So even though the available space backstage often determines where I set up, I'm always on the look-out for what's most conducive to wireless performance.
Which brings us to the topic of wireless. This is a big topic, and boy do I ever respect how frustrating it can be at times! By the time you add In Ear Monitors (IEMs) for the band to hear themselves, IFBs for the hosts to hear themselves and the Director, mics, and wireless comms, we often end up coordinating well over a hundred frequencies. Sometimes it only takes one rogue frequency from a roaming camera crew to really mess with your carefully coordinated setup. Antenna placement, cable lengths, frequency coordination, transmit power…there's a lot that goes into a tricked-out wireless system.
This show also had an RF helicopter camera that we interfaced comms with. I tried to convince the helicopter crew that I should go up and test the comms and maybe fly it around a bit, sadly they did not take me up on my offer.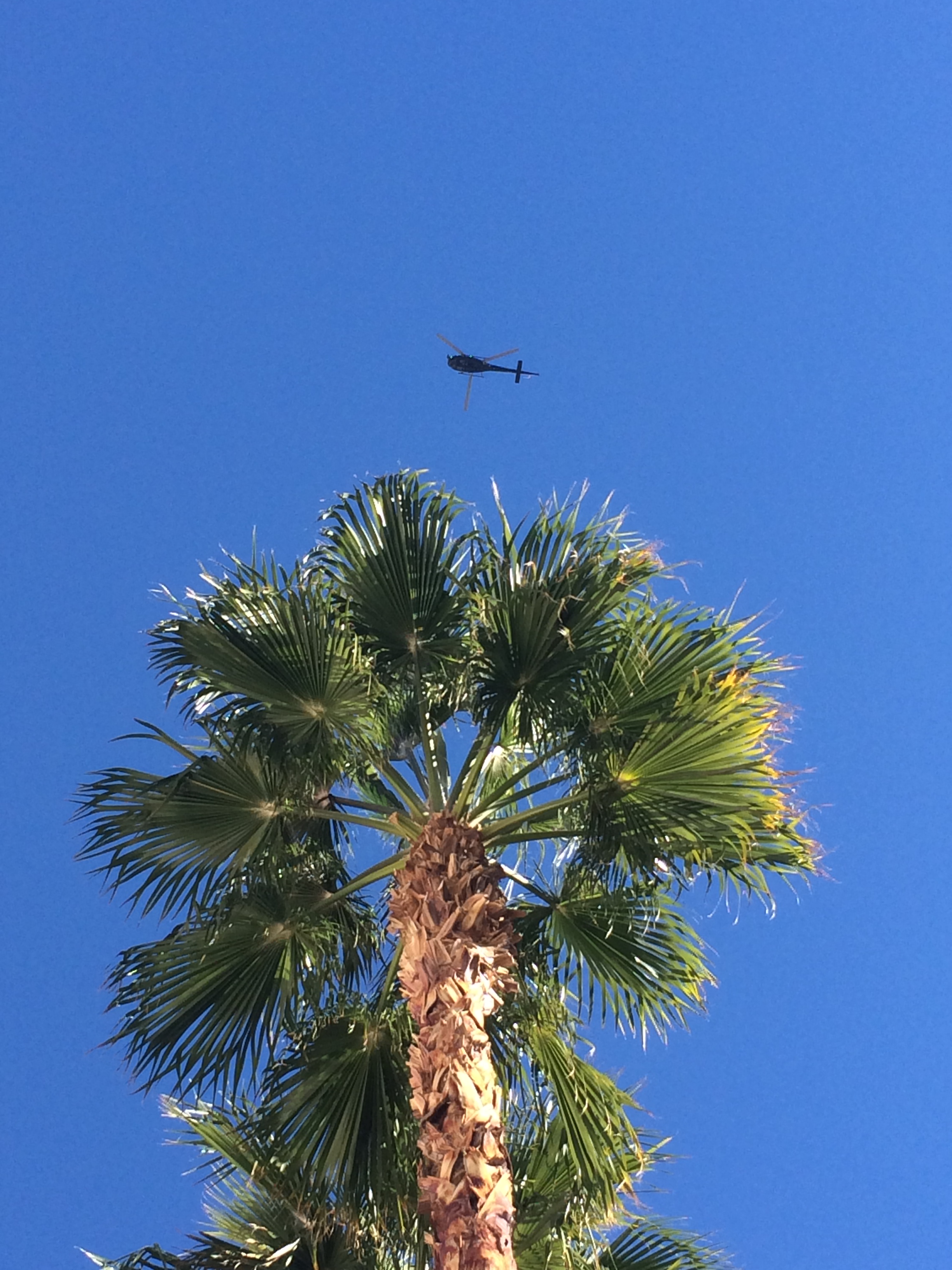 So that's the down and dirty overview of my job. Hopefully, this will be a good frame of reference for when I start going into greater detail about the gear I use and how I get it to play nice.
As a refreshing and exciting conclusion to this, in the course of wandering through the truck snapping pics for this blog, I received a tremendous amount of feedback and support for SoundGirls.Org, women in audio in general, and getting the word out about what audio people in TV do. I also got a bunch of invitations to come visit job sites and TV studios. I promise next time I'll use a better camera!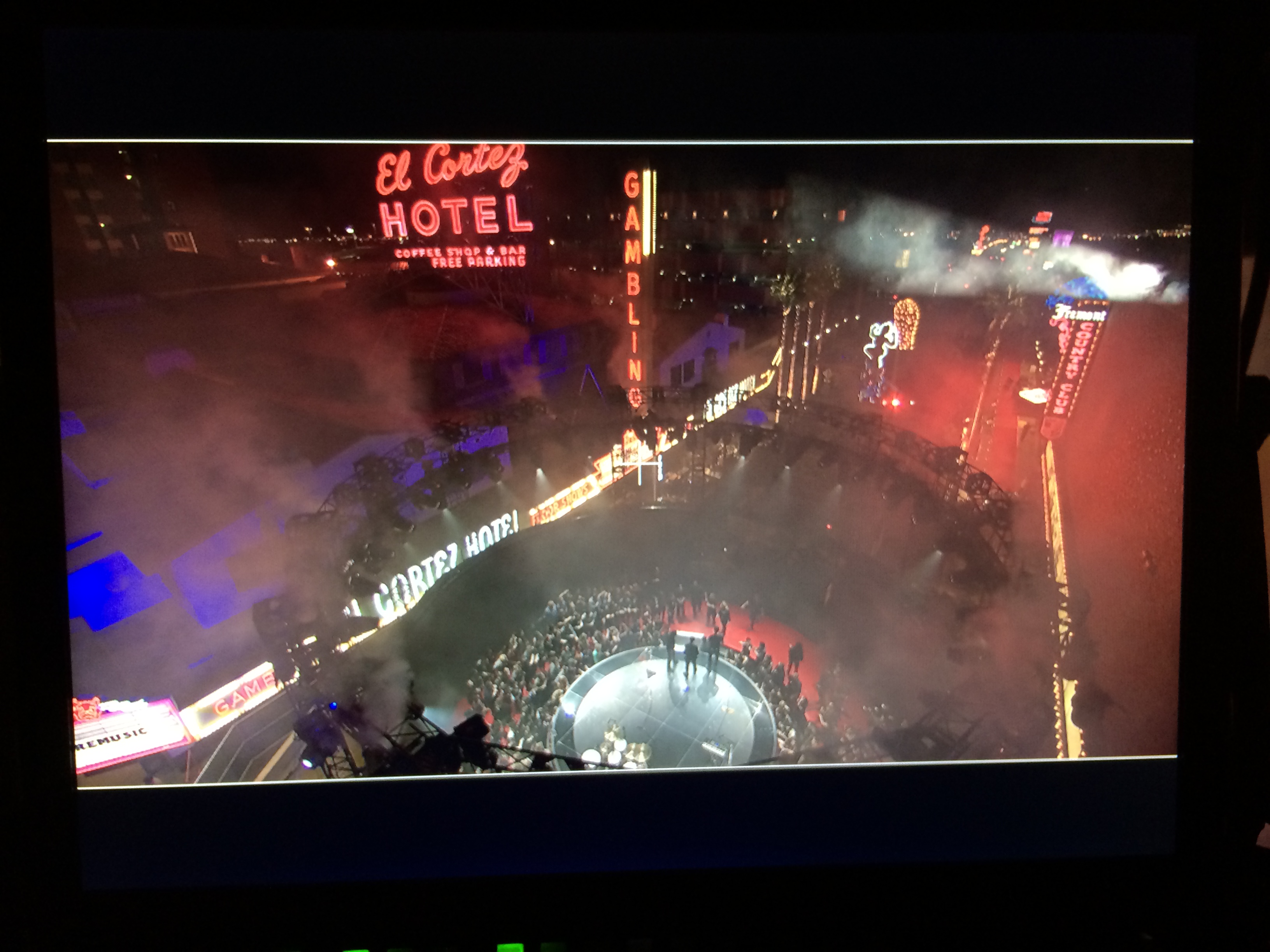 The roof top jib camera operator was kind enough to set up this shot so I could use my phone to take a picture of his screen. My shot of his shot isn't exactly level- probably a dead giveaway I do audio not cams.