Lucy J Mitchell is a freelance Sound Editor and Dubbing Mixer for TV, Film, and Computer Games living on the Surrey-London border. Lucy has been working in the Audio Post Production industry for ten years and works on all genres and all areas of sound editorial. Lucy is a writer for renowned audio industry website Protools Expert, has both chaired and been part of panel discussions at BVE and The Media Production Show, and is a guest lecturer and workshop leader at multiple Universities and 6th Form Colleges.
Lucy started her career at Envy Post Production as a Runner in 2009 after graduating from University with a Classical Music and Musicology degree. Whilst at Envy she was named one of the Top 30 Under 30 in Broadcast Magazine's Broadcast Hotshot feature in 2013 and went freelance in 2015, where she has worked for multiple post-houses, film production companies and independent directors.
She is currently in the final stages of building a sound studio in her garden to house her new business LJ Studios that will be a one-stop shop for all Audio Post Production, including the added services of voice-over and foley recording, and music supervision & composition. She aims to work with the best freelancers around and would love to use as many female engineers and artists as possible. She already has eight freelancers officially onboard, six of whom are women. She will also be offering work experience and training opportunities at the studio, with the aim in encouraging young girls and women to join the industry. The studio will also be baby and child-friendly so that her clients do not worry about needing to sort childcare to come to a dub review.
Credits include BBC's 'Top Gear' and 'EastEnders', Amazon Prime's 'The Collection' and National Geographic's 'David Attenborough's Rise of the Animals', Channel 4's 'Derry Girls', and has just completed all the audio post for a feature Drama 'Rising Free' for American production company Lightfall Films, with their next larger budget feature already penciled in with LJ Studios for early 2020.
Lucy grew around TV & Film, her Mum choreographed shows such as The Benny Hill Show, and her Dad ran Carlton Television (now – Outside Broadcasts 'CTVOB'). While she was interested in their jobs, she did not see an obvious career path that she wished to pursue. Lucy had a musical background and explored available careers, but only knew about Live Sound Engineering. She would work during holidays as a cable basher (running behind the cameras holding the cables and making sure no one trips up) for the Brits and BAFTAs and learned that camera work was not for her. Although, "I'm not going to lie, crouching down behind the camera next to Brad Pitt's seat, and holding an umbrella over George Clooney on the red carpet at the BAFTAS might still be one of the best days of my life… don't tell my husband".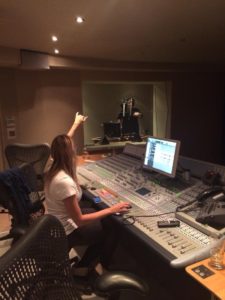 Lucy would take on work experience placements in post houses and studios around London, and this is where she discovered her love of Post Production.  "During my first placement at a full post house, I got sit in various departments including VFX, offline editing, and bookings. However, after my first few hours in the sound studios, I asked my head runner if I could just stay there all week. I loved it!"
At University, she would study classical music and musicology, as she was nervous to focus on a vocational degree in case she changed her mind and wanted transferable skills to obtain employment in a "normal job." Lucy almost studied Math and Finance but decided she would get bored and looked into combining degrees in math and music.
"I guess that shows where my engineering brain comes from!" but she could not find universities that offered solid programs in both Math and Music, so she chose Music with a sound engineering and production module.  Although when the time came for the engineering module, they only had five spots and drew names out of a hat, sadly Lucy's name was not one of them. "I was gutted at the time; I wanted just a little training!"
After she graduated, she reached out to various post houses and got a few interviews. She would be placed for a trial day at Envy Post Production and by the end of the day, was offered a full-time job. The first gig at Envy Post Production was as a runner making tea and delivering tapes around Soho. Lucy would spend her lunch breaks and after hours training in both the machine room and studios "this was to learn all areas of the department to help me understand what I'd be assisting." She was promoted to Audio Assistant after about eight months. "From there, I became head of the Machine Room, before eventually being promoted to Tracklayer (sound editor)."
Lucy is self-taught "I have learnt everything on the job, and since going freelance I've done a lot of reading both online and through books and I keep learning. It's done me well, but I do wish I had some form of training, who knows where I'd be now! I was very intimidated as a runner as every single other person in the kitchen had a relevant degree. I feel like I would have had more confidence in the early years in my career, having more knowledge and experience, and potentially could have moved up the ranks quicker. But I'm proud of where I am despite my lack of formal training,"
After just over six years at Envy, Lucy left to go freelance. "Once I started looking into the freelance thing, initially because my mum was ill, I realised I could work on so many more types of programmes". Lucy would go on to work on EastEnders (editing and mixing), Derry Girls (dialog editing), The Collection (foley editing), Thomas and Friends (sound effects editing) and computer game Guitar Hero Live (crowd ADR editing and mixing).
What do you like best about working in post?
I like the variety of my job – one day I'm editing dialogues for film, the next I'm adding sound effects to a cartoon series. There's variety in not only the nature of my work, but the type of programming/films I am working on, and that keeps it interesting. I particularly enjoy recording Voice Overs, so am looking forward to adding VO services to my studio when it is up and running soon.
What do you like least?
Trying to make something sound good that was poorly recorded – it starts as a fun challenge, but then gets increasingly frustrating and a lot less fun. Also, the long hours are difficult, especially if you have super tight schedules and you can't take many breaks to walk around and stretch your legs. It can also be quite lonely working from home on your own all the time – I'm fortunate that my husband is a freelance Musical Director, so he is around during the day often.
What is your favorite day off activity?
I sing in a show choir, The Adam Street Singers – they're how I met my husband; actually, he joined as MD shortly after I auditioned. I love singing, love that I keep my musical bones moving, and have some very close friends there.
I also have a Brunch Club with my best Uni friends where we each host brunch every six weeks or so which is great as it can be so hard to make plans with people, especially with the irregularity of my work. We plan out each month at the beginning of the year –and whoever can go, goes. Sometimes there's three of us; sometimes there's eight. Both of these 'activities,' and dog walking, really help with the loneliness that comes with freelancing.
What if any obstacles or barriers have you faced?
As a freelancer, you are not just 'competing' against editors and mixers with the same experience as you; you are competing against people with years more experience, even decades. To clients, you are another Sound Editor or Dubbing Mixer, and they want the best for their show/film. I am still not working on as many dramas, films, and animations as I would like, because there is always someone the clients have used before or someone with more relevant titles on IMDb. It is difficult standing out in a crowd of talented sound engineers.
How have you dealt with them?
I try not to let the competition get me down – I have had problems with comparing myself to people my whole life – but in a way, I think this has helped me a little as it has pushed me to do better. I try to meet potential clients as much as possible so that I can build a rapport with them. They might have a lot of talented editor/mixers on their list, so it's important to give them a reason to want to work with you.
Advice you have for women who wish to enter the field?
I think you need to have quite thick skin to work in post-production – it still very much is a boys club and I managed to fit in well with the machine room boys as I got involved with the 'banter,' gave as good as I got, and generally got on well with them. Perhaps because I was a tomboy as a kid, have two brothers, and was very involved with sport up until a recent injury, the blokey culture wasn't intimidating to me. Having said that, I have met women in this job who were not like me, and have still not been put off – so I'm not saying you need to act more blokey and get involved in the banter necessarily, but just be prepared for the banter to exist and to not let it put you off. If the banter is inappropriate, then that is a different story of course!
Must have skills?
As I said before, I didn't have any formal training, or any technical knowledge/skills before I started as a runner. However because of my musical background, I had a 'good ear,' and my math background meant that I didn't find the more technical/engineering side of the job too difficult. If you want to be a freelancer, then good organisation is key. And although you may spend a lot of time working alone, good people skills are worth their weight in gold – either winning new clients or maintaining olds ones! Word of mouth is still well and truly alive, and often the only way to get the work you want.
Favorite gear?
I don't have any particular gear I use – I have some new microphones and headphones for the new studio so I may change my mind. But for me, I rely on a few plugins that I would recommend to anyone and everyone. The two I use the most, both happen to be useful for dialogues. RX7 Advanced – for noise reduction, ambience/eq matching and general cleanup magic; and my most recent purchase, Auto Align Post – for syncing up slightly out-of-phase microphones. Unless I am purely working on sound effects, I use both of the plug-ins on every job without fail.
What are your long term goals?
I would like to be a Supervising Sound Editor for TV Drama and Film, and also work on more animations. I also would like also grow my business, LJ Studios, to move to a proper facility and be a go-to one-stop-shop for all audio post-production. My husband and I are planning on working together in the new studio recording singers and mixing some small groups and choirs, so it would also be amazing to have a studio that can facilitate larger choir recordings and to grow the music department of LJ Studios.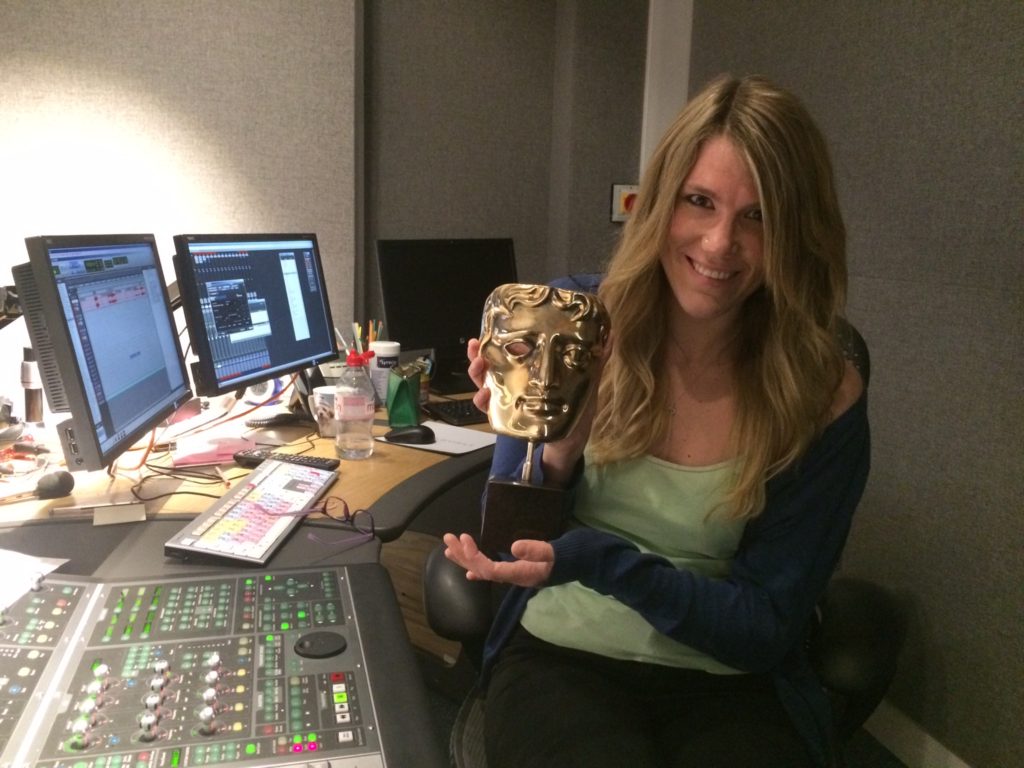 For more  information on Lucy and her credit list
Interview on PSN Europe