Daychia is an Audio Engineer mixing  Front of-House & Monitors for various artists and television networks including ABC DISNEY, NBC UNIVERSAL, and VIACOM.  She has been working in audio since 1995. She works as a freelance sound engineer in both live and recording arts. At ABC Tamron Hall Talk Show she is the current  FOH engineer and Floor Audio Lead and at NBC she works on the Late Night show mixing Monitors, or the Amber Ruffin Show Mixing FOH/ Monitors.
Daychia discovered audio after graduating from high school and was looking for a career path in the music business as a rapper. Her mom wouldn't let Daychia pay the local studio unless she learned to operate the equipment first, so she would enroll in school for audio engineering (Audio Recording Technology Institute in Hauppauge, LI New York) and learned this was a viable career path. "Eventually I didn't care too much about rapping anymore,  I was head into the books and learning audio, studying frequencies to train my ear so I could ring out a stage like I saw other engineers doing when I interned at the Apollo Theater."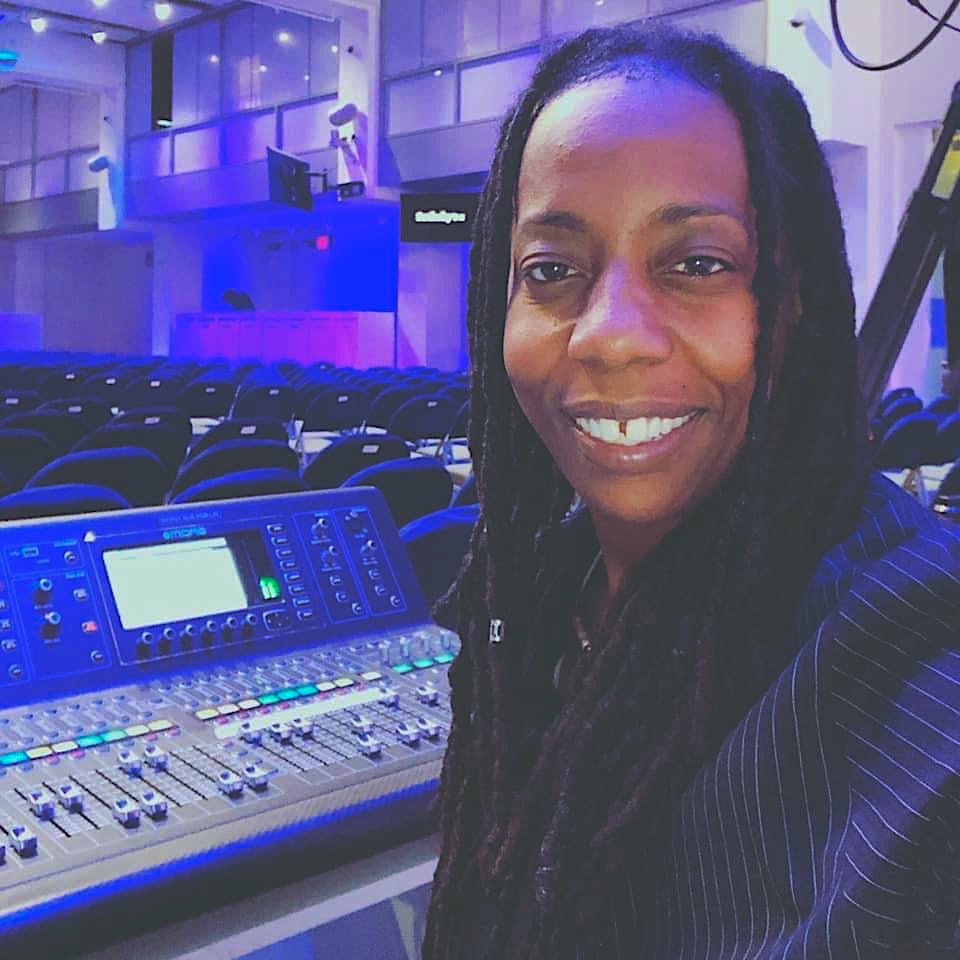 Career Start
How did you get your start?   
I ate, slept, and drank audio for the entire year I was in Audio classes…  I studied frequencies in my sleep literally,  I let a frequency CD play overnight so I would naturally hear an fz and know what it is on stage ringing.  I worked hard and broke a sweat every gig as a good friend and mentor from Apollo named Ollie Cotton told me was my key to success in this business… he was right because every time I worked someone I didn't know was watching, and later hired me.
I got my start from the internship at Apollo Theatre, working on Showtime at the Apollo and every Weds night for Amateur Night. I did that for a few years,  then I kept sending my resume out to TV stations and eventually one day I got the call to work at CBS for the Ananda Lewis Talk Show.
At the time it was just starting off, and she apparently wanted to hire a woman audio engineer. So they went calling around NY city to find women audio engineers who actually had some experience.  I happened to be working Amateur Night at the Apollo the night they called Mike Jenkins head of Audio at the time at Apollo, and he was standing right next to me when they asked him Do you know of any experienced sound woman in the city? LOL…He looked over at me with the phone on his shoulder and said "Actually Im standing next to one right now "I went in the next day for an interview and that was the start of my television audio life.
What did you learn interning or on your early gigs?
I learned everything from soldering cable,  fixing speakers in the middle of a Naughty By Nature Tour, to Mixing Loud Vocals for Rappers with NO FEEDBACK… and I am still always learning til this day, more and more techniques to give my artists what they want to hear in their sound.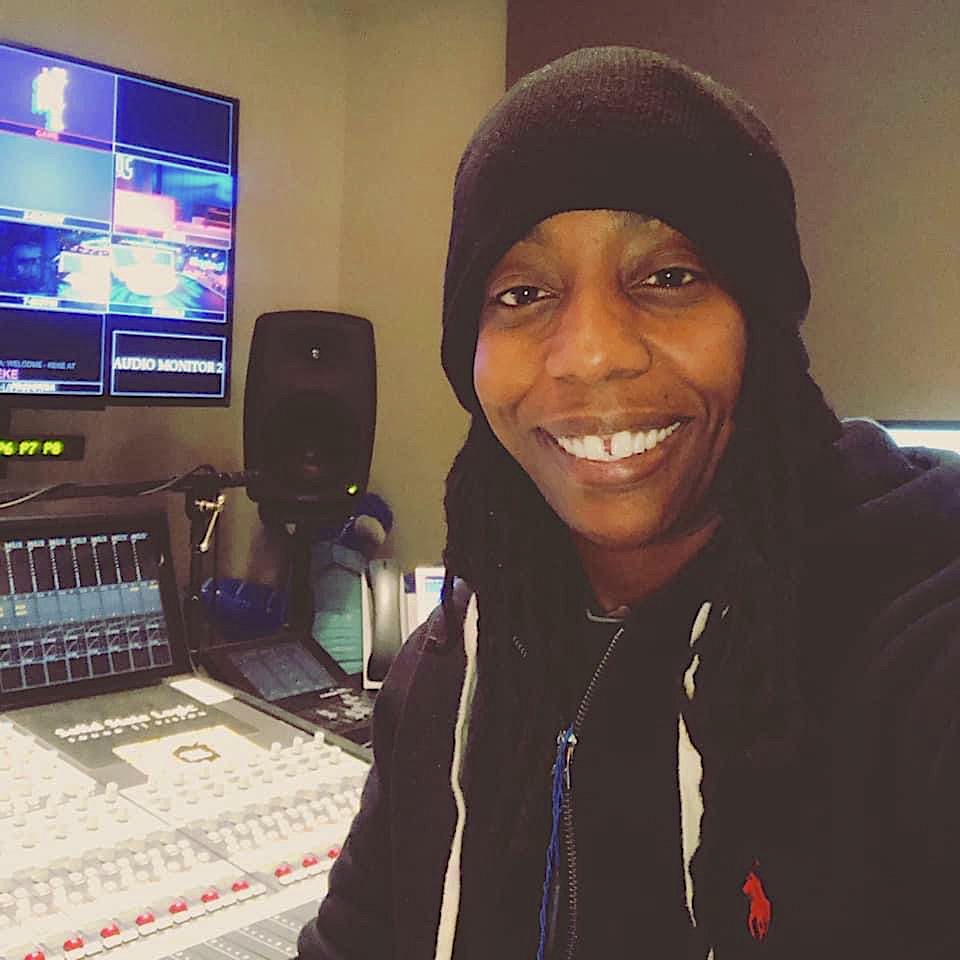 Career Now
What is a typical day like?
Well,  that's interesting I don't really have a typical day. I don't think I really know what that is…  but I can tell you this much. If I'm in town ( New York)  it's mostly because I work at Tamron Hall three days a week, on those days, I get up at 3 am.  Meditate, do Yoga sometimes,  get dressed, and head out by 5 am to be on set and working ready for Tech check and rehearsals by 7 am.
We do a live on-air show at 10 am, so from 7 am till about 9 am I am tech checking, then fixing up my music playlist for the day to fit the show content. Then we let in the audience, and I pump up the music for the Comedian and host to get the crown jumping with,  Tamron comes out live on air from 10 am to 11 am on ABC.   We break for lunch and come back to do a 2nd show that is taped.
I get off and try to beat the NY afternoon traffic back home to Westchester NY.  Then when I get home,  I usually have work to do for my Artists' upcoming shows, prepping show files, or updating riders. I could be organizing the engineers I have in my recording studio with clients coming into the studio. I may be doing ALL of the above until I crash out to sleep.
Now if I am on the road doing a one-off show it's pretty much the same routine,  except I just show up for soundcheck,  go back to my hotel room and work on other projects, come back do the show and then crash out to bed,  hopefully not an early lobby call the next day.
If I am on tour, Kinda the same deal.
How do you stay organized and focused? 
Prayer,  Yoga,  and Meditation daily.
What do you enjoy the most about your job? 
I love knowing how it all works… especially when I'm the one who made the input list or had some sort of hand in planning it all out technically on paper,  then watching it all come together at the Venue.  With crew members, I probably never met before.    I also really love it when I get to mix the music of artists I love and used to grow up singing in my shower.   Never would have dreamed in a million years in my showers I would be mixing their music.   I love mixing what I used to hear and wondered how they made it sound that way. Now I get to mix it and make it sound like the record that I know and love all too well.
What do you like least?    
Sometimes when you think you have found a sort of music family,  and you get so close to artists and band members,  then all of a sudden new management comes in and just fires everyone and brings in their own people.  Just like that, your off looking for another gig/family.
If you tour what do you like best?   
Traveling and seeing how other engineers do things around the world.   and mixing the music for any audience,  even if they don't even speak English,  to hear them singing the songs is amazing.
What do you like least?  
Not having family with me to share it with.  Especially U.S. Holidays that aren't celebrated elsewhere.
What is your favorite day off activity?   
I actually want to change this now at this time in my life,  up til now,  I have always pretty much worked on my days off.   Working on my studio business, website, etc … but I never really have days off. I have come to realize now I need to take some.
What are your long-term goals?
To develop my business MixWellWorld.com to be big like Clair Brothers Audio.   So I can provide careers for upcoming engineers and techs… and I can retire knowing I did that.
What obstacles or barriers have you faced?  
In the beginning, I struggled with certain concepts in pro audio, like for example, INSERT POINTS, I couldn't understand how two signals could be carried up 1 Insert cable that way…. It was mind-boggling for quite some time.  I used to draw it out a million times so I could see it in my mind's eye to grasp the concept.  I want to say I realized back then,  it was a hard concept for me to grasp at first because girls for the most part aren't raised with electronics, or encouraged to take things electrically apart and put them back together. This is something boys are more encouraged towards, so I had to really awaken that part of my brain. Which is why I slept with the frequencies at night to train my brain to them.
Then during one of my first big gigs my biggest obstacle used to be Mixing Loud Vocals in a wedge mix without feedback. I learned from working with Chaka Khan and especially from her Singer Audrey Wheeler Downing,  she made me get good at it!   It was the hardest thing but now I can do it in my sleep.
My next barrier has been learning about business management,  financing of the equipment, and how to generate and create sales campaigns.
How have you dealt with them?  
Taking classes whenever possible either in person or online for business development and ALWAYS audio courses.   I still sign up for Digico classes, and Yamaha classes anytime I can make it work in my schedule.
Advice you have for women who wish to enter the field?  
I would tell them the same thing I was told " Always break a sweat "  Work hard,  Be honest,  if you don't know how to do something,  pray,  find the book, and study it…  ASK QUESTIONS…  you can get it.. and once you get it,  find what works for you to get the job done.
Must have skills?   
Know your Frequencies.  Have a good understanding of signal flow. Listen to the artist and listen to the record… make it sound like the record.
Favorite gear?  
DIGICO  but Avid S6L is starting to slide up my favorites list these days too.