Sometimes I forget that England is on a tiny island and the six degrees of separation is a common phenomenon in the UK music scene. A few weeks ago I'd had the pleasure of engineering a lovely band for the second time. As we chatted whilst packing down, we discovered that I admire the work of the lap steel guitarist's girlfriend Naomi Larsson, writer of the recent Guardian article "You lift with your mind, not with your muscles."
Not only is Naomi an award-winning humanitarian journalist with a hefty back catalogue of empowering and candid pieces on women in music, she's an active musician and creator of a female-centred collective titled "Sister Rosetta's." Boyfriend Joe Harvey-Whyte kindly makes the introductions and the following week Naomi, and I meet for a chat in a relaxed coffee shop, hidden from the backdrop of a busy London afternoon.
The first thing we talk about is the previous Friday night's gig – Naomi and Joe put on a sell-out show at Wilton's Music Hall, which is the oldest surviving Grand Music Hall in the world, recently restored keeping the original features, complementing the theme of the night. The show was an 'Americana' live homage to the film Heartworn Highways and featured 13 artists including The Magic Numbers, Zak Hobbs (the grandson of Fairport Convention's Richard Thompson) and Ren Harvieu from Bella Union. The event was co-promoted by Green Note in Camden, with an afterparty held at The Betsey Trotwood, who provided sound for the night. In order to emulate the vibe of late-night jams, the stage was dressed with barroom tables and chairs for the acts, and the technical setup was captured with condenser mics strategically placed on the tables.
Q: Friday's show was a huge success, and it's nice to see that 6 of the 13 performers were women. Was this a conscious decision for you and Joe when organising the project?
A: "It was a conscious thing in part to make sure there was a balance, but also they all are just amazing, so it's not a token thing. The Magic Numbers played a big part in that as they're 50/50 and then it just worked out quite organically as something that needed to happen. Heartworn Highways is a music documentary from the 1970s about all these outlaw country artists before they became famous, and the representation in that is awful – there's only one song sung by a woman that's a bit of a joke in it! It was important for us to show that's not the case."
Nothing about the musical contribution from the women involved in the show could be further from a joke, and while the full live recording of the show is under wraps, for now, I am privy to a gorgeous snippet from one of Naomi's original songs, Where the Love Goes.
Q: How did you get into music and what hooked you?
A: "I started learning classical guitar when I was six but I was a way better guitarist when I was little than I am now!  A few years later, when I was a teenager, I played the electric guitar and bass a bit and then started playing chords on acoustic guitar more. When I was at Uni I wrote some songs and played a little bit and probably sang more than played, then in the last few years I've been slowly doing it again, and now I write and play way more which is really cool.  My sister is a couple of years older than me, and I was kind of copying her, and we'd write songs together, so she's probably why I started playing and singing. I also fell in love with Laura Marling, and I guess when she started, she was very much singing and guitar, and it felt like there weren't that many successful people around my age who were doing it at the time, so she was quite a big inspiration.  Then I gradually got more interested in country music, and now that's more like what I play of my own stuff."
Describing her sound as 'blending new British folk with classic American country from the 50s and 60s', Naomi plays as a solo singer/songwriter as well as front-woman of the house band at Jambalaya's Honky Tonk Thursdays, which is one of the regular nights from the event management project she and Joe organise. With a full diary for the foreseeable, Naomi plans to record her solo material next year between all the events that keep her busy which "diversify life" and get her "away from the computer screen."
Q: As a gigging musician, you decided to set up the female-centred collective "Sister Rosetta's" which has both an online community and live events, creating a safe space for women to come and perform. What sparked the idea in you, and what is Sister Rosetta's about?
A: "The more you think about it, the more you realise how embedded it all is, that culture and people just aren't aware of it, and women too feel like we shouldn't be in these spaces or we're not the kind of people who should be playing this instrument. I was thinking about the general imbalance and where it all might stem from, and I guess it just came to me that it was such an everyday thing across all levels and ages. In guitar-based music, 90% of the artists are men, a gig at your local pub when you're little is more than likely going to be men, so I get that you don't think that's going to be an option for you. The reason I started playing guitar was because my dad forced me to – it wasn't a choice. I think that he had always wanted to play the guitar and then forced it on me and my sister; otherwise, I don't think either of us would have taken it up because it didn't seem like something that was for women. It's the same with the guitar shops when you're a girl and wanting to buy your first guitar; it's scary going into a place where it's mostly blokes there that are gonna patronise you. I had this connection with the Betsey Trotwood venue because that's where we used to do "The Honky Tonks" (the previously mentioned country music night) and already knew that they were a really friendly pub. I knew I could use that link for something positive because I just got really bored going to nights, especially singer/songwriter nights, and it was just a load of white men who all sounded the same.
I think diversity brings more interest in music, and what you can do on more of an individual or grassroots level is open some spaces to make little changes, so you can make sure you buy music made by women and support them, go and see women playing gigs in your area, or you can put on event in your area if you're able to that promotes women and gives them these spaces because I think that's what's fundamentally lacking on a non-professional or more amateur level getting into it and starting. When you feel like that space isn't for you, if you make that space, it gives women the confidence and ability to do it in a safe environment which I think is really important.  It's partly a confidence thing, and it's also a safety thing in the Sister Rosetta's stuff and what is so nice about it is that it's always such a respectful audience – people listened, and they appreciated the music, and there was a special vibe there." Naomi laughs and clarifies, "People have said that! I'm saying that objectively, there was a nice vibe!
Interestingly, the one time there was an issue was from a guy who works in music, he was there in the audience, very wasted, and he shouted a few times over a young woman who was playing, asking if she was single and was being very drunk and lairy. I said to him that if he was going to behave like that then get out, because that's not what that is for, and I didn't want to create an environment where people thought that was an alright thing to do. While he responded and behaved better after that, it made me really upset because you just can't get away from it at all. On the Sister Rosetta's team, we always had a female sound engineer, and my friend she designed the poster, it was very much a package of 'we can do this.' I also hoped that from doing it, people would get more work and it could be used as a sort of larger thing."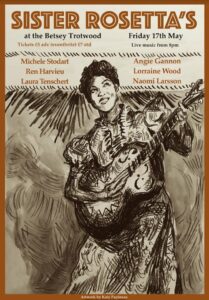 The Sister Rosetta's online community and newsletter are open and available while the live events will be starting back again in the new year after a short break.
As well as the active events Naomi runs and performs, she does a lot for the cause of women in her journalism. While there have been recent studies and conversations on the frequent imbalance of superstar festival headliners, Naomi felt strongly about the everyday interactions at smaller venues and so decided to research and write a story for The Guardian whereby she found all of the gig listings for one day across the UK and counted how many men and women performers there were listed: 69% of all acts were made up entirely of men, 9% were female-only, and half of those were solo artists. "I kind of expected it, but it's still a bit bonkers!  I felt that I wanted to do something about that but in a more tangible way, because I think writing is really important, but it is kind of true that people just read stuff and it might have some traction for a day, but then people move onto the next thing".
While I tell Naomi that I disagree and feel the power of her writing has the ability to stay with people, I also admire how she was able to channel her feelings into something practical in both her writing and Sister Rosetta's. We discuss the aim to normalise groups such as these so that it gets to the point where they're not needed anymore, so that representation and safety is much more accepted in the mainstream at all levels. Naomi tells me that since the article, she's aware of more pockets of groups in the area with the same ethos springing up all the time: "There's a really great organisation group called Soul Stripped Sessions, and it's not exclusively a BAME events collective, but they're well represented, and that's really cool, there's another one called Herd which started a little after I started mine that is really good, so there are little microcosms of people with the same aims trying to do this, which is really positive and nice to see."
Q: The recent Guardian feature you wrote about women sound engineers went down a storm in audio and music circles and the SoundGirls community! So many of your articles that centre around women's rights and women in music resonate deeply with your readers. What inspires you to write about the topics that you do?
A:  "I'm really glad to hear that it had some traction, that's really great.  The Women in Engineering article was part of a supplement that they were doing about engineering in general, and so I pitched the idea about sound engineers and then did the case study. I think it's really wonderful to be in the position to write what you care about and I'm lucky that I can do that.  I think once you have a skill or a craft, it's really worth it to use that to some kind of benefit and to give a platform to these issues as well. I think there should be more stuff done on not only the face of the music, and would really love to do a podcast in the future. It's really interesting to write about it, though I wouldn't call myself a music writer because I've never done reviews or anything like that, but these kinds of issues of representation or gender imbalance are the things that I really care about, and I think that by writing about it you can create conversations which is important."
I argue that Naomi is a music writer and is way too humble on the importance of what she contributes; her Huff Post article on catcalling won an award this year. She counters, "I need to do more. I did say to myself that I was going to do more, but I haven't.  Also it's kind of difficult to sell these stories as I'm freelance, so whilst you might want to write about something, you're pitching to editors who maybe don't have the space, money or interest to commission pieces like that, so that's a bit trickier, which I'm sure loads of freelancers have experienced, where you want to write about something. I'm on a bit of a mission to focus on Women in Music, and I guess I did pursue that by doing the Sister Rosetta's but just didn't do it in so much of a writing way, because much as I would have liked to have done more articles, I put more energy into doing the gigs, but there's always time in the future to do more about it. It's not going away."
Q: What advice would you give to any young women and girls wanting to do any of the things that you're doing, whether in the music or writing world?
A: "Find someone that you respect and like their work and get in touch with them and see if they want to go for a coffee or something, cause I think that most people do, most people want to help someone else. That can be really important to get some good advice from them and not feel so alone. In terms of music, just keep at it and find a special place where you can feel safe and confident to do the music that you wanna do. Again, find other women doing the same thing."
It's been a real pleasure spending the afternoon sharing stories and hearing all about this fascinating woman's work. I could happily stay and chat with Naomi for the entire evening, but for now we must part ways and run across town to our respective gigs; Naomi is playing at a craft beer festival, and I'm off to work, curious about where and when the six degrees to women making an impact will strike again.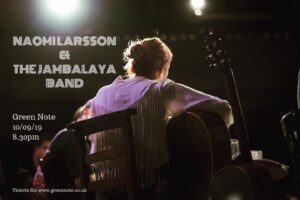 You can catch Naomi next playing at Green Note on 10th September, tickets at www.greennote.co.uk
Website: https://www.naomilarsson.com
Guardian articles: https://www.theguardian.com/profile/naomi-larsson
Sister Rosetta's newsletter: https://tinyletter.com/SisterRosettas
Facebook and Instagram: @sisterrosettas
Jambalaya Events: www.facebook.com/Jambalayapromo
Instagram: @jambalayapromo