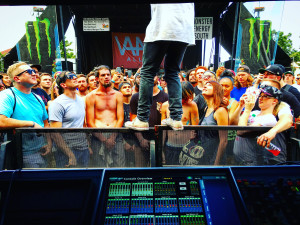 "Oh my god! You did Warped Tour? That must have been AWESOME!" is usually the response I receive from people when I tell them I toured with Warped this past summer. From an outsiders perspective it is pretty awesome, and from an insiders, it's still kind of awesome!
Warped Tour is one of those legendary places that all pre-teens and teens have attended or dreamed of attending since the mid 90's. The legendary status that comes with Warped in the world of Punk Rock, Hardcore and Metal is historic. It is the longest running festival, continually propelling tens of thousands of kids (and parents!) to see acts from the radio today to artists who parents jammed to on cassette.
Then there are the people in the background, the people who never get noticed but make every day happen and run crazy schedules to make these shows happen. The hardest working people on Warped Tour, with the worst schedules, are definitely the Sound Techs, Stage Managers, backline and the setup crew. Since I don't have experience with the latter, I'm going to tell you about the former!
Every morning you wake up tired, your body heavy with the need to sleep. You look at your phone. 6:30 am. I think "Ok I can lay here and relax for another 15 minutes. When I hear Amy moving around, then I can get up." I inevitably nod off and wake up in a panic around 7:15 and scramble to get ready and to catering. Load in on my stage, Monster South, starts at precisely 8 am every morning. That is not true of all of the stages, but it's definitely how mine rolls.
We wait at the back of the truck behind our stage, sometimes waiting for hours for the stage to be placed itself, or waiting hours because the local union says we can't unload our truck until THEY get there. After those mornings the rush to get everything up before 11 am, becomes real, and kids sometimes are staring at you as you check your system for the first time that day. My Check was: The Floozies, "Love, Sex and Fancy Things" For the Bass, Trombone Shorty "Hurricane Season" and a variety of music from Sting usually "Shadows in the Rain" or "Hounds of Winter."  So not exactly a punk rock system check.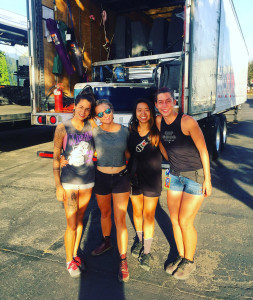 But most mornings we wait. On our stage we have a beta system being tested called the K-Array. It is the first thing off of the truck and the last thing on. These line array rigs are 3 boxes a cart and probably around 7 feet tall. They are heavy and awkward to get out of the truck, and definitely caused many a fallen off toenail. Slowly the members of our various bands start to show up, along with tech people from other bands. You see they have a choice. Unload the truck with us every morning or sell merch all day or some various other choices. We always had a lot of help from our bands. They really were into teamwork on our stage.
Once the truck was unpacked to the point where most of the PA was off I would break away and start working on my own. Most mornings I started by pulling our feeder across the stage and getting the PA feeder run. As the FOH/System tech for the stage I had to make sure the PA was rigged, wired and functioning every day as well as making sure the guest engineer's files were properly pulled up and patched.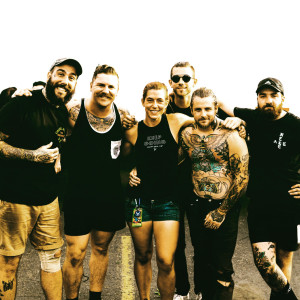 I worked with some amazing people. My monitor engineer, Mike, has been in this business longer than I've been alive. He showed me some great tricks when he was feeling nice; he also helped me rig my PA for the tour, much to my dismay. I was more than capable of rigging my system, but the initial week of the tour set the load out pace. Once we started with Mike helping me on the out, that's how it rolled. It was a fast and efficient system, with Mike and Jon getting the whole stage down in about 15-20 minutes. Our whole stage down and loaded some nights in (our fastest time) 38 minutes! I learned a lot from Mike, unexpected things. Like how to properly align your chain bag on a single point system, or the magic of Gold Bond. Jonathan was a stage and patch ninja! He had some of the best looms I've seen for stage. I LOVE neat stages! My stage manager Myles and our Backline tech Cesar were literally the best team on the tour. Our stage had 0 problems, and if they did it was handled quietly and efficiently. I have so much respect for those guys. We had a great team.
After the set up came the hard part for me. I only mixed two bands all summer, Vanna and Cruel Hand. Most of my day I spent hiding from high dB levels and screaming music. Honestly, I probably needed gun muffs on top of my 25dB filters as my ears constantly rang for that tour. No good. As we all know, you can try to give hardcore music a dB limit, but it never works out. And especially not with our system.
One of the biggest challenges of the tour for me was actually the PA. This Array was meant for much longer throw than we needed it for. We needed the PA to throw 80' tops on any day, most days about 35'-45' to FOH. The system was easily throwing well over 100' until I finally started to turn off my top two boxes and after a recommendation from Bill Black (FOH on North) I also inserted a high shelf starting at around 2k to take out the harshness of the system. It was then much easier. Not only that but we had no front end on the system. There was no unit at FOH that gave me control of my system, allowed me to see how it was performing or even if it was hitting limit. There was no way to enforce our levels without the ability to mute the PA from a source that wasn't the board. That is especially hard for Monster North who had bands bringing their own desk.
Warped tour is one of the most brutal tours I've done, in terms of schedule, exposure to the elements and levels of exhaustion. But It was over before we knew it. One day we're saying "Oh MAN, a month left. It feels like we've been our here a year." To the end where it became "I can't believe we only have a week left!".
Warped tour was an amazing experience as a growing engineer. I had the ability to do whatever I wanted with the scenes for my bands every day. It was a festival! If I got bored with my scene for either one of my bands, I would just dump the entire thing and start from scratch. Not only did it hone my engineering skills immensely (two months potentially mixing from scratch every day) but also I learned some amazing techniques from engineers who have been doing this for a very long time. I have to say that one of the biggest benefits of the tour was the opportunity to grow as an engineer. I can also say that Hardcore is one of the hardest genres to mix, and if you can make that sound good everything else is cake! It has a very style specific sound live; generally it's a super produced sound with tracks and effects trying to resemble an album feel, less live.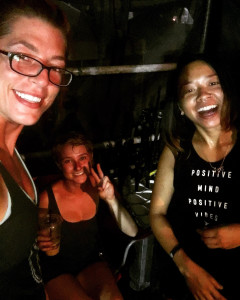 Some of the things I'm most grateful for are the friends I made in those two months. I toured with a fellow SoundGirl, Amy Truong, and she rocked the stage and patch on Monster North. I also had the pleasure to tour with another lady Sammy Keyes-Levine who was FOH for the Full Sail Stage, and another kick butt SoundGirl Nikki Berna who ran Monitors for Full Sail. We had such a great crew of ladies I'm sure I'll be friends with throughout my career.  I had never had the opportunity to work with so many women! In the ten years, I've been doing sound on the east coast; it took me eight years to finally work with another woman engineer! What a great experience to have so many ladies. I'm very grateful to Rat Sound Systems for their drive to hire females.
It's important to take away lessons from everything you do. Warped Tour taught me a lot of things I needed to work on, such as my propensity to get very stressed when there is an issue. Or learning that sometimes people's dislike of you and treatment of you is not a reflection of you, but rather a reflection of them upon you. It was very lonely for me on my stage sometimes, but being FOH for these types of festivals/tours are lonely by nature. FOH has very little interaction with stage unless there is a problem.  I know that there was some dislike of me from some of the men on my stage who for some reason thought I wasn't qualified for my position. A lot of muttering and starting of rumors from the men because I am female, or drunken conversations where you're told that they don't believe you deserve the position. But after ten years in the sound industry, being belittled by people who don't know me becomes normal, and you become more able to ignore it and be comfortable with your skills. Sometimes to those people asking for help is seen as weak, but it's not. The best engineers I know STILL ask questions of other engineers because to do what we do and do what we love, we must always be learning. Otherwise, what's the point?  Our industry changes every day, in turn, we must learn.
Warped, though difficult, was one of the most important things I think I have done to date in my life. The best advice I can offer is do the thing that scares you the most, conquering your fears brings your dreams to fruition! Take the bull by the horns and get what you want, because you are the only person who is going to get it. I had absolutely no idea what I was walking into for Warped. And at the end, I had invaluable life experiences, and I would do it again.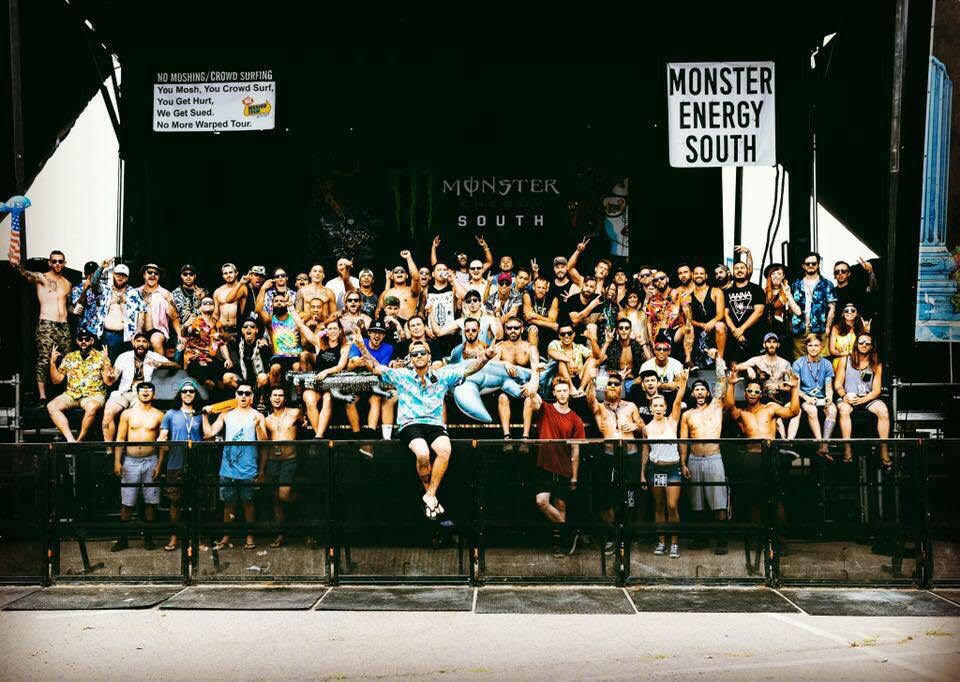 ---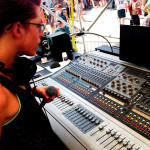 Loreen Bohannon: Complete audio geek! Loreen has worked in the live sound field since the age of 16. Working from the case pusher up to audio engineer within a small local company for many years, Loreen took her skills to the road. As a freelance engineer she has worked with a great variety of acts dealing with all positions. She has toured with Rusted Root, Warped Tour and is currently touring with Cabinet as TM and FOH.
About Loreen: loves learning and teaching anyone who will listen about her craft! Loreen also produces and hosts a radio show that features local talent called Music on the Menu. She does as much outreach as possible to local youths in Northeast PA, showing them that there is a place where they can work, do what you love, and not be looked down upon if you don't fit in! Loreen loves to write and read, and you just can't get her away from small furry animals.