By Yvonne Gilbert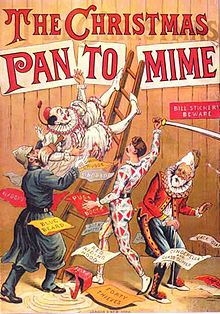 For those of you not in the British Isles.
A Pantomime is a musical children's show put on at Christmas. It has a long history that can be traced back hundreds of years. It always based on a children's story like Jack and the Beanstalk or Cinderella. The Principle boy, (lead male character) is played by a Woman the Panto Dames are played by Men, there are often animals played by two people in a costume and there is lots of audience participation. Just about every theatre in the UK, that doesn't have a long running show in, puts a Panto on. This can be the only show they produce each year and they are always popular and they make money. Even American celebrities come over to perform in them
Priscilla Presley – Evil Queen Snow White Panto
It's all full of Christmas spirit and lots of children having a good time and jokes and sweets and songs.
More on Pantomime
Seriously, its hell on earth. I have been caught between two warring schools who were throwing sweets at each other across the mix position during the show. The children just scream with excitement whenever their favorite character comes on and there is often throwing up from too many sweets and anticipation. Then there is the schedule. Two shows a day is not uncommon. That's apart from Saturday and one other day each week when it is often three shows a day. That's an 11am show a 2:30 pm show and a 7:30 pm show. Starting a sound check at 9:00 am and then spending at least seven hours surrounded by screaming, fighting and over excited children with  the teachers that brought them taking turns to stay in the bar.  The season lasts from early November to February and there are shows on Christmas Eve, Boxing Day, New Years Eve and New Years day. It's Grim.
One of the few times I threatened to walk of a gig was on a Pantomime. I had been assured it was a Christmas Show ( less audience participation and eight shows a week) not a pantomime so getting home for Christmas wouldn't be a problem. After the tech had started I found a poster saying 12 shows a week for three months. I would never have agreed to do that schedule.  They ended up giving me more and more money to get me to stay. Not because I was particularly good but because it was Panto season and they knew the likelihood of getting another operator would be difficult.  I did the show, became really ill and had a rubbish Christmas. Leaving the house on Boxing Day to go to another city and operate two shows is not fun.
Putting on other shows during Panto season is also hell. There is no equipment left to hire anywhere, radio mics cost a fortune and all the operators are booked for three months. I have recently been trying to put on two short run shows during Panto seasons and it's been hard. It has made me realize that the manner in which you turn down work really affects how likely you are to be offered work again. Some of the responses I have had are listed below and my impressions of them.
I'm sorry I'm not available. – You can stay on the list of People to call
I can do some of the dates.- You can stay on the list of People to call
I can't do it but have you tried – Go to the top of the list of who to call.
You won't get anyone to do that – I will never call you again.
What does that role entail – I probably won't call you again
You won't get anyone good to do that – I will never call you again
I have posted on a public forums and asked that people message me for more details, but people can't follow those simple instructions. Remember to follow instructions. Don't ask for more details on the public forum, use proper English and don't use txt speak. I'm not your mate, I am your potential employer. This is how I pay my mortgage and put food on the table, I take it very seriously. It doesn't mean we can't have fun at work but remember this is work.
It has made me think about how I turn down work. I try to briefly explain why I can't do it and if it's a role I think I have moved on from or it's a cold call I will explain what I do instead.  But please keep me in mind. I vaguely worry that this might come across as rude but if I don't tell people what I do will they assume I do something else and might I miss out on work?. What a minefield.
Remember UK Theatre is a small world, reputation is everything.
Copyright © 2015 SoundGirls.Org