Empowering Women & Youth in Music Film Composing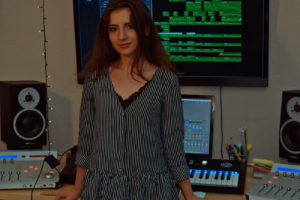 One of the most important components of a film is the musical score. It sets the pace and emotion of the story, engaging the viewer to identify with each character. Composing the soundtrack requires the director to write and arrange music that pairs perfectly with the film, utilizing flawless performances by instrumental ensembles, choruses, or musicians. Being a woman composer in a field dominated by men adds to the challenge, something that 22-year-old Romanian composer Ioana Selaru knows all too well.
Ioana Selaru was born in Galati, Eastern Romania where she studied music at an early age. She is an accomplished violinist of over 12 years and has grown up surrounded by music, art, and literature. Her love for composing music sparked the idea to create DISC – District of Screen Composers, a cultural and educational enterprise centering on the music field, consisting of talented and ambitious young musicians, with the common purpose of creating, adapting, and mastering a wide variety of audio products.
Her main goal with DISC is to become a household name on the audio-cultural market, all the while making a positive impact on the local youth through workshops, projects and collaborations. At the same time, initiate and take part in various cultural programs aiming to bring added value to the community.
But, as a female entrepreneur, Ioana faces many obstacles running a successful business in a field dominated by men.  She is motivated by her love for film composing and recognizing that the film industry is very poorly developed in Romania. Ioana states there is currently no community to support ideas like hers in her country that encourages young composers, especially women. She wants to be a part of that change, just like Soundgirls is.
We interviewed Ioana Selaru to learn more about this phenomenal woman on how she came into this industry, and what DISC is doing to increase awareness of women in the music film composing industry.
Myki Angeline: Where is DISC located, when was it established, and how can anyone take part in your workshops and projects?
Ioana Selaru:  DISC, District of Screen Composers, is a music studio located in the heart of Bucharest, Romania's capital city, is a cultural hub called Manasia. The studio was established three years ago, in 2015, but with another vision and under a different name. The studio is open to anyone who is interested in our activities, and any student or young music enthusiast, willing to be part of the music field, can take part in our cultural programs aiming to bring value to the community.
Myki Angeline: What is your background in music and knowledge, and how is this incorporated into DISC?
Ioana Selaru:   Much of my passion for art comes from the environment I grew up in. My father was a musician in his youth, a guitarist in a rock music band, and my siblings studied architecture, painting, and literature. My passion for composing music has emerged in the final years of high school when I started creating my own arrangements for a band. Then I saw the movie "American Beauty" and listened to the soundtrack composed by Thomas Newman. It was the first time film music really drew my attention in a meaningful way because I was simply absorbed by the perfect blend between music and story. Being trained in a classical way from a very young age is a factor that is easily recognizable in my own compositions. From the way, I build my melody, to harmony and orchestration. I like to integrate the sound of violin in almost any creation. Regardless of whether it is a plucked string, making a percussive sound with the bow or with the body of the instrument.
Myki Angeline: Have you encountered any hurdles as a woman in your industry? If so, what have you done to overcome them?
Ioana Selaru:   I was lucky enough not to have experienced blatant sexism directly. I think prejudice is everywhere, all around the world. Many people, I think, are still not used to the idea of seeing a woman in a leading role. Inappropriate comments are just a sign of insecurity. It is quite clear that there are more men than women working in the film industry, but that does not mean that women are not interested in this kind of job. Every time I am faced with a similar situation I try not to show that I am affected and treat it as a normal work problem. Apart from the above, my male colleagues have been very respectful and supportive.
Myki Angeline: Do you have any upcoming films to be released, or upcoming projects for others to become a part of to share with our readers?
Ioana Selaru:  Apart from my composing work and efforts to develop productive professional relationships, I am investing a good amount of time into organising events that combine visual art with music.  On May 19, the works of three young graphic artists will be accompanied by live ambient music created by us. We will also be interacting with guests and presenting the studio and the artists' activities in a laid-back atmosphere. There are several future projects, so it is best for readers to follow us on Facebook, Soundcloud, and Instagram.

Myki Angeline: What advice do you have for those choosing to pursue a career in film score composing?
Ioana Selaru:   My advice would be simple: to get out of their comfort zone and experiment. As an artist, it's important to find your own style and draw inspiration from other people, but what leads to being a real artist is experimenting and developing productive relationships.
Follow DISC on Facebook, Soundcloud, Instagram, and Vimeo.
Follow Iona Selaru on Facebook and Soundcloud
---