In the audio landscape of Northern California and beyond, Dana Jae has done it all these past 30 years: live sound, film sound (production and post), purchasing, studio recording, mixing, mastering, and education. She began as a purchasing agent for Leo's Audio in the late 80s, acquiring extensive knowledge of audio equipment through brochures and spec sheets as she researched manufacturers and their offerings. From that time onward, she became proficient in live sound, serving as a house sound engineer at the San Francisco nightclub Bottom of the Hill beginning in 1991, touring the US and Europe with the band Medicine as their sound mixer from 1994 to 1995. From 1999 to 2004, she also partnered in and presided over the record label and commercial recording studio called APG Records/APG Studios, which has evolved into Portero Post. She then explored film audio through the creative visual media production company Films on 45 in 2007. She also runs her own sound company called dcj Productions, though that has since taken something of a backseat to her work as an audio educator — she is currently Broadcast Electronic Media Arts Department Chair at City College of San Francisco.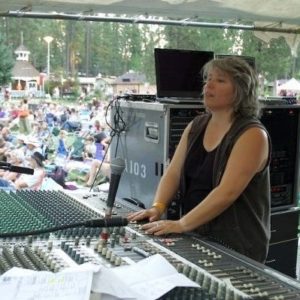 I met Dana Jae in April of 2022 while she was lending her experience to a tri-annual event called Bushwick Book Club Oakland and simultaneously providing her students with real-world experience mixing live sound. After a thrilling in-person conversation about audio education, Dana Jae and I corresponded via email and she answered the following questions. Her responses have been lightly edited for clarity.
What was your first piece of gear and what did you create with it?
I bought a Tascam PortaOne 4-track cassette recorder in 1983 when I was 20 and started recording bits and pieces of my electric guitar with some pedal effects. I played around with running the cassette backward to make some strange loops with my voice recorded (through the same pedals) to create some good noise that eventually turned into a song with more melodic parts added later. I learned to bounce tracks to get more than 4 in order to play with more overdubs. Thus began my official songwriting beyond writing lyrics, which I had done since around age 11 or so.
Describe your most memorable learning experience as a novice engineer. Was it fun? Difficult? A bit of both? 
The first time I had to run FOH sound at a local festival was a huge learning curve for me. I had done sound for about a year or so at a lot of smaller clubs and outdoor events, but nothing the size of a festival in the Castro for Pride. I was supposed to be the (learning) second engineer and not the lead mixer. I think this was sometime in the late 80s. The guy mixing told me, after the first song of the headliner, to take over as he had to go find an outhouse. I was shocked as I knew it would take him the entire rest of the set to get there, stand in line, and then get back. I was so nervous! "What if something went wrong? Would I know how to fix it? What if there is feedback? What if…?" He just split, and I had to find a way to calm myself down quickly, center myself, and stop my hand from shaking on the faders. Deep breathing.
I just focused on the band on stage and opened my ears to the whole sound. I kept asking myself, "What's missing in the mix? How does the bass sound? Should I EQ it a bit more? Maybe I should add some delay at the end of a couple of the vocal lines in the chorus." I got into the zen of mixing live at that moment and was transported. I think I lost 5-lbs that day from my heart racing. The best part about it was the soaring feeling of having dialed up a pretty good mix, that I was actively mixing throughout their set, and some kudos I received after. Was it fun? Shoot. Not back then. But it became so much fun the more I mixed and learned as I went. Events like this one and every gig thereafter started the word-of-mouth trajectory that made my live sound career flourish. By the time I started mixing at Bottom of the Hill in 1991, I felt ready to take on any mix and be able to deliver.
How did your time as a purchasing agent shape your relationship with gear and sound in general?
The best part about purchasing was being paid to research manufacturers and model numbers as well as important specification differences between different model numbers. It was like having an audio education with all the brochures and spec sheets (this was pre-everything available on the web), so I would shuffle through hundreds of brochures, make phone calls, and receive FAXES! of current pricing. Those jobs enabled my ability to "talk audio" with anyone. I have so many manufacturer names and model numbers stored in my wee noggin. And I also was able to buy the gear I wanted for myself at cost plus 5% (employee deal) = SCORE! I became a gear geek early on. The Shure brochures were (and are) so full of excellent audio education.
You teach audio at CCSF. What first motivated you to begin teaching and what inspires you to keep teaching?
City College of San Francisco (CCSF) is where I teach and have been since 2001. At the time, I was working/owning/promoting a record label and recording studio I had, partnered with another audio engineer, in 1998 — APG Records/APG Studios. We had 6 or 7 artists on our label. My friend who was teaching at CCSF was applying for tenure and she asked me for a letter of recommendation to add to her tenure portfolio, as we had known each other since the 1990s and I was one of a few of our colleagues who had my own letterhead! (ha!) Alas, I wrote the letter and when we checked in some months later, she told me she had received tenure and was looking to hire a lab instructor in the department. I had never thought about teaching as a profession, but when she had me come in to shadow her one afternoon to see what it was like, I thought: "Oh, yeah! I can certainly do this!" She knew that I trained some of our interns at the studio and also for my own live sound company (dcj Productions) and said it was a lot like that, except I had to be organized to complete grading, paperwork, etc.
What is one of your favorite ways you've found community in the Audio field?
Most definitely through organizations like SoundGirls, Women's Audio Mission, and Audio Engineering Society. I have also been attending numerous audio conferences over the past 20 years like NAMM and these are where you can meet a lot of audio professionals. Also, being the purchasing agent for several local pro audio firms had me seeing the names of all the local top audio folks and I was able to meet many of them through these pro audio companies via events we would host on occasion or chat with them when they came in to pick up gear.
You own your own sound company, dcj Productions. What do you feel is the most unique personal quality you offer your clients?
All of my live sound work has been through word of mouth. I never had a website for dcj Productions because I didn't have to. I had a business card with a phone number and email address. I provide a personalized service that attends to the needs of the local community (mostly the not-for-profit sector) and am someone who communicates clearly and in a focused manner. Since I am able to do many different sound tasks from live sound to recording to editing and mixing, I have found that one job usually has led to another that way. Once I started teaching full-time at CCSF in 2011 (was part-time for 9 years), I had to slow way down on the gigs to focus more fully on the college and my students.
You have worked across so many settings. Is there any area you would still love to explore?
I absolutely love composing and mixing other artists' music. I'm a plugin freak and really enjoy tweaking a mix with the myriad plugins I own. This includes composing using soft synths. There are so many VI plugins out there! I've also been developing my skills in the area of immersive audio and developed a class at the college teaching surround sound mixing. We received some grants to purchase the latest for two different surround mix rooms that I'm very proud of. They are excellent learning environments for students to work in a solo fashion in a smaller mix room to develop their mixing skills on the latest technology.
What advice do you most often give to people just beginning to pursue audio?
It is important to learn everything. These days there are so many aspects to audio: AES67, Audio over IP, Immersive Audio, live sound event production, wireless… it's endless!  My advice is to stay focused and be sure to learn something every day. Join audio groups such as SoundGirls, AES, SMPTE, and WAM. Read up on gear, new developments, and the people in audio via online magazines such as Sound on Sound, TapeOp, Mix, ProSoundWeb, and FOH. Learn to wrap a cable well, and you'll have doors open to you.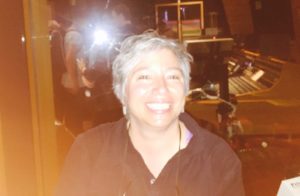 Dana Jae's website can be found here: http://www.danajae.com
She is also on the following platforms:
Facebook – https://www.facebook.com/dana.jae
Instagram – danajae33
Twitter – @danaj33
LinkedIn – https://www.linkedin.com/in/danajae/