By: Chris Van Drie
'The difference between information storage and information communication is only a difference in one's inertial frame of reference. Communication from point A to point B is ultimately just bit transportation (i.e. a form of storage) but in a state of relative motion. Likewise, storage is just communication across zero distance (but through time)."Davis, Don. "Chapter 4." Sound System Engineering. 4th ed. N.p.: n.p., n.d. N. pag. Print.
On the surface of it, communications can look like a totally different animal from the rest of audio. On a fundamental level though it's not only the same, it also has the same basic requirements that all of us here at soundgirls.org are familiar. Reliability and meeting timelines are paramount, and it's crucial we select the right tools for the job.
For every live TV show that my company does we build a custom communications setup, but you'll find some of the same gear on every show that we do. In no way is the equipment I'm mentioning here a comprehensive list of comms gear. Just a run through of some of what you could expect to see if you popped into one of our shows.
If you're looking for a place to start learning about comms, I highly recommend the free, downloadable pdf 'Handbook of Intercom Systems Engineering' published by Telex. It's a handy reference to get some of the basics. I also recommend taking a quick peek at my first blog article to get an idea of who the players are that need to communicate for a live TV show.
I like the breakdown the handbook has that there are four categories to comms system: Party- Line systems, Matrix Systems, Wireless, and Accessories. We need equipment from all four of these categories for each of our shows.
Wired Comms
The name 'PL's' harkens back to the Party-Lines of ye olde telephone days. Today it's often used incorrectly as a catch-all phrase for the communications of a show, but that's just a misnomer. A Party-Line is referring to a system of two wire comms that allow for duplex communications in a public conference. But let me unpack that jam packed sentence for you. In a full duplex system, people can talk to each other simultaneously, interrupting each other as much as they please- like a telephone call. In half-duplex, only one person can talk at any given time while the other person listens- like walkie talkie's.
Typical Party-Line setups have channels that are public conversations, and anyone who has those channels can communicate in full duplex to other people. In other words, they aren't designed for point-to-point communications. Some of the channels or public conference that we always have are Cameras, Stage Managers, Audio, Lights, and Producers.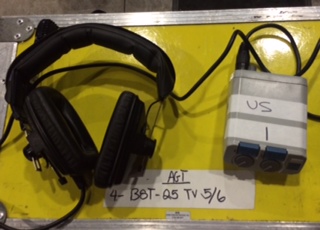 The most commonly found PL Equipment in our world is the RTS system. At its most basic it consists of a single power supply that powers two channels of comms. By connecting comm packs directly to the power supply, or by stringing them together you can power two channels that everyone would use to make a show happen. I can only think of maybe one show where we've ever had this basic of a set up and that was because we were trying to fit it under (aka cram it under) the seats of a packed Broadway show.
To add more than two channels to an RTS comms system you have to add more power supplies and the ability to assign the additional channels to the right user packs. For example, the camera people get Camera and Engineering channels while the spotlight operators get Spots and Lights channels.This is done with a source assign panel (a SAP) that has thumbwheels to dial in which comm packs should get which channel. Here is a picture of one of our dial-up racks which contains an RTS source assign panel and RTS power supplies. There are obviously other types of wired PL comms, such as ClearCom, but usually we only interface with these systems when they're permanently installed in the venue already.
Matrix Systems
Wired Matrix systems allow for a greater degree of flexibility. In addition to having public conferences, they enable many people to have point to point communications in full duplex. They are also the backbone of a comms system and are incredibly versatile. Often the issue when setting up a comms system with a matrix is picking which way to set it up because there are usually a number of possible ways to accomplish any one thing.
Most of the TV trucks that we work with come equipped with the RTS ADAM Matrix, which is controlled by proprietary software. The ADAM obviously integrates with the RTS wired party line system and with the right interface it will integrate with other systems as well.
Typically we interface the TV truck's ADAM with our Riedel Artist Digital Matrix. The Riedel is a matrix that's like a German version of the ADAM and connects with coax and fiber. In my opinion, it lends itself to being more portable to move from venue to venue whereas the ADAM is better suited in a permanent install such as a studio or TV truck.
The Riedel can be a standalone comms system, and occasionally we use it that way but more often than not we're interfacing with the TV truck. The concept behind the Riedel is that we have nodes in various locations that are ringed together with fiber. We can then ship comms and audio lines via this fiber ring as well as use the node to connect panels.
Users of a matrix system can have key panels with many channels and point to point communications instead of just a two channel pack or biscuit box. Pictured is the monitor mixer's panel for the show I'm at now. It has the channels for Audio, Cameras, Stage Managers, Producers, Comms, a point to point to the FOH mixer, and a listen key for the Assistant Director.
Wireless Systems
There are a many, many different types of wireless comms, and they're worthy of their own separate article (which I'm hoping to write at some point). But it's worth mentioning the Telex BTR since I'm covering the gear that we always have on every live TV show we do. These units are a common sight in theaters, churches, TV studios and they're used heavily in live TV as well. Not exclusively but heavily, there are a lot of great options when it comes to wireless comms.
I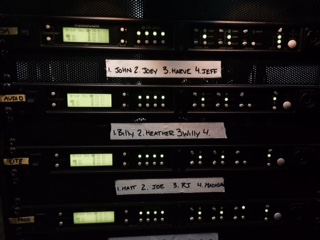 Each one of the base stations in the rack belongs to a certain frequency band and by having a variety of frequency bands we can fit in more wireless users. Each one of the base stations can have up to 4 users, and the wireless packs they use can have up to 2 channels and an iso channel to talk to other wireless users. We trick out our BTRs to hot rod them a bit, but they're great just out of the box too.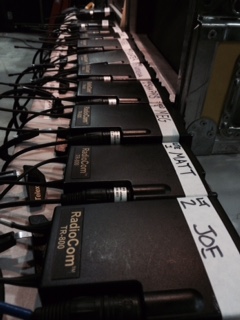 All lined up and ready to go. These are combination of TR-800 and TR-825 packs.
In communications for live TV, we always use the equipment I've listed above in some combination but we definitely don't limit ourselves to that. By utilizing equipment from each of the categories of Wired, Matrix, and wireless systems, we design comms systems based on the specific needs of whatever live TV show crosses our path. Speaking of which…. time to go back to work!