To Inspire and Empower more Women in Music.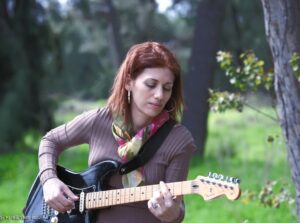 The Ballad to the North Wind multi-media package brings unity, empowerment, story tell and women in music together for a glorious celebration!
Ballad to the North Wind is a duel project spearheaded by Israelian composer, guitarist, music producer, audio engineer, and author Liz Barak. With the pursuit and goal of telling stories through music and helping bring more equality in the music industry, Liz set out to make the Ballad to the North Wind project to inspire and empower more women in music.
The project is creative and expansive, consisting of a fictional book and a music album with 7 covers of songs with the collaboration of over 40 different female musicians around the globe and one original song ("Ballad to the North Wind" which was composed by Barak). Ballad to the North Wind carries intrigue, artistic flavors, and exotic tastes going from covering Eric Clapton's 'Layla' (which consists of 10 virtuoso female e-guitarist from all over the world) to a cover 'Hallelujah' (which features Grammy-nominated singer Nicole Zuraitis) as well as a cover of the 'Little Mermaid' (featuring world-renown opera singer Wallis Giunta). The book portion is the fictional story of Layla Nueman. An Israeli singer-songwriter-guitarist who moved to London during the late '90s to pursue her dreams and escape her past. She meets at a festival a Scottish man, Erik, who is 20 years older than her and falls madly in love with him. 25 years later she walks into a restaurant in east London with her husband and daughter and runs into him there. It's a story about music, writing music, festivals, juggling, fire and regret.
Ballad to the North Wind is the perfect example of what artists of today's climate should be striving and reaching for. Creating music and art that's meaningful, thoughtful and more than musicians standing on stage playing their music in ripped jeans and a t-shirt. In this day and age, an artist must be visionary, brand minded as well as bring people together from everywhere for great causes and give out uplifting messages.
Ballad to the North Wind The album is available for download on all platforms and the book is now available on all Amazon stores.
Learn and read more about the project and the participants here: www.lizbaraksproject.com
Liz currently works as a Producer at her home studio and resides in Kfar Vradim, an artist village in the Galilee mountains where she teaches music and music production at a local college. She also was FOH for Germany's biggest circus, Circus Roncalli, and has a Composition/Music Production bachelor's degree from Berklee College of Music in Boston and a Contemporary Composition degree from the Academy of Music and Dance in Jerusalem.
---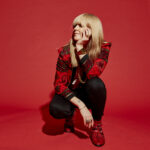 Guest Blog By Vanessa Silberman is an international touring singer, guitarist, songwriter and record producer from Brooklyn, NY (via Los Angeles, CA). She also runs an artist development label called A Diamond Heart Production (adiamondheartproduction.com) and is the East Coast A&R Director for New High Recordings.
Vanessa's live shows and music has been compared to the raw bare bones rock 'n roll of Nirvana along with the appeal of Liz Phair and Chrissie Hynde, authenticity of classic artists such as Patti Smith and Neil Young mixed with the pop sensibilities of commercial radio artists such as Green Day and Metric.
Widely known for having a very strong DIY ethic and wearing many different hats in the music business —is the past Vanessa has worked for heavy hitter's in the music business such as Producer / Songwriter Dr.Luke as well as for many companies and places ranging from the Foo Fighter's Studio 606 to Epitaph Records.
Audiofemme.com named the touring singer and guitarist one of the hardest working bands of 2019, 2018 as well as 2017 (as she managed to play over 200 shows that year alone). Vanessa has done over 20 tours between 2015-2020 and played over 800 shows across the U.S. as well as in the UK and Europe supporting 2 EP's (Brighter in Bloom & self-titled) and various singles released through her label, a 7" through Resurrection Records / ADHP as well as a cassette released by ADHP.