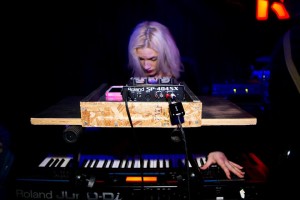 Staying motivated and inspired as a female in a male dominated industry can become incredibly daunting. Usually "I want to work with you" gets misconstrued as a dinner date or even worse, "I like you" might get taken as "I want to work with you." Welcome to my world, where "little girl" usually precedes "what are you doing behind the console" and where my body of work is usually thought to be written and produced for me. I am a producer/engineer, that happens to be a woman.
Since I was very young, I always had an ear for sound, harmonies and things that made sense in my head as an arrangement. Not only one melody, but many contrasting melodies painted vivid colors and gave me different feelings. I started playing multiple instruments by applying the theory of piano to guitar, and that to violin, viola, etc. Before I knew it I was able to compose my own symphonic works and like a mini anvil falling from the sky… I realized I was a producer. When I started making music, I had one of those little tape recorders with the face and the microphone. I would tape over cassettes and hold the mic to my keyboard and put a split sound and a beat to it, essentially a live recording (JK, but in theory, I guess). I think that was my first take as an audio engineer — making the recording not clip and adjusting everything accordingly so that I could hear both sides through one incredibly unfortunate baby microphone. I think most of the time now, I keep that same sweat ethic with different gear. It took me so long to develop my crafts but I never lost an ounce of enthusiasm, that's what keeps me mostly motivated. I live for production and writing.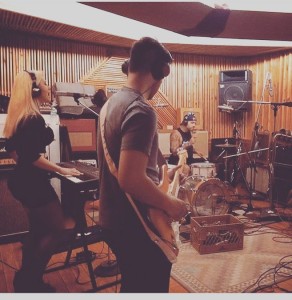 I write daily, sometimes 4-5 songs in one day- depending on my level of inspiration/caffeine. There are certain beats or songs that have fermented in my head throughout the day or over a period of time that by the time I'm ready to give them life, they're more or less done. Sometimes it's a lyric, or a piano lick, or a melody in my head, or a feeling that feels like a color that feels like a certain emotion that will sound a certain way in my head and I paint that sonically, and develop from there. I think most music has an organic way of flowing from one point to the next. I don't really stress about making music unless I'm producing for someone else and I'm on a crazy deadline, and have other ideas in my head. (I get incredibly cranky and strange when I don't make music o.0 ) Sometimes I have to throw the ideas for my own stuff on the side and concentrate on other things, or tying up loose ends and finishing touches on beats/lyrics that are for another person. Either way, there is no lack of inspiration or hard work on my end. I think since I love what I do, I'm able to do it 24 hours a day and it doesn't feel like work or a chore. It's just like breathing for me, it's natural, and that's what really helps my work flow, as does being my own producer.
Don't get me wrong, I do have so many producers I love and would love to work with but self production can sometimes be the best approach to a record, if you can take yourself objectively out of your own head and not get married to certain sounds that may not complement that work or arrangement (easier said than done, I know that). There's no better way to get your vision across than by producing yourself, it feels more real to me that way and I can connect with the music more and have a better vocal and musical performance and overall experience with a song or record. I have so many ideas and many times people want to play things safe, and I just don't have time for that. I'm a risk taker; life's too short to play it safe. By producing and mixing things myself, I'm able to get every idea out of my head and not have to describe it or go through trial and error until it sounds how I thought it would sound. It's a lot more work while composing a record, but I think it's more rewarding and fulfilling. I'll throw in a lot of hidden things sonically or musically that enhance my art, which had I not been so involved with my own material, I probably wouldn't be able to do. I think most of all it's empowering. I started off as a musician and writer to a producer from my natural curiosity, and studied audio out of a love for sonic art, then realized the ultimate perk; it was the best way to avoid the ever creepy "What are you going to do for me?" engineer. (I can feel the silent nods) I will leave it at that; be your own boss, be your own idol, be your own producer/engineer/writer and most importantly be yourself.
---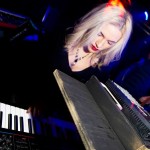 Eve Minor is an up-and-coming artist based in New York, with origins in Southern California. While she formerly spent time as part of Universal Music Group's songwriting team, the talented singer, songwriter, producer, and multi-instrumentalist is ready to break out on her own in 2016.
Minor has faced a multitude of trials and tribulations throughout her life, including a difficult childhood in foster care, toxic relationships, and a battle with cancer, all while never letting go of her ambitions within the music world. With all that she's learned in her young life, she aims to inspire other artists with her writing and uses her personal struggles to inspire young women everywhere.
Her latest music endeavors feature the flavor of New York's hip-hop scene with splashes of her own California roots. The production, largely developed by herself through her use of Reason, Logic, and Pro-tools, is inspired by late night adventures and new friends, while also telling the story of making the most out of being dealt a tough hand in life. Minor cites that she was influenced by Miguel, Nina Simone, Amy Winehouse, as well as Alice In Chains, Phantogram, and Citizen Cope as major inspirations for her sound, and credits Mobb Deeps' "Quiet Storm" as the song which made her enamored with hip hop. With various influences that range from pop to soul to hip hop, Minor has crafted an unique style and sound that is all of her own.