By: Petra Randewijik

When I was in school for Music Technology I vividly remember a good percentage of my classmates, (mostly men, there were four women out of thirty students) carrying around sound technology magazines. These magazines were full of articles and reviews about various audio products. Products we never got the chance to use, since we could not afford them, but everyone had an opinion about how they sounded. I also remember thinking this was stupid, most of the magazine articles about audio products were useless to me at that time, being unable to remember all the product names and numbers.
Before I enrolled in the school, I had started to intern and volunteer at gigs. I was able to work with gear although most of it was older and less expensive than the gear in the magazines. I had to work hard to remember the names and numbers of everything I worked on. The outcome of this was positive as I still only remember the gear I work with and my opinions come from using the gear.
Going to an exhibition feels to me like facing a real-life version of the magazines, with me again feeling clueless about everything that's being shown. But with an exhibition close to home and getting an opportunity to meet another SoundGirl, I got up my courage and decided to get in touch with Malle. When I arrived, I immediately got lost in a large video exhibition room and couldn't find my way to the audio room. After some time and with help from my dear colleagues I ended up in the right room.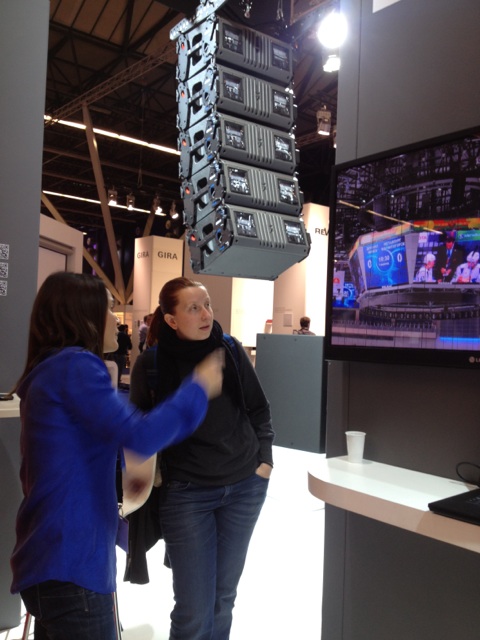 It was great to meet Malle, and it turned out she was very good at starting conversations and finding the right person to talk to. We ended up getting some questions answered about one digital desk and having a brief, but interesting introduction to another. Malle introduced me to her friend Eva Argandoña, who works at D.A.S. Audio. She showed us how they approach system design and gave us a brief introduction on how their prediction software works. It is called EASE Focus, by AFMG and you can find in at their website if you're interested.
I discovered that there was, in fact, a lot of information at the exhibition and I just needed someone to help navigate through the maze and who was not afraid to ask questions. Often, men would step in front of us, or brush us aside to ask questions and we found we had to try a little bit harder to get noticed. I also had to try not to get too offended by the companies who had hired women to be on display. (SoundGirls.Org – Note – There is a great article on Booth Babes by Leonard Suskin, The Problem with Booth Babes: How 'Casual Sexism' Hurts the AV Industry).
So if you feel way too shy about attending such an exhibition, bring someone who isn't, and it might just end up to be a very interesting day. In addition, don't forget to bring your own food and drinks, because what is available is hugely overpriced and tastes awful.