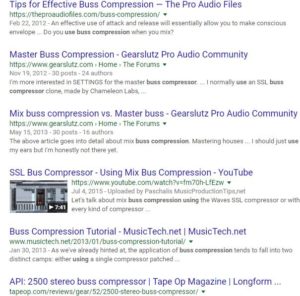 Buss compression (or mix buss compression) is a hot topic. It's taught in audio schools, videos and tutorials, mentioned in textbooks, blogs, forums, and podcasts. For such a covered topic we rarely hear about why or when it SHOULDN'T be used.
Film/tv mixer April's philosophy:
I quit doing mix buss compression years ago for a single logistical reason: Most film and television work requires delivery of mixes and stems (dialog, music, fx, voice-over). If someone needs to edit between the mix and stems for whatever reason, it has to be seamless (other than needing a limiter on the master and maybe a small crossfade). These stems go on to have a lot of uses – foreign versions, promos, advertising, conforms/changes like airline or television versions.
Most of the music I mix is for film or tv which is a similar scenario. Music is delivered (to the mix stage) as a mix and stems of similar tracks summed together (such as vocals, strings, piano, guitars, percussion, pitched percussion, lead instruments, etc. ). Stems exist to repurpose music, also. For example, composed music may get reused in different episodes of a series but versions of different lengths. It's easier to re-edit a music cue with stems because your reverb decays are clean, vocals are isolated from the mix, percussion is separated, etc.
I recommend anyone who mixes music to work with stems in mind. Even if a band is just making an album and not thinking about licensing or placement opportunities, it's a simple step that will prevent major headaches and expenses down the road. If it's time-sensitive and you can't deliver what is needed it could mean the opportunity – and the money – goes to someone else. Twice I've had songwriters I recorded/mixed songs for ask for stems TEN years later because a song was placed in a film. In the digital world, there's no guarantee your session will open, audio files won't be missing, and plugins recalled correctly when that much time has passed (just look at .sd2 – a format that was standard at one time but won't even open in Protools today). I now archive stems for everything I work on.
When do I use buss compression? When it has a clear purpose. Sometimes there's a specific sound I'm looking for in a stem that can only be created with buss compression (compressing a drum kit is a good example). Sometimes I use it to help speed up dialog mixing (in instances with tight turnaround times). Buss compression can help with dialog intelligibility, too, so I might use it on an interview stem or for a news piece. In some cases, buss compression helps with DSP usage or simplifying plugins and automation – like bussing all your background vocals to an aux with processing versus a plugin on each individual channel.
On the occasions, I do use buss compression or processing I set it at the beginning of the mix, and once I'm working, I generally don't tweak again. This is partly due to gain staging – when you make compressor adjustments it can affect the output level which triggers the buss compressor differently which means further adjusting. Compressors only get a sound in the ballpark – it takes volume automation/fader riding for nuance. It's taken a lot of mixing with buss compression settings I don't like to figure out what I do like.  It may seem counterintuitive to finish a mix with something that isn't working but sometimes making a minor adjustment to a buss compressor causes as many problems as it solves. That's one of the hardest parts of mixing – to know when to leave it be!
---
Music mixer Ryan Tucker shares this philosophy:
After fighting with stereo buss compression for many years, I've mostly abandoned the practice altogether. Now, I tend to subgroup as much as possible so that my entire mix is limited to a handful of stereo faders. I often compress each with the most appropriate buss compressor and settings for that sound rather than leave all the heavy lifting to a final stereo buss compressor. This gives me more dynamic control and a more transparent compressed mix then would be achievable with only a stereo buss compressor.
Further complications with stereo buss compression present themselves when you decide to add the compressor to an already leveled mix. Compressing the stereo buss after getting the levels will completely change the mix you just spent so long tweaking thus requiring you to remix your levels into the buss compressor you just added. It is much harder to do a mix then compress it rather than to mix into the buss compressor from the beginning. Even then if you make an effort to begin buss compressing early on you may have to readjust the compressor settings to meet the requirements of any new tracks inserted. You may find that the rhythm section sounds great into the buss compressor until you've added all tracks and drastically increased your RMS level. And so it goes, on and on, a constant battle. Like a bowl of jello, push one end and the whole things moves around and jiggles. Better to do your dynamic reduction on individual musical parts than leave it all to the buss compressor.
On top of all the aforementioned complexities, one can't just put any old compressor (hardware or plugin) on the mix buss! Most lack the necessary features to treat the stereo buss appropriately. For example, buss compression (or really any stereo compressor) must be very sensitive to the stereo image of the instrument or mix. Some stereo compressors reduce stereo image, create imaging unbalanced to one side or the other, or pump every time the kick or bass hits.
There are different ways designers address this. Many stereo compressor plugins implement stereo difference detection and MS techniques to avoid image steering. In addition, many implement filtering in the sidechain to reduce the low-end influence over the gain reduction circuit. This is what prevents your kick (center of the stereo field) from pumping the wide panned guitars, reverbs or whatever content is found in the sides of the stereo field. Shadow Hills Mastering compressor implements stereo difference detection along with providing a side chain high pass filter. Fairchild 670 is a little more blunt in giving the user control over center image and sides by implementing a mid-side matrix. Channel 1 becomes center image compressor while channel 2 compresses only the sides of the stereo image. This implementation requires a little more user understanding and responsibility to get things compressing correctly.
Either way, a stereo compressor may or may not call out that this implementation is taking place or how they are doing it – that it sums the side chain signals rather than just triggering off the L or R side, or the loudest side, or a sum of the sides; that gain reduction focuses on the peak or the average signal levels; that the rate of gain change is fast (ex: VCA style) or slow (ex: El-Op style); that non-user accessible filtering or EQ bumps are in the sidechain; that internally program dependant release switching is occurring, etc, etc. Just as one can't judge a book by its cover, one shouldn't judge a compressor by its interface.
Buss compressors exist because tracking compressors aren't very good at compressing a mix. So, if you're going to use buss compression, make sure it is specifically designed to be a buss compressor and to operate on stereo signals appropriately. Keep in mind, people selling compressors would rather sell two monos then just one stereo. Even though they say "Sure – side-chain two of our mono compressors on your buss", you definitely need to take into consideration whether you should use it on your buss or whether you should do some research and find an appropriately designed unit to serve all your master buss needs.
In summary, after all of this discovery, I personally decided to move my dynamic reduction downstream, off the mix buss and onto my tracks and stems. If I use stereo buss compression at all it's only musically reducing about 2-4 dB of gain at most, and is really just meant to glue the movement of the tracks together into a unified stereo program.
---
Ryan Tucker: Ryan is owner of TuckerMix a custom music mixing service for independent artists, composers, producers, and labels. In addition to mixing music, he has served many world class music-audio companies in software and hardware product development.
April Tucker: April is a Los Angeles-based re-recording mixer and sound editor who works in television, film, and new media. She holds both a Master's Degree and a Bachelor's Degree in Music/Sound Recording. April enjoys doing educational outreach such as writing for industry blogs, giving lectures and presentations. April can be contacted through her website, www.proaudiogirl.com.