By: Kerrie Mondy
So in sharp contrast to the New Line space, Stray Dog does it shows in a breathtakingly-beautiful old church called Tower Grove Abbey. It's gorgeous, and it makes for a really cool place to see theatre. Hearing it is another story! To say the acoustics in there are a bit weird would be an understatement, but we made it work, and we didn't need anything fancy in the way of gear, either.
The Abbey has been around for over a century, and its conversion to theatre space is relatively recent – the main stage was built in 2007. The ceiling is a high, multi-arched affair, there's not a soft surface to be found, and the room is very live. This is a blessing for the company when it comes to straight plays, because they don't need or use mics unless there's a band, and generally everyone can be heard well.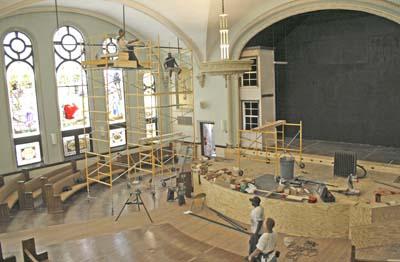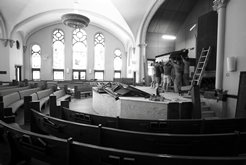 They've gotten into the habit over there of making 2-story sets and placing the band up high. This is immensely helpful, as the mics don't have the band blaring directly into them. The gear they use is a simple setup consisting of an old Allen & Heath ZED analog board, 2 JBL PRX612s for L/R, and a combo of Shure & Sennheiser wireless units with Countryman B6 mic elements.
First off, I can't say enough about the B6s. I became really turned off of Countryman after having so many problems with the E6s at New Line (they've had a really high failure rate over there because they don't stand up very well to sweaty actors or a lot of movement, mainly due to the vulnerable connection point of cable to earpiece). But the B6s, having only the cable and element, have the same great sound as the E6s, without those points of failure. The feedback rejection of these mics is fantastic, and they're so versatile and easy to place, use and wear, they're my new first choice when it comes to this type of micing. We used the middle-sensitivity (red band) variety, and they picked up a little more of the stage than is optimal for that theater. I'd love to try the lowest-sensitivity ones in the future.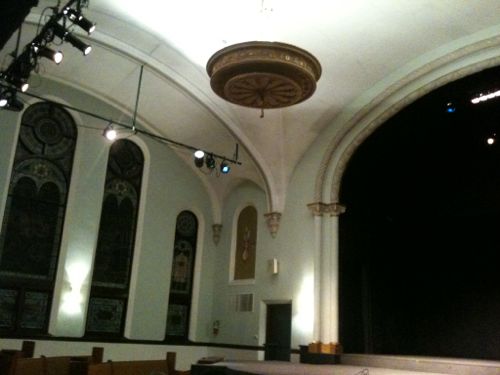 The JBLs work better than I would have expected in the Abbey. They're positioned wide – about 6-8 feet from the edge of each side of the stage, toed-in so they just cover the outside edge of the patron seating but are focused more to center. They sound petty good, clean and natural, and they were really put through the paces by one of our lead actresses, whose voice has more power in the 1-3k range than anyone I think I've ever heard. We did have a problem, about halfway through the run, with a rattle in the mid-highs on one of them. I thought at first we blew the speaker, but a little online sleuthing has led me to believe that we're having a common problem with something coming unglued inside. We'll need to open it up and have a look.
I have much to learn when it comes to acoustics, and this space is a challenge. I found it not only to be very reverberant, but especially so around 1k and to a lesser extent, in the 500s. The tonal character of different voices dramatically change how they're perceived in the space, as does where the actor is standing onstage. The hot spots/dead spots onstage are CRAZY, and of course are affected by the set as well as the room (you can see a photo of the set under construction below). Despite all this, though, we ended up with a pretty good-sounding show by applying a few basic "rules" to it, all of them pretty much centered around "absolute need"!
Use only the gain you absolutely need at the mic. I had the Sennheiser packs set at around -30, depending in the actor.
Use only the amount of level per mic you absolutely need per scene. Sound good at -15 when no band is playing? Super. Use it. 🙂
Run the mains at a level that – you guessed it – is only what you absolutely need. This was probably the most important one because in a space like that, any extra acoustical energy is going to make your job exponentially harder, because it goes everywhere and wreaks havoc on intelligibility. I think of it kind of like when you run water in a kitchen sink full of spoons. 🙂 A little too much, and you get sprayed! I ran the mains at around -12, with the cabinets themselves gained to about noon. My goal was to just reach the back of the theater. With my speakers toed-in to reduce reflections of the sides of the sanctuary, we kept reflections under control, and the lower level helped blend the reinforced sound with the actual voices.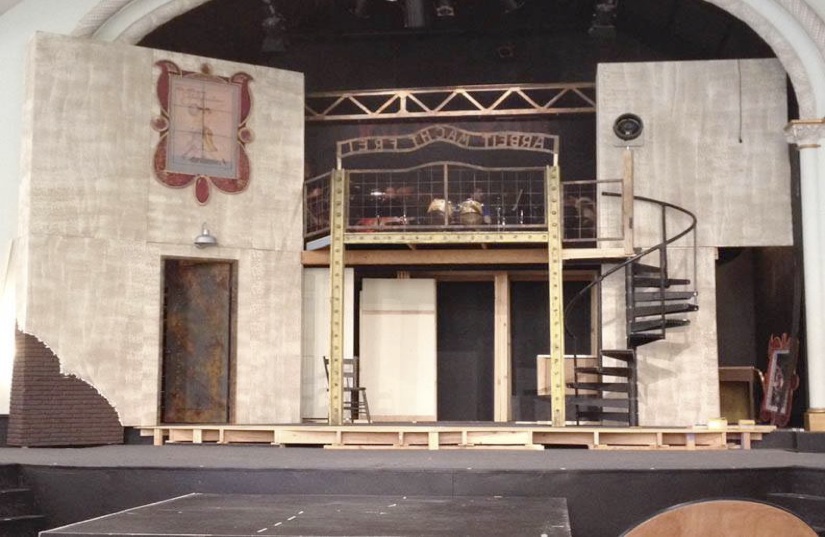 I loved working on this show, and am honored to have been asked to return to run their late summer musical, Funny Girl. Needless to say, I'll be doing my homework. I'd like to go back in July with a better understanding of the space, the stage, and the temperature and humidity effects I'm dealing with. As usual, lots to do, and in the meantime, 2 more shows await! Happy engineering, everyone!