Sarah Black has been working in live sound since 2006, and is one of the seven women on the sound crew at the iconic Sydney Opera House. Sarah shares her experiences working Vivid Live with SoundGirls.Org. Vivid LIVE at the Sydney Opera House is a ten day celebration of popular music. Embraced by the public as a unique contribution to Sydney's cultural calendar, Vivid LIVE cultivates artist-driven projects including unique collaborations, one-off projects and special events that take over all the venues and spaces of the House, including the iconic Lighting the Sails. Read more about how Sarah got her start and working at the Opera House.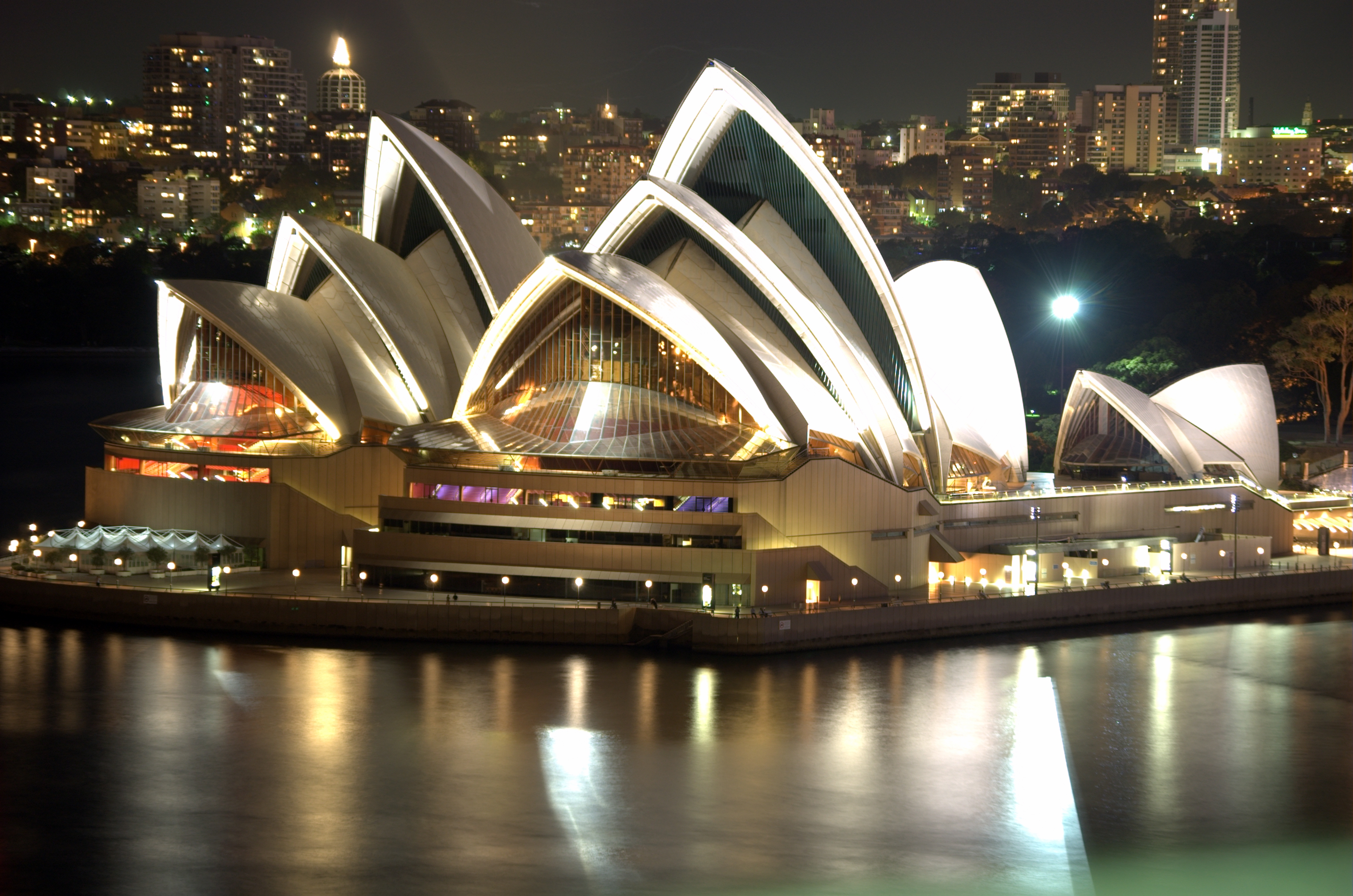 The Sydney Opera House is a performing arts center in Sydney, Australia. It sits on Bennelong Point in Sydney Harbor. The Sydney Opera opened in 1973, but design and construction began in 1958, when Jorn Utzon won the international design competition. The Sydney Opera houses contains multiple performance venues, making it one of the busiest performing arts centers in the world. The venues host over 1,500 performances each year, with over one million people attending. There are four resident companies that include Opera Australia, The Australian Ballet, the Sydney Theatre Company, and the Sydney Symphony Orchestra. They Sydney Opera House became a UNESCO World Heritage Site in 2007.
Vivid Live 2014
By: Sarah Black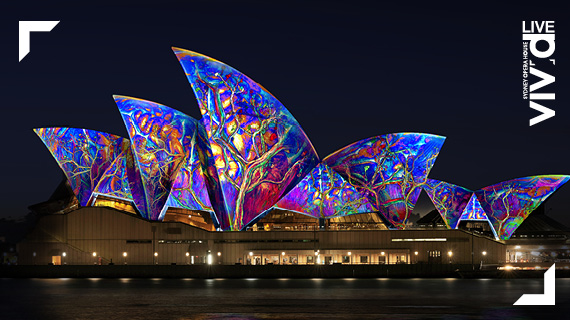 Vivid Live is arguably the biggest annual event on the Sydney Opera House's calendar. Part of the excitement is waiting to hear who will be playing. I was stoked to learn that the Pixies would be performing four consecutive nights in the Concert Hall. One Christmas when I was in high school I received a copy of Death to the Pixies. I almost burnt that thing out from playing it so much. From there I discovered two of my all-time favourites, Doolittle and Surfer Rosa. That excitement and enjoyment of sharing bands and music among friends on carefully made mix tapes was one of the reasons I got into sound in the first place. And now a band that seemed almost mythical in importance was going to be playing at a venue I worked at. Holy shit yeah.
It turned out I wasn't able to work on those gigs as I was asked to act as supervisor for a show called Timeline by the Australian Chamber Orchestra and The Presets (an electronic duo). Timeline was being squeezed in as a matinee between two of the Pixies shows. Finding out Kim Deal would not be playing did take the edge off my disappointment.
Lead up to Vivid.
Vivid 2014 took place during a heatwave in Sydney. It wasn't swelteringly hot like a summer heatwave, but it was consistently above May average temperatures for a couple of weeks. This is unfortunate for farmers come October when soil has been too dry for favourable crop production; though fortunate for people who want to meander around the harbour taking in the festival. Vivid started as a way to attract tourists to Sydney in winter. It has been curated by Brian Eno (2009) and Lou Reed (2010). This year's festival director was Fergus Linehan. Vivid is a festival of light, ideas and sound. Each year the sails of the Sydney Opera House become a canvas for projections, as do the facades of the MCA and Customs House. Light installations and sculptures adorn the harbour and stretch throughout the CBD. Film clips of the dance company Bangarra are projected onto the Sydney Harbour Bridge. And over 10 nights venues within the Sydney Opera House play host to classic and innovative performance in what is termed Vivid Live. It really is one of the greatest times of the year to work in the SOH audio department. Performances and incidents from years past have become folklore amongst staff.
Tuesday 20th May
A good proportion of the audio department are rostered on for prep work. We meet in the green room to discuss shows and coordination of gear. There are four permanent supervisors in the audio department at SOH. They get assigned shows and undertake all the preparation that goes towards technical delivery. This includes meeting with production managers and clients, ascertaining what gear is needed and booking it both internally and through cross hires, sorting out input and output patches… basically being on top of the gig before it happens and then overseeing it on show day. I'm acting up as a supervisor for the ACO/Presets gigs which includes a matinee in the Concert Hall and a night show in the Joan Sutherland Theatre later in the week. I'm honoured to do this, as well as a little nervous. At present there are no permanent female supervisors across any of the technical departments (audio, lighting, staging, technical support) so it's important to step up, both for my own professional development and for the development of the sisterhood.
We go over the shows on couches with coffees. There's a lot of love in our department. In part it comes from so many 16 hour days spent together. We share a lot of meals, pressure, laughter and satisfaction. I think it's hard not to see a particular personality type drawn to this type of work. The characters you meet make the nature of shift work more endearing. We discuss what gear has been hired in, coordination of equipment across venues, logistics of how this all comes together, who is doing what and performance requirements. After the meeting I head down to the office to work on the prep for my gigs.
A truck is due to arrive at 2 pm with consoles, speakers, amps and other additional gear that has been cross hired for the duration of the festival. During lunch I'm asked if I can set and operate a lectern for a staff Vivid briefing that is to happen at 4 pm in the Studio. I enlist the help of one of our audio technicians, Tod and we quickly grab a lectern, some USB DIs (for audio that goes with video presentations) and a couple of hand held radio microphones as backups. So I miss out on unloading the truck but I am ok with that. The briefing is mostly from Fergus regarding performances. The guys from Fifty Nine Productions also present a video going over their concepts for lighting the sails. Exciting times ahead.
Wednesday 21st May
Today is another prep day. All the gear that came off the trucks has been unloaded into the opera dock. There are so many packers! On ground level at SOH there is a driveway that runs down the middle, known as Central Passage. On the western side of the house you have three smaller venues: the Studio, Playhouse and Drama Theatre. Above these is the Concert Hall, our biggest venue. On the other side of Central Passage, in the eastern shell, is the Joan Sutherland Theatre (formerly known as the Opera Theatre). On ground level there is a massive lift that goes to the rear of the JST stage and adjacent to this is the opera dock.
Consoles are flipped and checked. We have hired in Profiles and PM5Ds for FOH and monitors respectively. Tech riders from some of the main acts have specified these desks. Most of the installed consoles we have are Midas Pro Series (CH has the XL8), and we have a few PM5Ds. The JST installed console is a Euphonix System 5. Packers are divvied up into locations. Gear needs to be able to float around as a package. This applies to mic stands and cables as much as the consoles. Some of our techs start building files for their shows. We take some packers up to the Main Rehearsal Room, a space that comes off the green room. We assemble a ramp to roll the packers down so we don't have to lift them down stairs. This ramp is awesome. We wheel in a monitor rig including a PM5D, M2s, amp racks and cabling.
I head to the office to check in with my ACO contacts over email and make sure I have booked the correct equipment. Timeline is touring so they are bringing their own console, mics and cabling. As this show happens in two different SOH venues there are two sets of requirements to prep. The first show is in the Concert Hall and needs some surround sound speakers set up. This CH show is also being filmed with a multitrack audio recording by our in house Recording and Broadcast Department. This requires organising an extra split for them. An extra ISO split is hired in that will work with the touring ACO stage rack and give us tails to patch to the SOH studio racks. I liaise with our Megastore staff and make sure we have all the additional items ACO aren't bringing with them: the surround sound speakers (Meyer UPJs), some side fill speakers for the choir (UPMs), an onstage Sound Effect speaker (UPA), an amp for an effect horn, stands and cabling for the speakers.
Later in the day I help set up the Studio (the venue, not the recording studio) which is going to be used for Vivid parties that generally go until about 3am. The Studio has a mezzanine level where there is a control room. The usual set up has a Pro 2 in here but for these shows it is being moved to the side of the box. This is much better for mixing. While you mightn't be in the centre of the space, you have a better reference to mix outside of the box. The Studio has flown D&B Q1s (4 each side), J Subs on the ground and Q10s for image. There are also E6s for front fill and E8s to cover the mezzanine sides. For Vivid we add a B2 sub on each side as most nights are going to be DJs and you can't get down without a fat bottom end. The phase on these B2s gets flipped so they don't have cancelling issues with the J Subs.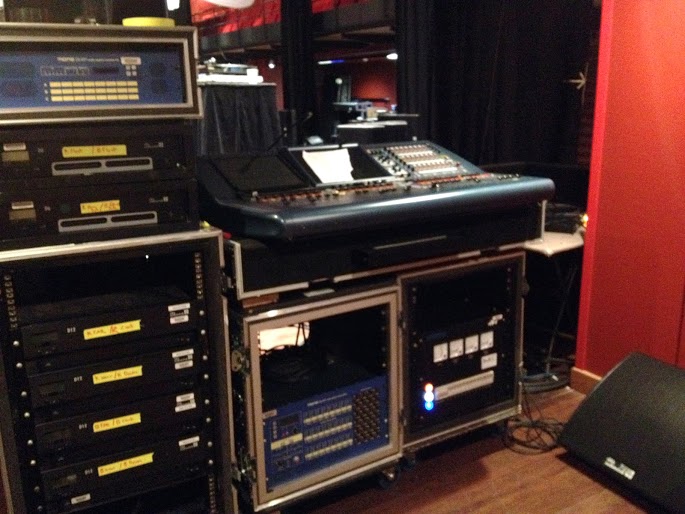 There is an amp room on the lower level with cat 5 and fibre tie lines to the FOH control room. For the first few shows there is a monitor system being used in the Studio so there is a second Pro2 set for that. One of the audio supervisors, Steve, gives a few of us a lesson on DN9650s and DN9680s, both of which are in use here. We patch the I/O devices via two 9680s. We also configure the desks to talk to each other as generic AES50 devices so that we can set up shout mics. We use the installed DL431s as our main input devices and a couple of DL451s with analogue output cards for FOH PA and monitors. For monitors we are going to be using D&B M4s and D12 amps.
Thursday 22nd May
It's an 8am start. Walking from the Circular Quay train station to the Opera House I notice a haze hanging over the harbour and the smell of smoke. There is back burning taking place on Sydney's fringes that is eerily drifting over us. This is done now to prevent summer bushfires. It's going to be 27° Celsius today. With the haze and the early morning sunlight streaming through light installations that have popped up overnight around the quay, it's hard to believe winter is only a week away.
My primary task today is to set the Western Foyer. This foyer runs alongside the three smaller venues on the western side of the building. It has a bar and box office. It is a primary access point for patrons going to the Studio and during Vivid it is also a venue in itself. Or it will be by the end of today.
This space needs to accommodate small musical acts and a DJ rig. The main challenge is cable runs between the stage and the mix position. There are floor traps with XLR points that can be cross patched, but the amount of lines needed means running cores through the roof, from one side of the room to the other. Outside the foyer is a colonnade area on the boardwalk where there is another bar. We also need to patch signal through to existing speakers in this area, as well as to subs that are going to supplement the system. The third aspect of this set up is to patch into a roof system so that audio can be sent across the entire foyer area if required.
It's a flurry of activity in the WF with lighting setting their gear, AV rigging projectors, theming transforming the space and us four audio techs doing our thing. Deets handles the task of running multicores across the roof. We set a Pro1 at the mix position and add in a couple of hand held radio microphones (the old UA system). Something we always do for radio microphones and IEMs is get a frequency plot made by technical support, even for something minor like this space. I've only ever had one super crazy RF thing happen at SOH. I was working on a show in the Drama Theatre, which is surrounded by enough concrete it should be a bunker, and there was some intense interference. It was during rehearsals for a show called Black Diggers, about ANZACs in WW1. The sonic climax of that show had all these explosions. Right at that moment this crazy noise started blasting through the PA, coming down the radio mic channel. It happened right on cue with everything getting blown up. Most likely it was caused by something passing on the harbour which a frequency plot can't really combat. Still, I don't want that to happen again and with so many shows and comms going on inside the building its good practice to get a plot.
For FOH speakers we set E12s with E15 subs. These are perfect for this size event. They have great clarity and are powerful enough if you need to pump it up a bit. We use floor traps to patch into the house system for both inside and outside. This gets tricky when we need to get signal to the subs outside. We have added a couple of Meyer 650s. These are self-powered speakers and need an isolated power supply. Prior to being set, Deets gives the subs a lick of paint and they look like new! It's such as beautiful day outside. The haze has cleared and the harbour looks stunning. Facilities sort us out with some power by setting a distro up. While there are no 'audio' patch points or tie lines under the colonnade, there is a cat5 line that ties back to a patch panel we can access from the floor points. So we go out of the desk, into the floor, from the panel where the floor points appear we patch to the cat5 point that appears outside. We then use a cat5 cable that y splits to two male XLRs to send audio to the subs. Isn't copper amazing!
The megastore has been pretty cleaned out of gear in the prep for Vivid so we end up setting a couple of UPJuniors as foldback. At some point during the day it becomes clear that the opening night performances are going to need more than the 8 line stage plate we have set up. We manage to locate a spare 451 which allows for an extra 16 inputs and 8 outputs. After testing lines we are almost good to go.
I am working in the Studio on opening night. We get hold of some technical riders and learn that there is one electronic act that needs 17 lines. Deets and I move into the Studio to continue setting up in there. We start with stage plates, then run out monitors and check these with pink noise. The biggest act for Friday night is Midnight Juggernauts and they arrive to drop some gear off early. This gives us a chance to discuss with them their technical requirements and stage set up. A couple of hours later and we are in a good spot to call it a day.
VIVID LIVE
Friday 23rd May – Opening Night. The Studio, Siberian Nights
I'm working with two great guys, Carlos and Andy. Carlos handles FOH, Andy stage and I get to do monitors. I've had more experience as FOH, but lately I am trying to get my chops up on monitors. I have to say I am loving the Mixtender 2 app that works with the Midas Pro series. For one, it makes tuning so much easier. Another benefit is that you seem to have better rapport with artists when you are standing right next to them dialling in what they want and adjusting levels. You also get a lot of 'Wow you're doing that on an iPad. That's so cool!'
Tonight is hosted by Siberia Records. All up we have five acts plus DJs performing inside the Studio. Siberian Nights also includes the Western Foyer space with various acts and DJs performing there. The hardest part of club nights like these is managing the changeovers. Fortunately tonight Midnight Juggernauts set themselves upstage centre and are going to stay there until they perform. The stage is quite wide but not that deep. We have two additional risers on wheels on either side of stage. We run a pair of M4s for each of these and two pairs and a single for MJ set up. We designate the riser on stage left to be the DJ riser so it can stay there all night and then we only have to worry about moving the gear on stage right and centre around.
One of the guys in MJ has brought an IEM he wants to use. We have the Pixies performing above us in the Concert Hall and they are all on IEMs so we get a frequency plot from tech support. It would be unfortunate to have the Pixies getting mad electro beats in their ears. MJs have brought their own sound person with them who I've known for a while so it's nice to see him too.
MJ run their entire set for sound check. The only technical issues we have are adding some front fill to cover the area immediately in front of the stage. It's a little tricky as the stage is so wide but it's also quite low. We need to set the E8s back from the lip of the stage and angle them upwards. Otherwise as soon as you have people in front of the speakers they just block them. The other issue is that the IEM system that MJ brought with them only has a little antenna and it's tucked inside a metal road case so there are some drop outs. We grab some RF cable and a paddle and set that up right next to him which resolves the problem. We then sound check three of the other acts over the next 90mins. Luckily we have an awesome backline guy on site who is able to supply an ever increasing demand for more keyboard stands. We also need more DIs than were specified. Andy runs around to other venues and is able to pinch enough to make our show work. There's quite a bit of gear on stage but we manage to set it so that changeovers are streamlined and things can just move towards centre. The first act is able to fit downstage in front of MJs set up.
We end up running out a second 24 way stage plate so we don't have to share any lines between performers. I opt to set up POP groups for each act rather than using scenes. During line checks I set my channel gain and compression on the console. The compression is definitely needed for this kind of thing as sometimes samplers and keyboard patches can be all over the place level wise. I am able to do the rest on stage using the Mixtender app, even EQ. It's so awesome. The DJs require a booth control monitor set up. We take a left, right and booth channel. The booth channel is then the only channel I send to monitors, which allows the DJ to adjust level on their mixer.
Everything goes pretty smoothly. We spiked monitor positions during checks to help with changeovers. Andy is a stage wizard and makes things happen so quickly. Black Vanilla are the only act we didn't get to sound check so as they arrive at the venue we confirm their tech requirements (DJ and two MCs). A DJ is scheduled to play for 15 minutes between Forces and Black Vanilla which gives us enough time to set them up, line check them and dial some track and vocals into the monitors. It goes well and they bring some crazy dance moves to the stage.
Monitors world is under the mezzanine ledge and not far behind the subs. All night I have had some serious bass kicking back at me. I walk in front of the subs and the waves are so strong it's like a massage. I'm pretty sure my hair is blowing back like in an 80s film clip.
One of the nicest things about finishing work after midnight at SOH is that they give you a cab charge to get home. One of the worst things about finishing work at around 3am is that it's taxi changeover time and there are the least amount of cabs on the road as they head back to their bases to swap drivers. Carlos and I sit on the roundabout at the end of Macquarie Street for about half an hour waiting for a cab. All the Vivid lights have been turned off by now and we missed them entirely.
Saturday 24th May – Timeline Prep Day
10 hours later I'm back at the house. Today is a pretty short day for me, primarily to go over tomorrows Timeline gig in the Concert Hall. I pick up a trolley with the gear we pinched from other venues for Siberian Nights that needs to be returned. R.I.P Society is a record label and tonight is their 5th birthday party. When I pick up the trolley they are already sound checking in the Studio.
I take the opportunity to first visit the JST where the lovely Lana is working. Lana is one of the most amazing women at SOH and a real trailblazer. She is effervescent with a great sense of humour. Lana has a very caring approach to both her work and her colleagues. In return everyone loves Lana. Today she is working on a celebration of The Avalanches, with artists reimagining their spectacular LP Since I Left You. When I drop by the AV department is also showing their skills with 3 screens being hung at the rear of the stage.
I go through the production info and check for last minute changes to the requirements for tomorrows show. There will be four of us on for the bump in. I print out input and output patches for both FOH and stage. I make a plan for attack in the morning so that we can be most efficient. I even include task delegation. I then double check that all the gear we need has been put together, including the split and tails that have been sub hired for the recording.
I decide to drop speakers and cables around the Concert Hall in secret hiding spots so that we have a head start on tomorrows early morning. There are enough stairs in the Opera House that the time it takes to cart gear around can start adding up. At the top of the CH there is a cupboard where I stash cables, stands and two UPJs that are going to be set over the rear boxes. There are rooms known as TV booths on either side of the stalls. These are often set up with TVs on the window ledges that display a conductor view feed for performers. I drop a UPJ off in each of these.
We are literally squeezing a matinee show that has 64 lines from stage and a chamber orchestra in between two of the four Pixies shows. The crew tonight will strike the stage but leave monitors world, ground stacks and side fill in place. The ACO touring console is a Yamaha CL5. The Pixies have a Profile at FOH. As we have a really tight turnaround scheduled between the shows the idea is to work around the Pixies gig as much as possible. So the Profile is staying in place on a lift riser and we have to work out how to get the CL5 in. I look up the dimensions of the CL5 and add 10cm to allow for the packer it may or may not be in. We get out the measuring tape and work out how far the Profile needs to be moved to the right so we can get the CL5 in a centre mix position. It's quite poetic that we are squeezing both the console and the gig in. Elbows out, excuse me. While I'm there I drop off some cables that I'll patch into tie lines for the stage rack and to the input processors. The FOH engineer for Timeline, Bob Scott, has let me know he wants to run the main PA with 4 inputs – L, R, Sub and a horn feed.
At this point I'm pretty satisfied that I've done as much as I can in preparation for the gig and all that's left to do is the actual gig.
Sunday 25th May – Concert Hall, ACO with The Presets, Timeline. Take One.
So it's 6am and I get a call from one of our bump in crew. They are sick and can't make it. I high five myself for getting those speakers up and around the day before, at least we are in a good starting position.
I meet up with Tod, who is an excellent engineer and will be out the front taking care of both systems and business. We also have Siena with us for the bump in. I run over the gig with them and what we need to achieve. We do a tool box talk addressing safety issues and potential risks. As we are down one crew member I readjust my plan of attack. The first task is to get the gear upstairs. As the Pixies have been using IEMs there aren't any actual wedges on stage, though the SOH crew did set an amp rack up as part of the general Vivid bump in. So we take the splitter rack, mic stands, M2s, Ep5 cabling and additional stage gear we need to the Concert Hall. We meet up with the ACO tech team, Bob and also Felix who looks after audio for them. First we get the console in place. Then here is why SOH is such a great place to work. Shane, our AV supervisor and two of his AV techs are waiting on an outside company to turn up. So in the meantime they pitch in and help us get the surrounds set and patched. Technical Support are around and they also jump in and help blitz the stage set up. So we go from being one crew person down to four up. What a bunch of legends. We even get time for breakfast.
Monitors are being run from FOH. We set up M2s for the band, vocalists and the percussionist. Two UPMs are used as side fill for a choir. A UPA is set onstage that is used as a sound effect speaker and in the second half a horn is set downstage centre. The PA in the Concert Hall, which holds more than 2000 people seated, includes J arrays for the main hangs (six J8s and three J12s each side), J8s for image, two J subs a side plus Infras which have been added for Vivid, eight E8s for front fill and eight T10 arrays for delays, choir stalls, upstage and downstage boxes.
The ACO has to be one of the most interesting and progressive orchestras around. For Timeline they have ambitiously charted 42000 years of music in a kind of mash up which is performed chronologically along with projections. The breadth of this project has allowed the inclusion of a drill which is mic'd up for when they reach the Einsturzende Neubarten part of musical history.
Preshow checks include line checks, both for FOH and the recording studio. The strings are mic'd with DPA 4099s. During the show I go for a walk around the venue with Felix to check how each area is sounding. Bob is mixing up a storm and it sounds fantastic. I'm so happy that the bump in and show go well and I have survived supervising a Vivid Concert Hall gig. I may have had a small satisfied smile at this point.
Waiting backstage for the show to come down, Andy appears for the changeover. On hearing the music he is blown away that it is the ACO. It is a piece called Continuum. The show finishes at 4.30pm and we have an hour scheduled for bump out so that the Pixies stage can be reset and checked. We attack stage which needs to be cleared in a methodical way. Felix has a system down pat with labelled drop boxes and exact cable lengths plotted around the stage. We need to pack these up exactly as they came. Between this show and next Thursdays show in the JST, Timeline is performed in Brisbane, so everything from the ACO end needs to be loaded into a truck. Tod takes care of unpatching FOH so the desk can be struck. The changeover includes striking audio, lighting and staging from Timeline, so that the AV screen can be dropped down to stage and removed before the Pixies set up can commence.
It is controlled mayhem. Again we have a team of amazing people come to help which means that by 6pm we are clear and the Pixies set up is well under way. Blitzed it.
Monday 26th May – Day Off, Pixies. Come on Pilgrim.
I have today off. But I decide to make the pilgrimage to see the Pixies. There's no way I could miss it. I slip myself into the stalls. It is a fucking awesome show.
Tuesday 27th May – Joan Sutherland Theatre, Nils Frahm.
Today is my first Vivid gig in the JST. We have Nils Frahm performing and it appears some of his gear has gone missing in Serbia en route to Sydney. Luckily the backline mavericks France and Teeroy have sent out a call and been able to come up with a Juno 60 with Midi.
The PA that has been installed into the JST for Vivid includes four V subs and two E12s a side, four E8s for front fill, V8 arrays (eight per hang) and E8s on each of the loges. This is supplemented with the usual K arrays that cover an area under the balcony. There is a Profile at FOH and PM5D for monitors (not used today as there's only two sends and the touring engineer handles that from FOH). There are Profile racks along with Lake processors at both FOH and Stage (LM44 and two LM26s respectively). The way this is configured means we patch an output at the stage rack into a LM26 to run subs off an aux.
In the end Frahm's gear turns up and honestly, the guy is a genius. He and his engineer are very hands on with the mechanics of their equipment which is really inspiring to watch. A lot of the gear is vintage (Space Echo and Rhodes keyboards). Rather than live with rattles and hum they actually pop the bonnet and fix the problems. For example they used alligator (crocodile) clips to sort out an earth hum on the Rhodes. They fixed an issue with a tape reel. Nils also got the SOH in house piano tuner to pull out the actual keyboard from the Steinway grand and voice the hammers. This allows for tone regulation by softening the felt. He also loosened the keys to make the action lighter.
I find the microphone placement on the pianos very interesting. The grand piano has a stereo pair of Schoeps, Eathworks PianoMics (the bar), pickups and a SM57 that is used for effects. Similarly for the upright piano (a Yamaha U1) there are earthworks mics and a pick up across the lower part, a pair of DPA4023s at the top, and again a SM57 to feed effects. There are several passive DI boxes for the Juno, Rhodes and piano effects.
The show is brilliant. Afterwards we kick on in the green room, meeting up with crew who have been working on the first of two Ms Lauryn Hill shows in the Concert Hall. This ends pretty late and I am glad to have the following day off.
Wednesday 28th May – Heavy Head, Happy Heart.
I don't go into the house. Here's a picture Tod took from monitors during Ms Lauryn Hill.
Thursday 29th May – Joan Sutherland Theatre, ACO and The Presets, Timeline. Take Two.
It's uncanny doing the same show in a different venue. This time around Timeline is at night and we have a full day to set up which feels luxurious after Sunday's timeframe. The Profile that was at FOH has been swapped out for a Pro2 in anticipation of the following nights gig (Goodgod Tin Pan Alley) so we still have to jostle our way in with the CL5. Stage set up is pretty much the same as it was in the CH with the exception of M4s rather than M2s purely for real estate. The big difference today is the surround speakers we are going to use and how to patch these. At the rear of the circle there are two UPAs, hanging from the loges are JF80s and across the back wall of the stalls are EM15s. At FOH position there are 24 way returns that pop up in the JST control room. The standard installed system in the JST has seven DLPs in various locations around the theatre. Some are in a 'brain room' behind the control room, a few are in a room adjacent to the top loge and a couple more are below stage in what is known as the pit cage (it's behind the orchestra pit and these primarily are for outputting to the fold back system down there). You could say the patching is a little tricky to get your head around and this is my first time supervising in this venue. The trickiness is further compounded by old labelling and a mix of bantam and XLR tie lines. Bob wants to run the surrounds as six discreet sends. In the Concert Hall this would be a relatively straightforward process where you send feeds to an input DLP and then use the input mixer on output DLPs to dial what you want, where you want it. One of our other supervisors, Yuval, helps me out with some local knowledge of where tie lies turn up. I patch two lines from the control room to the brain room and from here directly into the amps that run the EM15s. For the other four lines, we use bantam patches that turn up in the room at the top loge and from here patch directly into the output DLPs. Bingo.
Today we have one of my favourite SOH sound people working on the gig, Annika, along with Tod. All three of us are on for the full day. The ACO guys are a great crew to work with and we end up having a lot of laughs throughout the day. I recommend you check out their "Cats in Concert Halls" page on Facebook.
The day goes fairly smoothly. I sit out at FOH for the first half of the show. At interval we check the microdot connections on the DPA mics and reset a couple of microphones. The show sounds awesome and the V arrays provide great coverage and clarity up in the circle. Hearing the ACO smash out I Wanna Be Your Dog and Venus in Furs in the one breath is pretty rock and roll. In the Timeline program the director Ignatius Jones states that "nature of course, abhors a vacuum."
Friday 30th May – The Studio, Astral People.
I come in a bit early so I can visit the other venues and crews. Up in the JST they have Goodgod Tin Pan Alley. Here I find three lovely sound girls Al, Annika and Emjay. They are into soundcheck already. Annika is operating monitors and Al is assisting by walking around the stage to check sends. Emjay is on stage duties.
I then go up to the CH where The Heritage Orchestra is rehearsing for their show The Music of Moroder. It is looking and sounding amazing. I'm always staggered by how much goes on inside SOH. Sometimes you get so caught up in the show that you are working on that it catches you off guard when you walk through a door and there's a whole other party going on in there. It can be a bit like The Magic Faraway Tree. Tonight I'm back in the Studio. It's another of the Vivid parties put on by Astral People, and one of the DJs is the disco icon Giorgio Moroder himself. He started Djing last year, at 73.
Astral People have put together an awesome backdrop that is made out of CDs jig-sawed together in 3D. Audio wise, it's relatively straightforward. We have three rolling risers for three set ups. For each of these we run stereo lines and a booth. I generally put a pretty tight compression on the booth channels, to act like a limiter, as experience tells me DJs often meter in the red, even if they start out in the green. Each riser has a pair of M4s that are run from FOH. The second Pro2 that was here last weekend is now at FOH in the JST. I again use Mixtender to set FOH levels. It's a long and loud night so we would try and rotate FOH operator so that people can give their ears a break. SOH sets up a 'quiet room' for us in one of the Playhouse dressing rooms. It has a stage view monitor and some comms so we can still be in touch if need be.
I start off on FOH. During Moroder's check we go through him using a microphone to introduce himself. He tells me in an Italian accent while demonstrating "I pick the mic up, you turn on. I put microphone down, you turn off." Straightforward. I love him.
After Moroder's check is completed we have an act called Phuture who are pioneers of the acid house scene. They arrive straight from the airport and commence putting their elaborate set up together. We end up adding two extra tables to the riser to fit all their gear. We supply a Midas Venice 160 for them to patch some things into, and from there to a DJ mixer with stereo outs to the PA. We also set up a couple of hand held radio mics. We give them the out from a receiver so they can dial it into an effects processor (Roland VT -3). This is routed to the Venice. It requires a small amount of adjusting to get the input levels right so that it has enough headroom to get a decent level without feeding back in their monitors.
The party extends out into the foyer where more acts are performing. We have two DJs before Moroder. He comes on and does an introduction "My name is Giovanni Giorgio, but everybody calls me Giorgio…" and then plays an awesome disco set. He is a legend after all and pretty much invented disco. He interacts so well with the crowd, swapping hats with people and even taking selfies for them on the phones that get handed to him. He also has some super cute dance moves.
It's time for Phuture. I'm glad we were able to leave all their gear set up on the risers. Seriously, it's immense. There are decks, laptops, samplers, drum machines, bass synths and more. They do everything live. There's a quick side shuffle to get their set up to the centre of stage and away we go. It's a killer set.
Saturday 31st May – The Studio, Future Classics Party.
Again I drop by work early so I can visit some other crews. Up in the JST is the second of James Vincent McMorrow's shows. Like the Timeline show, the first was in the CH. Lana is working here and it's always nice to visit her. In the CH, The Heritage Orchestra is wrapping up their rehearsals for the day. Their show tomorrow night is being recorded with multitrack audio and multiple cameras by our in-house Recording and Broadcast team. When I visit the R and B studio they are testing camera angles and have got a lot of the infrastructure in place.
In the Studio venue, we have the Future Classics party which is again a DJ night. I decided last night I would set up some multiband compression for tonight. The thing about D&B speakers is that they can put out large volumes and still maintain perfect clarity. At times I thought the high end was a little too sharp. The other addition we need is a SPL meter.
Having rolling risers with three separate DJ set ups makes changeovers a breeze. Each set up has left, right and booth outs and we prepare a couple of hand held radio mics up for good measure. Future Classics are really easy to work with and checks go smoothly. Again I walk around with my iPad to line check and sound check. I set up pop groups for each riser to switch between performers. I find it interesting that the DJs are received by the audience as performers with applause at the end of each set. It's nice they get this respect for their skills. The night goes smoothly with the only concern being getting breaks for our ears.
At 3.30am winter has officially begun. Ironically for the first time in weeks it is cold and bucketing down with rain as we wait for cabs.
Sunday 1st June – The Studio, Moroder and Friends
Well, we made it to the final night of Vivid. Tonight is the triple Moroder special. There is a talk with Moroder in one of the foyers, followed by the Heritage Orchestras show in the Concert Hall. This performance peaks with Moroder himself coming out for Daft Punk's Giorgio By Moroder and doing the spoken word part live. The final instalment of this celebration of Moroder is in the Studio with a party called Moroder and Friends. This kicks off before the CH show comes down.
Early in the afternoon we sound check Moroder, who is also triggering video from his laptop. The video goes through a vision switcher and to get this in sync requires a small delay on the audio channels.
Tim from the audio department joins myself and Andy tonight. It's been Andy and I the last two nights and I couldn't have enjoyed working with someone more. He's a champion. Tim shows me a couple of tricks on the Pro2. Under distortion there is an effect called Tape Saturation. If you change the IPS to a slower tape speed it effects the highs. Playing around with the overbias as well you can really hear the difference on hats sounding brighter and duller as you dial it up and down. I'm definitely giving this a crack on DJs in the future to address issues with high end. Tim also teaches me to have maximum attack on DJ channels so that the compressor doesn't eat the bottom end.
Again we have the multi riser system- so good. It means that once Moroder is set we leave him in the middle and the other acts are to either side. By the time Moroder comes on the party is cranking. It's like being in an aquarium of sound and you are just floating amongst the sound waves. He does a brilliant 90 minute set that includes five, maybe six encores? He even plays Call Me and Bad Girls twice! At one point he says 'this is the greatest night of my life', or words to that effect. It is pretty disco fabulous. After the final encore he says he has to leave 'before they throw me out'. No one is going to throw him out. I can't think of a better way to see out Vivid Live 2014… except with a bump out which we do after the last DJs finish up. We strike stage. The extra B2s, M4s and amp rack need to go to Central Passage. The Pro2 needs to go to back inside the control room. All the extra I/O devices need to be unpatched and cable runs struck. All up it takes a few hours.
We head up to the green room where the Heritage Orchestra crew are also celebrating their win. All I can think is Love to Love You Baby. It's been a pretty full on fortnight, but it's also been a blast. All the preparation meant that technically things went smoothly. I feel very lucky to have been a part of Vivid 2014, and to work with such a great group of people in such an amazing building.