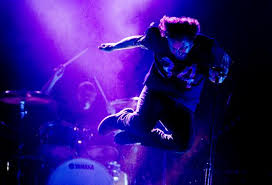 Last night we successfully completed our first weekend at Austin City Limits Festival. If it was a competition it would be safe to say we won or at least made it into the post season. (review of show) It was a great show, the weather was not brutally hot or cold and it did not turn into a mud fest. Both the audience and band brought it. This show at this festival should be put in the memory books. Except we get to come back next weekend and do it all over again. Should be a piece of cake right?
This has concerned me since I heard we would be playing over two weekends at ACL. This is my first adventure with a festival over two weekends, with the same band, same production, and same show (although with PJ it is never the same show). The way I see it these shows can go three different ways
Blow it the first weekend and spend all of this week worrying about redeeming ourselves. We have avoided this.


We nail it both weekends – Yes – We win and do a victory lap.

Or nail it the first weekend and adopt a "We got this Attitude" and blow it the second weekend. This just happened to my beloved Anaheim Angels and they are shut out of the post season just like that.
So the only choice in my mind is to be better than last weekend.
Game On – We should be playing to take the title.
Will this happen? I don't know – I don't see band and crew having a locker room chat on how we can't be cocky and have to bring it next weekend. Then there are  so many variables that can and will happen from now to then.
First we have to make it through the next week still in a generally good mood and no drama. No crew or band member physically or emotionally broken. It happens.
Then we need to show up rested and ready to rock. Should be fairly easy, we have a travel day and a day off in Austin. Although some of the crew may partake in day off activities more than others – I don't expect anyone to show up wrecked. Although you just never know.
Many years ago I had a lovely work/vacation in South America. I was with the Red Hot Chili Peppers and we headlined a festival that played one weekend in Sao Paulo and the following weekend in Rio. We had a week off in between. Needless to say most of our crew showed up broken in Rio. I remember loading in early 6 or 7 in the morning and by 8 or so our back-line was still not set up. The Clair guys asked me what happened to our crew since they last saw us – I just stared at our drum tech passed out on the drum riser and shook my head.
I don't for see any of our crew being that broken. I know our band won't be wrecked and hopefully our singer will not entertain too many baseball players. There seems to be an abundance of them around now – being post-season and all.
The plus side of coming back is there should not be any production surprises. I have my show file saved, this will be the first time since I have been using digital that I will actually go back and load a show from the past. I usually keep going on my file – cleaning it up a bit each leg and really cleaning it up before we start a new tour. This on the surface seems like a good idea – since the show was solid sound wise, but you never know what might change or be added these next two shows. And this is of course dependent on the weather being similar to the weekend before. I just checked the weather and it looks like it will be similar – although there is a chance of thunderstorms and it does not seem as there will be as much cloud cover. We must remember you just never know – Last year ACL 2013 last day it poured rain and was flooded out and cancelled.
As far as the weather and temparture and humidity – Here is a handy article for reference on how things such as temperature and humidity will affect your show.

And we will hope for no rain or wind – it is never fun playing a show when you are in a battle against the elements as the wind blows your sound away or visqueen has to be put over the wedges leaving you with a less than desirable sound.
They key for me is not to be complacent and work towards making the show the best it can be onstage for the band and letting go of the things I cannot control.
You will have to tune in next month to see how it went. We are also playing two days at Bridge School and while Bridge School should be a bit more predictable from show to show – having played it several times over the years – we have had good experiences and rough ones. Hoping to good ones this year. Would love to hear how you prepare to play festivals and shows over multiple days.