This time last year, I was finishing my first professional tour as Front of House/Tour Manager. Although I no longer work for the band that took me out, I can look back on the experience and appreciate all that I learned – first tours are often very much a trial by fire!
I was curious to contrast my stories and tips with that of another young SoundGirl, so I reached out to Holly Ann "Boots" Latcham. I met Holly last year at the Triple Rock Social Club in Minneapolis, where she was the house tech. She was very professional and quick in her stage set up that night, and more importantly, very friendly! I'd also like to note that any person that will stick around post-show to play some games of Buck Hunt is also awesome in my books.  Holly just finished a tour as FOH/TM/Merch with an up-and-coming indie rock band called Hippo Campus. She was nice enough to answer some of my questions via email.
But before we delve into the tour stories, a bit of background info on Holly: she first got interested in sound and recording while she was in high school. As the small town where she grew up didn't have enough artistic opportunities, she (literally) sold her horse to finance her move to Minneapolis so she could attend arts high school. From there, Holly enrolled in a Live Sound Associates program in St. Paul's. After graduating, she picked up every sound and stage hang gig she could, all the while often working day jobs as a barista or restaurant hostess to pay her bills. Her dedication paid off, and she landed a house gig at the aforementioned Triple Rock Social Club. She credits her work there with expanding her professional network; when not on the road, she can often be found working at 7th Street Entry, Turf Club by First Avenue or Mill City Nights.
Holly landed her first tour by applying for the position through a tech listserv she's a member of. Unfortunately, I am not aware of similar groups for Canadian techs – I got mine by asking every single touring band I knew to take me out; finally, one agreed.
Both of us asked tech friends for advice and checklists before hitting the road. Holly notes that Hippo Campus' management was of great help with pre-tour organization and information. In my case, the band's manager had supplied me with merchandise count sheets and basic financial spreadsheets. In retrospect, I found these sheets hard to use and should have created my own to be more familiar with them. As a TM, the most important thing I learned was that it's important to keep on top of finances daily: it's quicker to fill out expense sheets once a day (even if it's at 3 am!) than try and go through receipts a few days after the fact. The best tour finance sheets I've seen track expenses like gas, tolls, per diems, crew and musician salaries, and vehicle maintenance while also keeping tabs on income from show guarantees and merchandise sales.  It's very useful for bands and their management to be able to see both where the money is coming in, and where it is being spent.
Holly's top tour tip is to be friendly with the local crew; "Walk in with a smile, be patient, and realize they've got a million things to do as well.  The smile goes a long way when you're the first of 3 on a package tour, and everything is running late, and the house staff is getting frazzled." I think this reflects her past as a house tech; those of us who hold venue gigs, but also tour, can appreciate that it's much better to deal with a nice touring technician than someone who's rude!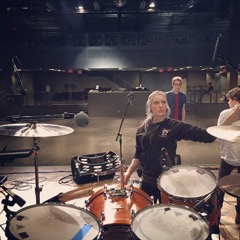 Interestingly enough, we both had some of our favorite tour shows in Kansas. Holly mixed at the Midland Theater in Kansas City, which she describes as a "gorgeous room, and the biggest space I had ever mixed, so the rush that night was phenomenal. The band played perfectly; I was rocking the M7, the house staff was friendly and organized, and the crowd was especially into the show that night." I was at the Grenada Theater in Lawrence, which is also a great venue. This was one of the few spaces on my run where I didn't have to mix monitors from FOH, so I was particularly excited. I wasn't used to the digital FOH board, an Avid SC48, but the house tech was extremely helpful in helping me run my band, perhaps due to the fact he'd been through the venue I worked at in Ottawa and remembered me. This made me realize that you never know when you'll run into a touring tech again; most of us also have house gigs. Being friendly with someone when they're at your house gig goes a long way in ensuring they'll go the extra mile for you when you're in their home club.
In terms of avoiding tour disasters, Holly's been pretty lucky so far! She describes her most stressful show on this run as the "one gig where the band went on stage, and I was out at FOH ready for them. I couldn't see monitor world, so I had no idea the house guys were still at dinner.  Hippo played the first three songs of their set with no monitors at all, but thankfully they are professionals and extremely tight, so the crowd had no idea.  I was able to get the headliner's engineer to run to Monitor World and unmute all the mixes, and the show went on beautifully.  We actually had a record-breaking merch selling point that night!"
In contrast, in between having Mononucleosis for the whole run and tour managing a demanding band, I found my first two weeks of the tour to be very stressful. My ears were physically in pain for the first few shows, which made it hard to mix. It also took me some time to adjust to TM duties – all I can say is that it takes time to build a rapport with a band! It's only when I'd started to be more efficient at my tasks and my fever broke that I started to enjoy the shows more. As someone who considers herself more of an audio engineer than a tour manager, it was hard for me to reconcile both jobs.
But, as Holly points out: if you're a young tech looking to get into touring, "(…) realize, that in the music industry and on the road, you'll hardly ever be able to do JUST sound, especially in the beginning.  Be willing to do everything from lights to pushing cases to doing sound in the suburban bars with only cover bands; exaggerate your interest in sound, but work hard at all of it to gain and keep the respect you will need to pick and chose the gigs you want to do." I couldn't have said it better myself! You must be willing to adapt and work hard if you want to keep getting those touring gigs.
As far as future tour plans, Holly intends to be on the road forever if she can. She told me that Hippo Campus would be keeping her busy in the near future, but that'd she'd also be going out with Hunter Hunted immediately following the end of the Hippo tour. As for me, I'll be doing some short runs with KEN mode this summer, and longer tours once fall comes.