Assume you are up against 30-50+ other applicants. It's worth putting in your best effort. When most applicants follow directions exactly or give thorough answers to questions, the ones who didn't will probably be passed over.
A scholarship application is about showing your best, but it's also about showing financial need. It's ok, to be honest about the reason you could use financial support and how you would benefit from it.
For students, judges are looking for signs that your career will go beyond your education. This can be shown through your extracurricular activities, experience, etc. Share your plans, not just dreams.
If submitting files, make sure your file name includes your full name and details about what it is (resume, essay 1, etc). Use the same formatting if there is more than 1 doc submitted (for example, "First Last – Essay", "First Last – Resume"). Make sure the name you use in your application matches the name in the documents you are submitting.
Essays
If a scholarship has 50 applicants and two pages of essays, that's 100 pages of reading for judges (sometimes it can be more). The first couple paragraphs are crucial, so if you have something important to get across, put it very early on.
Make sure you directly answer the questions being asked. Personal stories are ok as long as they are completely relevant to the question.
Certain things are going to be a given, like that you love audio, you're passionate about it, that you're trying to create a career out of it. Don't start your application with these statements (a lot of people do). If it must be said, include an example. Like, "I realized I was passionate when I was working a show that taught me…"
Don't start an essay with "(topic) has been in my life forever."
It's better to be real and authentic than be artistic. Poetic writing works in a song, but it doesn't work when your audience doesn't know you and is trying to get a sense for why you deserve to be given money.
Connecting to the Organization Behind the Award
Share any involvement you have had with the sponsoring organization and the benefit you have gained from them.
If a scholarship is sponsored by a person or is in memory/someone's honor, learn who that person is. Include how you connect to their story, career, or who they are/were. When this is done authentically, it really stands out.
If you make a good impression on judges, it can help your career even if you aren't the reward recipient. Judges learn some about who you are by reading your application, and you may encounter them again professionally (whether in-person or a social media group).
(these tips are based on reviewing hundreds of submissions for a variety of scholarship and award programs in the audio industry)
---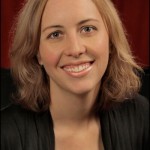 April Tucker: April is a Los Angeles-based re-recording mixer and sound editor who works in television, film and new media. She holds both a Master's Degree and a Bachelor's Degree in Music/Sound Recording. April enjoys doing educational outreach such as writing for industry blogs, giving lectures and presentations. April can be contacted through her website, www.proaudiogirl.com.