As December is approaching us, another year is gone. Time flew by, and I swear it was just January!
A year ago I could've never imagined that I would've learned the things that I've learned and worked with some amazingly talented artists, some whose music I have grown up with. I would've never thought I'd work on big events, having to plan and prepare for the Brits Awards after party in February, our first birthday party in May with the amazing Gabrielle on stage and last week we had Sophie Ellis Bextor doing a surprise performance. I mean, what a year!
With big events comes great responsibilities but also great learning opportunities. When you continuously challenge yourself and learn from your mistakes you are always improving!
Here are a few things that I've learnt this year that I thought I'd like to share:
Power – It started with the Brits Awards after party. The production we had in was insane, with extra everything! Extra lighting, extra sound system, LED screens, etc. All these extra things needed extra power, which we at the time did not have. Luckily we have some great electricians on site that helped me with getting all the extra power installed, with very short notice! Spending time with electricians is always useful as you learn so much from them, and without their knowledge, we wouldn't be able to have such an extravagant show!
Network – Audio via network and Dante is great when it's working. Not so much when it's not, it is tough to troubleshoot where the issue might be. Our whole audio system stopped communicating the night after the Brits Awards after party. I was about to cry after having worked an insane amount of hours. It took over a week to fix, and the basic explanation of the issue was the power to the switch inside our stage was powered off, which meant that it lost all the IP addresses, so it did not know where to send the audio! I'd like for that to never happen again!
Knowledge – If you do not know how something is working, then learn it! Due to some changes in one of our weekly nights we needed to be able to control our lights more in-depth. The issue was that none of us actually knew how to use the lighting desk properly. So I reached out and arranged for a full day of training for my team and me in how to use the Zero 88 Jester 24 lighting desk! It was a lot of fun, and it's great to be able to incorporate out lighting rig into our shows. There's not much room for us being able to be creative, but hey some colour here and there makes a huge difference!
Being a manager – Make sure to triple check that everyone is doing what they're supposed to do. That is to check in on everyone you're working with and getting regular updates on what they're doing. Sometimes people just need a reminder, but this is so important to make sure everything is running on time. On the day of a big event, you do not want to find out that someone hasn't dealt with a particular thing, which can cause a lot of stress and issues on the day. You do not need that in your life.
Inequality – It's frustrating when people treat you differently because of your gender or other reasons, however, try and not let it affect you. Just do your job and do it great. This is forever a reminder to myself to just let it go and focus on what I'm supposed to do, my job.
Back up – Back everything up. Thrice. On different USBs and laptops.
Learn from your mistakes – Admit when you messed it up and deal with it. Don't repeat your mistakes!
Looking back at this year it's been insane and went way too quickly. However, having taken the time to reflect, I realise now how far I've come and how much I've learned. Now it's all about the new year and to continue advancing within the audio industry. Who knows where we will be this time next year?
---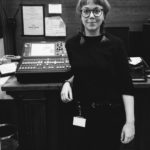 Olive Olin is originally from Sweden; Olive has been based in London, UK since 2012. She holds a BA (Hons) degree in Music Production and since graduating has worked as a live sound engineer all over the city. She has recently settled down as a full-time Production Manager at The Ned, a 5-star hotel in the heart of London. Olive manages to balance her hectic work schedule by finding time to produce electronic music, compose for film and work as a DJ. Olive blogs about the responsibilities of a young professional in the music industry.