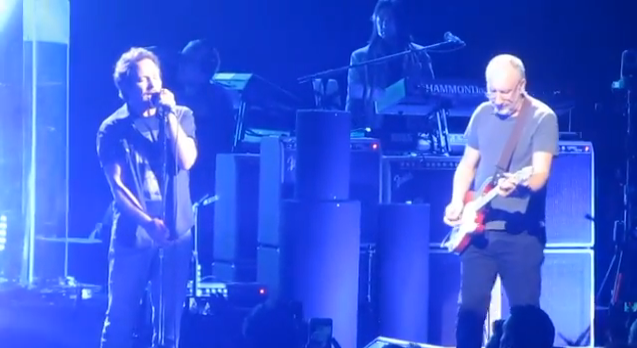 A few weeks ago I opened up my email to discover that I would be going to Chicago for "Celebrating The Who" Tribute Concert. I was told that we would be bringing E.V.'s wedges (usually we bring a pair in situations like this) and that I would be getting a set list in a few days. I assumed that Ed would be playing a couple songs with The Who, and we would be in and out. I pondered the politics involved and how I would approach the monitor crew about bringing in wedges. I decided to let it sit for a few days and wait for the set list.
A few days later as promised, a set list arrived, and it was apparent that this would be the Pete and Ed show. Ed would be performing for about 80% of the show, Daltrey would not be singing. Ed would be performing as a vocalist with The Who, a solo artist, and playing a few acoustic songs with Pete and Simon Townshend. It was evident that two wedges were not going to cut it, and I was kinda stuck on what I/we should do.
I wondered how loud The Who actually were onstage. I tried to remember the stage volume from the VH1 Tribute to the Who we played several years ago. I knew that Townshend's rig was fairly loud, but how loud was the overall stage? I knew Daltrey used ears and probably did not have wedges. I knew they did not use side fills because of Townshend's hearing issues. I also knew they used baffling onstage and that the drummer played behind plexiglass. These were all pluses for the center of the stage.
I decided that it would be best for us to bring a stripped down EV monitor system for the gig. By stripped down I mean bringing six wedges instead of eight, and I throw in ground side fills just in case. I then contacted Simon Higgs one of The Who's monitor engineers, Bob Pridden currently mixes Pete and has been with the band for fifty years, talk about a lifer. Simon was very open to accommodating Ed, and we worked over the next week along with Trevor Waite to determine exactly what we would need for the interface.
In situations like this – I usually just try to call it and let someone else drive. The last thing anyone needs is three monitor engineers trying to mix. Simon set me up on his SD7 and let me have access to Ed's channels.  Fantastic – more than I could have hoped for.  I think we did a good job of being aware of each other, making sure each of had access to what we needed.  Bob mixes Pete on a Midas XL3.
I then sat down and thought about what exactly was expected of me for this gig. It was not just about sound. The first responsibility was to make sure Ed was comfortable onstage, the second was to make sure the sound was right, and the third and maybe most important was to represent Ed. That meant caring about the gig, The Who, their crew, the show. Making it as easy as possible for them while making sure EV got what he needed.
As I left for the airport – I decided to grab EV's ears (even though we do not mention ears anymore), I had a feeling he would perform with The Who at Allstate Arena.  Glad I did – we needed them. Lesson – be prepared for anything.
The schedule for this show was crazy – Did I mention that The Who is currently on tour?  I didn't – They are. Nothing like having to do a benefit show in the middle of a tour.
Day One was a load in – set up day at the Allstate Arena – with a hard 6 pm curfew.  The Who was loading in and setting up for the show the next day.  We got our gear in, set up and tested.
Day Two: The Who Show day – EV Line Check – EV Rehearsal with The Who- Rehearse Joan Jett, Joe Walsh, and Rick Nielsen. The Who Soundcheck and The Who Show. Load Out.
Day Three: Load In – Rosemont Theater, Set Up, Line Check EV, Line Check The Who, Soundcheck all artists – Show
It was a stressful show – I could not let my boss down – but I knew I had to remain calm and work with confidence – stress is contagious. There are days when everything is going wrong but letting the stress and nervousness show undermines the confidence that artists have in their crews. It is not something that is easily mastered and of course you can't fake confidence. Confidence comes from years of experience; confidence is not ego; confidence is not a lot of loud big talk. I do know you need ego – until you gain confidence, and I do know that even with years of experience you can still go into a gig lacking confidence.
I don't know how to cheat either one – but sitting down and looking at what you are really being hired to do is the first step. It is not simply advancing gear and showing up at the right call time. It is looking at the overall picture, where you fit in, why you are being hired, advancing the right tools for the gig. I would not have brought or advanced the same gear for The Who as I would for The Letterman Show, which Ed played a few days later. It also takes looking back at the gig when it is over, what could you have done better, what you wish went differently, what you learned? I wish I had kept more detailed notes on gigs when I started out – it would have been helpful.
I believe that if I had not sat down and thought about the gig all the way through and had just advanced gear or worse case advanced the wrong gear – it would have been a failure. The show was fantastic. Truly an honor to be a part of it. Getting to watch these legends perform. Working with a great monitor team and working with Casey McDaniels – awesome tech from Rat Sound. (now have a back-up tech for Peter Baigent)
Highlights of the gig – Pete Townshend introduced himself to me – How Fucking Cool is that. Getting to hear Pete's rig – that sound – there is no other.
Joan Jett is bad ass – Holds her own.
http://https://www.youtube.com/watch?v=n7J4xTtftRo
Seeing Joe Walsh – Joe Walsh and David Lindley was the first Arena Rock Show I ever saw.
and what can you say about Rick Nielsen.
If you have never seen The Who – I recommend checking them out on their 50th-anniversary tour.
Copyright © 2015 SoundGirls.Org