By: Karrie Keyes
Over the course of twenty two years with Pearl Jam, the stage volume has always been an issue. Back in the day, stage volume measured around 120 to 122 db on any given day. Mind you, we were playing clubs and small theaters and often the stereo drum mix ( 2 Rat dual 15"/ dual 10"/2" cabinets) with a sub was loud enough to fill the room. (It would have been louder than most of the club sound systems, except we were carrying production). The vocal mic would feedback in the drum monitor. Our first soundman, Brett Eliason, would often joke that he only needed to add HH and Vocal to the house mix.
How the band played shows at that volume day after day is beyond me. I would often walk the stage and my ears would immediately shut down. It was challenging and brutal to mix and we would often measure the stage volume, placing pieces of tape with the SPL reading on each rig. The joke always was who wins today. Looking back, the hope was to shame them into turning down. It never really worked as there was always a half ass attempt to turn down to immediately be turned back up at show time.
While things have changed since then, volume is still a battle.  Multiply it by the stage dimensions and an incredibly talented, loud drummer. The band has always played in a tight and compact space, which I believe was to keep the feel and sound of the club days. We have also toured with production almost from the beginning and the band got use to a certain sound.  We rarely had different equipment.
In 1993 the band started to tour VS., there follow up to Ten, and began to play arenas. The crew was ecstatic that we had space and could open up the stage, the band was not. Shortly after the tour began the crew received this: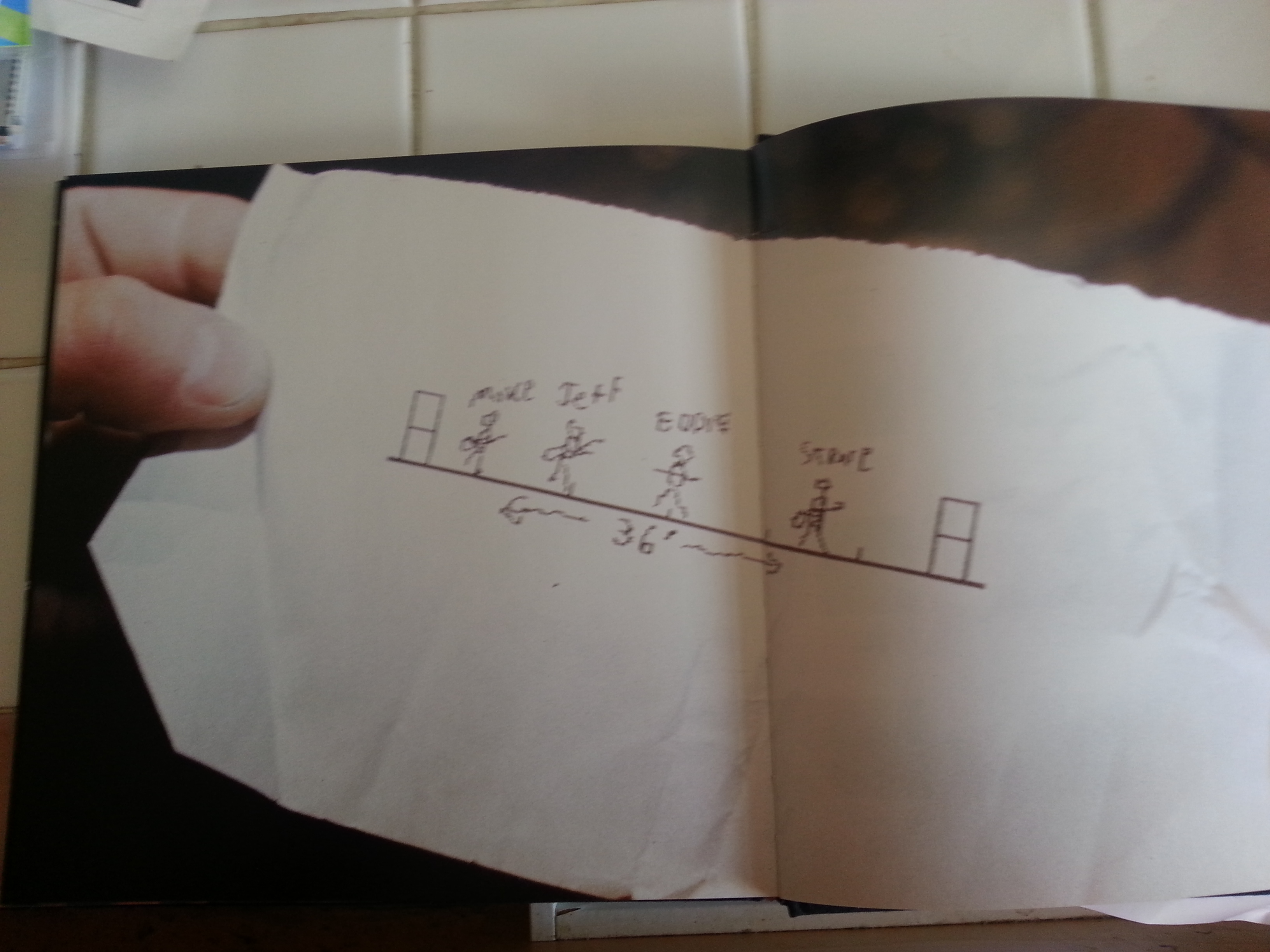 We were all too inexperienced to head this off. I believed the band would adapt to the space onstage and adjust their mixes accordingly, the band just wanted it to sound like it had. I remember one band member telling me there were pockets onstage with no sound at all. To this day I am still skeptical about this, at 122 db how could there be a pocket of no sound?  Looking back, I realize that both I and the band did not have the skills to communicate properly to each other.
So we have been stuck with those stage dimensions for years. At some point we did open up the stage a bit, as we cheated it here and there over the years. I believe our stage dimensions at "Made in America" were 38" wide and 14.5" from the downstage side of the center monitors to the front of the drum riser.  The band made the switch to IEMS in 2005 and they have helped with clarity and overall reduction of stage volume. We never did achieve a wedge free stage and currently everyone uses a combination of ears and wedges. I have three band members using one ear and wedges (they gotta feel that energy), two band members on stereo ears, but with limited mixes (due to tinnitus, which they had before I met them) and one guy with sealed ear plugs and wedges. The last meter reading I had from the European summer tour measured between 114 – 118 db, depending on what position you were standing at.
So I am left pondering exactly how I am going to reduce the stage volume before our next festival.
What I do know is the back-line rigs can't be turned down without destroying the tone. We can't open the stage that much and keep the band comfortable. We don't have time to experiment and we know that every change we make has the potential to introduce more problems.  Knowing we can't solve all of the issues pertaining to stage volume for the four remaining shows, we opt to open the stage 2 feet width wise and push the back-line a foot upstage.  We decide to pull the band's pedal boards and monitors upstage a foot, while leaving Ed where he is.  This keeps the guys closer to their rigs and creates some space for Ed.  We turn everyone's rigs down as much as we can and angle them offstage. This is great for me as I now have Stone's rig blasting at me and the stage right techs are getting a full dose of McCready.  We get through the last four shows of the year and it seems better – yet one member of the band says to me it still feels like I am in a rock band.  True – I am not a miracle worker.
Now I must move forward for next year, and there is a lot stuff to deal with involving sound, emotions, and politics.  On top of it, I am feeling a bit insecure in my abilities to pull this off. After "Made in America", Ed went to Chicago to play with Bruce Springsteen at Wrigley Field, and it has been relayed to me that it was the best sounding stage ever. Great Job Monty Carlo!  OUCH for me – feeling a bit bruised – whatever ego or confidence I had shattered. I know I can't compete with the time, place, and person of Bruce at Wrigley Field and decide I am not going down without a fight.
Note – To say my boss respects The Boss is an understatement, and my boss grew up in Chicago and has many fond memories of Wrigley Field.