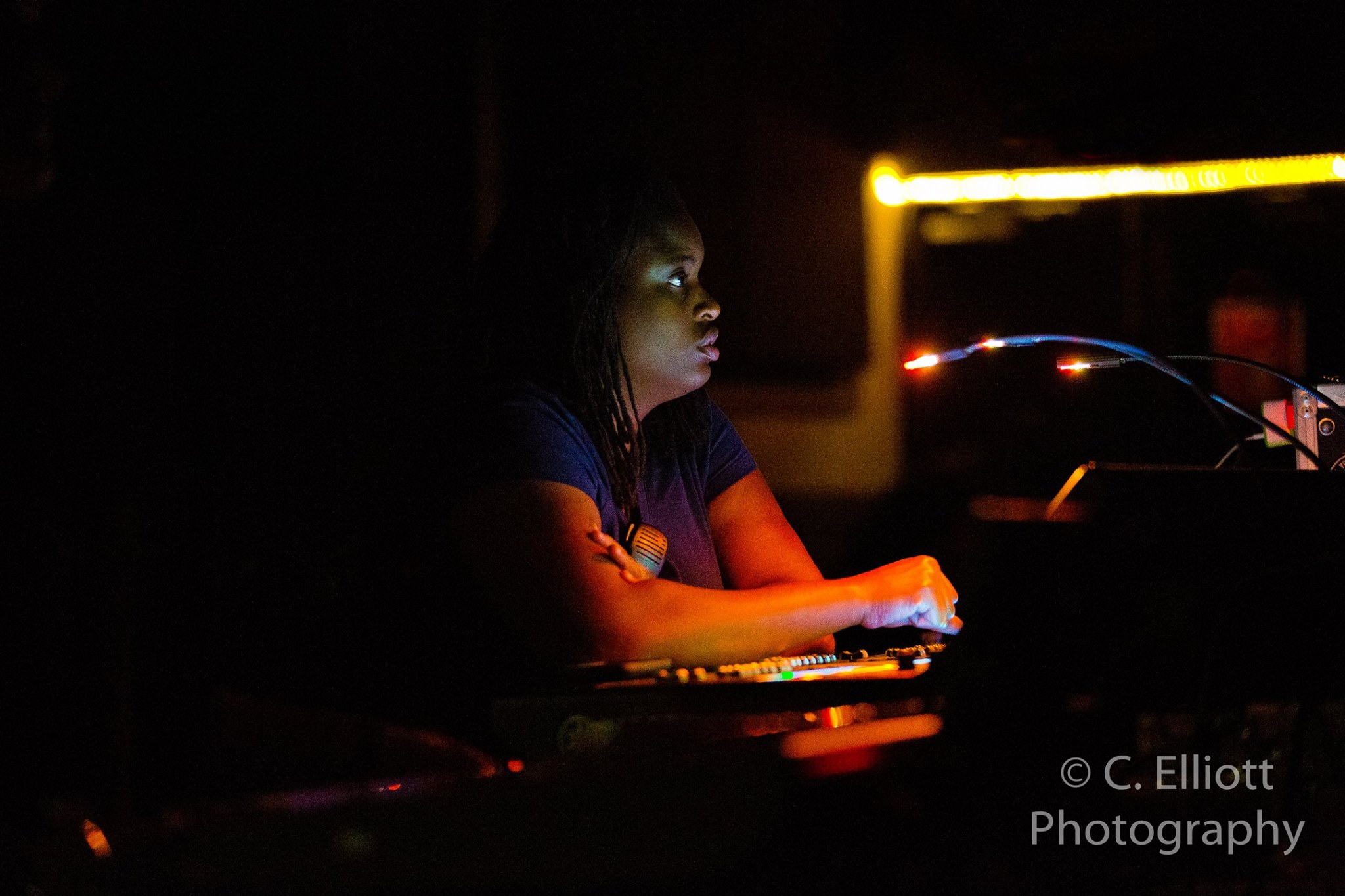 Fela Davis graduated from Full Sail University in 2002 and works as a live sound and recording engineer. Last year she started 23db Productions with Denis Orynbekov. 23db Productions offers multi-track recordings to bands that Fela and Denis work with. 23db Productions offer mixing and mastering and music production services and produce social media content for products.
Fela's road to audio engineering began in 8th grade when she took a   career placement test. The results came back and suggested audio engineer. Fela was excited when she discovered it would combine two of her favorite things music and technology. She then found out about Full Sail during her sophomore year in high school. Fela says, "it was game on from there".
Fela's time at Full Sail University was very positive, and she highly recommends the program. She says her time there allowed her to be immersed in the world of audio, surrounded with great gear, and people who were passionate about their careers. She feels that is why so many successful audio engineers have emerged from the Full Sail program, and the positive atmosphere is great for learning audio.
Immediately after graduating from Full Sail, Fela's sister was getting married, and she volunteered to do sound. She ended up renting speakers from another Full Sail Grad, who would eventually hire Fela for her first stagehand gigs. The first few years of Fela's career were spent in Myrtle Beach, SC. working stagehand and spotlight gigs at House of Blues and other local theaters. When work dried up during the winter months, it was on to South Florida.
Fela landed a stagehand gig at a club called Revolution in downtown Ft. Lauderdale. She immediately started training with the house monitor engineers and started mixing monitors within two months. There she was able to mix monitors for acts like Reel Big Fish, KRS-One and Method Man. During the next four years, she worked with local sound companies throughout Miami and Ft. Lauderdale, at Arturo Sandoval's Jazz Club and Parker Playhouse. Fela to start mixing FOH, where she was able to mix every genre of music including Johnny Lang, Arturo Sandoval, Louis C.K., Chuck Mangione, Ron Carter and many more.
While Fela felt she was doing well as an engineer, she wasn't able to get on a tour or work larger shows and events. She found that a majority of the touring engineers are based in LA and NYC, so she made the decision to move to NYC. Fela says that the move to NYC "was a defining moment in my career. I worked at Clair Broadcast, began working with Christian McBride and started 23db Productions. I even met and fell in love with my husband in NYC".
Craigslist
One day browsing Craigslist, she came across a gig for Clair Broadcast, for a warehouse/production/tech position in Mt. Vernon, NY. She applied and got the gig. Clair Broadcast specializes in wireless microphones, in-ear monitors and communications devices for live concerts and television broadcasts like The View, Saturday Night Live and Good Morning America Summer Series.
It was a great work and learning experience, as Fela had access to every major microphone and digital console. She found she was able to experiment and figure out how she liked to use them. The time she had to train her ears was priceless and made her realize how important using great microphones were to her mixes. She discovered that great microphones made her mixes sound better without any additional work.
While Fela truly valued her time at Clair Broadcast, she truly wanted to be an audio engineer, and so she made the decision to leave. Focusing her energy on being the best engineer she could be by mixing every night she could, Fela would mix up to six to seven nights a week at various gigs throughout Brooklyn and NYC.
Fela also started to build her microphone collection, started recording her house gigs, and began to sell the stereo recordings to the artists. These recordings would eventually get her involved with 23db Productions because she wanted to expand to offer multi-track recordings. At the same time, she updated her LinkedIn page and started posting her best live recordings to her YouTube channel.
Fela's YouTube channel featured her favorite live mixes of bands she had mixed. She found that the bands would share the content, and it was exciting to see the views grow. Eight months after leaving Clair, four-time Grammy Award winner Christian McBride sent her a message via LinkedIn. Fela says, "Christian had checked out my LinkedIn page and YouTube channel and was looking for a front-of-house engineer." He asked if she would be interested, and two weeks later Fela was mixing his Grammy award-winning 17 piece Big Band at 92nd Street Y in NYC.
That gig took Fela to another level, and she has not looked back since.
Since that time, Fela has been working with Christian McBride and a few of his other projects. She was the FOH engineer at The Iridium, home of Les Paul and one of the best venues in New York featuring Jazz, Rock & Blues and started 23db Productions. She left The Iridium this spring to focus on 23db Productions and just finished a summer tour with Ottmar Liebert as his front-of-house engineer.
Fela loves the Ottmar Liebert tour as they are carrying everything except PA. She got to mix on a wide range of systems including Meyer and d&b rigs. Ottmar's band is a trio (percussion, bass, and guitar), and everyone is on IEMs using an Aviom monitor system. So she has no issues with the stage volume. The system she is touring with includes a Yamaha CL5, Aviom Ears, iPad with Mixstage app, and a MacBook Pro to multitrack record via Ethernet.
Fela considers her specialty live audio but is equally at home in a recording studio. She says, "I'm at a stage in my career that I love both. I've spent most of my career in live sound, and I love the immediacy of the show must go on. But I also like sitting with a mix for a while to get it just right". The part she likes least is the manual labor. Fela is so grateful for the knowledge other audio engineers passed onto her, and she is still always learning. Staying up to date on equipment and watching webinars from some of the top live and recording engineers.
What if any obstacles or barriers have you faced?
Initially getting my foot in the door of audio was hard. I sent out many resumes, but I would also follow up with phone calls. My boss at HOB said that he was impressed by how many times I followed up. I only called potential employers once a month after sending a résumé, but it worked.
How have you dealt with them?
With every gig I did get, I did my best and learned everything I could. Those few early gigs spawned a great foundation for my career now.
Advice you have for other women and young women who wish to enter the field?
Use social media for your career. I had to constantly prove myself, but now I send clients and employers my website and social media links. It's a great way to publicly and creatively present yourself as an audio engineer. There's no limit to the possibilities, and interesting content is always needed online! I've gotten endorsed, and companies are now contacting us (23db Productions) for video blogs on their products.
Be flexible but if the gig is not pushing you in the direction that you want your career to go in, leave it alone. The hardest thing I've done in my career was to leave Clair Broadcast. But I wasn't getting to mix shows so I had to make the decision to move on from a gig that a lot of people would love to have.
Must have skills?
Figure out what a sound company is lacking and get good at it. I figured out that most techs in NYC don't have a car or driver's license. So I got comfortable driving a box truck. Having a valid driver's license and a car made me a commodity for sound companies because I could tech shows and drive the gear back.
Favorite gear?
My favorite mics are Lewitt microphones. They make up most of my collection. I love how clear and present they sound.
Denis and I are big fans of Acustica Audio software. In particular, Nebula mixing and mastering plug-ins are next level!
And our latest find is KLOTZ cables based out of Germany. The extra gain and clarity out of their XLR cables are amazing!
Fela has some varied long-term goals she wants to achieve. She wants to build and grow 23db Productions into a major recording industry name. Wants to mix FOH for stadium shows and get into broadcast mixing. We know with her hard work and dedication she will succeed.