By; Samantha Potter
An Overview
I work at the largest Methodist Church in the US, as well as a School of Theology. My job is to produce chapel for the school every week, oversee all audio and visual technology used on campus, and run FOH and Broadcast Audio throughout the week. I also train and recruit technicians, and supervise a team of techs and volunteers. I work closely with IT, Producers, and Coordinators.
Working in religious institutions is not an opportunity most in our field see. Of course, there's the glamour of huge concerts or prestigious studios, and there isn't a single thing wrong with either of those. However, life does happen, or circumstances change, and you don't necessarily want to tour to work in live sound. So this brings us to in-house positions. Also known as the rarest job in the field. While they are few and far between, they're out there. In houses of worship, I find them to be plentiful.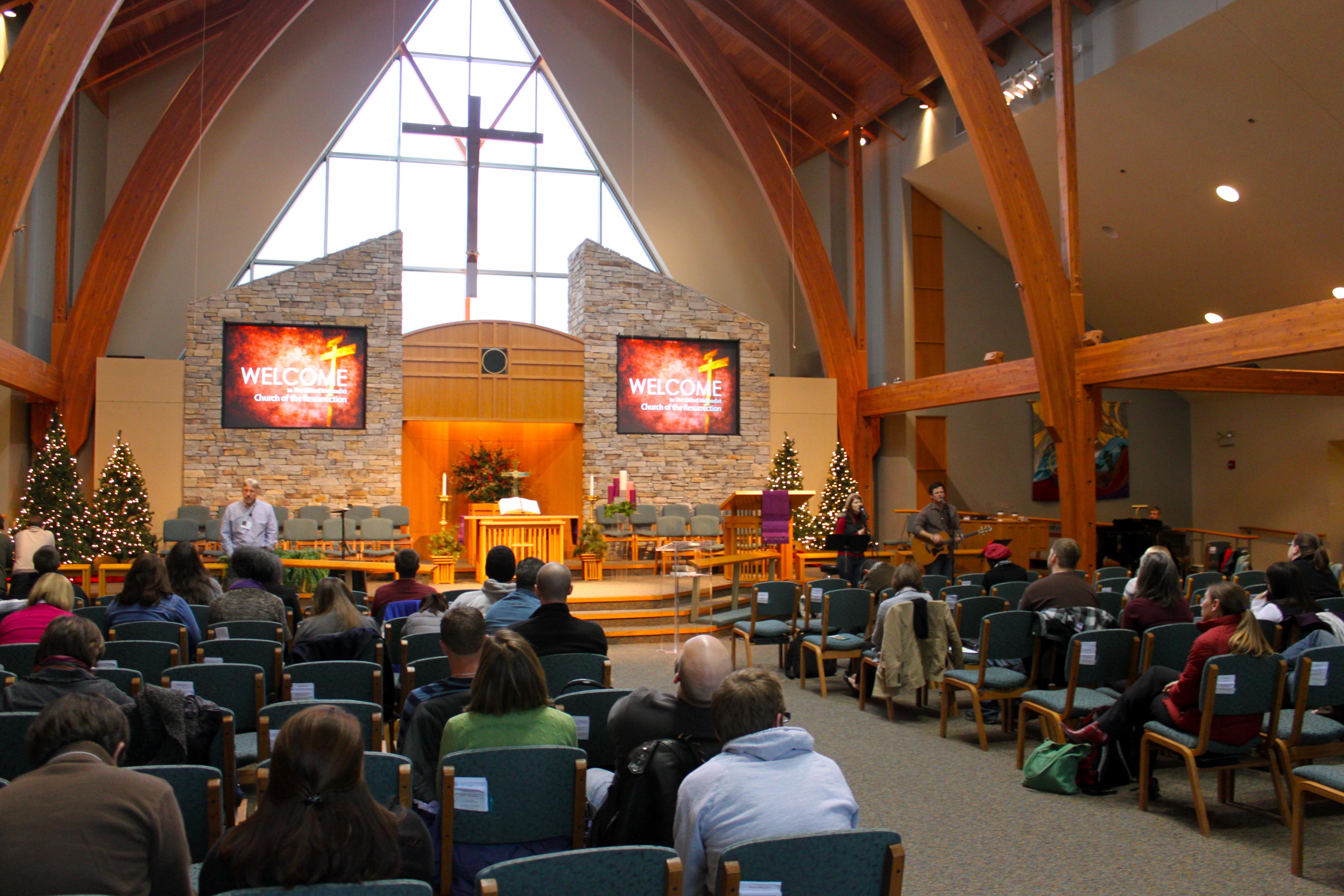 Technology & Life Inside the Church
Being religious isn't a requirement to work in a house of worship though it probably doesn't hurt. Many times they have budgets that local venues can't even touch. I know that this church, for instance, runs a line of Digico boards in 3 out of 5 areas. But this is not to say that you aren't going to run into an M7CL or an MG32. We also have state of the art video work, graphics, and lighting. We can put on a show. We have several annual conferences held at our church that take months of planning and large teams of technicians to accomplish.
There are numerous places to work that fall under audio engineering and the like. As with any job, I really recommend becoming fluent in other areas such as lighting and video. It makes you more flexible and more valuable. While audio is by far my focus, I do quite a bit of graphic and video work. With so many ministries and groups meeting, people always need help. The technology used can be stretched to its limits. Most of the audio guys we have on staff here can only do audio. Good for them, but I am more reliable and accommodating because I can solve problems from multiple different views. If you're anything like me, you thirst for knowledge. I know quite a bit about audio, and I will always be learning, but wanting to learn many facets of production have given me an all-new appreciation for what we all do.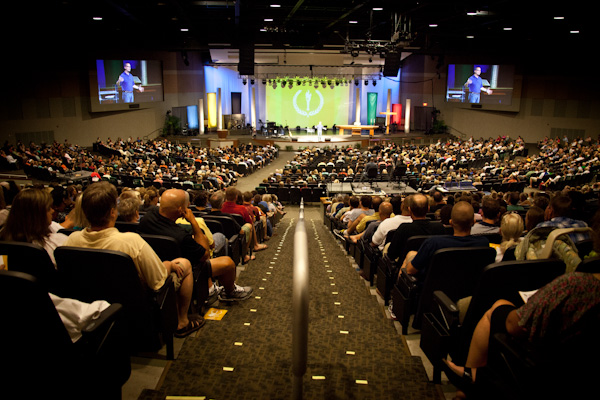 Congregants fill the auditorium which holds up to 3,000 people during the United Methodist Church of the Resurrection Sunday evening service on July 15, 2012 in Leawood, Kan.  The Church of the Resurrection is known as the largest Methodist church in the nation.  (RNS photo by Sally Morrow)
At houses of worship, you frequently work with the same people. You get to know them, how they work, and their personalities, just as if you were on tour with them. They become part of your family. You do maintenance, you please the musicians, you solve problems, and almost everything that a tour would require of you. You have a schedule, tasks to complete, and meetings out the wazoo. The biggest difference is that at the end of the day, you get to go home. Even on days that seem to last forever, there are basically no 16 hour days.
Most weeks I work hard for four days, then have a 3-day weekend (which I use to produce and run shows for bands in KC). With it being a school as well as a church, Holidays are abundant, and PTO is given freely. It's tough to beat. The level of appreciation I experience in houses of worship is incomparable. It's quite a spoil. I've worked jobs where spitting on me would have been a step up. Here, everyone wants to know you're doing okay. Everyone wants to help. Everyone actually cares. It's magnificent.
What I love most about religious institutions is that the level of drama and inter-department issues is nearly zero. People smile a lot more, are quite friendly and welcoming, and are forgiving of errors. It's an amazing place to experiment and explore. You can be creative and design.
The Cons
With these pros, there are, in fact, cons. The sexism is still here and prevalent. Most of the time they don't even realize they are doing it. On our team of technical arts, there is one full-time woman and two to three part-time female employees out of a department of about 30 (including contractors). I've lived through it, and will most likely continue to. I've been passed up for jobs and given bull excuses as to why I didn't receive it. It happens everywhere, and these places are no exception, unfortunately. The few of us that are here stick together. It is never outright insulting, but just a little demeaning and disrespectful.
One other con, if you even want to call it that, is that this is not a place to "let go". Departmental relationships can break employment. There are certain lines you do NOT cross, and doing so can blacklist you within the church. These aren't unreasonable things. For instance, cursing in front of congregants or openly worshiping the devil. Notice I say 'openly' because hey, whatever you do in your private life is your private life. The other no-nos are just common sense. Don't be a jerk, you'll get along great!
In Conclusion
All in all, houses of worship are greatly under-viewed as possible places of employment. They can offer incredible benefits, with plenty of room for creation, time for yourself (and your loved ones), and learning experiences.
I absolutely adore my job. I worked hard to get here, and the rewards are well earned. But just know that if you really want a job in live sound don't be afraid to look where you never have before.
Copyright © 2015 SoundGirls.Org