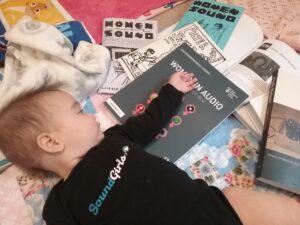 I like many of you, hit the "buy" button immediately once Women in Audio by Leslie Gaston-Bird was published.  A textbook about us, for us, and most importantly, by us!  Reading a textbook has never been this empowering. Well, given my other SoundGirls articles, it is in good company.  SoundGirls has an assortment of them in their lending library. However, I did not buy Women in Audio solely for myself, I also bought it for my daughter, Ripley.  Having an audio engineer as a mother should not be an anomaly. Audio engineering is akin to any other profession, dependent on skills, knowledge, and passion.  We are starting early! What better way to introduce her to the world of audio than with a bedtime story?
At eight months Ripley has a literal appetite for books, therefore we started by only reading the first chapter together.  We will get to the other chapters in time. In similar fashion to many textbooks, Gaston-Bird begins hers with the history of the subject at hand.  Naturally, Lady Ada is the first entry. Lady Ada is the matron saint of computer programming, but I was surprised to find out she suggested the congruence of music and technology.  No wonder she is also a staple when it comes to Women in STEAM (Science Technology Engineering Arts Mathematics) literature. It will not be Ripley's last encounter with her.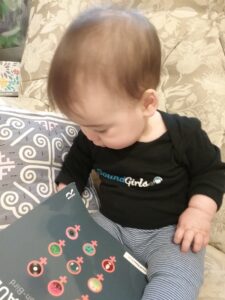 Following chronologically is a variety of entries going beyond computers and music:  there are acousticians, entrepreneurs, engineers, and activists. By placing each side by side one can get an understanding of how society and technology pushed the industry forward.  Leslie Gaston-Bird is clear with the reader that Women in Audio only scratches the surface of women who influenced the audio industry.  In limiting how many to include, the reader wins by discovering audio pioneers from around the world.  What stood out to me was this invisible thread that seemed to connect some of the women together. Labels, bands, and engineers would move in and out of various circles and connect with one another.  Women supporting women.
In addition to the inspiring stories, the "Fun Facts" section added context and definitions to prepare me for future "why" tirades.  The eidophone caught my eye with its depictions of sound waves, and the Deliaphonica game sucked me in. "Not So Fun Facts" is just as important in bringing attention to the realities that many of us face.  Telling the whole story means having both sides. Reading those sections to Ripley was difficult, and though she will not understand for a while, I am not going to gloss over them. Gaston-Bird also highlighted the delicate balance of celebrating achievements without adding gender identity as a caveat to success.
Just after Ripley and I finished the section on motherhood (a topic that is currently resonating with me), I was surprised with a special treat.  I did not realize that in the UK Mother's Day is in March! Leslie Gaston-Bird recorded a video of herself reading that section.
Currently, Ripley mainly enjoys the pictures, but that will change with time.  We are going to keep reading Women in Audio until the cover falls off.
---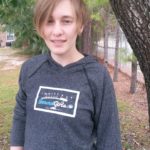 Nicole Kirch is a North Carolina based recording engineer and musician.  In her short career, she has worked on location sound, post-production, stage crew, and electronics.  Her love of sound stretches to almost every niche.  Nicole holds a BA in Sound Design from Michigan Tech (the first female to graduate from the program) and a BS in Electrical Engineering Tech from Austin Peay State University.   She believes in female empowerment and independent music.