By: Kerrie Mondy
I have learned a few things about opening a new venue.
What you imagine it will be like:
You will be preparing your prized show horse for his debut. You will feed him the tastiest carrots, brush his flowing mane, give him the best shoes, talk to him sweetly and train him for impeccable behavior suitable for the kind of people who wear multi-level hats and monocles and have other people do their grocery shopping for them. On the big day, you will climb aboard this magnificent steed and trot around to golf claps and rose petals and adoration.
What is will actually be like:
You will be standing in your "tuxedo clown" costume in the middle of a dirt-bathed rodeo show when someone releases from the chute the biggest, meanest, angriest bull you have ever seen. No one there knows anything about him nor can they remember the last time he's been fed, and there's probably a manual somewhere pertaining to how to tame him, but who has time for that? Just hop on him when he runs by. You'll be fine. The Executive Director is so sure of that, in fact, that he's wagered pretty much everything on this matchup. The crowd is going wild. Giddy-up!
The new Harold and Dorothy Steward Center for Jazz is a world-class venue and a completely new and unique offering for the St. Louis area. It is also still very much under construction. When I showed up for work on grand opening day, there were still people in hard hats laying floor and installing seats and painting walls. This was at 11am. The venue opened at 5:30. Around the venue, a local TV crew was setting up for a live stream and there was still work being done to our patch bays and floor pockets. We were able to get in one test run the previous day, with a staff member's quartet coming in to play for us. During this short show, we found out that several of our floor pocket inputs were running through a power inverter that didn't pass phantom power, and that until that got fixed, we had to patch around the inverter on the bay. This turned out to be extremely valuable information, as every one of the 16-or-so mics used by our grand opener required phantom. At the time we opened, our board hadn't been commissioned by Studer yet, meaning that we didn't have it configured for the system – we had a default setup to work with, which meant we were missing some effects, dynamics, groups, auxes, etc. But it got us through the weekend.  The first weekend was one of those "just put the liquor in an IV bag and I'll take it to go" kind of affairs –  the visiting engineer was stressed out upon arrival, and the fact that the audio system was limited really exacerbated that. We also had to refocus all our lights (which have yet to work correctly. Lighting continues to be our space's biggest challenge) due to the fact that we had a row of horns on the floor.  The shows were great, though, and the space was well-received.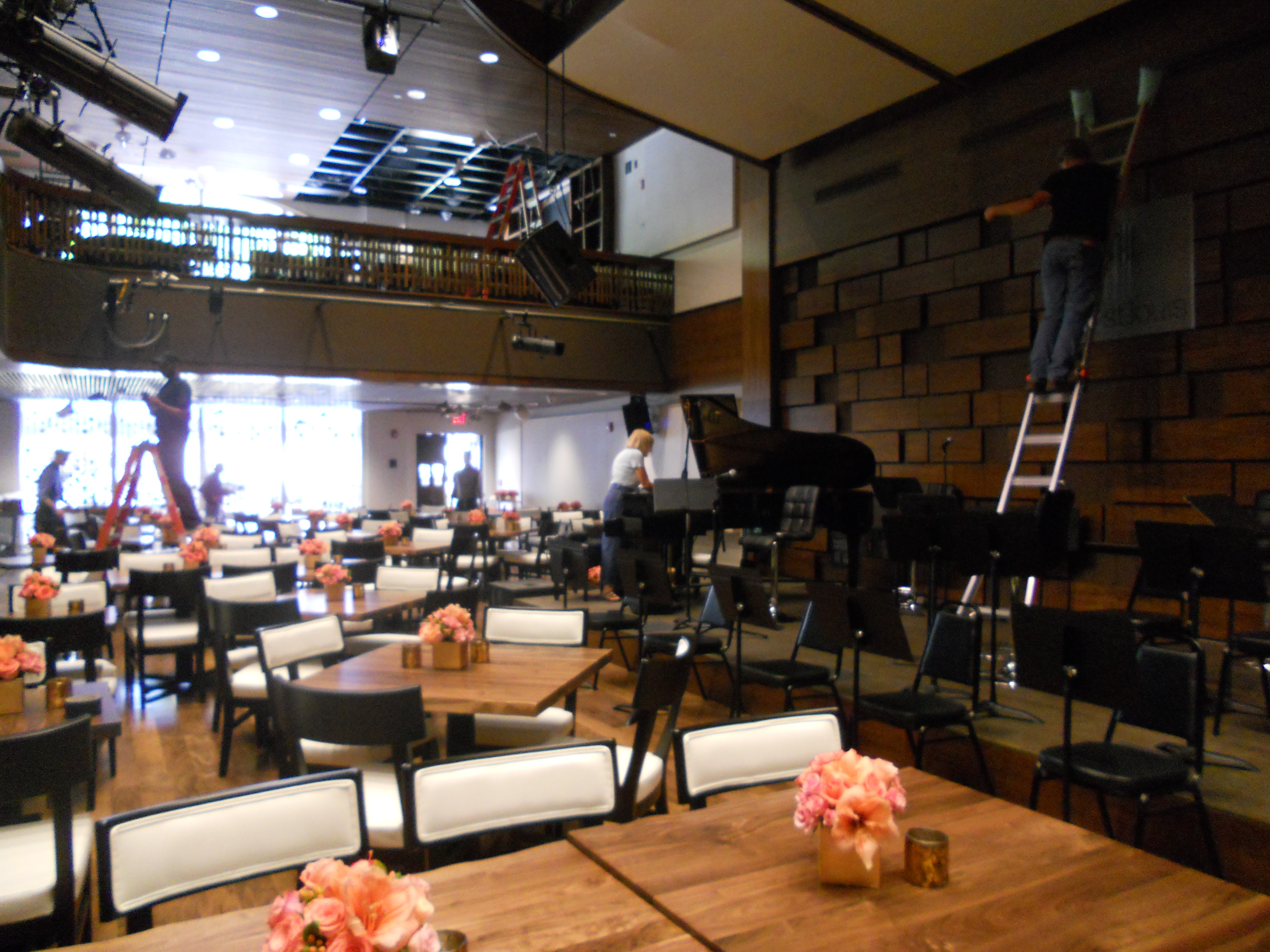 The following weekend featured many of the same challenges, but ended up being a great learning experience. We had yet another touring engineer in house, and he was similarly aggravated by the audio system – at first. We had to troubleshoot a lot of things and figure out how to configure some solutions for him to get him what he wanted with what we had. But in doing so, I learned quite a bit about our board and our system. And when he finally got comfortable, and we just started talking about things, he dropped a ton of useful information on me. I got so many good tips from listening to him and seeing how he worked. And it ended up being a very pleasant experience. I also came to the realization that I need to change the way I prepare for touring engineers. The Studer is NOT a board that people are used to working with, and some of the workflow is just weird. Particularly if they're already in a mood when they show up, having to dig through a console they've never seen before that works the way this one does puts them on a fast track to freaking out. I think some of this can be alleviated by getting more information about what they plan to do with the audio system and then getting a basic layout going for them prior to their arrival.
In general, the past month has been a great illustration of just how differently we need to approach our work in the new Bistro. The days of just showing up an hour or two before soundcheck and throwing stuff together are gone. We have four destinations other than our main L/R that need mixes. We have a patching routing scenario that is much more flexible but requires a plan. And we have some "Studer" behavior that we have to factor in when we do all of it. For example, the Vista 1 is the only board I've ever used on which muting a channel will not mute its feed to any "pre" send. When something is sent pre-fade to a destination, it is always on until you turn the send off. Doesn't seem like a big deal at first. Until you realize that your pre-show music's ipod channel is still playing over the show mix you're sending to the lounge, because  muting the channel only works in the mains. And you have to have it pre to get the levels you need in there, so then you have to actually go into the routing and turn it off there, and to all other aux destinations, while you're trying to get your show up and going. And we send to all of our aux speakers pre, since we're having problems getting appropriate levels to other speakers in the building without sending ridiculous amounts of signal. We don't yet know why that is. The acoustitican that designed our space, and the DSP system we're using,  gave us routing control but locked us out of a lot of the functions of our actual audio system. We're in the process of having that fixed.
We have a full lighting and 3-camera video system to tend to now, as well. Here is the basic rundown of what we're working with in the new space.
Vue Audiotechnik speakers with a main L/R feed, under balcony feed, rear and side balcony feeds, and a feed to the lounge area and outdoor speakers. These feeds often need individual mixes, as the LR is tailored for people sitting very near and in front of the stage.
A Studer Vista 1 console feeding audio to a BSS Soundweb DSP system.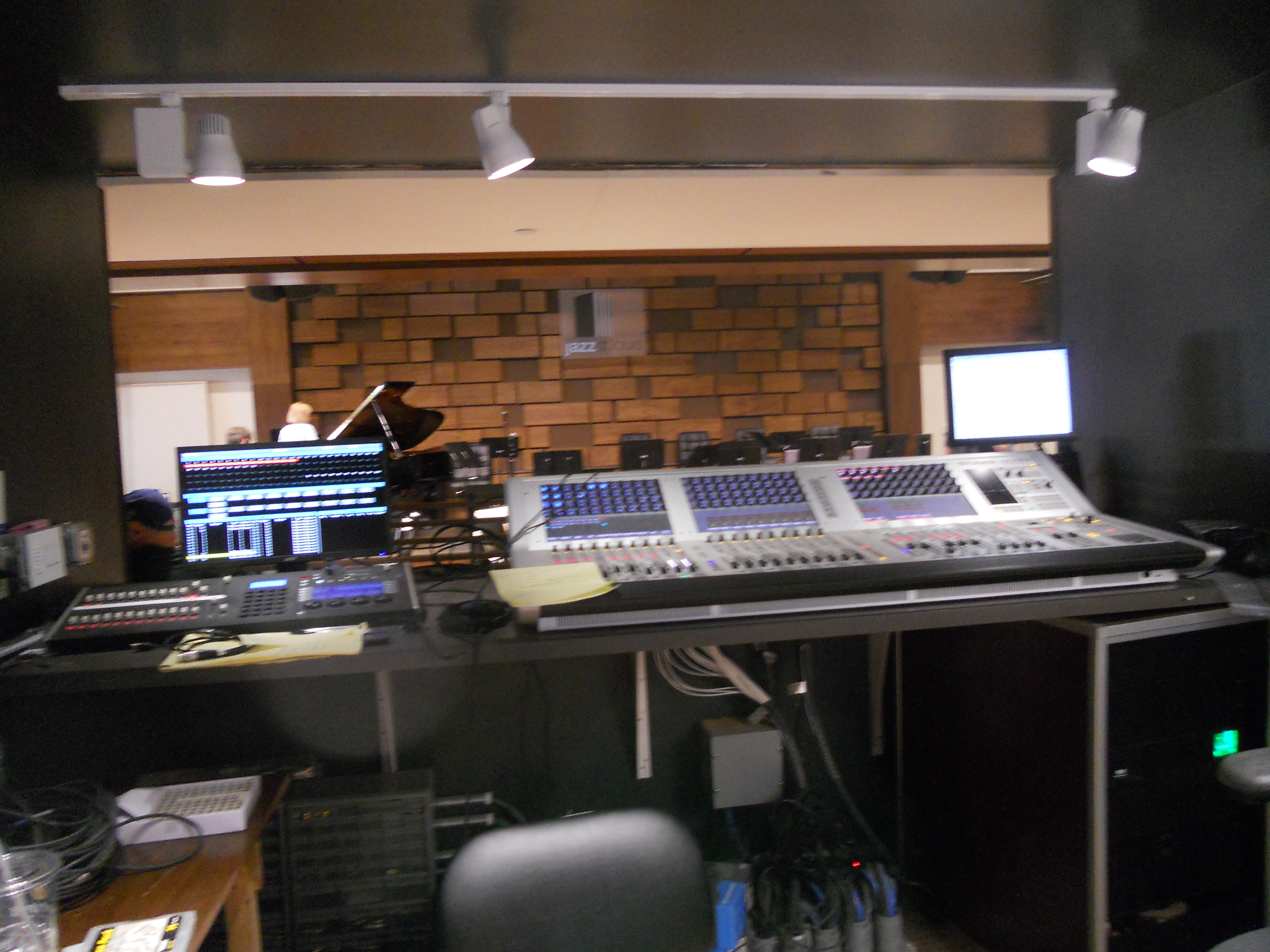 A standard patch bay for routing in the space as well as, eventually, to a recording studio and office areas on the second and third floors.
A Strand ML250 lighting console with a tie-in to a Vision Net architectural system. Stage lights are all LED fixtures, with 11 par wash fixtures, 4 ellipsoidals, and 6 strip fixtures for overstage/backlight. NONE of it works right. We've had problems with dimming and I think we have some incorrect profiles loaded or some bad patches. But it's pretty bizarre, overall. Like everything else, there were quite a few people/companies involved in the install, working as their schedules allowed.
A video system with 3 remote-controllable cameras, 3 Blackmagic record decks, and an ATEM virtual switcher.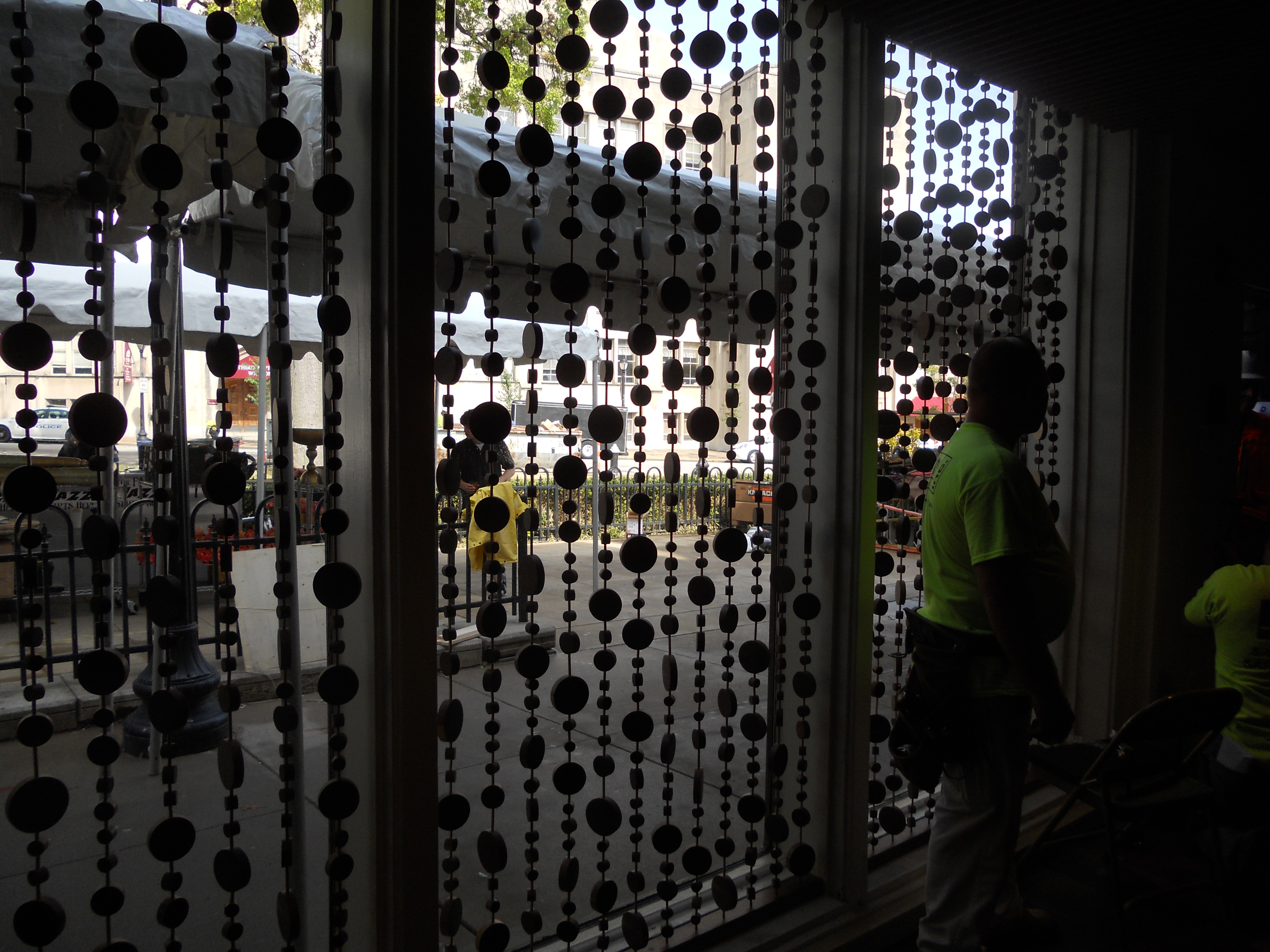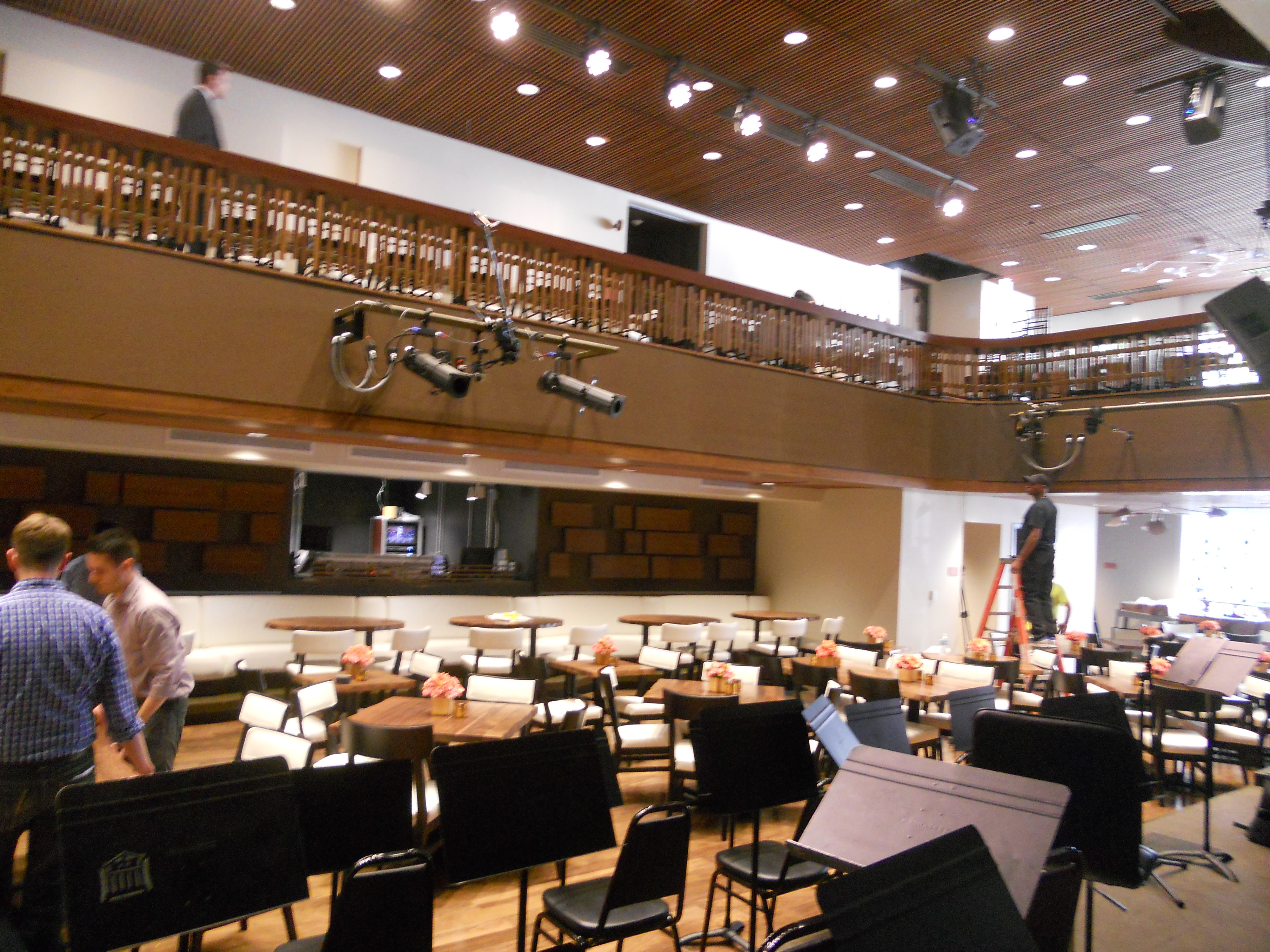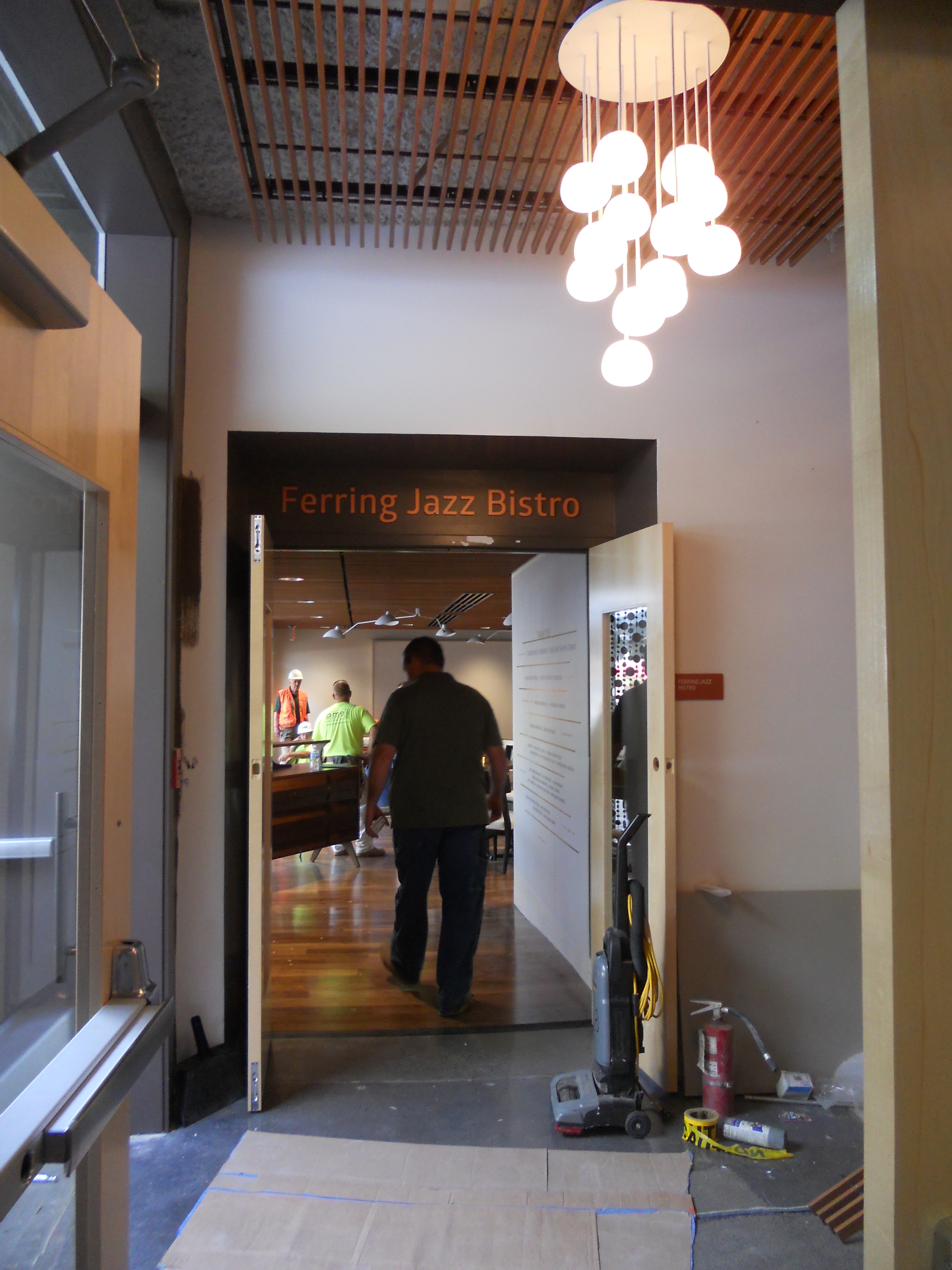 So we have a lot of nice stuff to work with but we have yet to tame any of these beasts. And we're still balancing all of the new stuff with our other production duties – getting food orders for the staff and band, selling merch, making stage announcements, settling up with the artists on the final show night, and making sure the green room and stage are appointed with all of the courtesy items hat the band will need. On the mights when you're the lone production person, it can get nuts pretty quick, especially if you have technical problems. But despite all of this, I am really excited about our new home. We'll get everything sorted out in time, the venue is going to be out-freaking-standing, and I expect we'll learn a lot in the process. Right now, I am just one tired rodeo clown. 🙂