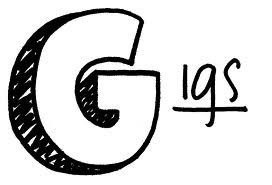 By: Karrie Keyes
The gigs that you remember usually have had a great impact on you. They can inspire & empower or devastate & destroy you. They can humble you. They can make you laugh or make you cry. They can provide a sense of accomplishment. Sometimes you witnessed a performance that becomes legendary or history being made. They can open your eyes to other view points, cultures, musical genres, and artistic expression. The gigs you remember are the ones were you stood on your own, when everything clicked, when you overcame challenging situtions. They are the ones where you thought "I Have the Best Job in the World". The gigs we remember shape our lives in small ways that may be unnoticeable, but sometimes they alter our life path. The gigs that you remember provide us with experiences that make us stronger humans and engineers.
What are the gigs you remember? Would love to hear about them. Here is one of mine that did alter my life path.
The Gig I Will Never Forget
I remember what would have been a peaceful and lazy Sunday, except for the fact I had to work. The schedule for the concert I was working did seem to indicate a fairly relaxing and stress free day, as there would only be two musical acts performing and numerous speakers. The concert was scheduled to end before dusk and for someone use to working 16-18 hour days this would be like a day off. My job duties would be minimal during the speakers, giving me time to read. I arrived at Fairfax High School at 10 am to set up the sound equipment for a noon kick off. The weather was wonderful with clear blue skies and a perfect sunny 75 degrees. There really is nothing like listening to music outside on a perfectly gorgeous day. I had no idea that this gig would end up changing the core of my being as not a day goes by that I do not remember this gig.
The concert was organized to protest U.S. Involvement in Nicaragua and El Salvador. There would be numerous speakers throughout the day and in between a performance by a Latin American band. I can no longer recall their name or if they were actually from Latin America. I had worked with the band several times before and they were always friendly but tested my patience as the number of musicians and instruments constantly changed. The concert would end with a performance by Jackson Browne.
The impending performance by Jackson Browne was causing me much stress and apprehension. This was the guy who wrote the top ten hit "Somebody's Baby" for the hit movie Fast Times at Ridgemont High. Every possible scenario of how I would mess up his sound ran through my head. This guy was a real rock star playing arenas. He had professional sound engineers working for him, sound engineers that possessed knowledge and magic skills I did not, or so I imagined. Would Jackson Browne be unruly, demanding, a prima donna? Being a young woman working in a male dominated field I lacked confidence in my abilities and experience to expect that Jackson Browne would be anything but a professional musician.
I worked a lot concerts that were protesting something anti nukes (The Diablo Canyon Power Plant was a favorite target), anti apartheid, anti war, anti Reagan and Bush, and anti abuse of power were common themes. These groups shared a similar demographic across their organizers, volunteers, and attendees. Made up of middle aged hippies that had never stopped fighting the man, energized college students that were ready to fight the man, and those that had fought the man and had lost. The losers of today were Nicaraguans and Salvadorans who were fighting and being brutally crushed by The United States Government.
The set up and sound check were fairly painless and everyone seemed happy. It turned out Jackson Browne would not be sound checking and I felt a knot form in the pit of my stomach. I would have preferred a sound check to make sure Jackson was happy and I dreaded sound checks during the performance.
The event started on time and I settled in behind the board to read, probably a horror book as I loved to be scared. The speakers made speeches against U.S. Imperialism, The Reagan Administration, and The Contras and I occasionally tuned in. Having been raised by a passive republican mother and progressive democrat father that was a U.S. Government and History teacher I thought I understood enough about politics and our government. At the time I only had a basic understanding of how the U.S. Government was funding the Contras and some vague sense of why it was wrong. I would occasionally clap or cheer for a speaker pointing out how hypocritical the United States was, but mainly I read my book.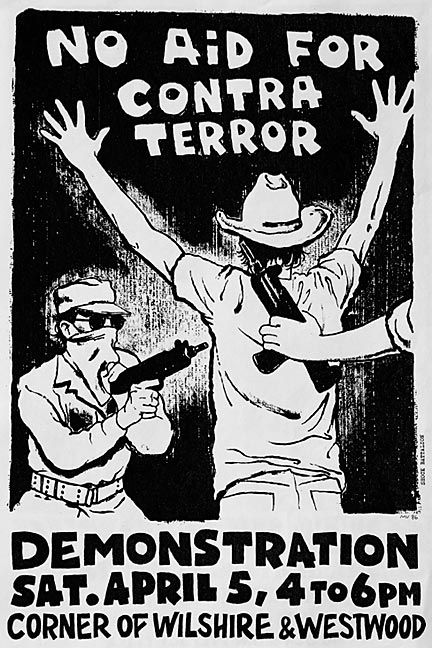 Finally the band took the stage allowing a break from all the anger, rage, and pain that the United States government was causing. They played a mix of Spanish and English songs, songs that celebrated life and death, happiness and pain. Songs that asked " How long can you hear someone crying? How long can you hear someone dying?" The power and energy music has is why I love my job. I get to be surrounded by music everyday I go to work.
After they finished their set, the speakers and speeches continued. Words would echo of the walls and fill the space of the quad. Words would float and hang in the air shattering the illusion and myths of the United States.
~government lies, business interests, USA stands for freedom, governments killing their own,
"Wars fought in places, where we can't even say the names" . ~
The people applauded, demanded, shouted, and cried out for freedom and justice.
I sat there listening, reading and waiting for Jackson Browne and then he was just there. He extended his hand to shake mine and introduced himself " Hi, I am Jackson". He was without ego and had no expectation that I would know who he was. "I just have my guitar and just need a mic and DI". I introduced myself and explained the set up on stage, I gave him a road case to tune his guitar on. I was trying to act professionally and keep it cool, as I was dying inside from being nervous and stressed. He was so polite and humble, watching him tune his guitar I knew he was there because he supported and believed in the cause. He had a gentle tenderness about him and his eyes showed that he possessed a wisdom beyond his years. I would eventually come to learn buried under the seriousness of his being that he had great sense of humor as our paths would continue to cross.
Jackson walked out on to the top of the stairs overlooking the quad that served as the stage and plugged in his guitar. This was the minute I had been dreading all day, the minute I would ruin his sound, he strummed his guitar and asked me "to turn it up". Then addressing the audience he started to play. The moment was over and he was not upset I had not ruined his sound. There was Jackson Browne with his boyish good looks singing in Spanish.
I was completely enthralled even though I do not understand Spanish. I am not sure when the tears started but by the end of the song they were freely flowing down my cheeks. Then he was signing about "the river opening for the righteous" and how he "ain't no communist, no capitalist, no socialist, no imperialist, no Democrat, no Republican" and how he only knows one party and it's freedom. "I am a patriot". A bad ass rebel is what he was and then it was over.
It could of have been this song
During load out I tried to make sense of what had happened that day. Jackson Browne had touched something deep inside me, something that I did not understand yet but I knew I would never be the same. That day played a huge role in shaping who I would become. Eventually I would awaken to the horrors that are committed by people in power. That day would shake me awake and make me realize that there are horrors in the world that terrify me more than any horror book ever could. From that day I learned to question every side of the story never trusting the media or politicians to tell me an ounce of truth. I would understand the powerful depths that music can touch and reach people. That day would shape what I cared about, who I would choose to work for later in my career, what I hoped to instill in my daughters. How I would tread in this world. That gig would be the one I would never forget.
Jackson Browne is still at it!