By Victoria Boyington
The ASCAP Expo is a National songwriting and composing conference founded in 2006 and just held the annual ASCAP Expo. The Expo includes workshops, one-on-one sessions, panels, Q & A's, demos and classes on topics such as songwriting, composing, producing and the music industry. This year, Northern California Women's Music Festival Board member and LA Award Winning Songwriter, Marirose Powell was there.  I caught up with her upon her return to find out more about the Expo.
How did you first learn about ASCAP? When did you first attend? What was your first impression?
I had heard about ASCAP several times over the last few years through musician friends that I have met. I had wanted to go for a long time and was finally able to attend this year.  I signed up last November and was so excited to go.  When I arrived, I didn't know that there was an awards ceremony happening that evening.  I looked out of the window of my hotel room and saw that there was a red carpet area set up.  As I looked around, I recognized Michael McDonald with his white hair down at the event.  Of course, I went down there to see what was going on, but it was closed to the public.
Did you participate in any of the panels, one –on- one's, workshops or demos? Tell me about them?
I did participate in the one-on-one session. In fact, because I signed up so early, I had the very first appointment of the expo.  I met with Debby Dill, who is a music publishing consultant.  Debby Dill is currently consulting for David Foster's publishing company through Universal along with Be Music in Nashville, DeAngelis Entertainment UK, Ron Shapiro Mgmt. and The Cherry Party Record label. Previously Sr. VP of Creative Affairs, Domestic/International for Windswept Music Publishing. Prior to that, five years with BMG Music Publishing and six years with Qwest Music/Quincy Jones Productions.
She was very nice, and she took my CD's.  I left there feeling really good.  She was so down to earth and seemed just like an old friend.
Was there anyone you wanted to see or got to see that inspired you?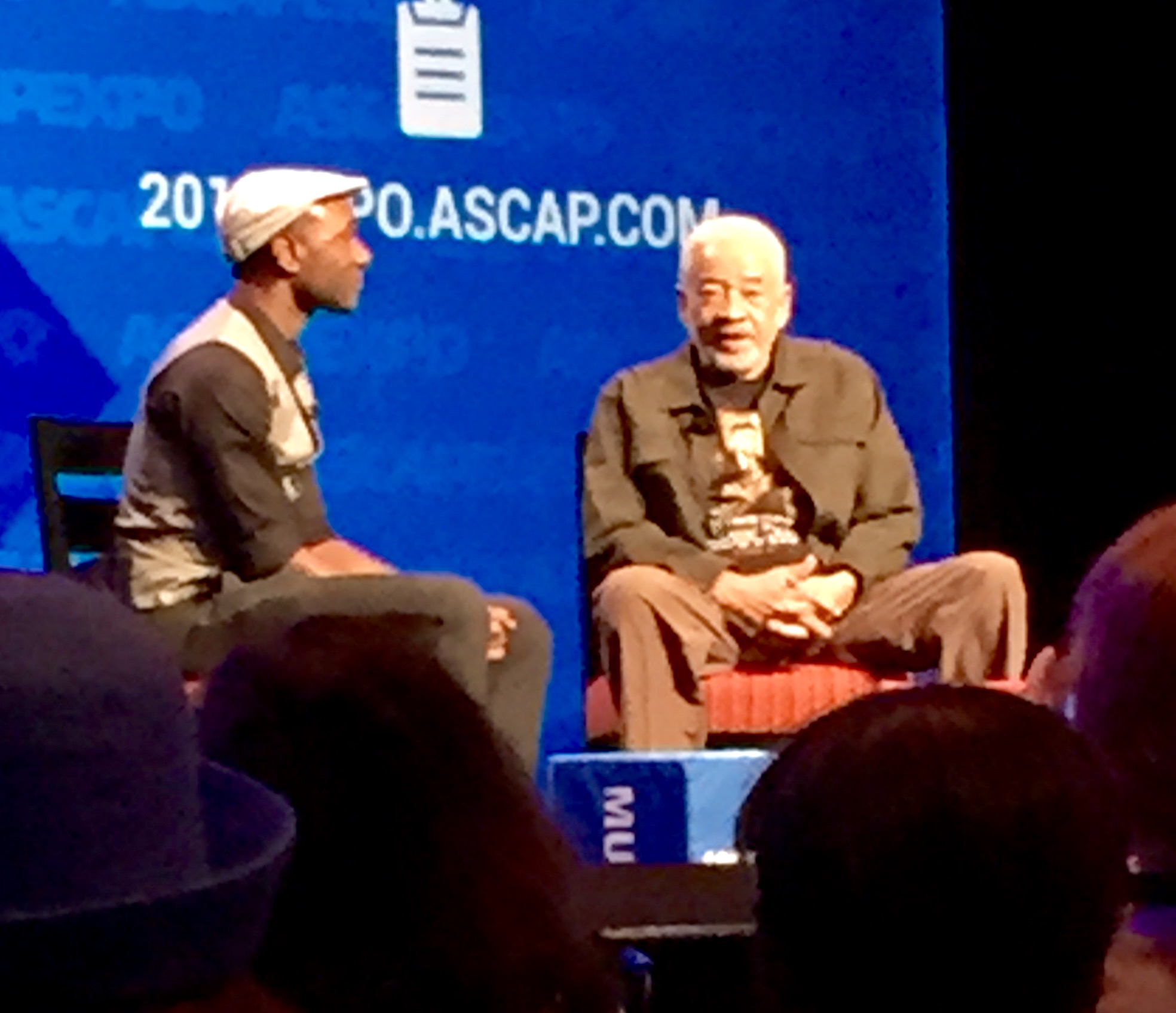 Bill Withers was amazing!  He definitely inspired me!  One of the things that he said was that it seemed today everyone wants to "be a star".  And he said that's not how it works.  He said, "do it because you love it because it makes you happy- and the world will let you know if you should be famous."  He said, "some people play at the Holiday Inn, you know, every weekend and that's as far as they go, but they're happy! and that's all that matters".  Just do it because you love it, and the rest will happen the way it's meant to be.  He also said to write about things that you know, things that are true for you, things that mean something to you, your own experiences.  You have to be honest with your music.
He was asked by his interviewer, Aloe Blacc about the time he destroyed all the Masters to his music so the record company could not have them.  Bill Withers said, "I told them, sell this ——-!!"  He added that he had been in the Navy for eight years, and "the most I ever made was $127 a month.  Now, why would I care about $600,000 for Masters when I was ready to die for $127 a month? He was just so witty and funny.  He is an amazing man and artist.
I also ran into an older acquaintance of mine Rhonda Bedikian, who is the manager of Earth, Wind, and Fire.  She used to manage Hanson as well.  I got to sit and have dinner with her while she talked about her friend Smokey Robinson and how she started her career at Motown.  It was awesome to get to visit with her one on one like that.
I hung out at the Casio booth and ran into Joey Welz, who is in the Rock n'Roll Hall of Fame. He is the keyboard player for Bill Haley and his Comets.  He played the piano and sang me a little song!  It was awesome!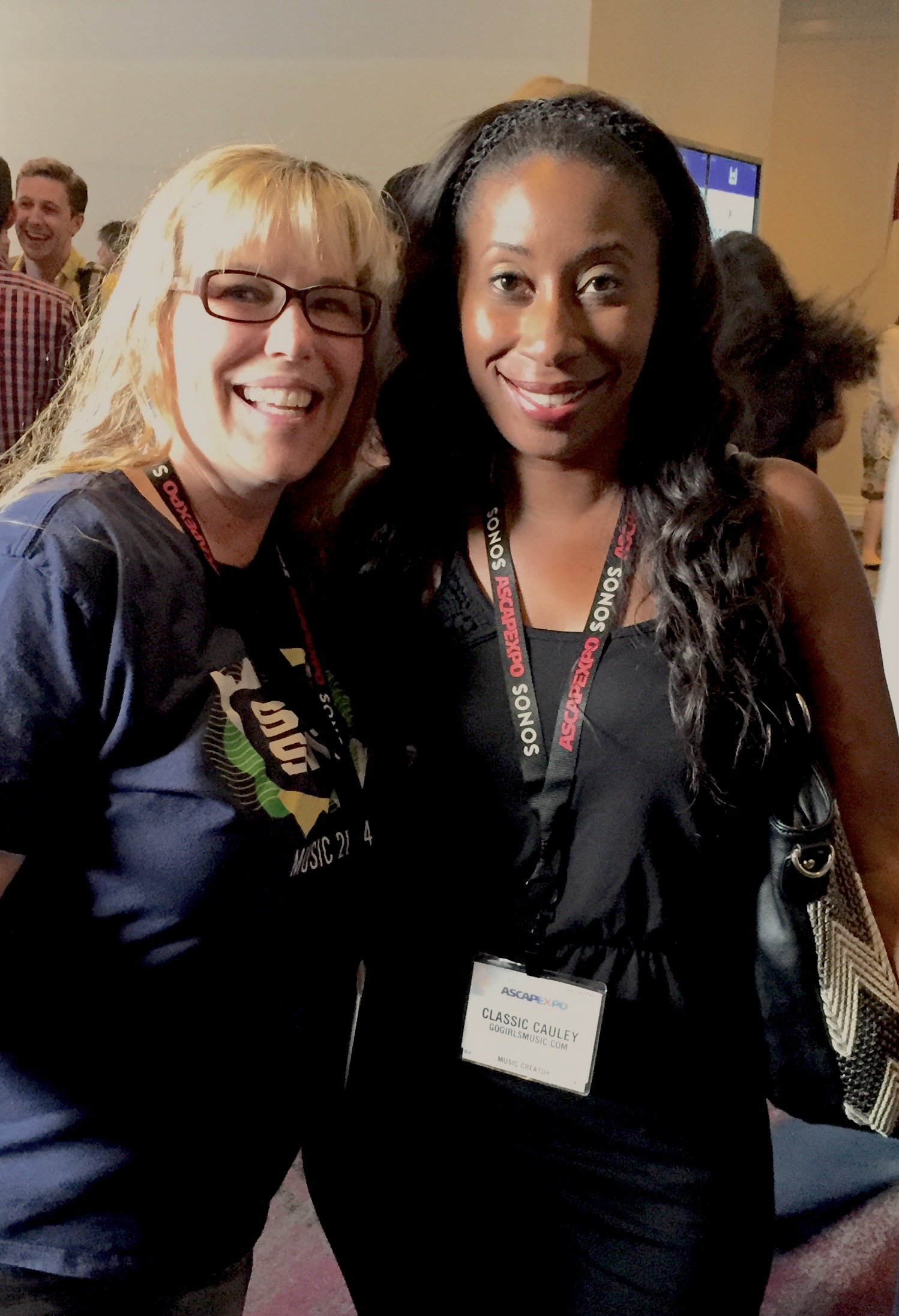 What did you take away from the Expo?
I made a lot of great contacts!  I joined the LAWIM (Los Angeles Women in Music) and got to hang out with fellow go-girls member Classic Cauley, who I met up with at the Expo.  I learned so much from the sessions. I learned about web design, music law, songwriting, and so much more.  I left there feeling energized and happy.
What are your plans for the rest of this year?
I hope to finish a CD I have been working on for a long time, I'm going to try to use a crowdfunding platform to help me finish it up.  I plan to continue working with Warren Huart, who is an amazing producer.  He recently did Aerosmith's latest CD and also Ace Frehley's latest solo CD.
Are you coming back next year?
You Bet!!!  And next year I will be more prepared to get even more out of the EXPO!
You can listen to Marirose Powell's band Marirose and the Gypsies, get information about show dates and purchase her music on their website www.marirose.net, reverbnation.com/marirosethegypsies and on facebook
Find out more about The ASCAP Expo