by Maxx Brunet
How do you teach the basics of sound reinforcement, when you still find yourself learning from the shows you work?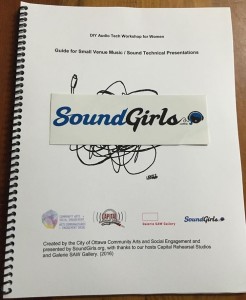 This was the question I was left asking myself after I was asked by the City of Ottawa's Community Arts and Social Engagement program to develop an introduction to sound course for women.
My background in sound is diverse. I worked at a community radio station as a teenager, and then I taught myself how to record when my band needed to make a demo. I moved on to working in live sound in my early 20's when some local sound techs to let me shadow them. I never went to audio college. When I had a question, I read up on what I could find online, or asked fellow techs. It was definitely a slow process – I don't think I knew what I was looking for when I EQ'd a room for that first year of working shows. From working with different co-workers and touring techs, it quickly became obvious to me that there were many different schools of thought in how to approach mixing in a live venue.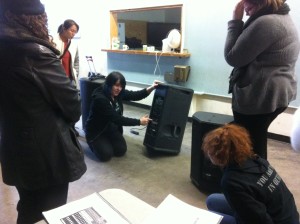 As great as it was to ask questions to fellow techs, I sometimes found it intimidating to admit I didn't understand a concept. I was a young woman, new to the industry, and with very few female audio techs to look up to. I could count on one hand the amount of female audio techs I'd worked with before moving to Toronto. It's not that I prefer learning from women, but as volunteering for Rock Camps for Girls has taught me, it's that it can be nice to learn in an environment where you are not shamed for asking questions. It's these thoughts that helped me frame my course plan.
I wanted to make sure women with little to no experience running a sound board would feel comfortable doing an equipment rental, setting up a PA and running a small sound check after completing the one day class. Perhaps a bit ambitious considering similar classes tend to run a week or more, but I had faith in my participants.
Preparing for that first class, held in August 2015, was daunting. I came up with a basic manual and a course agenda:
We would spend the morning talking about the equipment needed to set up a PA
I'd set up a PA in front of them
Participants would get in groups of 2-3 and set up their own PA
We would then go over tech requirements for different kinds of artists
Finally, we would set up a PA at a small arts space and sound check a band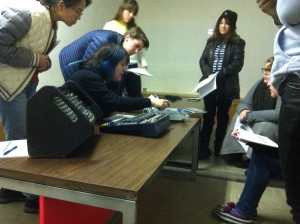 I was fortunate that my first round of participants were fairly experienced – mostly musicians, and even some women who had been through a music industry arts program in college. They seemed to absorb the material, and the sound check portion of the class went fairly smoothly, except for one crucial point: the difference between gain and faders. As we'd been using small powered mixers without faders for part of the day, I could see where the confusion was coming from. From having had a few bad experiences with over gaining and feedback, I'm always weary of my gain pot. I also don't subscribe to the idea that it's always necessary to hit -0dB levels on every input: sometimes, your source is just too quiet and it's best to try and get it as close as possible, and pull back before feedback. This is definitely something I learned through experience, which I tried to convey to the participants.
That first session received a positive response, and the city brought me on for another class in November 2015. With the help of the assistant teacher, Lesley, I re-worked some of the sections of the teaching manual. Version two of the booklet was definitely more concise. The second round of participants ended up having different backgrounds in audio and music than the first group, which lead to the class schedule needing to be slowed down. This taught me as an instructor that although you can prepare a lesson plan, you never know how well your students will absorb it until you start teaching them!
With that lesson in mind, I re-worked the class yet again. The winter 2016 edition of "DIY Intro to Sound Class for Women" was split into 2 days, making the weekend portion slightly longer, which gave me more time to cover materials. We moved the sound check practical portion of class to two days later, which would hopefully give participants more time to process what they'd learned. This proved to be a double edged sword– the weekend portion was more relaxed, but it was difficult for some participants to make time to come to the weekday class. In retrospect, I like the condensed class better, as I found it was easier for students to stay in the groove, even if it was a long day.
As I told my students, no amount of class time can replace experience: the city of Ottawa has been working on internship opportunities for class participants so that they can put the skills they've learned to use. Live sound is tactical, and you have to work different shows with different artists to develop your own toolbox of tips and tricks. I also subscribe to the idea that to stay on top of your craft, you must constantly be pushing yourself to learn new things: although I have been working full time in live sound for close to 3 years now, there is still so much I want to know!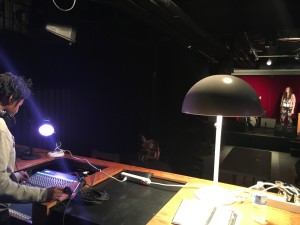 I am now working on a part two to this intro class, aimed at women who are looking to further their skills and find work in live sound. This will be hosted in early summer at one of the city's theaters, and will give students the chance to work in a real venue, with pro-audio level equipment.
Which leads me to ask: what are some of the most important lessons you've learned working in live sound? What resources (books, websites, videos) helped you? I'm looking for help and input in the continuous development of my curriculum. Feel free to reach out if you have resources or tips you'd like to share.
Thanks to Caleb, Allison and Karen at the City of Ottawa Community Arts and Social Development Program for their support in creating this class.
---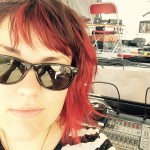 Maxx Brunet is a freelance sound engineer based in Toronto, Canada. She is the FOH Engineer for KEN mode and works as a monitor engineer at The Mod Club. Her past times include writing for zines, drinking coffee, volunteering for Rock Camp for Girls, and teaching audio basics. Maxx is the Co-Head of  the SoundGirls Toronto Chapter.