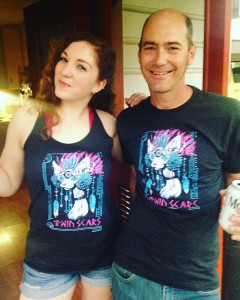 For a slightly control-freakish girl like me, the massive, squalling, sensory overload that is South by Southwest (SXSW) is a wee bit intimidating to think about (there's a reason I like to work in studios). However, despite my aversion to large, inebriated crowds and out-of-tune performance spaces, I ended up having a blast working for the powerhouse electro-rock duo Twin Scars, and learned a LOT about touring, show management, and coping with mental and physical overloads.
My official title for the week was "Tour Manager," which confused me at first because originally I thought all that tour managers did was book shows (and I'd had about diddly-squat to do with that).  But by the end of the very exhausting seven days, I figured out that the role of TM was much more valuable, and extensive. I thought I might share what I learned in the most effective way possible: a list-icle.
Before the tour:
Get your physical strength in check. You will be lifting lots of heavy gear, and you need to make sure your body is up to the task (especially your back). Visit the gym, do some yoga, etc. Invest in braces for body parts that are a little weak (for me, knee braces would've been a lifesaver).
Stock up on essentials. That means comfy clothes, supportive shoes, business cards, and LOTS of earplugs and hair ties! I always had extra earplugs on me in case the band forgot theirs, too.
Brace yourself psychologically. There will be noise and people in abundance. For females, be prepared to be called "sweetie," "bitch," "honey," and "darlin'." Know that it has nothing to do with you or how well you do your job. Arms and waists will be touched and/or grabbed, no matter how many times you lift 30 lb speakers over your head. Develop quick relaxation techniques for when you're about to explode from rage at the patriarchy.
At each show: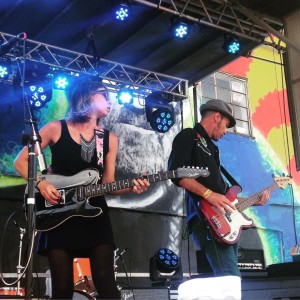 Load your gear in FAST and get it to a safe, out-of-the-way area.
Keep your eye on said gear; make sure it doesn't get "accidentally picked up" by one of the hundreds of other people in attendance while you're waiting to set up.
Locate the event manager. Find out where in the venue the band will be playing, what time they will be playing, how long each performance is, and how much set-up time you will be allowed.
Locate the sound person. Find out about any sound restrictions for the area. Inform them what gear your band has, and communicate any specific sound needs for the band.
When the band before you finishes, hold your horses; wait a few minutes for them to get off the stage before you start loading on. (If after five minutes they still haven't moved, start getting your stuff onstage anyways. They'll move after they throw a brief temper tantrum.)
Be swift like the wind!! Get everything set up and ready to go within the allotted amount of time; the event managers/sound crew/other bands will love you for it.
No matter what, KEEP YOUR HEAD. BREATHE.
While the band played their set, I set up the merch box, walked around the room to make sure the band sounded good in as many areas as possible, and collected emails from audience members for the band's email list; all the while taking pictures and videos to post to the band's social media accounts. When the set was over, I checked with the sound engineer to make sure everything was zeroed, then helped whisk everything off the stage as quickly as possible.
At the end of the day:
Relish alone time. Rest your ears and body, then gear up and get ready to do it all again tomorrow.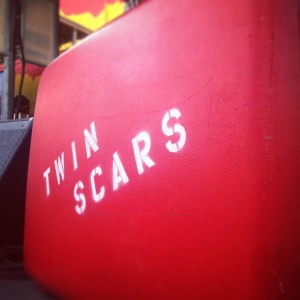 Check out Twin Scars!
Website: http://twinscars.com
Facebook: https://www.facebook.com/Twinscarsband/
Instagram: https://www.instagram.com/twin.scars/
SoundCloud: https://soundcloud.com/twinscars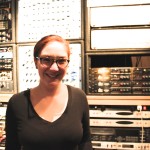 Willa Snow is a freelance studio sound engineer and producer, currently based in the San Francisco Bay Area. She loves working with artists in the studio to carve out their sound and clarifying their stories.