By: Kerrie Mondy
I blinked, apparently!
Since my last blog, two shows opened and closed, and the Bistro, following a grand send-off, was made mincemeat in the name of renovation. Now I have (largely) the first two weeks of July to loaf, bring up my "domestic goddess" average, and plan for two more summer shows. Not a bad way to kick off the summer. But before I leave May/June 2014 to the ages, allow me to indulge in some re-capping. 🙂
The Bistro's last show in its original incarnation was a wild – and long – day of packed house, constant changes on stage, and fighting low-end feedback. Wouldn't you know it? Six months of working there, no feedback issues. Big gala send-off show? Fighting it all night. 🙂 But we packed a lot of folks, amps and mics onto that little stage, and all things considered, the sets were fantastic. The building is now in the throes of reconstruction. The pictures of the demo are pretty great. You can see them on Facebook on the "Jazz St. Louis – Jazz at the Bistro" page. Our new console was delivered this week, and we're starting to get a little giddy about the fall re-opening. My first gig in the new Bistro will be as A2 for Wynton Marsalis's engineer. Not too shabby!
'Hands on a Hardbody' ended up being a great show on a lot of levels, and I will personally remember it as an ode to overcoming "it is what it is" obstacles with dogged determination and "experiment-listen-repeat" methodology. Our director really liked the set up we had for Rent, but the budget in no way allowed for that again. So we were back to our old Allen & Heath console, two QSC K10 mains, and a little graphic EQ that my gear guy threw in to help me out. We did hang the two speakers again, though, this time just a bit more onstage from their previous "shelved" positions. I liked it. Since the action was so centered, it was nice to have them a bit closer in, and as luck would have it, we had good points from which to hang right above both of the two areas of action that flanked the center-stage truck.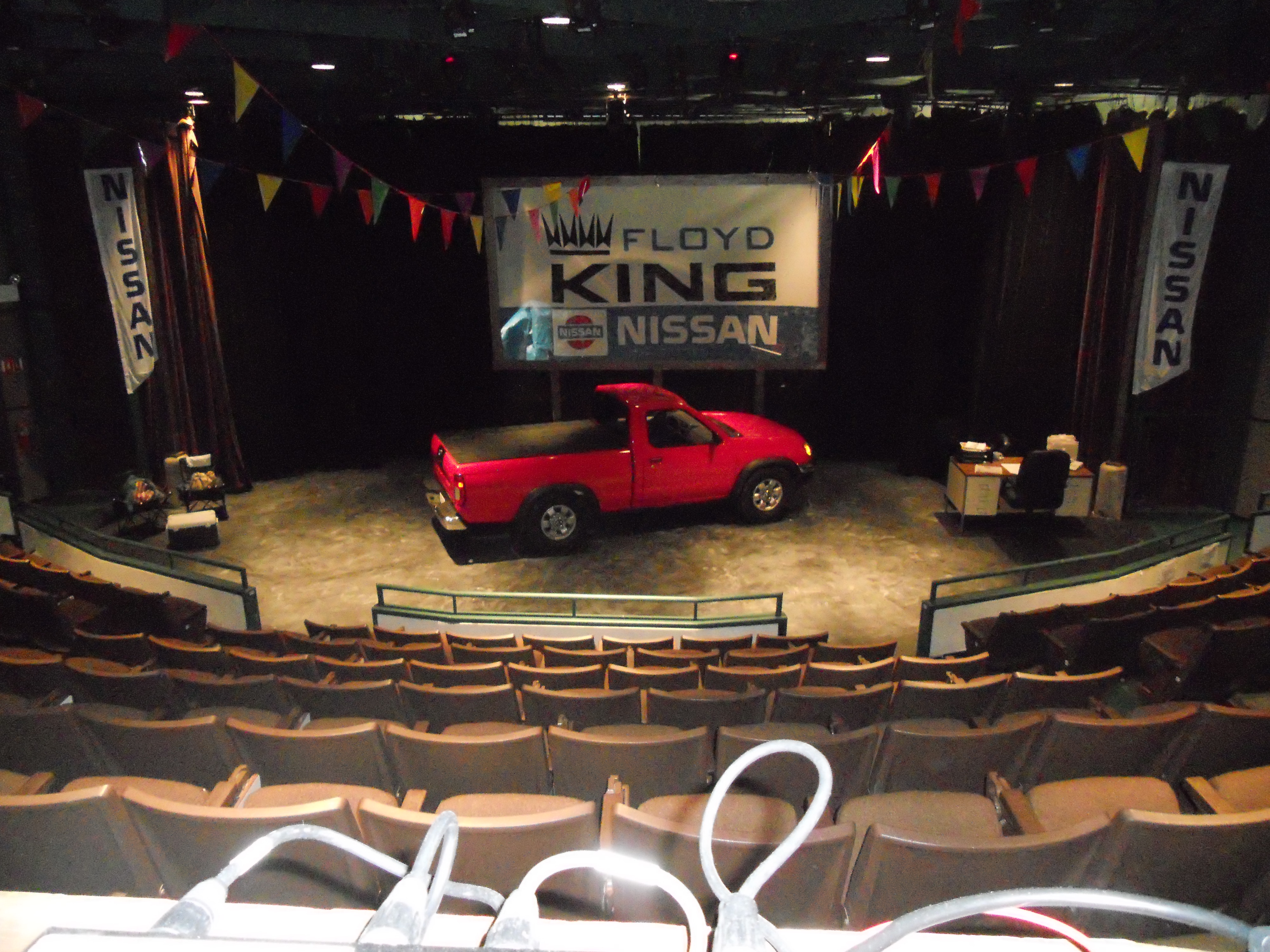 This show would have been almost trouble-free were it not for all the yelling. I thought Rent was a dynamic range challenge, but it had nothing on Hardbody. We had a lot of people in this cast with big pipes for singing/shouting but speaking voices/parts that border on reserved. Add some sharp, consonant-y Texas dialects, and I had a gain-staging nightmare the first week. Even with the packs down as far as they'd go, really nasty clipping was occurring throughout the show on about half the cast. I mean, egregious, painful, distracting overdriving. And when they weren't yelling or singing, it was difficult to hear them, even with their fader pegged. That company is very much about letting the actors do their thing, so bargaining for restraint wasn't really an option. The first week was just like walking the plank every night – I knew it was going to happen, and I felt pretty powerless to do much about it. And in retrospect, feeling that way was my biggest problem. After reading the only the second review of the show, and seeing "sound issues" mentioned, I decided it was going to be a long run if I didn't figure out a way to deal with it. So I did. I started with re-placement of the mics on my "problem" actors. They were great and very patient through the process of finding a good position, and on two of them, it ended up being that the mics were pointed at or slightly below the chin. I also replaced one of the Shure earworns with a Countryman, since there wasn't to much action or sweat. The Countrymans are a bit more tolerant of loudness than the Shures, if a bit less durable. I made yelling a part of each actor's mic check every night, and set the gain at the board with the idea never letting them get into the red at the board ( a couple of them still would once or twice a night, since they get excited during the shows, but I got to know when to expect that and just brought the fader down in those moments). And then I tried something new. I'd conquered most of the overdrive issues but that still left me with a lot of now very quiet dialogue. There were three actresses who were just sort of impossible to set a gain for that would serve both objectives. So what I did for them was I kept their faders going independently to the mains, and then also assigned them to groups that were going to the mains as well. So when I needed more from them, I could ride their group fader up and get more of them, and just take it down when they got louder. Their channel fader and gain stayed pretty much parked. I wouldn't say it made a huge difference, but it was enough to get things leveled out again, and I ended up having a great-sounding run. What did I learn? Well, besides some practical tricks to use, I learned that you can't let not having the answers keep you from finding them. Maybe I'm not the most experienced engineer, but the experience I do have is worth something, and it can and does work for me when I allow it to be put to use. Remember – everything we know now came originally from someone who didn't have the blueprint. Be aware of what you don't know, but don't let it intimidate you or keep you from trying and learning.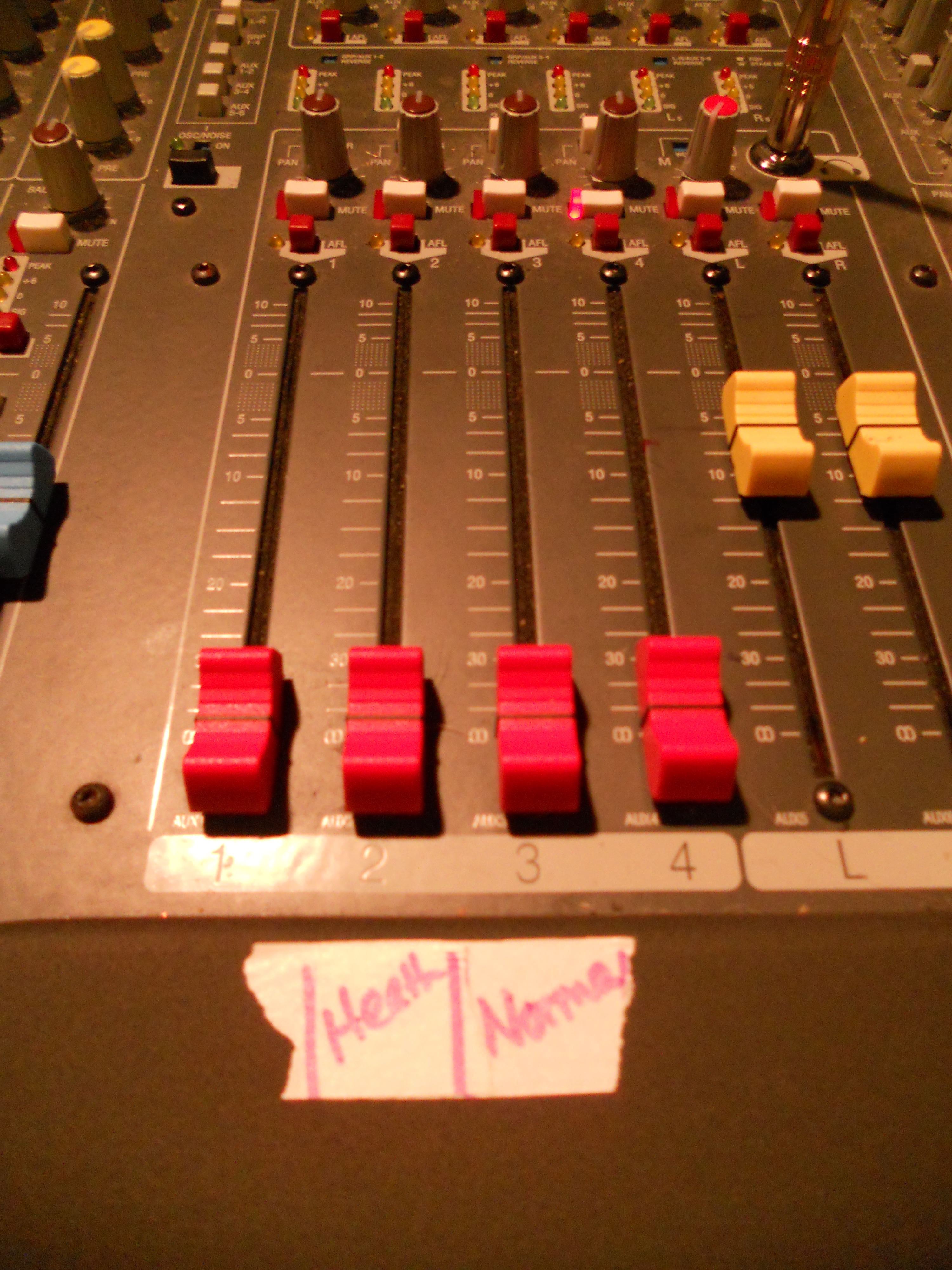 Our last week of Hardbody shows overlapped with our tech and opening for the STAGES St. Louis Young Audiences production of "Disney's Sleeping Beauty". THAT show was 10 pounds of crazy in a 5 pound bag. It's getting it's own blog entry. 🙂 Speaking of which, I have an aricle running concurrently with this one entitled "Making Your Preshow More Than a Playlist". If you'd like some ideas on how to make your preshow a great companion to the production, I'm sharing some of mine there, so have at!
Happy summer, and great and safe shows to all!