By Jett Galindo
NPR West Tour – Jan. 10, 2015
It was a rainy Saturday morning when I drove down to Culver City to meet with fellow Soundgirls colleagues at the NPR West headquarters. It was a long 2-hour drive from Ojai but the opportunity to be part of an in-depth tour of the NPR facilities was well worth the trek and early wake-up time on a weekend morning.
Upon my arrival at the NPR West facility, I was instantly drawn to the aesthetics of the interior with its exposed ceilings, smooth cement flooring, and metal finishings. The minimalist, functional aesthetic was sleek and inviting. From how the lobby was designed, you can conveniently catch glimpses of various areas in the facility bustling with activity that you couldn't help but get more intrigued with the world of NPR. Out of the corner of my eye, I noticed a group of people who were on their way out of the facility. One of them was world renowned philosopher Reza Aslan who has just finished an interview with NPR concerning the recent Charlie Hebdo terrorist attacks.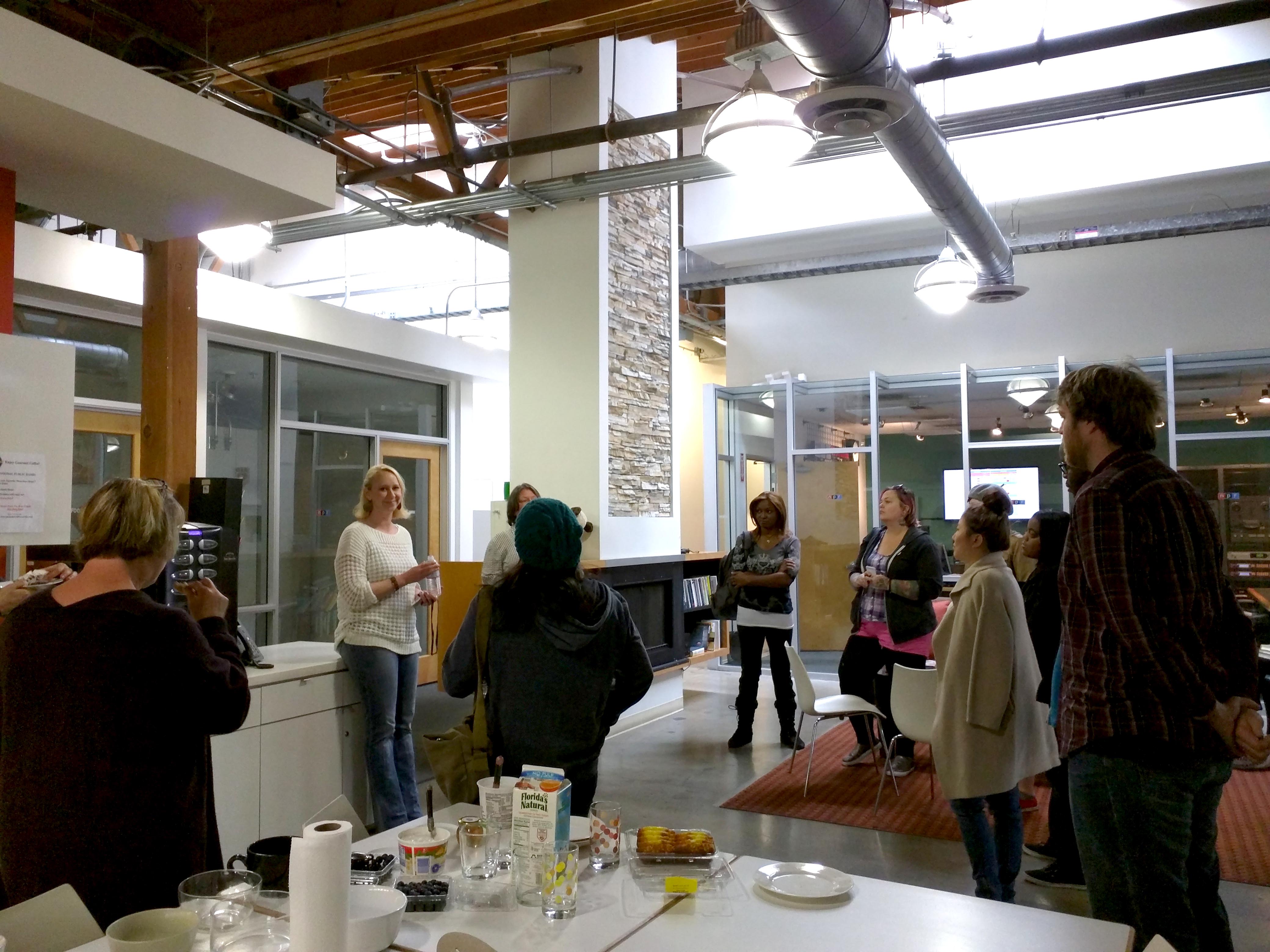 Soon enough, we were greeted by two NPR employees–Angie Hamilton-Lowe who is in charge of News Operations and Marcia Caldwell, who heads the technical team of NPR's weekend newsmagazine "All Things Considered". Being with NPR for more than 10 years, Angie & Marcia shared a handful of stories about how they got their start in the industry. Despite the busy, no-nonsense energy of the facility, Angie & Marcia were both incredibly fun and laid back, and it definitely established the mood of our entire tour.
The tour started with a brief look back into the history of NPR. They are first and foremost a content provider to hundreds of public radio stations across the United States. Rather than transmitting the broadcast, the focus of NPR is in the production of content, which is then distributed across various radio stations across the country. They also distribute programming from independent producers and networks such as American Public Media and Public Radio International. Being at the forefront of content distribution, NPR's programs are also available on-demand via the internet, mobile apps and podcasts. Mainly located in Washington DC, the NPR West facility in Culver City, CA was built in 2002  to improve NPR's local presence at the western US, and to serve as a ready backup in case of possible catastrophes in Washington that may affect their headquarters' operations.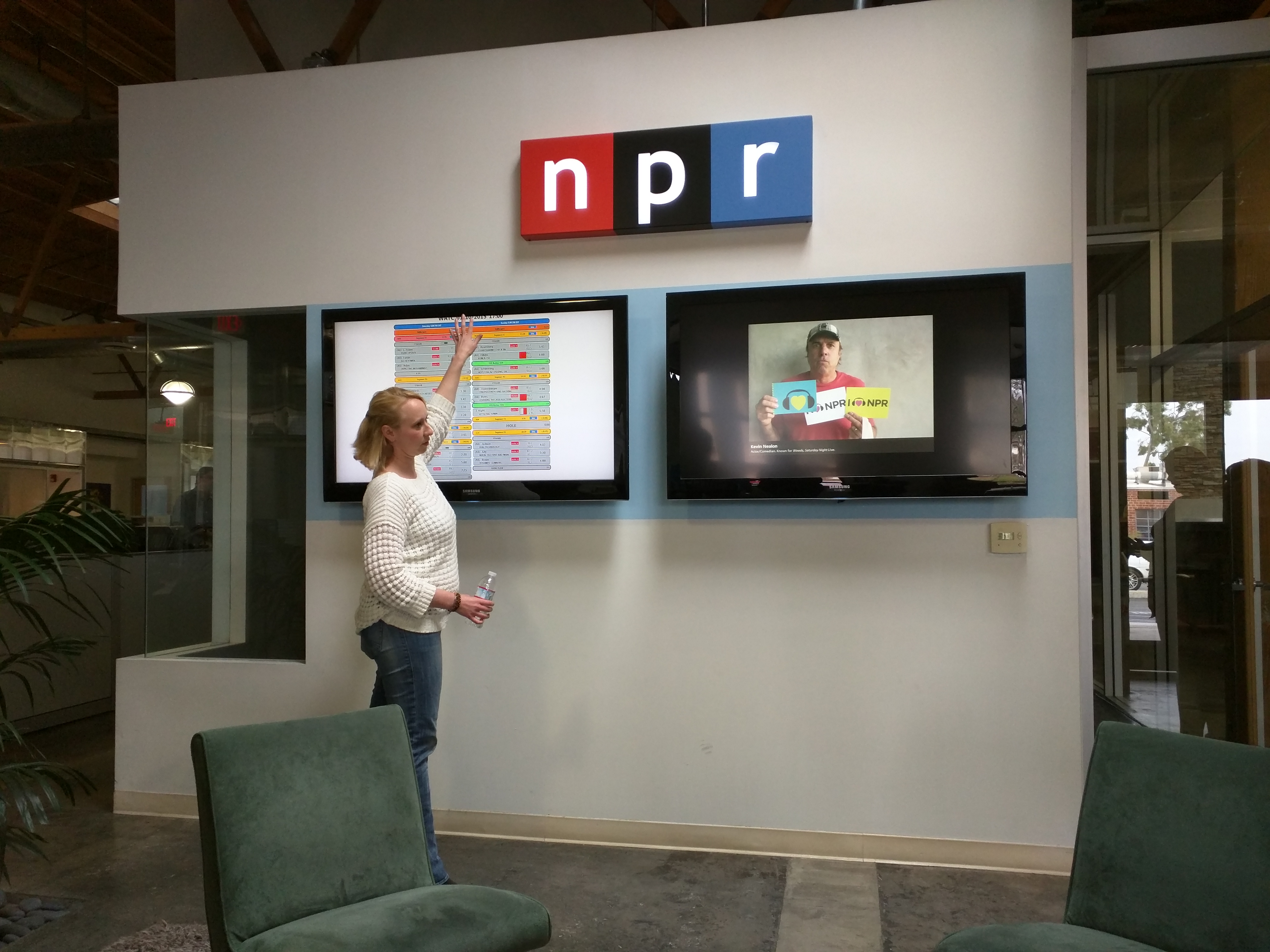 At the beginning of the tour, Angie directed us to the entrance of the facility where a large TV screen displayed a rundown of NPR programs and their respective broadcast schedules. Understandably, at the top of the priority list are topics revolving around the Charlie Hebdo terrorism attacks while at the other end of the spectrum are lifestyle programs (e.g. the comeback of Foie Gras). It was interesting to note that right beside the TV screen is a clear view of cubicles and workstations with producers, scriptwriters, and audio editors, all wearing headphones and deeply involved with their work. The quiet, focused atmosphere was a sight to behold. We also had the pleasure of conversing with NPR West's librarian who is responsible for researching content on current news affairs and decades upon decades of archives for any producer who is need of them. At this day and age, everything is archived in a digital format, although the oldest archives are conveniently stored at the University of Maryland.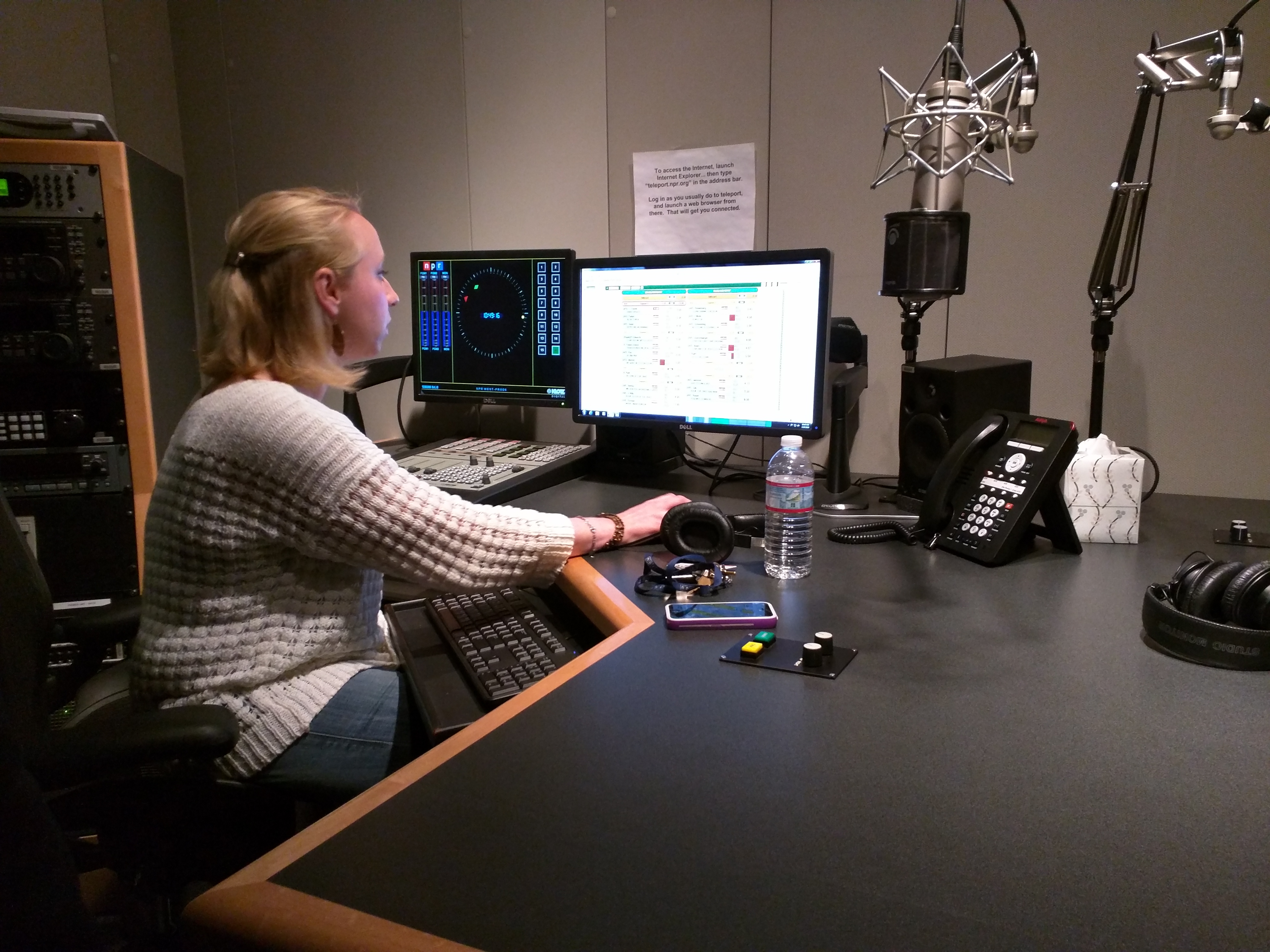 Looking forward to seeing the NPR studios, I was ecstatic when Angie finally led us to one of several rooms in the facility–first is a compact booth that houses 2 Neumann U87 microphones, used for one-on-one interviews. NPR uses a proprietary digital audio workstation that allows for efficient recording/editing and more importantly, proper embedding of essential metadata. The software works hand in hand with NPRs servers that store a vast amount of audio and other multimedia–all conveniently accessible in both the NPR West facility and their Washington headquarters.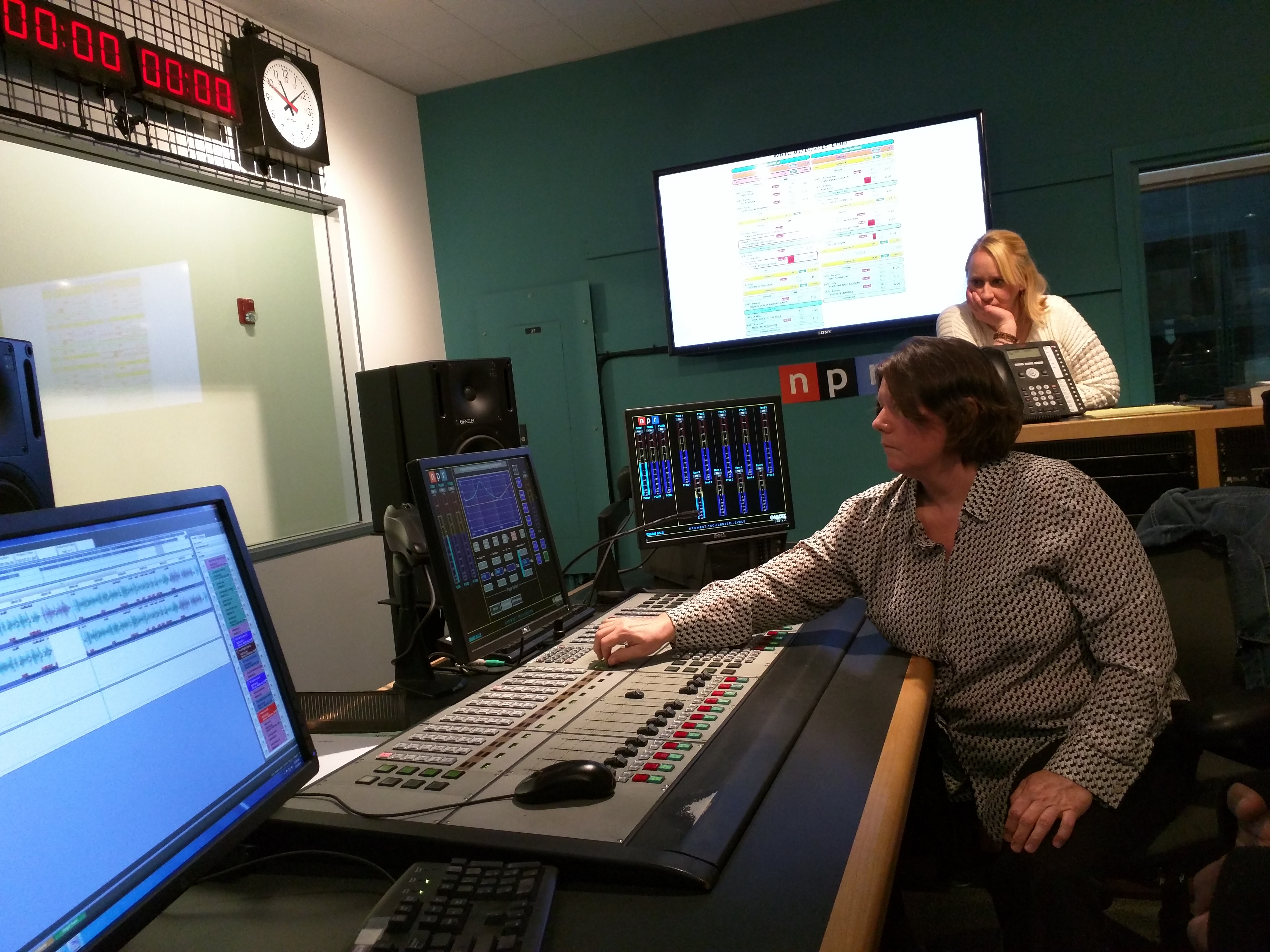 Next on the agenda, we met with Marcia in a larger studio that housed more outboard gear and a  large-format 16-channel control surface that controls the other smaller studios in the facility. Using a recent NPR interview featuring producer Mark Ronson, Marcia walked us through how she and other NPR engineers edit and process the multiple tracks of audio. iZotope's RX audio repair toolkit was essential for cleaning up the occasional noise, hums, and ticks from the recording.
The final stop was also my personal highlight of the tour. The biggest in the facility, this studio houses Renee Montagne's daily weekday Morning Edition, the most popular and widely heard public radio news program throughout the US. Co-hosting Renee is Steve Inskeep, who is located at NPR's Washington DC headquarters. The red phone conveniently provides Renee a private direct line to Steve, whereas the TV screen shows the realtime activity of the Morning Edition set in Washington.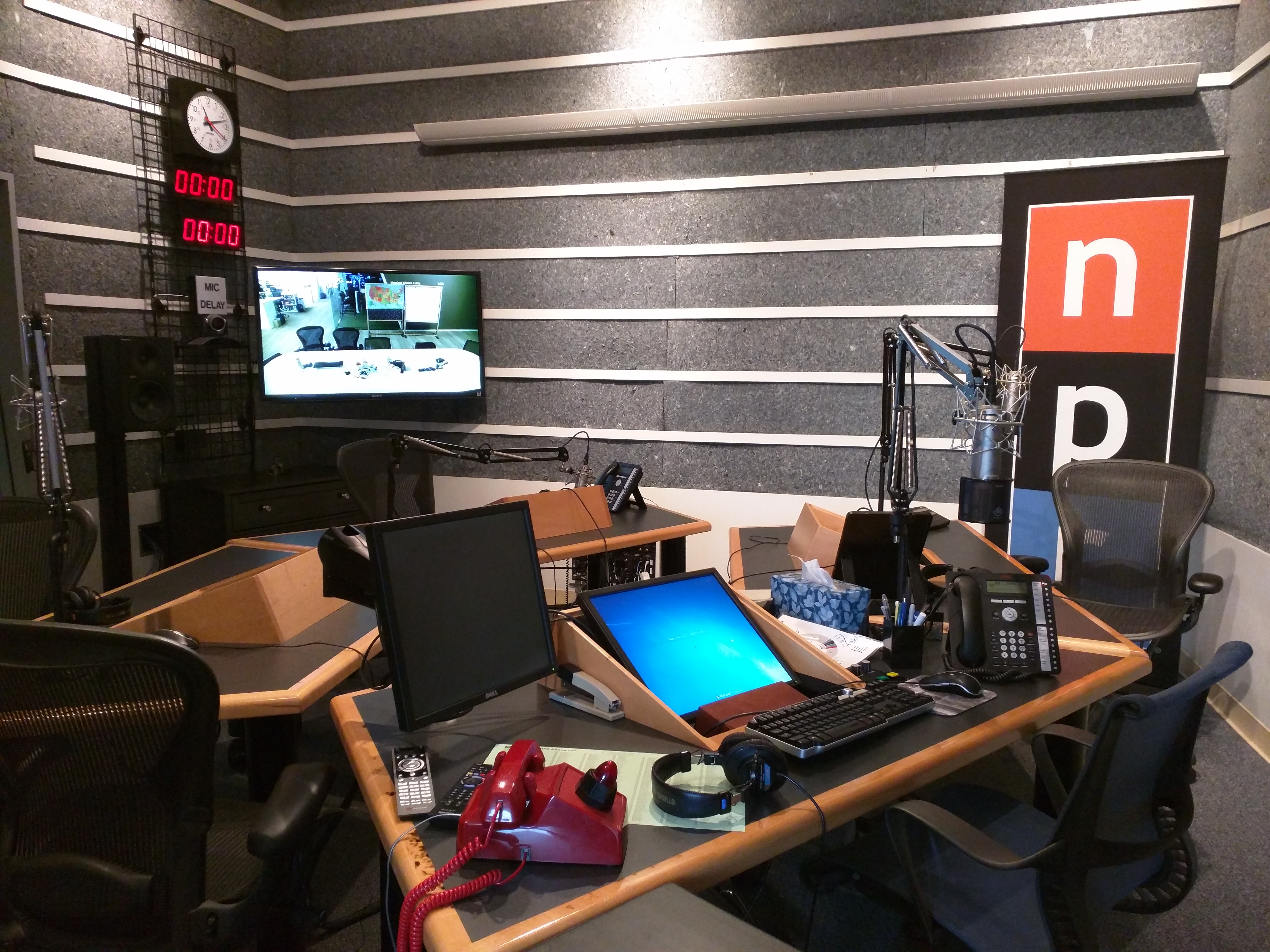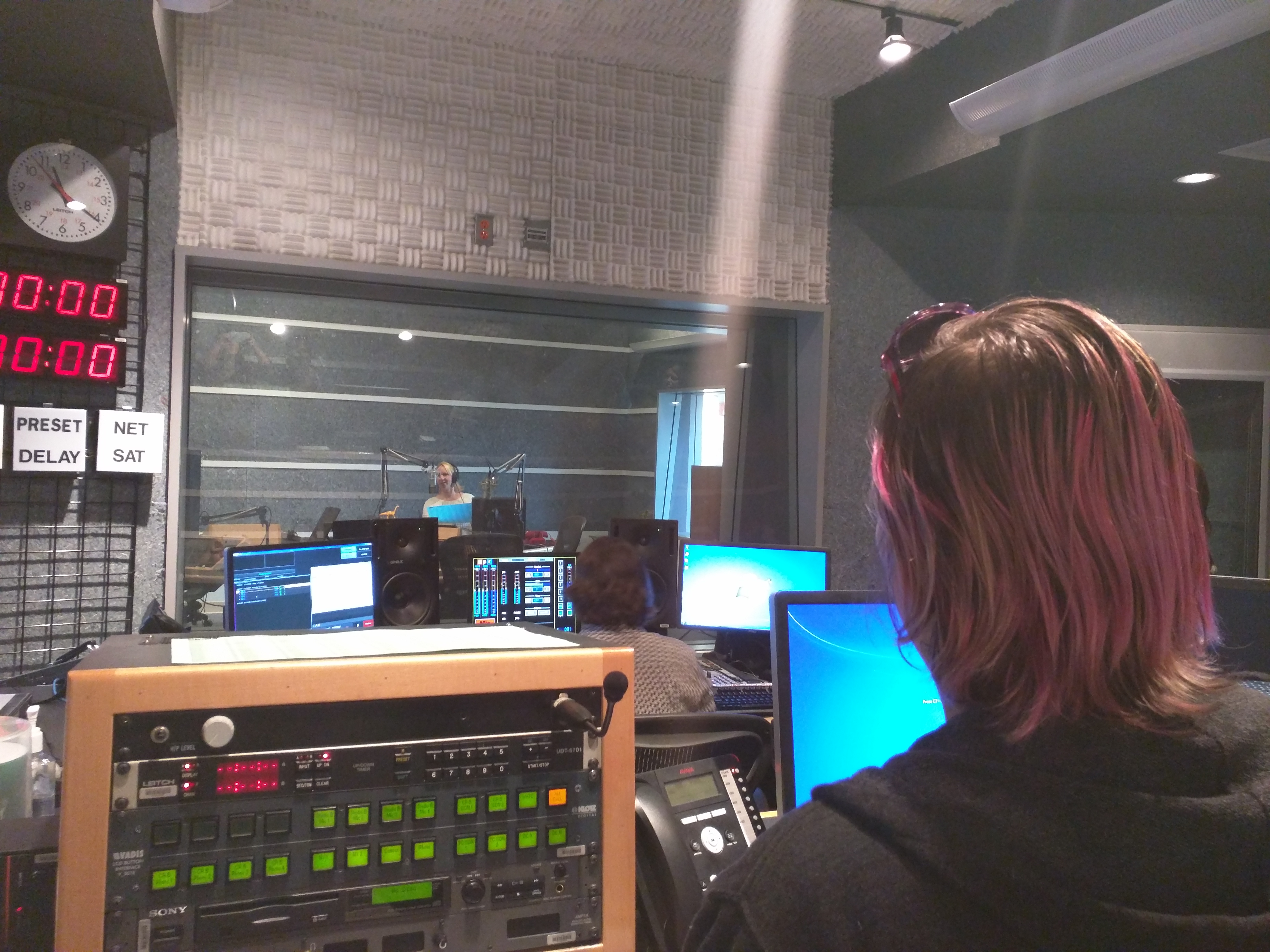 Being a daily morning radio news program, there is virtually minimal room for errors and additional editing time, ergo the fast-paced, focused and methodical production behind the show. With recording sessions beginning at midnight, Renee works alongside her tech engineer who's stationed in the adjacent control room–recordings, transitions, and mixing all done in real time. By early morning, they would have completed an episode for same-day broadcasting. If an error is found, a quick edit is done just in time for later replays of the episode.
Angie & Marcia were gracious enough to demonstrate a typical session in the studio. Typical for them, but tense, nerve-wracking and fascinating from an outsiders point of view. All in a day's work for NPR.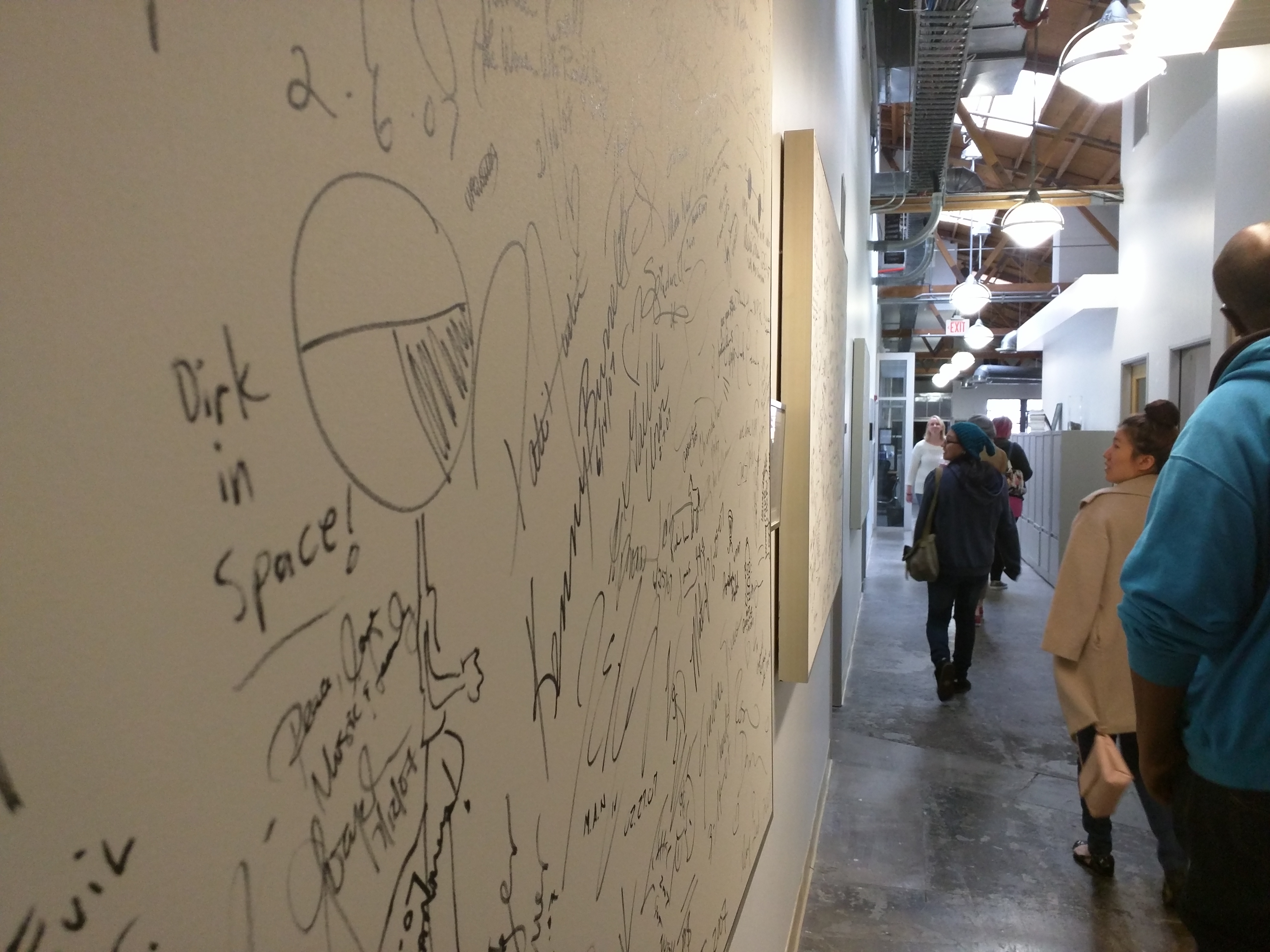 On our way back to the lobby,  we were greeted by walls upon walls of scribbled white boards. Upon closer inspection, the scribbles are all signatures and messages of past guests who have graced the halls of NPR West (Kareem Abdul-Jabbar, Seth Macfarlane, and Brian Wilson, to name a few). Angie & Marcia shared that it was once a tradition of NPR to let their guests sign on these boards but after they've run out of the wall real estate, that was not quite possible. Nevertheless, it was still fascinating to see who has been in the facility since it was built in 2002.
It was definitely a rainy Saturday well spent hanging out at NPR West! NPR has always had a significant place in people's lives–whether it be thoughtful discussions on the current state of affairs or an introspective review on the latest album of your favorite artist. Visiting the facility only gave me a deeper appreciation for NPR. My huge gratitude to Karrie Keyes and Soundgirls for making this trip possible.