SoundGirls Events at AES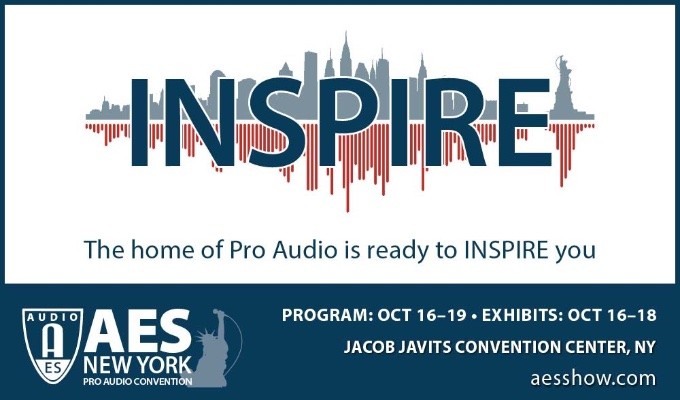 Mentoring Sessions at the SoundGirls Booth
Stop by the SoundGirls Booth for one on one mentoring with Industry Veterans.  Enter for a chance win to SoundGirls Swag, Become a Member, and hear about all the benefits available to SoundGirls Members.  Booth schedule subject to change and mentors will be added
Oct 16th
10 am to Noon – Karrie Keyes: Executive Director of SoundGirls and Monitor Engineer for Pearl Jam and Eddie Vedder.
Noon to 2 pm – Michelle Sabolchick Pettinato: Co-Founder of SoundGirls, Founder of Mixing Music Live and FOH Engineer for Elvis Costello, Styx, Mr. Big, Goo Goo Dolls and more
2 to 4 pm – April Tucker: April is a Los Angeles-based re-recording mixer and sound editor who works in television, film and new media. April is a SoundGirls Representative to EIMPA and blogs at her website Pro Audio Girl
4:00 to 5:30 pm – Jeri Palumbo:  Jeri Palumbo has written for Mix over the years, focusing primarily on audio issues important to broadcast engineers, audio mixers and RF techs. She is a musician, tech and all around audio pro who for more than 25 years has roamed the trucks, sidelines, courts and playing fields of high-end sporting events—including the Super Bowl and NBA and NHL playoffs. She's also worked too many live broadcast events to count.
Oct. 17th

10:00 am to Noon – Fela Davis: Fela is a FOH and ME engineer based out of New York City. With over a decade of experience in live sound she has worked for Clair Wireless & House of Blues.
Noon to 2 PM – Vanessa Silbermann: Vanessa is a Producer, Recording Engineer, Label Owner and Artist
Oct 18th
10 am to Noon – Barbara Adams – Barbara is an audio engineer and educator with twenty-five years of experience in the music industry. She specializes in live sound and production management. Her strong and varied experience also includes recording engineer, stage management, and artist management. Barbara is Lecturer Professor at Rowan University teaching Sound Reinforcement and Audio Recording in their Music Industry Program
Noon to 2 pm TBA
2 to 4 pm Amanda Raymond – Amanda is a New York City-based Production Manager and Audio Engineer. She production managed shows both on and off-Broadway before settling into her current home as Head of Audio at Feinstein's/54 Below. She is often seen touring the country with Jarrod Spector and Kelli Barrett's hit cabaret shows as both their Production Manager and Audio Engineer.
4:00 to 5:30 – TBA
---
4:00 to 4:45 PM
Moderator: Leslie Gaston Bird: Leslie owns a post-production company (Mix Messiah Productions), serves the Audio Engineering Society as Vice President of the Western Region, and was an Associate Professor at the University of Colorado Denver until 2018. She currently resides in Brighton, England with her husband and two children.
Panelists 
Michelle Sabolchick Pettinato: Front of House Engineer.with a career in professional concert sound that spans more than 25 years, Michelle Sabolchick Pettinatohas been front of house engineer for a diverse roster of musical acts including Elvis Costello, Styx, Mr. Big, Goo Goo Dolls and more. She is a co-founder of SoundGirls and is the creator.owner of Mixing Music Live
Karrie Keyes: Monitor Engineer and the executive director of SoundGirls, She has been the monitor engineer for Pearl Jam and Eddie Vedder for over 28 years and has toured with Soundgarden, Fugazi, Sonic Youth, Neil Young, and the Red Hot Chili Peppers.
Piper Payne: Mastering Engineer – Piper, lives for quality and equality in audio. Piper Payne is a mastering engineer in Oakland, CA, where she works on albums for independent artists and major labels. Piper is the Owner and Chief Mastering Engineer of Neato Mastering. She recently finished her term as President of the SF Chapter of the Recording Academy and serves on the P&E Wing Advisory Council. She is also on the committee of the AES SF Chapter and is an active member of Women's Audio Mission and SoundGirls
Catherine Vericolli: Owner, engineer, manager, at Fivethirteen in Tempe, AZ. Catherine is more or less an analog purist. She also writes for various pro audio publications and taught classes at The Conservatory Of Recording Arts and Sciences. Catherine is an active member of SoundGirls
Jessica Thompson: GRAMMY-nominated mastering and restoration engineer and audio preservationist working in the San Francisco Bay area. Her remaster of Erroll Garner's iconic live performance The Complete Concert By the Sea (Sony/Legacy) was nominated for Best Historical Album GRAMMY, 2015. She has remastered, restored, and revived historic recordings from the Bottom Line, Caffè Lena, Woody Guthrie, Erroll Garner, and Barbara Dane Archives, and the Ash Grove and the Newport Jazz and Folk Festival archives and many more projects.
April Tucker: Re-recording mixer & sound supervisor FX. April works in Los Angeles in post-production sound for films, television, new media, and marketing/advertising. She has performed nearly every role in the process from the bottom up; she started as a PA at a studio and worked her way up to re-recording mixer – doing everything from Foley, ADR and sound editing along the way. April is an active member of SoundGirls and is a SoundGirls Representative to EIMPA a national organization of experienced, working professionals offering career guidance for individuals seeking craft and technical careers in the entertainment industry. April can be contacted through her website, www.proaudiogirl.com.
---
October 18th
4:00 to 5:30 pm
Please join SoundGirls for a Speed Mentoring Session with Industry Veterans. Get answers to the questions you have about working in professional audio. Sessions will be 30 minutes, and we will rotate among mentors.
Recording Arts
Fela Davis: Recording and Live Sound Engineer, Co-Owner of 23db Sound – New York
Jessica Thompson: Audio mastering, restoration and archiving
Catherine Vericolli: owner, engineer, and manager of Fivethirteen in Tempe, AZ
Live Sound
Michelle Sabolchick Pettinato: FOH Engineer for Elvis Costello, Styx, Mr. Big, Goo Goo Dolls, Michelle is Co-Founder of SoundGirls
Gil Eva Craig: Live Sound Engineer and Partner in Western Audio New Zealand
Barbara Adams: Live Sound Engineer and Audio Instructor
Karrie Keyes: Monitor Engineer Pearl Jam and Eddie Vedder Karrie is a Co-Founder
SoundGirls
Amanda Raymond: Live Sound Engineer
Manufacturing
Sara Elliot VUE AudioTechnik VP of Operations
Mentors subject to change, more mentors TBA