A bilingual album by, for, and about women that represents us in Mexican and American folk genres
In early 2020, Renee Goust received word that she was selected as a recipient of the New York Foundation for the Arts Women's Fund. Even before it was announced, Renee and I were already discussing how we were going to record this album – an album of all women. On March 12th, 2020, the news was made public:
If that date looks familiar, it's because at least in New York City, this was the day where the entire city shut down. The city that never sleeps was in fact going into a deep sleep. What did this mean for us? A complete revamping of what was going to be an album recorded in a completely different way from what she had done in the past. 
The Backstory 
Renee and I met through my husband. They played a gig together, and we became instant friends. Renee being a more techie artist than I'd worked with in the past, we instantly began discussing microphones, techniques, and how we'd work this album once she got the funding. 
We would record this album as live as possible. This meant all musicians together on one day, as isolated as possible, but playing together. If you've been reading along with me, you'll remember that I worked for a long time in live concert recording in classical and jazz. I've adapted a lot of that to how I record any genre. I find recording live lends itself to some of the best performances from musicians. The vibe, they feed off each others' energy and it's something that is hard to replicate in overdubs. Not to say you can't get amazing recordings in other ways, as we'll see, but if I have a choice…
So Renee and I discussed the plan. She and the musicians would rehearse for a couple of weeks, and we would go into the studio and knock out each tune in no time. 
The Best-Laid Plans
When the lockdown started we had no idea how long this would go on, but we knew that she had deliverable deadlines once she got the grant (which were pushed back a couple of times for obvious reasons). So at first, we said, no problem, we'll do it later. 
Then, two pretty big realizations happened. 
The pandemic was in it for the long haul.
I was pregnant.
So, we were forced to make new plans. 
We had several pre-production talks. Many of her musicians had fled New York City. This meant not only were we not recording altogether, but we would have to outsource many of the musicians recording in other locations. 2020 was the year of realizing remote recording can and will work. We made a very detailed excel mapping out who needed to record where, dates for those files to get to me, and we chose a week to block out a studio in New York City and record the bulk of everything we needed with a few days sprinkled after to get our main vocals recorded.
Why did we choose to do it all in a week? Because by this time we were in late summer, the city was still heavily shut down, but as each month passed, the closer I was to having a baby. That meant making a schedule to meet protocols for cleaning and sanitizing between musicians coming in to record and not leaving any surprises because anything we missed could mean derailing the deadline. 
We chose October since it left time for Renee to get her charts together, for the musicians to rehearse, but also leave time to do things in post. I would be about 8 months pregnant which felt a little safer in terms of how we would manage risks with the pandemic.
How it All Went Down
The drums for Resister were all recorded at Gamma Studio in Mexico. I personally don't like to micro-manage other engineers (because I know what it feels like). The only notes I gave was the more mics on the drum kit the better – something I learned from the great Bobby Sanabria, drummer, and educator who mic'd every single bell for a total of 18 tracks on just drums (another story for another time). 
Our marathon week of recording in person was done at The Buddy Project in Astoria, Queens.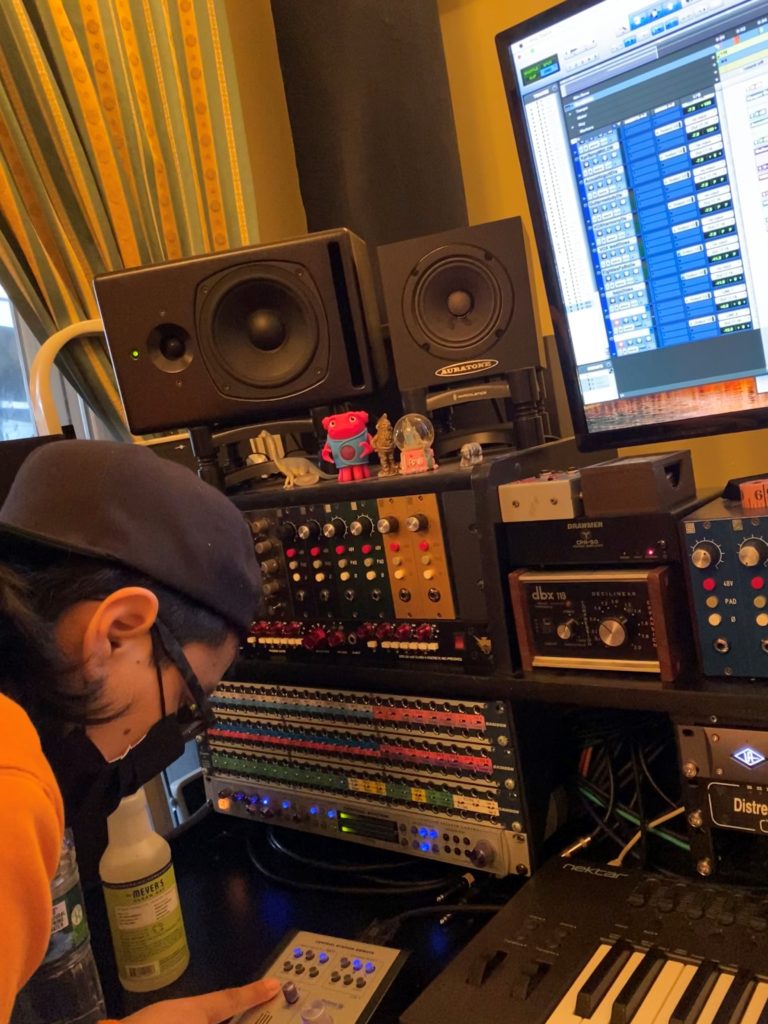 Aside from it being a super comfortable space, I lived close by, and since the pregnancy was a risk factor, it was very convenient. We tracked bass, all guitars, clarinet, piano, accordion, percussion, and vocals. And guess what, we even had another pregnant musician. (due the exact same day!)
We left absolutely nothing to chance. We didn't work overtime. We had lunch.
And we met every deadline. Because we were organized.

Every musician was extremely professional
Recording Separately
The caveat with recording every instrument separately and receiving files remotely is… THERE. IS. A. TON. OF. EDITING. Like a lot. 
I always prided myself on being a great editor, but after this year I could probably do it with a sandwich in my hand and not even listen to it. (Kidding). Working with a schedule like this meant there wasn't a whole lot of time to edit between sessions. We did build time in, but as the week wore one, we ran out of time. It was more important to take advantage of beautiful mics and studio space because as much as it would suck on the back end, we could in fact edit later.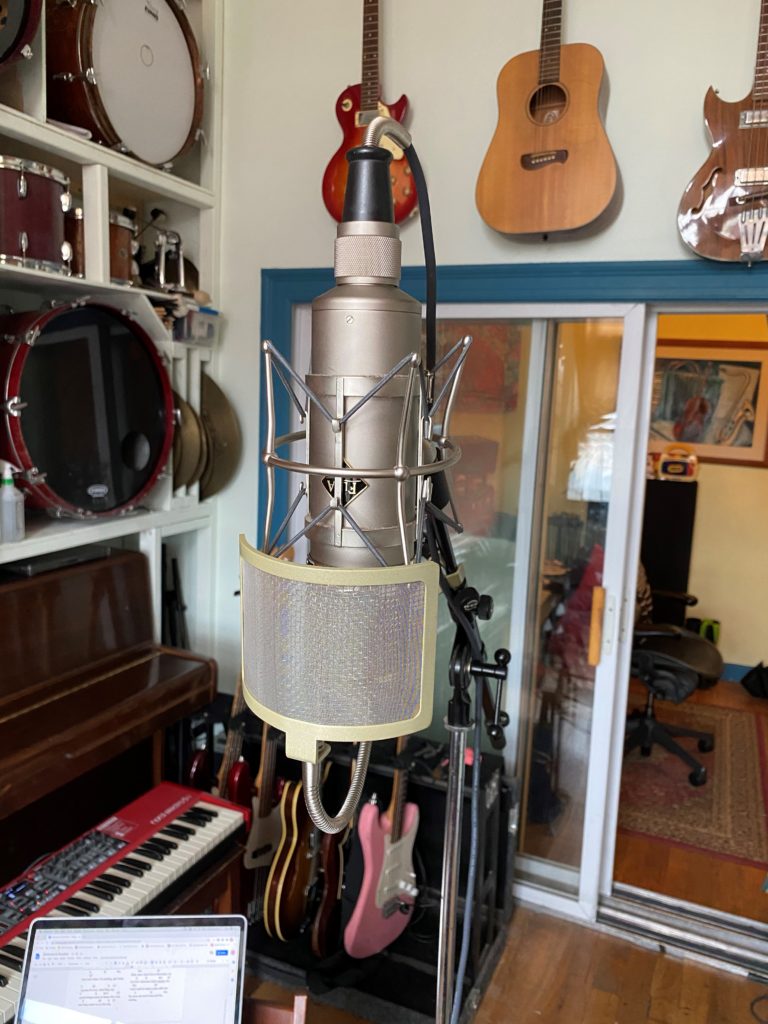 And edit we did. This has nothing to do with musicianship, it's just when people don't play together, regardless of a click, they aren't going to get into the same groove. Even if they're overdubbing – to some extent – there will be editing involved. Every layer you add on top of something that hasn't been edited or comped makes even more work.  As in the tune in the photo, we recorded a lot more than we needed and then had to sit down and produce the track, looping, and editing what we needed for certain sections. There is of course beauty in not over-editing, but you really can't get around it when you record separately.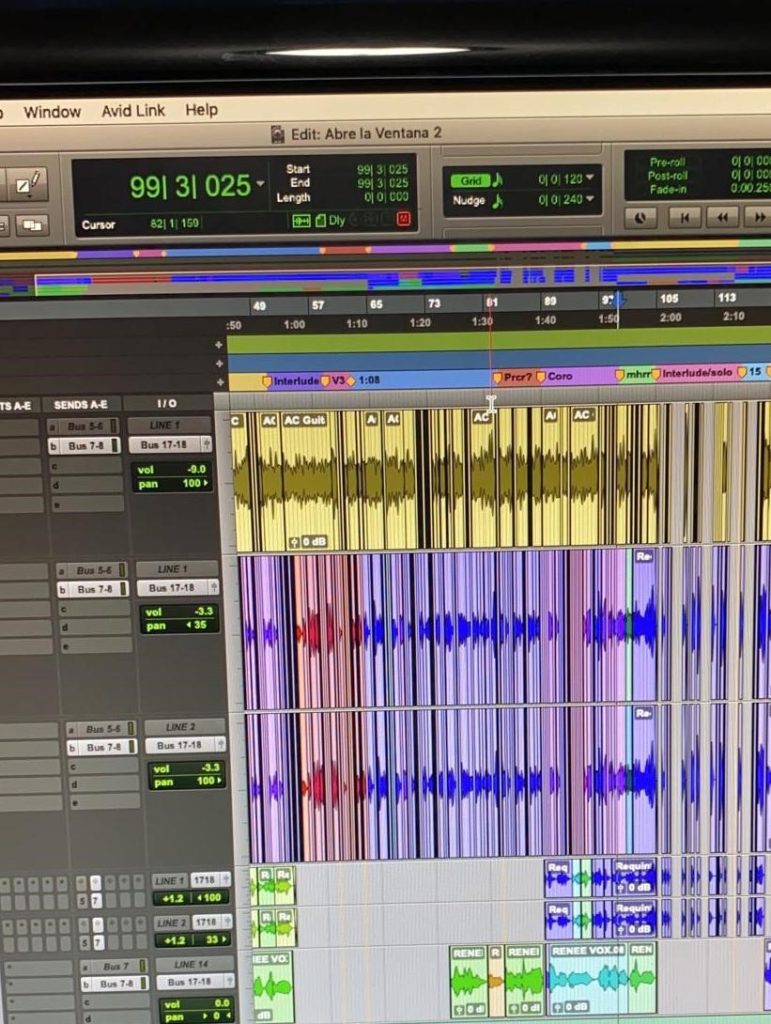 Ready to Mix
We got what we needed.  We're now in December. Countdown to giving birth T – 27 days. Our game plan was to get everything prepped for mixing. All tracks locked, so when I was ready post-birth, I could mix. Renee's original release date was September 2021, so we had time with the exception of her first single, Diosa, which would release in February. Plenty of time, but there are 8 tracks to prep before the engineer is completely out of commission for at least 6-8 weeks or more. 
So priority number one before Christmas:
Diosa
What Actually Happened
Diosa is the biggest track on the album. 72 tracks. A combination of electronic and acoustic instruments. Real drums with electronic drums, flugabone, trumpets, tuba, congas – 2 features with one recorded in Mexico sliding into home base on December 15th. 
Our original goal was to have this mixed before I had the baby. We were making progress, but it was now Christmas week. We were out of time. I submitted a "working mix" to Renee to give her an idea of where we were. Was that a good idea? Probably not. Sending working mixes tend to backfire because it stresses all parties out. But, at the time, I thought let me give her an idea of where we are. It is much better in some scenarios to explain being late than to submit something incomplete.
So what happened? I got a very nervous voice memo about what we were going to do because she wasn't happy with the direction we were going. And she was right. It wasn't even worth giving notes. So at 3:30 am, from the hospital before being admitted for induction, I wrote Renee an email to give me two weeks post-birth to recover a bit, and I promised to take this to the finish line. I will note here that I actually wanted to pass it off because I didn't think I could do it. I knew the first weeks' post-birth are a cluster fuck, but my husband encouraged me to finish.
And so, two weeks after giving birth. I did in fact get Diosa to the finish line.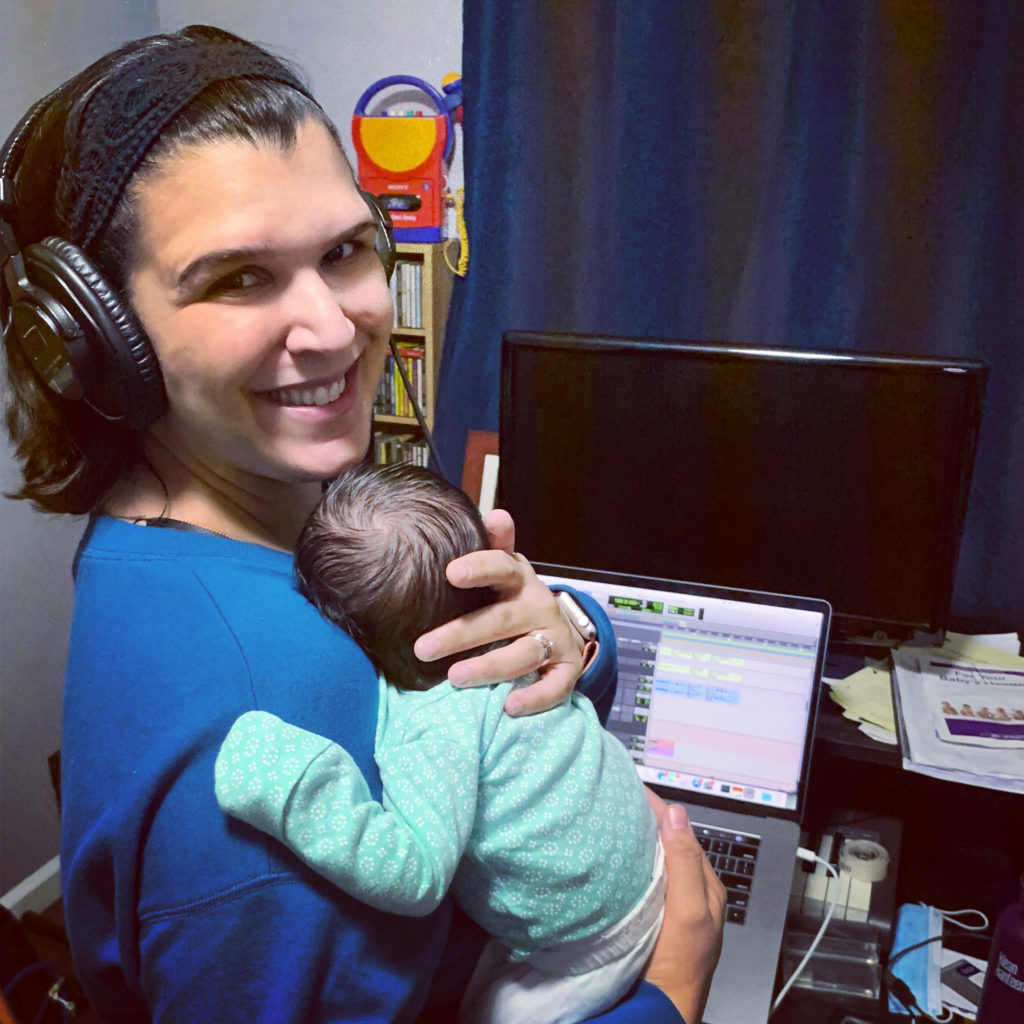 Perspective
Sometimes a bit of space from the thing you've been killing yourself to do is good for you. Renee decided to move up her release date of the album, so we moved our mix dates accordingly. That meant a lot of rushing and rushing doesn't necessarily yield the results you want. At one point, we hit a wall. And instead of rushing towards that finish line, we had a conversation where we both acknowledged that neither one of us was enjoying this process. We were both trying to meet unrealistic deadlines, and it was time to come to terms with that. We stepped back. I brought in an assistant to help me with 2 tracks (thanks Taylor Pollock).
The two tracks we had left for the end were two of the other big tracks – left for the end due to things beyond our control. Our Anthem, boasting 48 tracks, a featured artist in San Francisco, and a massive amount of guitars, wasn't gelling. A mix of rock, folk, and surf guitar, this was one of my favorite tracks on the album, and I was so excited to work on it. I desperately wanted it to sound good. But, I was so tired at this point; I couldn't figure out why it wasn't working. 
So once we took the time and space to do things right, I took another listen and decided to mix the track in mono. Mono helped me identify the problem spots, the tracks that were conflicting with others. Once I found a place for everything in mono, I popped my A/D into stereo, and everything started to fall into place. We hit our deadline.
The Bigger Picture
Resister was mastered by Margaret Luthar out of 1979 in Nashville and was released on May 29th, 2021. I always say I gave birth twice this year. One to Isabel, and another to Resister. 
The most important thing to me about this album was what the album actually meant. Sure, it was an album of all women and non-binary folks. And yea, it was an album of feminist content uplifting women's voices. 
But the bigger picture was what happened behind the scenes. It was an album of women SUPPORTING other women. There were so many opportunities for Renee to walk away and complete this album with someone else, but she didn't. Her engineer got pregnant, and she saw it through until the end. And the only way this business can continue to uplift women is by supporting them no matter what. 
This album will always be special to me because I did it very pregnant and mixed it with a newborn. Did you know that in the '60s, labels were hesitant to sign women artists and groups because of the fear that they would get pregnant and not finish out their contracts? 
Look at how far we've come. We can, actually, do it all.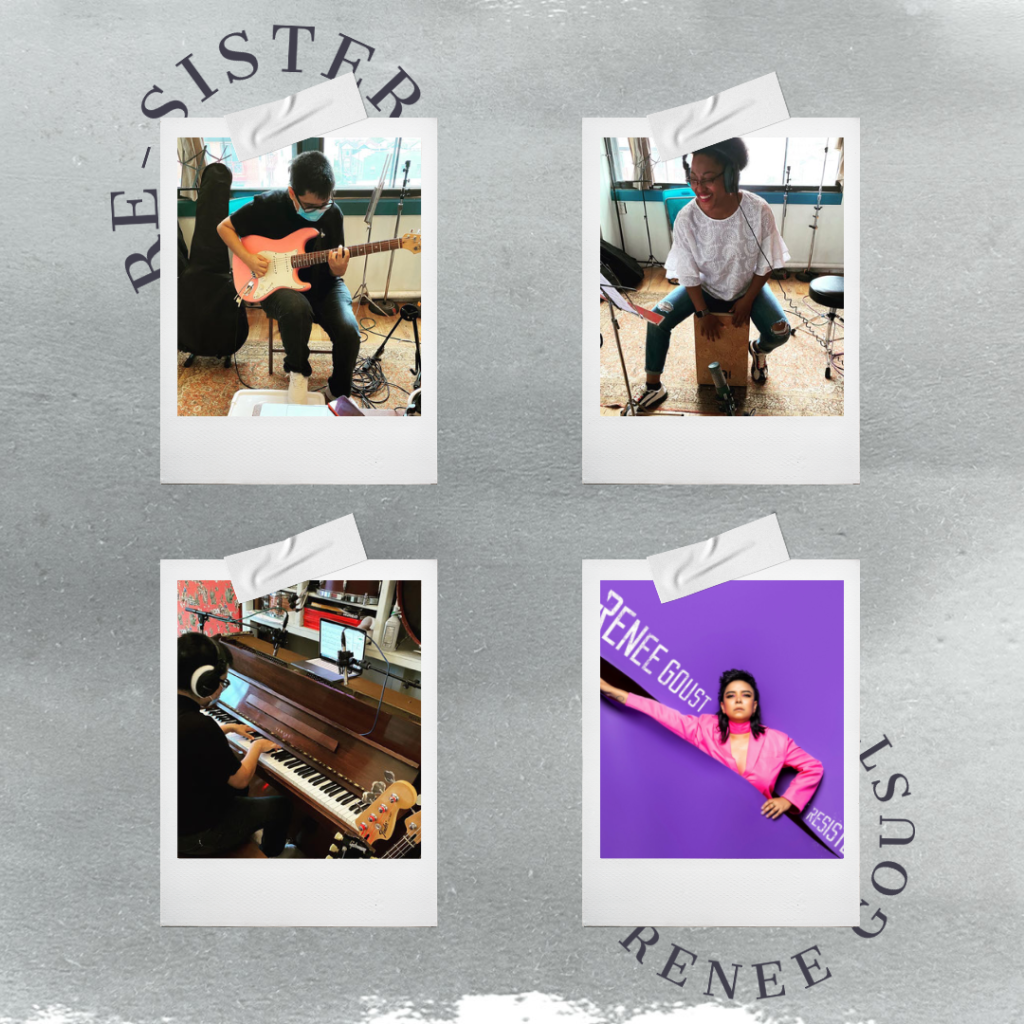 Resister Credits: 
Productora, compositora, escritora, arreglista, e intérprete: Renee Goust
Co-productora, grabación, edición y mezcla @jmosound
Mastering @livesfordynamics
Voz, Guitarras Acústica y Eléctrica, Piano, Programación de Beats y Sintetizadores: Renee Goust
Voz, rap, y escritora en Diosa @audryfunk
Voz, rap, y escritora en Diosa @rebecalane6
Voz en Abre la ventana @zinducano @ampersan
Voz en El corrido de Sylvia Rivera @labrujadetexcoco
Voz y rap en Our Anthem @dianagameros
Voz, guitarra acústica y silbidos en "A una mujer" @ednavazquezmusic
Voz en "A una mujer" @soniadls
Armonías @alealeamusic @soniadls
Batería y percu @karinacolis
Contrabajo y bajo eléctrico @shrederellaregretowittz
Congas, cajón, shakers @onepaulagreen
Guitarras acústicas y eléctricas @jhoegaraymusic
Guitarra eléctrica @traepollock @keyhutchinson
Trompeta @jewlbop
Tuba y Flugabone @tubafresh
Requinto Jarocho @kimeradelrio
Clarinete @bertamorenojazz
Acordeón @tootsweet_powerknappzz
Palmas @quetziquetl_angulo @kimeradelrio Renee Goust
Grabación de batería @gamamusicstudios @maikisanders
Grabación vocal de artistas invitadas @kevingarciamusico @eviltapesmx @mrmcdowell @kristophercloid
Asistente de edición @traepollock
With support from The NYC Women's Fund for Media, Music and Theatre by the City of New York Mayor's Office & The New York Foundation for the Arts @madein_ny and @nyfacurrent 🙏🏽