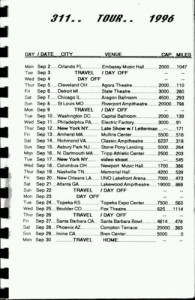 So you're heading off on your first tour – congratulations! It's an exciting time and you'll never be this new again, so enjoy it! You're going to learn a lot on the technical front, but it's also a lifestyle, and there are certain 'soft-skills' and behaviours which make life a lot more comfortable – so from someone with a couple of touring decades under her belt, here's some non-technical advice for life on the road.
– Rule number 1: no pooping on the bus! You'll get a heavy clean-up penalty, or at the very least, serious bad vibes from the bus driver (who's responsible for cleaning the toilet) for the rest of the tour. So no solids down there – we put tissue paper in the bin to avoid blockages.
– Whilst we're on the subject of toilets… bus slippers or flip-flops are a REALLY good idea. You're likely sharing this moving bus with a lot of guys, which can be an unhappy barefoot experience… not everyone's aim is true!
– Tidy up after yourself on the bus and in catering. Clear your cups and plates away and leave the place as you'd wish to find it.
– Dress appropriately, both at the gig and on the bus. That doesn't mean you have to dress like a guy, you can absolutely retain your femininity – I wear light make-up at work, and I love getting a bit dressed up on a day off. But low-cut tops and revealing nightwear won't help you to be taken seriously, so be mindful of what's on show.
– Be cautious around tour romances, especially in the early years of your career. As one of the few women on the road, you'll probably attract a degree of interest, and you might meet someone who sparks your interest in return. But you don't want to discover, a few tours in, that you've been more-than-friends with a bunch of your touring colleagues – live production is a small world. I'm not saying you should disregard the idea of another crew member as your partner – hey, I met my husband on the road. Just tread carefully and respect yourself – if you treat yourself with respect, others will follow suit.
– On the subject of self-respect, go easy on the post-gig temptations of drink and drugs. By all means be social and have a few beers if you enjoy it, but remember that you have a responsibility to be fully capable of doing your job the next day, and it won't go un-noticed if you repeatedly show up late or hungover. Don't make the mistake of thinking that the same rules apply to you as a brand-new audio tech, as to the guitar tech who's been with the band for 30 years.
– When you mess up (yes, you will), hold your hands up – nobody likes the person whose fault it never is. Own up, apologise, correct it and move on.
– We all have days when we're feeling a bit jaded. Sometimes there are legitimate problems to discuss, and we all have a little moan sometimes – I'm just as guilty as the next person. But moaning can be very insidious on tour and it really brings the vibe down, so check yourself. A lot of people would give their right arm to do what we do, so if we can't be positive then let's at least be quiet!
– Get enough people to lift heavy cases: there are no prizes for slipped discs, and you don't prove anything by hurting yourself. Learning to direct local crew is one of the skills you'll acquire over time, but being confident, clear and polite in your instructions is a great place to start, as is asking names and shaking hands.
– Get used to the fact that there are lots of daily jobs that aren't that much fun but are 100% necessary, and as a new member of the audio crew, they'll probably fall to you. Just smile and get on with it – the more experienced members of crew have all had their time doing the exact same thing, and if you bring the right attitude to work, someday you'll be one of them. What's more, it cements you as a team player, and for a woman it has the added value of showing that you're not afraid to get your hands dirty.
– Life on the road is tough, great fun and hugely rewarding. Glamorous it ain't! It takes time to work your way up, but the journey can be really exciting, with many great perks and happy times. So be friendly, professional, reliable and above all – ENJOY it!
---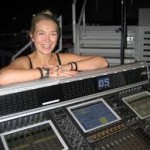 Becky Pell: Becky Pell is a monitor engineer with over 20 years experience in the live sound industry. Since 2012, Becky has been a registered yoga teacher and leads retreats and workshops when she's not on the road, as well as teaching the artists and musicians she tours with mixing monitors.
About Becky: Becky started her professional life as an apprentice at RG Jones Sound Engineering in London, where she swept a lot of floors, cleaned a lot of cables and loaded a lot of trucks, gradually working her way up to become an engineer. After going freelance in 2001, she toured as a monitor and RF tech with Black Crowes, Travis and Kylie Minogue, before moving behind the desk to mix monitors for artists such as Aha, Muse, Westlife, Anastacia and Take That. She also runs monitors annually on the main stage at the world's largest festival, Glastonbury.