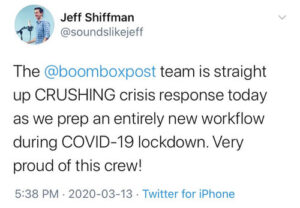 We recently received a request to write a post on how we've been dealing with the global pandemic. While I am a bit worried our audience may be exhausted by COVID-19 coverage, I think it's important to share our experience at this time with one another. With that in mind, I hope this post brings some information your way about work from home workflows as well as our unique perspective as a boutique post-production studio dealing with the crisis. I'm also hoping it may spark some new conversation about how we are all working in a creative, collaborative field while isolated from one another. So let's dive in!
Since starting the studio, Kate and I have tried to have as many editors work in-house as possible. We love having our team interacting with one another every day. Great for creativity, tough in this crisis. We had a challenge on our hands sending everyone home.
When it became very apparent that the COVID-19 crisis was getting serious (around mid-March) Kate and I started to formulate a plan to transform Boom Box Post into a remote studio over multiple phases; each phase triggered by differing levels of danger. Preparing for the worst (full stay at home orders) just in case. Oh what a simpler time!
CREATING A REMOTE STUDIO
Phase 1 – Sending our Editors HOME
I started by visiting every editor to audit what kind of equipment each had at home. Results ranged for fully able to work from home to having no gear at all. With this information, I was able to create an individual checklist for each staff member, down to the cables, of what they would be taking home from the studio.
At this point we decided to send all non-client-facing staff home for their own safety. It was a bit chaotic loading up cars with gear but everyone was in remarkably good spirits.
Phase 2 – Sending Our Client-Facing Staff HOME
Very quickly it became obvious that our clients were no longer going to be able to come by the studio for in-person reviews. In the span of 24 hours, we heard from all the major studios that staff would either be sent home or isolated to only their corporate workspaces. It was at this point we decided to send Brad Meyer, Lead Sound Editor and Tess Fournier, Supervising Sound Editor home as well. We also worked out a VPN remote control system for media management and were able to send Sam Busekrus our Assistant Editor/Office Manager home.
Phase 3 – Everybody Goes Home
On March 19th, California issued the "Safer at Home" order and it was time to send home the last holdouts (myself included). Having been over a decade since I worked from home, I needed to set up shop from scratch. My kids moved together into one room, my son's former bedroom becoming my home studio. I packed up every piece of gear into my car, even a desk, and chair! The studio was officially empty as of Friday, March 20th.
After almost six years of building Boom Box Post from the ground up, this is something completely different.
Re-Recording mixer Jacob Cook and I still go in about once a week to mix alone on our stage. I have to be honest, going into an empty studio that was so vibrant only a month prior is very odd. With each room stripped of all gear, devoid of our amazing staff, it's a shell of what it once was. Will we be able to bounce back just a quickly as we sent everyone home? For sure! But for now, it's still very sad for me.
TECHNICAL SOLUTIONS
Getting everyone working at home was a challenge but even more importantly, we needed solutions that would work well for our clients. After all, we needed to show we could continue to do great work with client direction even in this new setting. After extensive testing, here are some of the strategies and tools we settled on. Note: we are in no way paid to endorse any products.
SyncSketch
The big hero of the pandemic for us has been the remote review platform SyncSketch. With this web-based program, we are able to upload client videos which can then be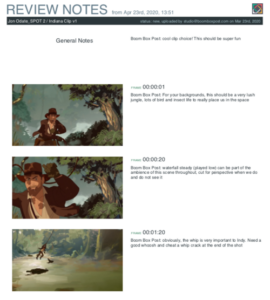 reviewed either individually or in sync as a team, leaving timecode specific notes tagged with the reviewer's name. Once complete, notes can be downloaded as a PDF with thumbnails of the shots being referenced. It's as simple as watching back a Quicktime but without the mess of typing out timecode and organizing them into an email thread. This alternative to attempting 'live' reviews over a video conferencing solution has proven to be the most effective since the quality and playback remain rock solid. All it requires is rendering our mixes to quicktime and setting up review timelines and deadlines with our clients. We have used SyncSketch for spotting and previewing sessions, ADR calling and final mix reviews. Best of all, SyncSketch employs the highest level of security, so clients know their data is safe. After introducing SyncSketch to our clients, a number of them implemented it internally for their own production use.
UPS Battery Backups
In the early days of the California "Safer at Home" declaration, I didn't know what kind of access we would have to the office. Our server is the heart of our business, all media coming and going from this central location. I ran out to Best Buy and bought the two largest battery back up units in stock. Advertised as giving us about two full hours of power backup, I figured this could buy us some time in a power outage for this critical part of our infrastructure.
ETHERNET CABLE
Building CAT-5 cable is a very specific skill. Lucky for me, I wired multiple houses in college with ethernet (it was the early 2ooo's and rental homes in Bloomington, Indiana weren't coming pre-wired back then). As it turns out, home wifi isn't necessarily going to cut it when our editors need the ability to download very large files in short time frames. I spent quite some time on the floor of my office creating very long custom cables (the biggest was 40 feet!) so that our team could wire up directly to their routers.
Zoom Conferencing
Zoom seems to have gotten the lock on conferencing for this crisis. And it's no wonder why. In my testing, it's clearly the most stable. When a session has required 'face to face' interaction, we've turned to Zoom.
Security
While we have the majority of our staff in the office, we did already have a few editors working from home. This proved very beneficial as we had already put in place stringent remote work security protocols which we simply had to apply to our new work from home staff.
In the midst of all our work from home prep, I was so proud of our team's resilience that I tweeted about it. This caught the attention of Teresa Morrow, co-host of the Tonebenders podcast. They reached out to ask if we could participate in a roundtable discussion on how we were handling the crisis. You can listen to Kate and I recount our experience in detail in this surprisingly fun (given the subject matter) conversation.
COVID-19 has stretched the very idea of adversity in business for us. That said, I'm doing my best to focus on the positive here. Who knows what kind of efficiency changes will come out of this crisis? I've been keeping a running list of post-COVID to-dos, a lot of which are going to be improvements. I try very hard to be grateful, but I think this change of pace has still shown me how much we have in this studio and this incredibly talented team of sound pros. It's easy to get caught up in the day to day operations and lose sight of the amazing work happening around us. I know that when we return to the office, things are going to be quite different. It's my hope that I'll appreciate our shared creativity even more once Boom Box Post is under one roof again.
Stay safe out there.
JEFF SHIFFMAN, CO-OWNER OF BOOM BOX POST
---
Post-Production Mid-Pandemic Part 2: Staying Connected
A couple of weeks ago, Jeff wrote a great post about our journey from an in-studio editorial and mix facility to an entirely work-from-home team with remote client services. He talked about all of the challenges of quickly pivoting our entire business model in the face of COVID, which was no small order. You can also hear more about that time if you listen to the Tonebenders COVID & the Sound Community Round Table that we took part of. They caught us mid-transition, and we were tired, overwhelmed, but so appreciative of our team's ability to rise to any challenge.
But, now we've all moved on to a whole different phase of the pandemic: one where we're fairly settled into our new normal and just waiting to see how long we stay here.
Our Business During COVID-19
We, at Boom Box Post, are among the lucky ones. Because we work in animation and our clients aren't on set, our entire Los Angeles client-base was able to transition very quickly to work-from-home, thus keeping our operations alive and well. That is far from the case for our live-action counterparts. But, that doesn't mean that we haven't also seen changes in the amount and type of work that has come through our now-virtual door.
Unlike live-action, animation is often done overseas and then shipped back to an LA-based production company. A number of our television series are animated in China, India, Israel, and other countries that have undergone various degrees of government-mandated quarantines. Some of these companies were able to set up part of their staff to work effectively from home. But in most cases, workers do have the means to work from home, and schedules were delayed for as long as those closures persisted. In this way, our business is being greatly affected not just by US legislation, but by health concerns and political action across the world.
Additionally, on our series, all dialogue is recorded in a voice-over booth here in LA. With Safer at Home in place, currently, all sessions have been canceled. Some productions were able to quickly gear up to get all of their talent recording effectively at home–a very tall order considering that some of that talent consists of child actors who are not as tech-savvy as an adult professional voice actor. But others are making do with sub-par home recordings done in whatever fashion is possible, considering them scratch, and planning to record the real lines when we are all allowed back in the studio again (whenever that may be). Some series are mixing with scratch in place and planning to punch in at a later date. Others are holding off on mixing all together until all materials are available to avoid confusion in the post-COVID aftermath.
Whatever each crew has decided, none of it is simple, and none of it is consistent from series to series. So while we have been able to adapt amazingly well and continue our business in a way that few are lucky enough to do, it has been a struggle to keep up with all of the different needs, demands, and concerns depending on each unique client situation.
Great Things that Have Happened
On the upside, some amazing things have happened. Number one, I'm typing this blog post while sitting in my backyard, sipping iced tea, on a beautiful Los Angeles day. So really, how could I possibly complain about this? We've all had more time with family lately (um…. for better or worse. You know what I mean, fellow parents!!!). I haven't eaten this many home-cooked meals for at least ten years. Maybe twenty, if we're honest.
And we've proven yet again that we, at Boom Box Post, have the best staff in the biz. We have not received one single complaint through this whole transition–even a good-natured gripe during one of our Zoom Tipsy Tuesdays! So while I'm sure that everyone is tired of learning all this new technology (I feel like my head will explode if I'm asked to figure out one more remote playback solution or video conferencing platform), I think we've also learned so much in a very short time that will benefit our workflow in the future.
How We Are Staying Connected
It's hard to feel like we're all part of a cohesive team while working in isolation. So, we've been trying hard to continue our usual team-building and social engagements. But, we've had to get creative in order to keep things fun!
We're still organizing virtual team lunches from time to time when we watch each other slurp spaghetti and spoon leftover chili into our mouths while oohing and ahhing over how cute everyone's cats and dogs are. I have to admit, the pets are a great addition.
We started a #recipes channel on Slack so we can share easy recipes that require few or very easily modified ingredient lists since grocery shopping can be hit or miss these days.
We goaded Tess into adopting a dog. The pressure was real. But she's going to be an awesome dog mom, and I think we can all agree that those dog walks are clutch right now.
And, we're still doing our Lunch & Learns and Tipsy Tuesdays via Zoom! They're incredibly chaotic, but it's cool to see everyone in their natural habitat. And it always reminds me how much I miss having a big, vibrant, talented team surrounding me all day.
Tips from Our Team in a Time of Turmoil
Because, as I mentioned, our team has been so amazing about not saying a peep about how COVID is affecting them, I decided to reach out to ask what their experience has been so far and if they have any tips on how to stay sane during this tough time. Here's what they had to say!
What do you miss the most about the office?
Tim: I feel like everyone is going to say the thing they miss most about the office are the people. Which is true, I do miss seeing everyone's face every day. But I think what I miss the most is our server. At-home internet just isn't it and I miss being able to download large sessions in 2 seconds. I also miss the act of actually going into the office. My commute always turns into a karaoke session…
Jacob: I miss seeing my coworkers and eating lunch with them. I miss hearing about what is happening in all my friends' lives and taking a relaxing break with them during the day.
Brad: I miss my full 5.1 rig. I currently only have the capabilities for stereo. However, I'm no stranger to cutting shows that get mixed in 5.1 in stereo, so it hasn't been too hard to adapt.
Tess: I miss seeing everyone every day and catching up! Both coworkers and clients.
Sam: I would just say being around the whole team. Working at home can get lonely and boring not having others to talk to. I would say being able to socialize and going to other people's rooms for a question or for whatever reason makes the time go by a lot faster. Another aspect is that it's a change of scenery. Working from home is just the same thing over and over again. I hardly even know what day of the week it is anymore.
For you, what's the best part of working from home? 
Kirsty: For me, the best part of WFH is I don't need to deal with traffic anymore. It's great that there are only 20 feet from my working desk to my couch. But I also miss being able to communicate with people in the office. Now we have to type in Slack. I'd love to congratulate people in person for their promotion or pet adoption.
Natalia: Being able to have home-cooked meals! I like to cook so that's a good thing about working from home, also I'm fostering so I get to spend much more time with the dog!
Tim: I adopted a cat a few months ago, so it's been nice to spend all day with her. She is almost always on my lap or by my feet while I work. It's also nice to be able to keep an eye on her and tell her to STOP SCRATCHING THE COUCH!
Tess: Honestly, not a huge fan of working from home. But I'm glad we're all being safe!
Jacob: It is awesome to lose my commute. While I enjoy listening to my podcasts on the way to work, I enjoy using the extra time to cook breakfast and tidy up the house before I start working in the morning, not to mention the extra time with my wife after work.
Brad: Having my wife as a coworker!
Sam: There are a few major pros of working from home that I love. The first one being that I get to be around my dog all day so he does keep me somewhat entertained. The second one is not having to drive to work. Everyone knows LA traffic sucks so not having to deal with that is amazing. One other bonus is being able to wake up later. All I have to do is walk from my bed to the computer!
Do you have any hot WFH tips? 
Natalia: Be organized, especially if you have different work projects going on. And also, have a dedicated space for work and don't bring it into your personal space of the house. You need to create boundaries between work and downtime within the same home. Also, set a strict schedule for when to work, pretty much keep the same schedule as if you were going into the studio. If not, you'll end up losing track of time that way. But also, don't forget to stand up and take breaks from time to time!
Tim: I have made multiple quarantine playlists. Jamming out while I work helps keep my mind off the fact that I haven't left the house in weeks. So if you're someone who can focus while listening to music, I definitely recommend putting on some tunes!
Jacob: I like to set hourly benchmarks for myself when editing sound effects. I sort of did that before WFH, but I find it to be extra important now that I have all the distractions of my home close at hand. This way I always know where I am and where I should be in my work, and I'm never surprised if I am running behind at the end of the day.
Tess: Best WFH tip I have is to keep your regular schedule! I've found that to be tricky, but if I drift out for a day I'm much less productive than when I'm strict about my schedule.
Brad: Be conscious of the work time/home time divide. When there's no clear cut end to your workday and you don't have to leave work to go home, it's hard to know when to stop for the day, which can lead to fatigue on your ears, eyes, and mind.
Sam: I think the most important thing for me is taking breaks away from the computer to not lose sanity. Exercising on my lunch break and going outside for a few minutes at a time throughout the day really does help me personally.
Do you want to share any fun internet time-wasters to brighten everyone's day?
Greg: I play sudoku, solitaire, Tripeaks solitaire, and wordscapes. For websites, addictinggames.com is a classic for a multitude of quickplay games, mix.com is the updated version of stumbleupon. It's now a browser add-on that you can just click the button and it takes you to a random page of your selected interests. Everything from games to photography, science and technology articles, comedic/satiric articles, etc. etc.
Also there's this classic for a good throwback game every once in a while https://gold-miner-games.com/classic-gold-miner.htm
Tim: My friends and I have been playing skribbl.io over Facetime a lot. It's basically Pictionary without the teams. I don't like to share my wins.
Kate: If you're having a hard time with the utter silence of working from home, you can use this office noise generator! Move the sliders to make just the right mix of chatty colleagues, aggressive typer next door, room tone, and that solidly 90's printer technology that can screech louder than any banshee.
Jacob: I love the Youtube Channel Kittisaurus. Watching the cats get up to shenanigans is always a good laugh.
---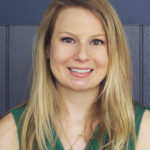 Kate Finan: After receiving a Bachelor of Science in Sound Recording Technology, Kate began her career as a post-production sound effects editor. Over the next several years, she worked her way up to being a supervising sound editor at Warner Bros. and then left to start her own studio, Boom Box Post, with business partner and fellow supervising sound editor, Jeff Shiffman. Together, they lead post-production sound crews for animated television series.  In addition, Kate also acts as the re-recording mixer on several series. Recently, Kate and Jeff have launched an additional venture, Boom Box Library, which creates custom sound effect libraries as well as software to aid in the sound design process.  Over the course of her career, Kate has been nominated for MPSE Golden Reel Awards, Music + Sound Awards, and a Daytime Emmy. You can read more about her company and enjoy additional blog posts at www.boomboxpost.com.
Part One of this Blog was written by JEFF SHIFFMAN, CO-OWNER OF BOOM BOX POST