One area of the post production industry that goes under the radar when looking for jobs or career paths is advertising and promos. A promo is a form of advertising used in media/broadcast to promote a program or event. You've probably seen these a million times and never thought much of it. "Coming up next on the Simpsons!" or "Tuesday night right after the Voice!"
Mixing a promo is not terribly complicated. There's usually voice over, dialog, sound fx and music. The content is short – generally you are given a "spot" which is 30 seconds (but could be other lengths). Then, there can be "cutdowns" of that spot – shorter spots that are usually derivative of the longest one. For a 30 second spot, the cutdowns might be :20, :15, and :10. Here's an example of a 30 second spot and a basic cutdown version:
Once you mix the :30 it's often a matter of conforming your mix/tweaking or applying settings from the original mix to the cutdown versions.
The main thing that makes promo mixing difficult is organization and file management. For one spot, you might have 3 cutdowns (4 mixes in total) plus "versions." Versioning is taking your mix and changing the tag – the VO at the end of the spot that identifies the show, time, date, network, etc ("The Americans. All New Next Tuesday. Only on FX"). Your average tv show that has a promo for next week's new episode might have the following tags: Next Wednesday, Wednesday, Tomorrow, Tonight, Next. If they're running a spot early there might be tags like "This summer," "coming in May," "premieres May 5." Sometimes it gets specific like "Next Wednesday at 8" or "Wednesday at 9/8 Central." There might be promotion across networks or platforms, too. For example, a mix I do for the cable network FXX might also air on FX, Fox, On Demand, and online streaming (FXNow). Some promos are also on the radio or play at movie theaters.
This basic Protools session shows tags for a :30 spot and 3 cutdowns (:20, :15, and :10). The three versions for each spot are "Starts Today at 3," "Starts Next" and "Continues." Sometimes it's easier to do the mix and tags in separate sessions.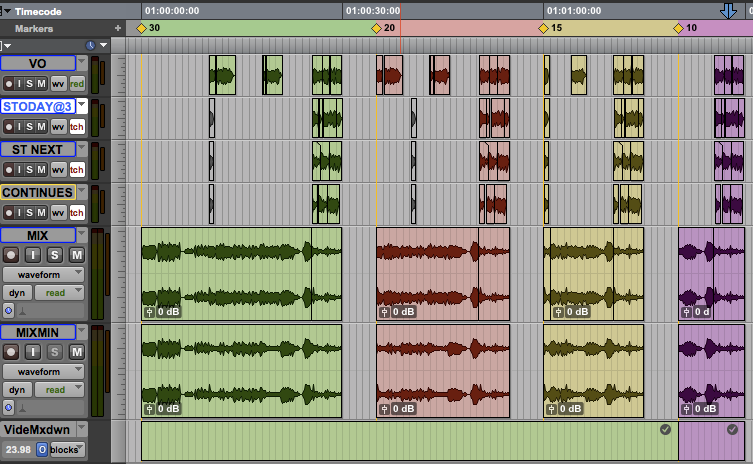 If you have a bigger session – say 10 tags for a spot and 3 cutdown versions – that means 40 total you have to edit voice over (and mix), output and name files, double check the file names match the mix and spot check the mixes. You may be asked for similar named versions like "premieres next" and "premiering next" so naming files correctly is very important. This is just one promo and you might be doing multiple in a day! This is why people who are detail-oriented do really well in promo.
Voice over script with many tags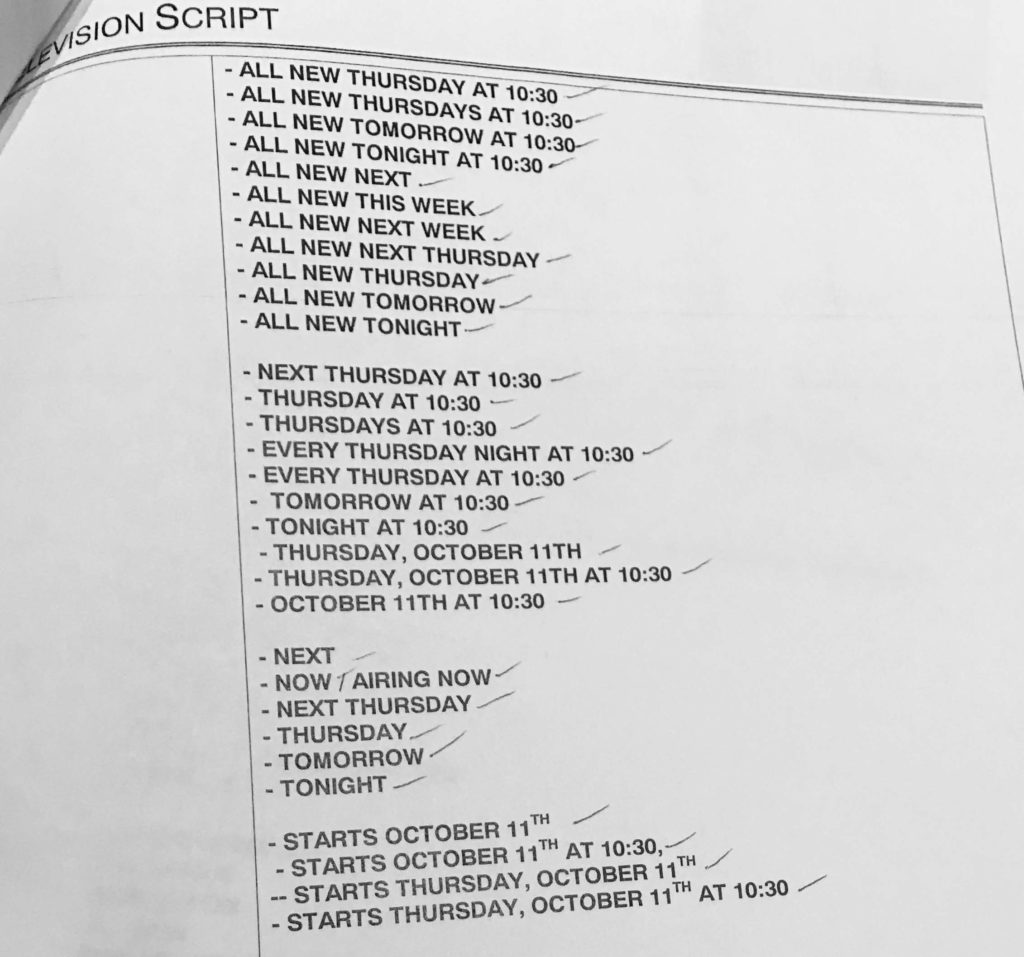 As a promo mixer you get to wear a lot of hats. You might be recording voice over, editing dialog, sound design, recording Foley or walla (background voices), and music editing. Generally you don't get to wear so many hats working on movies or tv shows and definitely not in the same day.
There's a nuance to promo mixing because there's a lot of things happening at once that are all competing for your attention. Your job is to point the listener to what's most important. There can be a lot of mood changes in a short period of time and a good promo mix can navigate these without calling attention to volume rides or overlapping audio. When an explosion happens in a promo you're usually onto the next idea when the audio is barely starting to decay.
Promo mixing can be a great gig if you're trying to pursue another interest, too. Mixers are usually booked by the day and there are opportunities to mix from home. It's not as hard to break into as film mixing, for example. However it's not the type of gig you necessarily want to learn on the job because deadlines can be tight. Often a mix is booked the same day a spot needs to air so there's not a lot of room for error. If you are good with details, organization, are a fast editor and mixer, enjoy wearing a lot of hats, and not looking for your name in the credits, promo mixing might be a good fit for you!
---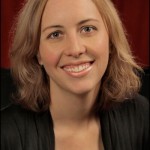 April Tucker: April holds both a Master's Degree and a Bachelor's Degree in Sound Recording, and has over 10 years experience in the field. April works primarily as a re-recording mixer and sound editor (based in Los Angeles), but also has experience as a music editor and mixer, and ADR and Foley engineer.
About April: April enjoys doing educational outreach such as writing for industry blogs, writing articles for the Cinema Audio Society's Quarterly Magazine, and also giving lectures and presentations. For fun, April enjoys having an organic vegetable garden, tap dancing, and training her four cats to do tricks.