By: Michelle Sabolchick Pettinato
10/2/03
Djibouti- ick..
It's very dirty here, like a giant garbage dump.  Lots of homeless living in shanties, on sidewalks, under makeshift roofs made from strung sheets and blankets.  The streets are lined with trash and sewage and who knows what else.  Herds of goats are scattered about having a buffet.  The few modern roads are virtually useless, as the handful of locals with cars drive very badly.  Those without cars, crowd the roads and streets since the sidewalks are covered in garbage and the homeless.
We take a small convoy of vehicles for a tour of downtown where I visited the local marketplace and tried my hand at haggling
with the vendors. As we entered downtown Djibouti, there are kids banging on the side of the vehicles trying to direct us to a parking space so they can collect a locator's fee. One particular boy is relentless and follows us for about 15 minutes until we finally park.  As soon as we get out of the van, not only does he ask to be paid for finding us this spot, but another local comes up asking for money to watch our van.
The locals are particularly fond of a plant called Khat which they chew to get high.  The whole city shuts down between 1pm and 5pm so they can all get stoned. Seriously.  I've been told you'll see people wandering the streets talking to street signs and trees.   It's ungodly hot here, 110 + at the least, it stinks, you can't drink the water or even brush your teeth with it, and the food is horrible.
1pm:  I head to the area of the base where the stage is supposed to be, but there is no stage- only the outline of a large rectangle drawn in the dirt.  Just this morning this area was a bumpy hill that has now been transformed into a large, flat expanse of dirt and sand with the help of heavy equipment and a lot of manpower.
There's also not a soul around, our equipment hasn't arrived and the show is scheduled for 8pm.  Since there's nothing I can do at the moment, I head to the mess hall.  The equipment shows up around 3 and we now have a flatbed stage.  In a mad rush, everything comes together in time for the show.  10pm: Show is over and soldiers are coming up to us by the dozen telling us how much our being here means to them.  We've been getting that a lot.  There's an incredible amount of energy coming from the crowd.  During the show, I had the harsh realization that some of these guys (possibly many) that we encounter over the next several days, are not going to make it back home.  It's unsettling and humbling.  Some of these kids are living it up as best they can not knowing what tomorrow will bring or how many tomorrows they will see.
10/3/03
The CREE
Still in Djibouti, yeah 🙁  God I couldn't imagine being stationed here.  Last night after the show, the Special Forces unit invited us to a party at the CREE (their part of the base), during which they gave our drum tech a mohawk.  Unfortunately for him, he had mentioned that he wanted to shave his head…We were invited back the next morning for a tour.  They give us a tour of their arsenal and all of their toys, body armor, C3 and C4 explosives, flash bangs, tools, med kits and other assorted weapons- everything they carry on their bodies for a mission.  Next, we get a hands on look at their weaponry, passing around an assortment of rifles and handguns, along with a tour of several of their assault vehicles. They take us out to the 'house' where they run drills and do most of their training sessions.  It's a wooden shell without a roof and an ever changing floor plan with moveable walls and doors so the layout can change for any possible situation.  To say these guys are highly skilled and trained would be an understatement and their stories are incredible.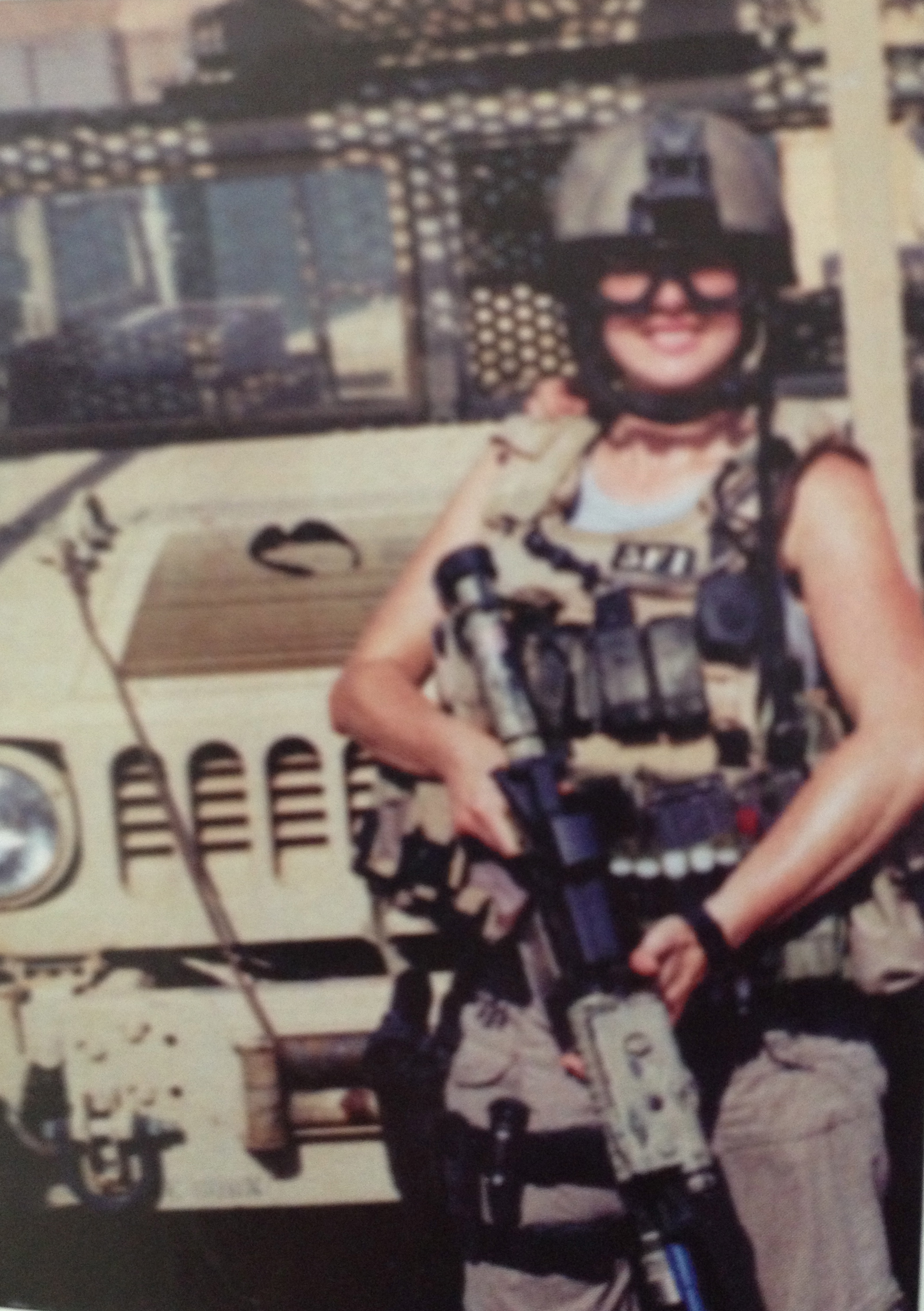 Now the fun begins.  Out come a couple of rifles and handguns for playing 'target practice' with a poster of Sadaam.  Next we take turns trying on all of their gear.  A fully loaded set of gear weighs about 80 pounds!  I feel like I sink three inches into the sand when they put it on me and it's so hot I'm drenched with sweat after about 10 seconds.  I can barely walk.  These guys have to run around the desert in this stuff, I don't know how they do it. What an interesting bunch of characters.  We all head back to their private bar "the Bitter End" for a group photo.
8pm: We're on board the General's leer jet bound for Kuwait and land at midnight at the US military's air strip.  After taxiing off the runway, one of the flight crew opens the door with a rather concerned look on his face.  Outside, circling the plane, are 16 armed American
soldiers with their rifles pointed at the plane. Apparently they didn't get the message that we were coming and wanted to know who was on this unannounced flight.  It's all cleared up quickly and we are on our way to our hotel in Kuwait.
The hotel is amazing, it's a world class 5 star resort on the beach of the Persian Gulf.  We're staying in beach side Villas, each with 5 bedrooms and 4 baths, pretty nice.
10/4/03  Show day
Right before the show, the entire crew is asked to come backstage and personally meet all of the Generals and top military officials on base, who thank us for coming out to do this.  On with the show, there are thousands of people here to watch the performance. From what I'm told, this is the biggest crowd that has ever turned out for one of these shows.  Our drummer has gotten sick with some kind of dysentery.  He's been sick since Djibouti- dehydrated and on an iv drip, the doc says he can't perform.  So, just before show time, the band informs our drum tech that he's going to have to fill in for him, good thing he knows most of the songs. He does a great job considering he's never played all of the songs before.  Did I mention Kuwait is a "dry" country?  No alcohol, anywhere, it's illegal, but these soldiers are carrying on like a bunch of drunk red-necks at a BBQ.  The response from the crowd is incredible, it's unlike anything I have ever seen.
10/5/03
The band is going to Iraq to do a quick meet and greet with the troops in Karouk, Baghdad, and Baqavah.  Those of us who didn't need to go are spending the day off here in Kuwait.  I'm anxiously waiting to get out of the desert, tired of feeling gritty, breathing in sand, and slathering on sunscreen.
10/6/03  Everyone returns safely from Iraq and at midnight we head to the air strip to fly back to Bahrain for a much needed day off.  At 3 am we're on board the 'luxurious' C-130 again, headed back to Bahrain for a quick stop before going on to Aviano, Italy.
10/8/03  We finally arrive at the base in Aviano around 4 pm with a show scheduled for tonight.  Everyone works the butts off to get it going on time.  During the second song the power goes out.  After a few minutes of troubleshooting we're back up and running and finish without any other complications.
10/9/03  Return to Rota, Spain for one more show.  It's supposed to be held on an aircraft carrier however, a few days ago the carrier was dispatched to an undisclosed location.  So instead we use a small stage in a field behind one of the bars on base.  I'm mixing FOH from the monitor console- the band agrees to do an acoustic set and someone decides that we can pull this off with one console instead of two so the monitor engineer and I have set up a perimeter down the center of the board.  You stay on your side and I'll stay on mine!  (we're talking analog days here).  "Oh and BTW- we'd like you to record this show to a six channel Fostex field recorder."  What else can they throw at us I dare ask?
10/10/03 The tour has come to an end.  After 13 hours of flying and several re-fueling stops along the way we're back in the U.S.A. and have survived just fine.  Back home and looking forward to seeing the friends we missed so much.