At the end of May, I had the chance to head out on my first European tour as FOH with Canadian noise-rockers KEN mode. The entire run was booked around Temples Fest and found us hitting a whole range of venues. No two days or PA's were alike; I'd go from an input list of 4 channels (yes, you read that right) to 18 channels. As they're an up-and-coming band, there is no budget for audio production. I'm happy to work on whatever board or PA is thrown my way, but I do like the comfort of traveling with my microphone box, filled with some of my favorite toys! Many thanks to Sennheiser Canada for making this possible.
Below is a tour diary of sorts, based on my tech experiences.
Show 1: La Louvière, Belgium
After a sleepless flight, we have a slight luggage fright at the Brussels airport. The boys' guitars are late to arrive at the oversized luggage drop-off, but fortunately, nothing is missing. We find our driver and hurriedly throw all our gear in the back of the van, before heading off to the venue.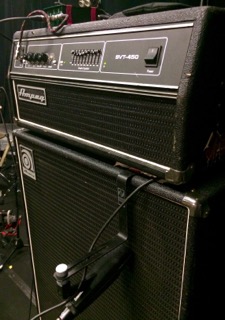 I haven't mixed KEN mode in close to 9 months, so I'm hoping for a decent set-up for my first show back. We are so early for load-in that I help the boys load in, set up my mics, and take a nap in the van. When I wake up, I find that the house tech has arrived. I help him patch the stage and run through a check. There is a suggested dB limit of 103, which makes my life hard, as the room is small and very live. To make things more complicated: the monitors are mismatched and don't seem to be outputting much of anything. Shane, the drummer, is by no means a quiet player, which means Jesse (guitarist) and Skot (bassist) must adjust their amps so they can hear themselves over his snare. In a perfect world, I make the boys' turn down and send them their guitars in the wedges. Unfortunately, this is not an option tonight as I can see the monitors are already clipping with just the samples running through them.  Due to amp volumes, I run the room slightly hotter than 103dB. The show goes as well as it could have, and we all head to the hotel for some much-deserved sleep.
Show 2:  Copenhagen, Denmark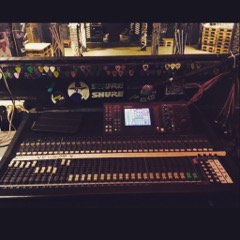 The 2nd show of the tour is in a much bigger venue, with a powerful PA, a Yamaha LS9 at FOH, and four separate monitor mixes. I'm happy to have the PA power to run KEN mode the way they should be heard, loud! I'm not a huge fan of the LS9 as I find it to be a very dry board, but I can make it work. The house tech has his iPad connected to the console, so I can mix from the floor instead of the mix position, which is far in a corner.I'll admit I felt weird mixing on an iPad; there's something reassuring about feeling faders between my fingers, and not just a flat-screen. Still, I think it's pretty cool I get to experience the band from within the crowd.
The show goes well, and the band is much happier with their monitors. It always kills me when we show up to a venue and the monitors are underpowered, as I know this makes their night harder as musicians. They're professionals and used to working with anything from no monitors to a festival gig with a separate monitor engineer, but I just wish there was some consistency… At this point, In-Ear-Monitors aren't an option for them, so one of my most important daily tasks is to make the wedges as loud as possible. This usually means carving some of the EQ back in to get more volume out of them, and sending as much signal as possible before I hit the monitor amps. Playing the "how do the monitors sound today" game keeps me on my mixing toes!
Show 3:  Hamburg, Germany
I'm a little thrown off when we arrive at the venue, which is a room not much bigger than my living room. The mains are the same size as the monitors, and I get to mix on an 8-channel Mackie that's near retirement age.
The system is so heavily limited that I end up flipping two monitors (strangely, they aren't limited) towards the crowd to get more volume. As the room is so small, it only makes sense to strike lines: I keep a kick mic, the sampler DI, and the two vocal mics. The boys work with me to turn their amps down to a level at which they can still hear themselves, but that won't overpower the samples or vocals.
As limited as the PA system is, the band puts on a good show and all works out as best as it could have. KEN mode gives it their all, whether there's five or 300 people in the crowd, and this is what makes them a good band to mix.
We quickly pack up the gear and start our 12-hour drive to Paris for tomorrow's 2 pm load-in. There is nothing glamorous about sleeping in the back of a Sprinter van, but I'm just grateful we have a driver, and that I don't have to take a turn driving!
Show 4:  Paris, France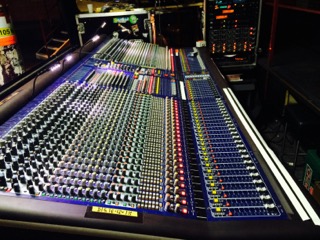 I walk into the venue and see a Midas Heritage 2000 and a rack full of nice outboard gear, which instantly puts a giant smile on my face. I'm a total sucker for analog Midas boards, even if it can sometimes be hard for me to reach the top of the parametric EQs. It's not like I'm even that short, it's just that those boards are so deep!
The house crew is welcoming and quick to patch my input list, and I'm off to the races. I finish checking drums before I remember to ask the house sound girl if there's a dB limit. As someone who has mostly worked in Canadian venues, it's totally foreign to me to ask about limits, and I often forget! She mentions with a smile that there's a loose limit of 105dB, but to not let that ruin my show.  I take this to mean that she will turn a blind eye if I'm a bit over. I offer her the use of my mics for the rest of the show, so she doesn't have to re-patch.
The set goes well, and I'm very happy with my mix. This is the confidence I needed, as tomorrow's show is the biggest one on the tour.
Show 5:  Bristol, UK
This entire run was booked around Temples Fest (a three-day doom and heavy music festival), so I feel like expectations are high for this show. As tech luck would have it, the FOH board for the room we're playing is a Midas Pro2. I've only mixed one show on this board, and it didn't go well, mostly because I wasn't quick enough on monitor sends & monitor EQs. Fortunately, I know going into the gig that there will be a separate monitor engineer, which takes some of the stress away.  I still make it a point to read the quick start guide as many times as I can before we arrive at the venue.
As it is a festival and KEN mode is not the headliner, we don't get a full sound check before doors open. I find the local crew, and get one of the engineers to give me a run-through of the Pro2. Even though today's show is operating off a festival patch, the house FOH programs the Pro2's "population groups" to show my designated inputs. These pop groups are a big help (and a really cool function)! As a bonus: there is no dB limit.
Changeovers are lengthy, and I have 45 minutes to help the band load their gear on stage, place my mics and run a short check. It's a mad dash to adjust levels throughout the first song, but this is what I love about doing live sound! The house engineer is never far behind and reminds me once or twice to "click" out of my sends-on-fader FX sends. These interjections don't feel intrusive, and I honestly appreciate the reminders. By three songs into the set, I'm feeling good about my mix and loving the Pro2. This is the biggest show of the tour, with roughly 700 people in the room.
After KEN mode finishes and I start packing up my headphones, I'm called over by a concertgoer, who asks if I was the band's sound engineer. He proceeds to tell me that their set was the best sounding he's heard that weekend at Temples. I blush and thank him. I didn't become a tech to be a rock star, but it is nice to hear you're doing good work!
Show 6:  London, UK
I'm still on a high from yesterday's show, which helps me adjust back to the reality of a smaller room. Today's board is an old analog Soundcraft, and the PA boxes look almost homemade. For some reason, there are two local sound engineers working the show, which makes getting answers to my questions interesting. I am told at check there's an enforced limit of 100dB due to the pub having neighbors, and run the band at an appropriate level to stay under that limit.  The minute I step off, one of the engineers tells me that he will be completely re-EQ'ing my drum channels, as he likes his to sound much 'bigger. I was holding back on the kick's low end and keeping my fader levels low to stay under the dB limit, and am very confused by his comment.
As an aside – one thing I've learned doing small(er) club shows with a touring band is that it's always a good idea to hear and watch the house engineer mix. I do this for a few reasons:
1) to see if I've missed anything in my room EQ or to hear how different the room sounds once bodies are present.
2) to see where the house engineer is metering on the board, and on the dB meter if applicable. In this case: the house engineer instantly hit 108dB with his drums. This told me that the so-called 100dB limit was fairly flexible and that I'd have room to turn up for our set. I don't do this to be a jerk – I just assume that if someone tells me there's a club rule, they'll be following it too.
I worked on getting my drums a bit more present during the line-check and felt ok with them. But, as the band kicked into their first song, I realized I'd perhaps gotten a bit too accustomed to these European limits… I'd made the band turn down their amps too much during our original sound check!  In some of the smaller rooms, I rely on the band's stage volume, as I'd much rather they be able to hear themselves on stage than I have room to run guitar and bass at a level I'd like through the PA. In this show's case, I'd also simplified my patch and decided to scrap my bass mic in favor of using a DI. Now, don't get me wrong, there's nothing wrong with a DI… but my Sennheiser 421 just does a way better job at capturing Skot's gnarly tone. I silently kicked myself and worked on getting the low end back into the bass.
I ended up making it work, but learned that for my purposes, a 421 does a better job!
All in all, it wasn't a bad mix; I just realized that I needed to remember at soundcheck that a (loose) dB limit didn't necessarily mean having to overly turn down the amps.