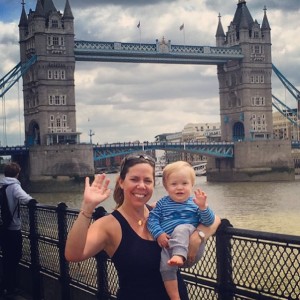 Molly Brickson Williams has worked as production coordinator for Fort Minor – Linkin Park, All-American Rejects, Rage Against the Machine, Daughtry, Ricky Martin, and Pearl Jam. She has been a backstage coordinator for Britney Spears and worked as the Advance Crew Road Manager and VIP Coordinator for Black Eyed Peas. She has also tour managed Jordin Sparks and The Jacksons and was the B-Party road manager for Glee Live in Concert, Janet Jackson.
Molly has recently left the road starting Smart and Savvy Travel, which allows her to be at home for her son. We interviewed Molly about what it takes to be a Production Coordinator and how her experience as a PC allows her insight for booking tour travel.
How long did you work as a Production Coordinator?
My first tour on the artist side was in 2005 with Fort Minor, the last Production gig I had was filling in for a friend on Pearl Jam in 2013. So nine years total, but I held a lot of different roles throughout the years.
How did you get started?
I worked in Event Marketing and managed a mobile tour for Major League Baseball, called the MLB Road Show. It was a music sponsorship program, so we were part of several different outdoor summer festivals: Ozzfest, Lollapalooza, Warped Tour, and Linkin Park's Projekt Revolution. We provided MLB gear – hats and jerseys – for the artists and crew, and set up our activation near the B-stages in 'sponsorship village.' We had 2 x 50-foot semis that converted into gaming kiosks, apparel display, and batting and pitching cages. We interacted with concert-goers throughout the day and then hosted batting practice meet & greets with local radio winners and band members each night. We worked closely with Linkin Park, so I got to know their production team and made it known that I was interested in working on the Artist side of things. When they needed a production coordinator position filled, they reached out to me. Once I proved myself by doing a good job on that first tour, I found that the gigs kept coming.
What do you like best about touring?
Traveling all over the world and having a purpose while doing so, which creates a connection to each country and city you do a show in. Getting to know my counterpart, the local Production team, in each place was one of my favorite things. Regardless of the language or cultural barriers, you're working together on a common goal, and you form a bond because of it. It's a really fortunate experience to have.
The same applies to the camaraderie amongst your crew. That's my other favorite thing, friendship with the family that you develop on each tour you do. It's kind of like being stuck in a snowstorm together. There are good and bad things about it; it can be fun, exciting, scary, stressful, monotonous or boring. But everyone around you is in it with you, so it's a bonding experience. You might have to work Thanksgiving, 4th of July, New Years Eve, and you're missing your real family at home, but it's never really that bad, because everyone you live and work with, your road family, has to work that day too. You always feel like you're part of something.
I also really love how touring makes you appreciate the small, 'normal' things in life, like cooking your own meals or a Friday night on your COUCH! I don't think I'd cherish those things as much, without all the long hours constantly spent on the move.
What do you like least?
Complainers. 3 AM load-ins. 25 hour workdays. Being in charge of bus stock & after-show food. Being first-in and last-out.
What is your favorite day off activity?
I was a tourist first, and then a backpacker, then a roadie. So I still want to see & experience as much as I can of a new city. My favorite days off are the 'Amazing Race' style days, starting early with a jog or local yoga class, and then crammed full of sight-seeing, local food & drink, a bit of shopping, vineyards or beaches, and ending with a nightcap at the Lobby bar with my tour family. These types of days are few and far between, but I've been lucky enough to have some great ones – Cape Town, Santiago, Sydney, Tokyo, to name a few.
What is your educational or training background?
I graduated with a BA in Journalism from the University of Minnesota and studied German and International Public Relations at Salzburg College in Salzburg, Austria. But I think my 'training' for the road came through all of the different jobs and internships I've had through the years.
In college, I was a student booking agent on our student union's activities council, which was an incredible opportunity. I got to book big shows – Jimmy Fallon, Colin Quinn, Daniel Tosh – and learned everything on the promoter side of things, from negotiating contracts and marketing the show, to filling the rider and delivering the check at the end of the night.
I've been a bartender in London, a professional spring-breaker in Acapulco and a radio station intern in Minneapolis. All of those jobs involved travel, organization, people management, working under pressure and on zero sleep. I learned to be a Yes-man early on. Say you can do something first and then figure out how to do it later.
I caught the international travel bug at a young age, after a high-school German class trip to Europe. I woke up after that 8-hour flight on the other side of the world and felt like it was so easy – so achievable to go to places that were so different from where I was from. I was hooked. As soon as I graduated from college, I moved to London for six months and have been traveling non-stop ever since. Now I love being able to assist others in fulfilling their own dreams of travel. As a travel agent, I'm trained on the Worldspan GDS system.
What if any obstacles or barriers have you faced?
The most difficult thing for me was dealing with challenging personalities/egos, and the general lack of professionalism that we often experience in touring. It used to surprise me, and then just disappointed me at how commonplace it is. But touring is so unique – there's no real chain of command because the people at the very top often have no idea about the day-to-day goings-on. You kind of just have to fend for yourself.
How have you dealt with them?
I've always tried to maintain a high level of professionalism & accountability on the job. Find the people you trust on tour and communicate with them openly. And if it's not the right fit, I'll move on. Someone told me early on 'we're all replaceable.' And even though that doesn't feel true when you're a year into a tour, and you have everyone's allergies and wife's birthdays memorized – it's OK to leave a situation if it's not making you happy.
Advice you have for other women and young women who wish to enter the field?
Start getting involved at a local level, as a runner, stagehand or production assistant at your local venues or university. Whatever part of the industry you're interested in, sound, lights, video, production, wardrobe – this is the absolute best way to start getting hands on experience and meeting people in the business. Do your best, work your ass off, don't complain, ask appropriate, smart questions, and be memorable. Eventually – without being pushy or inappropriate – make it known that you are interested in learning more, and touring. One day the person in charge will need someone and think of you.
Must have skills?
Attention to detail. Adaptability. Being willing to take on more than your job description and help out where it's needed. Thinking quickly on your feet. Having a genuine concern for people's well-being will go a long way. The ability to get along with all different types of personalities. I would say thick-skin, but I don't have that, and I've made it this far.
You left the road a few years ago to start Smart and Savvy Travel why?
I actually started the agency while I was still touring. I was tour managing and the artist I was working for didn't have a travel agent. I was researching all the travel myself, so it was a perfect opportunity to segue into the agency side of things and start booking hotels, flights and cars for myself. There began my exit strategy to get off the road. I knew I wanted to start a family soon, and there was no way I could continue touring and have a baby. I've always had a love for travel, and the details that go into it, so this was a natural next move for me.
I assume your Production experience makes you better equipped to deal with travel for tours. i.e., bus parking at hotels, finding hotels that fit the budget and that crews won't bitch about, etc.
Yes, I think so. I share your anxiety about hotel rooms not being ready when the buses arrive, or your pickiest crew guy getting stuck in a middle seat. I know the weight your job carries, so I do everything in my power to make it all go smoothly for you. I map out all the mileages to predict your arrival and departure times and work with trusted hotels and vendors that help make me look good. When I was a PC, I think the hardest part was just feeling alone in making sure all the balls stay in the air. Half of the battle is just having someone on your side, to be your other set of eyes and reassure you everything is in order. That's what we do for you.
Why should tour or production managers use Smart and Savvy Travel?
There are a lot of amazing travel agents in our industry, and everyone does things a little differently. I just try to do things how I wanted them done. Providing hard-receipts for Business Management for everything I book, no after-hours numbers or fees, providing comprehensive comparative flight and hotel costs so they know ALL of their options and over-communicating the details. The same strategies I used as a touring professional. Give them more info than they asked for, and it gives them less opportunity to come back with questions! Availability, timeliness, and accountability are my fortes.
Some tours have limited budgets and the Road Manager might feel that they will save a buck and just book it themselves – Why should they not be afraid to call you?
Well, first of all, the ONLY thing that will cost any differently would be flights; we have to charge a service fee because airlines don't compensate travel agents. But for hotels, rental cars or car services, a travel agent will get you a LOWER price than what you'd find online because we have relationships and can negotiate on your behalf. We can also get lower-than-published rates on international flights, and group air tickets.
For flights, yes we charge a fee. But with that fee comes a lot of peace of mind. All the minute details that you don't have time for will be handled – seat preferences, loyalty numbers, upgrade availability. We can hold flights for you for 24 hours w/o purchase, and also, refund anything that's been booked w/in 24 hours. We're your partner on the ground when you're in the air and can take care of problems that might arise with another traveler's flight. We can see flight availability in real-time and get things held for you and make sure you know all of your options. We handle 3rd party payments, so no one needs to put things on their own cards and some crew people that might not have a credit card can still pick up the rental car and check into the hotel, no problem. That kind of alliance is not only necessary but invaluable I think.
If the budget still does not work for hiring a travel agent – what suggestions or tips can you offer?
If the tour can't afford to pay the flight fees, we'd still love to help you with hotel and vehicle booking. Whether it's a rental car for rehearsals or just a couple of shared hotel rooms once a week, we can still get you lower-than-published rates and liaise with the hotel for any special needs you have. Before you know it, you'll be needing private charter flights, and we'll be there for you then too.
What are your long-term goals?
For Smart & Savvy Travel to grow as a trusted agency in the industry and to develop a strong team of agents that continue to exceed our clients' expectations – from entertainment, corporate and leisure travel… as we grow, I'd love to create opportunities for people I love to come on board and develop a dream team…to grow my family… to make more money and take my own advice – take more vacations.
For all your travel needs visit Smart and Savvy Travel a Full-Service Travel Management Agency.