When I was 11, everyone got a guitar at Christmas except for me. My dad had started taking lessons at the music store in town, and wanted the rest of our family to join in on the fun. He had asked me if I wanted one, but I said no. If everyone else was going to have one, I didn't want one.
I felt a tinge of envy as my grandpa, brother, cousin and aunt all unwrapped their new instruments on Christmas morning. My grandpa got an electric bass. My brother an electric guitar. My cousin got a classical guitar, and her mom got a ukulele. The living room was bubbly with strings being plucked and tuned and looked over. I avoided the instruments, stubbornly holding onto my original plan, which was that I absolutely definitely without a doubt did not want one.
With school off for the holidays, my brother and I did our usual routine: half the week with mom and then half the week with dad. My dad, who is an artist, was at that moment in time paying our bills by creating covers for syrupy romance novels. (He hilariously used himself and his girlfriend as the models for a number of them; since he was a long-distance contractor his clients were none the wiser.) Computers have always been slow at graphics, but in 2000 were remarkably slower. So in the downtime, he had while a Photoshop file would render or a new proof would print, he would practice his new guitar skills. He played Billy Bragg's record Back To Basics loudly and practice his chord shapes and pentatonic scales along with it. Billy Bragg was a rockstar with an activist bent, singing in shouts over pulsating solo electric guitar. I could hear the rock n' roll energy from my room across the hall while I was writing, reading, hanging out with my cat. It was magnetic, and it made me feel something I'd never felt before. And my dad sounded so excited and motivated to play along with one of his favorite musicians.
My dad would regularly ask my opinion on his work, often showing me variations on a piece he was working on. He'd turn layers off and on in Photoshop, showing me the options and discussing the ideas, colors, and shapes with me, what the client was looking for and what he was interested in. So one day I let myself into his studio under the pretense of feedback. He was playing along with his favorite song off Back To Basics, "A New England"—a record chock full of folk-rock hooks like "I don't want to change the world / I'm not looking for New England / I'm just looking for another girl." He was singing along in Braggs' Cockney-ish accent. He stopped playing long enough to say, "Go get the acoustic guitar from the living room." The moment I had been waiting for had come. Proud as I'd ever be, (I'm a Leo,) I couldn't openly admit I wanted to learn what he knew. I was grateful he hadn't mentioned my change of heart since Christmas. I went and got the guitar.
He left the CD playing and showed me the pentatonic scale he had recently learned. Then he turned the CD player off and showed me the three chords he was working on transitioning between A, D, and E. He told me what his teacher had told him: there are hundreds of songs you can play with just these three chords. The trick is just being able to press down and to strum in the rhythm of the song. And they were interchangeable—you could mix and match them in any order you wanted, and they would still sound great. I will master these if it's the last thing I do, I told myself.
For the next week, I picked up my dad's guitar for a few minutes every day before we got in the car to go to school. It hurt to press my fingers down on the sharp strings, but making pretty sounds was vastly more noticeable to me than the pain of callouses forming. I wasn't sure why, but I was drawn to the instrument more every day that passed.
Finally, one Wednesday, my dad asked if I wanted to go to his guitar lesson in his place. I was so excited. I played it cool and said yes.
The teacher was a man named Rob. He had a very dry sense of humor, which was lost on me at the time, and had hundreds of polaroids around his store of all the different students and customers that had passed through. I felt like they knew something I did not. Something which I desperately wanted to know. I even felt a little bit entitled. All of this compounded into courage when Rob asked me to show him what I already knew. Truthfully, I was terrified to be put on the spot and to have my skills judged, but I wanted to know what they all knew, and I put my fear to rest for a one-half hour. I played my A, D, and E chords and showed him the pentatonic scale runs that my dad had taught me. Rob showed me how I could lift one finger up in my A and E chords to create a seventh chord. He showed me the same thing with my D chord, but it was different: with this chord I had to readjust my shape, so it became upside-down-looking. Rob told me that "Whoolly Boolly" "Wild Thing" and "Should I Stay or Should I Go" all used these exact chords and their seventh variations. We played through these songs for the remainder of my lesson.
After that day I absolutely definitely without a doubt wanted a guitar.
My next lesson Rob showed my how to play "All You Wanted" by Michelle Branch, which was a huge hit on the radio at the time. I didn't care too much for the song, but I was too nervous to tell that to Rob because I wanted to seem like I knew a lot about music. In spite of my lukewarm feelings about the song, once I had the chords learned, I became obsessed with memorizing it and playing it well. I couldn't quite sing and play at the same yet, but the idea that I could eventually recreate the song in its entirely was so amazing to me that I forced myself to practice. All of the friends and family that came over for the next week were subject to listening to me try to do just that.
Once I got that down, I started writing my own songs. I showed them to Rob, who in turn showed me "Psycho Killer" by the Talking Heads to encourage me to play with new subjects and characters. He taught me about I-IV-V or 1-4-5 progressions, and traditional song forms based on their variations. He taught me the circle of fifths using Buddy Holly's "Everyday." He taught me diminished and augmented chords, using The Ink Spots' "Java Jive" and The Beatles' "Oh Darling" as unforgettable examples. I loved it all. I loved every moment of it.
I didn't realize that I was at the beginning of a life-long relationship with the guitar and with Rob.
---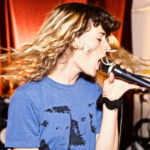 Elana Carroll is a songwriter, producer, and performer who has been making original music for 15 years. She holds a BA in music and critical theory from Bard College at Simon's Rock.
Elana's interests as a writer/producer span from electronic and dance to pop and country, and she co-writes with other artists as well. Her current focus is on teaching (she will be teaching a Beats by Girlz class this fall), and her project, Party Nails. She feels it is part of her purpose in this life to "normalize" non-males in the music business through performance, teaching, and mentoring. She is particularly fascinated with popular culture and music in the age of technology.