By: Karrie Keyes
Originally this blog was going to detail the new Pearl Jam monitor system in reverse. When I sat down to write it – I realized that it was going to be difficult to document the stages and changes, and have them make sense. So I have decided to document it from beginning to end. It starts almost a year ago at the "Made in America Festival" and comes to a temporary end at Wrigley Field. I say temporary as production is never static and should keep evolving.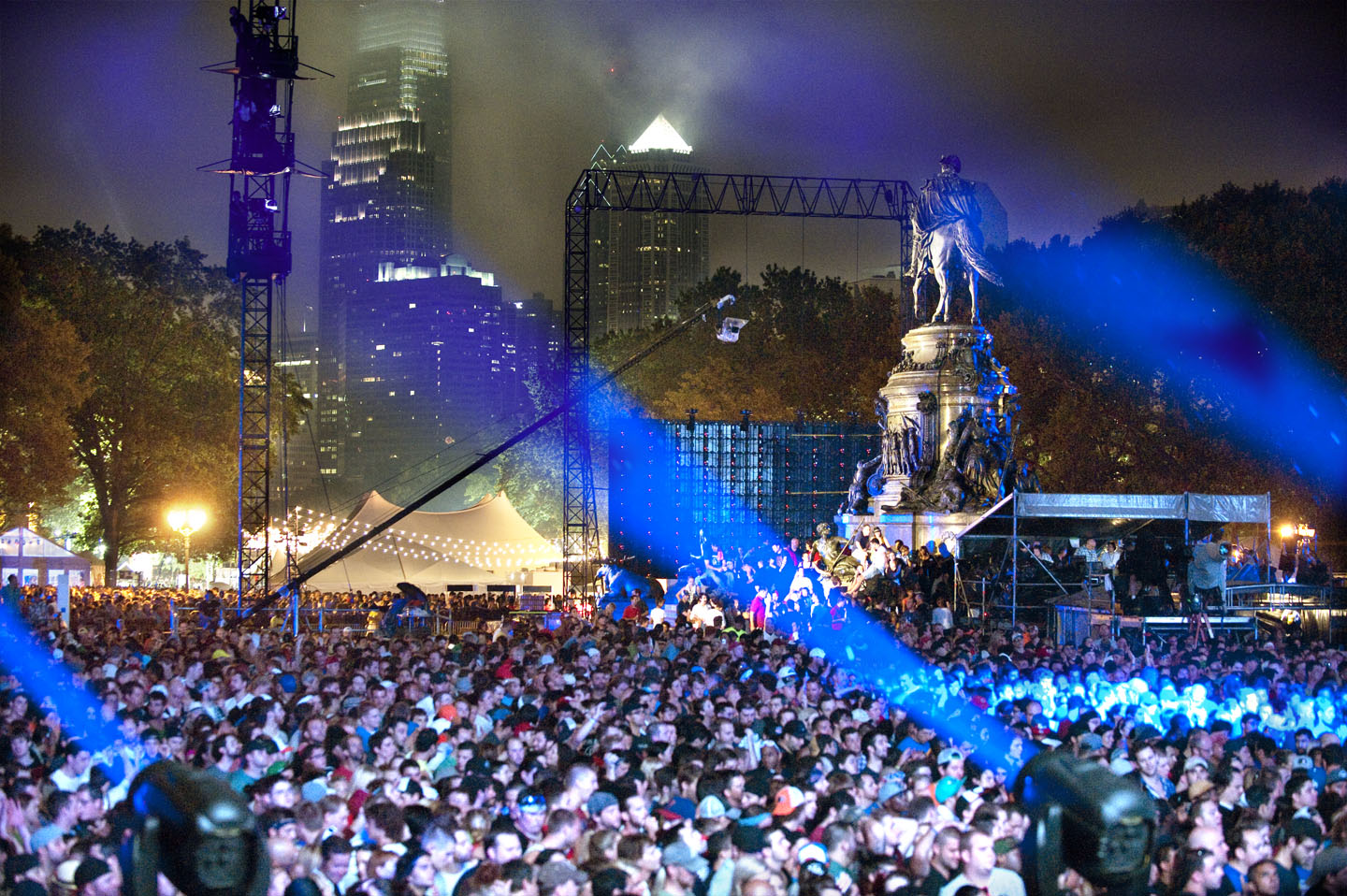 Photo Credit: Karen Loria
Made in America 2012
The brainstorm of JAY Z, "Made in America" Festival 2012 took place over Labor Day weekend in Philadelphia. The festival promised to encompass every genre of music and to reflect what it means to be "Made in America". It also benefited United Way and it's regional programs "Cradle to Career". The festival featured an eclectic line up featuring acts from Skrillex to X and headliners JAY Z and Pearl Jam.  Pearl Jam closing out the two day festival played an intense two hour set and then brought out JAY Z backing him on "99 problems". By all accounts the festival was a success and featured amazing performances by all the artists.
You can watch JAY Z and Pearl Jam here:
For the Pearl Jam crew it was a bit less than optimum, a one off festival with our gear showing up from Europe. Hoping that everything had survived shipping we showed up at 5 am for load in.  We were met with some cramped stage space and a less than an ideal placement of the PA, at least for us. The placement of the PA was onstage and would prove to be a challenge for myself and the band. On a Pearl Jam production the sound system points are several feet offstage, helping to get distance between the FOH mix and monitor mix. I am unsure if the placement of the PA for "Made in America" was a JAY Z production call or just had to go there because of the video walls. Regardless it was going to be louder onstage and short of turning the PA off, we were going to have to deal with it. So dealt we did – although no one onstage was happy about it. I wish I could say I had some tips or tricks to solve what we were up against – I don't. It was not our production and we were limited on time. The band came in at 10 am for a sound check.  Normally, the band would not sound check in a situation such as this, but they were working on "WMA/99 Problems" for what would hopefully be the big encore.
Jeff Ament talks about how it came together.
Pearl Jam played an intense two hour set, finished with JAY Z, and were physically beat up by volume onstage.
A few days after the festival, the crew got an email from our tour manager thanking us for a great show and then followed it with – moving on from this show stage volume needs to come down. It was met with "can't turn down", "yeah right", "sure on it". We had been here before several times and the volume always comes right back up. Our tour manager use to be my monitor tech, and I was able to read between the lines of his email. I understood that something drastic needed to change on stage and it was going to fall to me. Volume onstage had needed to be addressed for a long time and "Made in America" was just the catalyst.I had fun times ahead.