Multiple Grammy-winning Recording Engineer Leslie Ann Jones is a true trailblazer. A most respected and revered engineer among her peers with a career spanning decades, Leslie has had the pleasure of working with many incredibly talented artists at several historic studios and is presently Director of Music Recording and Scoring at Skywalker Sound, where she's been since 1997.
To say her list of accomplishments is impressive is an understatement. Here are a few:
First Woman Recording Engineer at ABC Studios in Los Angeles 1975
First Woman Engineer at the legendary Automatt Studios in San Francisco, 1977
First Woman National Officer of

The Recording Academy
Sound engineer and Road manager of one of the first American all-women bands- Fanny, in the 1970s
Multiple time Grammy Award nominee and five-time Grammy Award winner for:
2003-Winner for Best Chamber Music Album- The Kronos Quartet, 'Berg: Lyric Suite'
2005-Winner Best Jazz Vocal Album- Dianne Reeves, ' Good Night and Good Luck'
2010- Winner Best Engineered Album, Classical- Quincy Porter, Complete Viola Works
2015-Winner-Best Engineered Album, Classical- Laura Karpman-Ask Your Mama
2019-Winner-Best Engineered Classical-Kronos Quartet-Terry Riley-Sun Rings.
In 2014, Leslie was nominated for two Grammys: Best Surround Sound Album- Signature Sound Opus One,  and Best Engineered Album, Non- Classical- for Madeleine Peyroux, 'The Blue Room.'  ( A category she shared with fellow engineer: Trina Shoemaker, and also the first time two women engineers had been nominated in the same category).
You never know where the road will take you
Growing up with musical parents, (her Father was novelty drummer, percussionist, and bandleader Spike Jones and her mother- singer Helen Grayco),  Leslie's introduction to the music business started at a very young age.  Musician friends of her parents were always visiting the family home, and that led to Leslie being exposed to a wide variety of musical styles and sounds. Spending so much time around musicians from such a young age also gave Leslie incredible insight into working with artists.  From her Father's creative use of unusual instruments (cowbells, brake drums, foghorns, and such) and her mother's style of singing and introduction to the styles of Sinatra, Bennet, and Streisand, [1] Leslie's young ears were already being primed, and she was forming a set of skills that would be invaluable in her later career as a recording engineer.
Leslie started playing guitar around age 14, after receiving one as a Christmas gift.  She then formed a musical group with some family and friends[2] which proceeded down the all too familiar road of performing, recording, getting a record contract, and then getting dropped due to the ever-changing record company scene of the 1970s.
Her interest in audio was piqued when she found herself in charge of the sound for the last rock band she was in. Though she had a knack for mixing, Leslie felt that being self-taught on guitar she didn't quite have the chops to be on par with those she admired like; Lee Ritenour, Larry Carlton, and Stephen Stills, so she focused her attention on becoming a producer like the legendary Producer/Manager- Peter Asher.  She began arranging music for other's bands and acquiring PA gear.  "Then when the band broke up, and I found myself with a small PA system, I started mixing live sound and formed a company with friends who also did live sound. We pooled our equipment and went to work! I seemed to have a natural talent for it, even though I was not mechanically or electrically inclined. So I had to work harder at some aspects of it, but I loved to mix."
During the same time, Leslie had a day job at ABC records working in publicity and artist relations. In her desire to become a world-famous Producer/Manager, Leslie had the foresight to know she needed to learn more about audio engineering and approached the studio manager for a job. [2]
It took some time though before she was engineering records.  "My first job at ABC Studios was as a "production engineer."  I was on the 4 pm-midnight shift. In those days U.S. based record companies would send a 1/4″  2 track tape called an EQ copy to their foreign affiliates, and those affiliates would press LPs and cassettes using the EQ copy. That way it had the same sound as the US releases.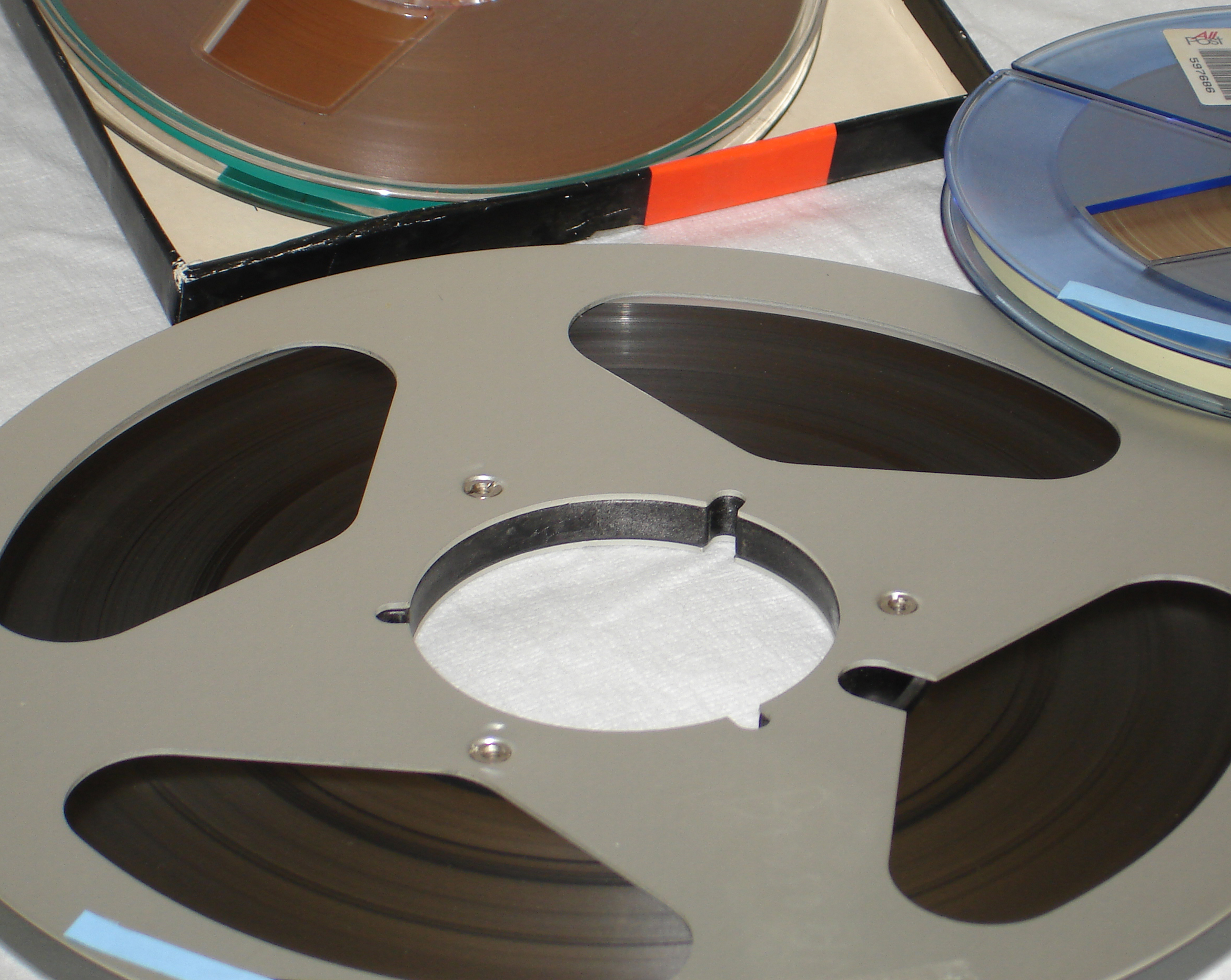 My job was to make a copy of the EQ master that was generated by the mastering room so it could be sent overseas. We also had a large cassette duplication machine and would make cassettes for all the label execs and artists and producers working in the studios."
Some months after she had started, she finally began doing setups for sessions.  Next, she volunteered to assist on a session and then did nothing but assist many engineers for months, later engineering their overdub sessions when they got too busy.  The studio manager, Phil Kaye was a bit unsure in hiring Leslie, as female engineers were an extreme rarity in the 1970s.  "We did have a female mastering engineer at ABC, Lois Walker, so the presence of a woman in a technical position was not foreign. But being in a mastering room and being in the trenches of a live recording or mixing session were not really the same thing".
Despite that, Leslie found that the men she worked with at ABC Studios were supportive, being patient with her, as she learned. Something that probably wouldn't have happened if she wasn't open to accepting people's help. [3] "I had so much support from the staff engineers at ABC who all took me under their wing: the late Barney Perkins, Reggie Dozier, my boss Phil Kaye, and of course Roy Halee, but it was also the first time I was taken off a session because I was a woman." Roy really laid a foundation for me and the things I learned from him are branded into my DNA: Work ethic; making sure all your tools are as you want them so you can just go to work and be creative; Zero on a meter is important; using your ears; the value of reverb (he was a master). "
In those early days, Leslie had to walk the fine line of showing people you can do the job with confidence, rather than arrogance.  "Once I got thrown into sessions with outside clients I would still get asked when "the engineer" was showing up. I would say I was the engineer and of course would be met with some skepticism. That lasted about a half-hour into tracking. Once they realized that, not only did I know what I was doing, but they loved the sound, then I could do no wrong. Plus having a sense of humor (thanks, Dad) helped immensely."It was at ABC Studios that Leslie finally engineered her first album with John Mayall, called – A Hard Core Package.
The Automatt
When Leslie moved to the Automatt in 1977, Fred Catero was the only other engineer at the time, and it wasn't clear whether Leslie would be his assistant or another First Engineer.  All it took was a client to call who didn't have an engineer and Leslie was it.  At the Automatt, she had the chance to learn from Roy Halee, Fred Catero, and David Rubinson.  "Roy came from CBS in San Francisco (later called The Automatt), so when I got there, I felt a little like I was following in his footsteps."
"Roy's contemporary Fred Catero taught me the art and value of recording many things on one track given limited "real estate," 24 tracks in those days. How to stack tracks, how to do live bounces of backgrounds or horns when you didn't have enough tracks. And both Roy and Fred were master editors."
"And David, well he was what I had originally aspired to be…a great producer and manager. He could make great records and then go upstairs to his office where he made sure his artists got the best follow through. He and Fred trusted me with their demos, their artists, and later with many of the groups that came to record on their own. David also taught me about creating songs from 16-minute jams and how to listen and create on the spot. But my fondest memories of David were not recording-related at all. He had a great wine collection and a palate to match, and it was my first experience with that. That became my second passion, and after all these years I have just made my first wine."
During her time at The Automatt, Leslie was lucky enough to have recorded the first digital multi-track recording session in San Francisco on the 3M tape machine, Carlos Santana's album- 'The Swing of Delight.'  Later at Capitol, she fell in love with the sound and operation of the Mitsubishi X850 and X880 32 track, which was later superseded by the Euphonix 48 track disk-based recorder at Skywalker, "because I was able to record 48 tracks at 24/96."  "None of those are available any longer, but they were all great in their day. They allowed me to use technology to enhance my work."  Some of Leslie's other favorite pieces of gear include: a Neve 88R which is an analog console, one of the first digital reverbs, a Lexicon 224, EMT plates, "and yet I also use new things, mostly microphones."
Use what you've got
The Automatt at one time had a staff of 6 engineers, 3 of which were women. "It was the Bay Area of course, infinitely more tolerant. But that ratio was unheard of…probably is still to this day."
"At The Automatt, I first started working on sessions with all women. That was the era of 'women's music,' primarily folk music specifically marketed and created for and by women. Women-owned record labels, musicians, producers, engineers artists, distributors, festivals, etc. Mostly lesbians, all feminists. It was when I first encountered being hired because I was a woman and what that brought to the sessions. Because the Automatt had a split staff, many times on regular projects, we would have a woman 1st engineer and a male assistant or vice-versa. One producer, in particular, would "cast" the sessions based on the vibe he wanted for the artist. I started to realize that being who I was and bringing that to whatever session I was doing was the most important thing I could do."
Of Leslie's many skills, being open to adapt to whatever situation comes her way and always ready to seize an opportunity, "not being afraid to raise my hand," are two traits that helped pave the way to the top of her profession.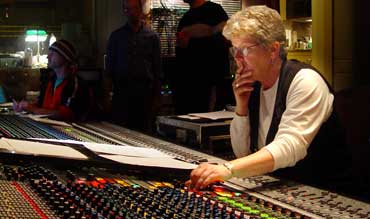 While she admits that trying to find your way in a room full of guys can be challenging, Leslie also sees that women bring a different set of skills in the way we approach our jobs, with the ability to multi-task better than most men, being one.  Also, "there seems to be much less ego with women than men (for better or worse). We are more prone to work with people as team players. Maybe that is why I have always enjoyed being on staff. Those qualities are really important if you are going to show up at the same place and work with the same people all the time. BUT having said that, those attributes can be our downfall as well. I liken it to female chefs. We make great assistant engineers/sous chefs, but it is quite a leap from there to the Big Chair…to being in charge of the session/kitchen or restaurant. Still to this day that seems to be the most difficult transition."
Leslie moved to Capitol Records in 1987 where she was hired as a staff engineer and became known for engineering Jazz, Vocal and Classical.  She had a roster of regular artists such as; Rosemary Clooney, Michael Feinstein, Bebe, and CeCe Winans and others. She also won her first Grammy for Dianne Reeves- 'Good Night and Good Luck.'
Ten years later Leslie accepted the job of Director of Music Recording and Scoring at Skywalker Sound.  Having begun her film-scoring career with the movie Apocalypse Now during her years at the Automatt, Skywalker would allow Leslie to showcase both those skills and her talent for music recording while also bringing her organizational skills as Studio Director.