Now that we're getting back into the swing of things, it might be time to brush up on our audio skills.  Lucky for you, I've been scoping out some of the best new books—and best of all, they're all written by women! 
Math Fundamentals for Audio, by Leslie Gaston-Bird
In this easy-to-digest handbook, Leslie Gaston-Bird applies principles from algebra, geometry, trigonometry, and even calculus to concepts such as Ohm's law, delays, impedance, bandwidth, and decibels. This concise book offers a foundation for connecting mathematics with modern software tools for digital audio.  My favorite part about this book is that the author begins by assuring the reader that math does not have to be scary.   She provides a section on math anxiety, as well as a brush-up review on basic math.  If you're still not sure if you're ready for this book, the self-assessment in the introduction will definitely help you make the right decision.  Honestly, I've been begging the universe for years for a book like this, and we are all so lucky that Leslie Gaston-Bird came through!
Women In Audio, by Leslie Gaston-Bird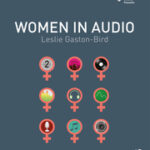 Ok, ok, I couldn't mention one without mentioning the other, so if you've already added Math Fundamentals for Audio to your cart, go ahead and throw in this other gem by Gaston-Bird.  This book is packed full of profiles and stories of audio engineers who are women, including a historical view of women and their achievements across various audio professions.  The book also breaks down the discussion of trailblazing women in audio by discipline, including radio; sound for film and television; music recording and electronic music; hardware and software design; acoustics; live sound and sound for theater; education; audio for games, virtual reality, augmented reality, and mixed reality, as well as immersive sound.  Personally, I keep this book in my Pelican Case and am ready to throw it at anyone who tells me they just can't find women in this audio industry.  10/10 recommend, for real.
Pink Noises, by Tara Rodgers
So, this book, technically, isn't new, as it was published in 2010, but I just discovered it, so it's new to me, and I can't get it out of my head.  In 2000, Tara Rodgers, aka Analog Tara, founded the critically acclaimed website, Pinknoises.com, which was meant to promote women in electronic music and make information about music production more accessible to women and girls.  Tara would post interviews with women artists that would discuss their personal journeys and work practices.  This book became an extension of that incredibly fascinating website and offers new and lengthier interviews, as well as several resources for more exploration into the exciting world of contemporary electronic music.  pinknoises.com now redirects to Tara's website, analogtara.net, and I super recommend checking her and her music out.  I promise you'll thank me.
Engineering for Teens:  A Beginner's Book for Aspiring Engineers, by Pamela McCauley PhD
I'm calling this one "industry adjacent."  I always get people asking me how they can get their kids or younger students into the field, so I'm always on the hunt for good teaching tools geared toward a younger demographic, and this is definitely a great one.  While the focus isn't audio, specifically, this engineering book for teens introduces major engineering disciplines and covers areas that could come in handy for future audio engineers and sound designers, such as: electrical engineering, software engineering, computer engineering, and acoustical engineering.  Either way, I really love a good training book for kids, and getting their brains moving in the direction of engineering just can't be a bad thing.
A Composer's Guide to Game Music, by Winifred Phillips
This book is a must-have for those composers thinking about jumping into video game composition.  During the pandemic, I wasn't sure when or if I would ever be able to go back to live theatre and/or concerts, so I started researching other ways to utilize my skills and came across this excellent book.  In her books, Winifred Phillips (an award-winning video game composer herself) discusses the very real disconnect between what composers typically learn in school and what necessary creative skills they need to be successful in the video game industry.  This information alone feels like a golden ticket to make the transition from classical musicianship to a successful video game composer.   Phillips also offers detailed coverage of essential topics, including musicianship and composition experience; immersion; musical themes; music and game genres; workflow; working with a development team; linear music; interactive music, both rendered and generative; audio technology, from mixers and preamps to software; and running a business.  My personal feeling is that I need to be as prepared as possible for a full stop in live entertainment employment (now that I know that's a possibility and could maybe happen again), and this book is definitely an important tool in my arsenal to getting the most out of my music skills.
The thing that all of these books have in common is their genuine tone of care and thoughtfulness in regard to the reader.  It's what makes them accessible.  I find that many education-based materials can sound too technical or "lecturey," and these books are definitely the opposite, which serves a valuable lesson to us all that being an expert and imparting wisdom does not have to look like the inside of an Ivy League lecture hall.  Thanks, ladies, for being straight shooters and still being totally awesome.
SoundGirls Members can borrow audio books from our lending library