By: Michelle Sabolchick Pettinato
Japan is Mr Big's home away from home.  They are adored by their fans here and consider them life long friends.  They have always had a huge fan base in Japan and even when the band broke up in 2002 the Japanese never gave up hope and never stopped pleading for a reunion.  That reunion happened in 2009 and the band, with all four original members, has done three world tours and made two new records since.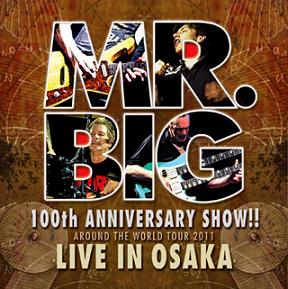 That reunion tour in 2009 was my first tour with Mr Big.  It started with a tour in Japan that lasted over three weeks.  Most bands come to Japan and play 3 or 4 shows tops, Tokyo, Osaka, Nagoya, maybe another along the way.  Mr Big covers the entire country from Sapporo to Fukuoka.  Their fans are young and old, and incredibly loyal.  They camp out at the airports, hotel lobby, restaurants, train stations, all waiting patiently with their stacks of CDs, Vinyl, Tour Books, whatever they can find to have autographed.  The band is forever thankful to their fans for their continued support and always happy to sign, shake hands and have a chat with them.  They are incredibly gracious and genuine guys.  In 2011 they played their 100th show in Japan at Osaka's Castle Hall.  It was a sold out show, the first show of the tour, and being recorded live. No pressure.
This time around things are a little more relaxed…. for them.  For me, not so much.
We started in Sapporo, and for the Japanese leg of the tour we are carrying full production. Clair Japan is providing the PA.  I-3s and BT 218 subs.   I am using a Midas Pro 6 at FOH.  For those of you who know me and/or have read my previous blogs, you know I have no love for digital.  The decision to use the Pro 6 was mine and I wrestled with a lot of internal conflict before making up my mind.  I have always preferred analog over digital and still do.  I have spec'd a digital console when, for whatever reason, the show required it but will always be much happier on analog.  The nature of this tour- fly dates all over the world and local production outside of Japan means that I am going to see a lot of different consoles and most of them digital.  I've managed to keep it mostly to the ones I think sound better- Midas and Soundcraft but it usually means starting from scratch almost every single day and getting my head around a console I haven't used in years.  While in the midst of creating the system spec for Japan, I had learned that we were going to have two drummers on this tour.  (See previous blog).  It had not yet been decided how often each would be playing but it was clear that they would be sharing the same kit and coming and going throughout the show. Knowing that both drummers have very different styles of playing and hit with different intensities, I decided that a digital console would be better, that way I could program a scene/snapshot for each drummer.  This would make the show better, allowing me to mix rather than have to dial in drums all night long. Although I really felt like somehow I was copping out opting for digital instead of analog, that I had grown too comfortable with it or maybe even lazy having been using a Pro 9 for the last seven months, I knew that it would make for a better, smoother show.  I chose the Midas because it sounds great and although I don't like the scene management, I have become incredibly familiar with it over the past several months and know the console very well.
Sapporo- First show of the Japanese tour.
I load my file into the console and Sato, my system tech, begins to configure it and assign all of the patching.  Configuring is a problem, it's not behaving correctly, then we begin having a few issues with things dropping out- inputs.  I have a rack of outboard effects that I am carrying and we are having problems with these and the talk back mic, as well as the ipod which we use for walk in music and the bands intro song.  The console is acting weird and at one point the MC-2 locks up.  We have to restart. We have a few more issues during line check.  I had a few minor glitches with the Pro 9 that I was using over the summer, but nothing that ever caused the console to crash or lock up and nothing that couldn't be worked around.  What's going on here is a bit scary, it's not keeping the configuration or the patching.  Not sure what the problem is.  I've been storing the file and exporting to my USB consistently.  I haven't programmed any scenes yet so it's not something screwed up in the automation.  Finally, Sato decides it is the UPS that the console is plugged into and shuts down the console and stage rack to bypass the UPS.  We finish line check, I once again save my file, export it to my USB as the band arrives for soundcheck.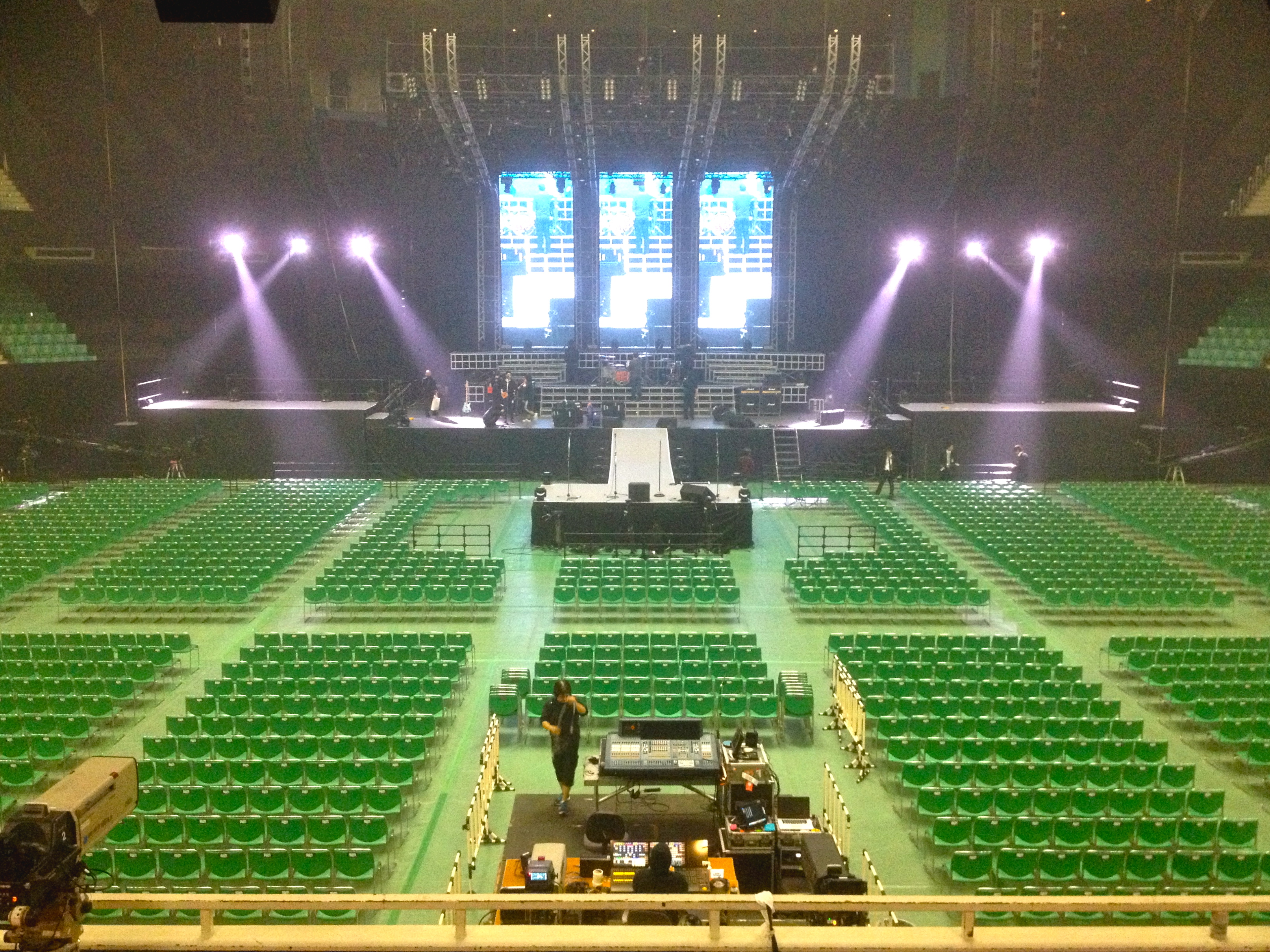 The Japanese show consists of quite a production. There is a set, huge lighting rig, video wall, everything a big rock show needs.  This is also the debut of the pre-show video.  It runs for about 5 minutes and my cue is to start the intro song at the end of the video.  The band calls for the video to start so they can rehearse the top of the show.  The video rolls and my cue to run the intro song comes, I press play on the ipod but there is no input to the console.  The ipod is playing, it's just no longer patched.  The lead singer, Eric, is calling from the stage-'the intro should be rolling now'.  I pick up my talk back mic to tell him we've got a technical problem and my talk back isn't working.  Awesome. 🙁  I have no communication with the band who are all still on stage a good 80' away from me with their ear monitors in, and they are growing more frustrated that I am not playing the intro. Sato and I are scrambling to sort things out, and it appears the aforementioned problem wasn't the UPS, the console has again lost all the patching of my inputs at FOH.  As we are frantically trying to fix this mess, the drummer, Pat, taps me on my shoulder.  As I turn around he asks, 'You do know when the intro is supposed to start, right?'.   I explain what's going on and he heads back to the stage to reiterate to the band while Sato and I attempt take two.  At this point my nerves are on edge.  If this happens tonight at show time, there'll be hell to pay. They roll the video back a few clicks and we try it again.  This time it works and we're all good.  Or not.  The band leaves the stage for their meet and great and I attempt to save my show, but once again the console locks up and the computer crashes.  I probably should mention at this point that me and computers….uhm, not such a good pair.  I cannot tell you how many times over the years I have had people tell me "well, I've never seen it do that before!".  I seem to have a knack for causing computers to crash and do things no one else can make them do.  My husband believes I have some weird electrical field around me that screws with the stuff.  All I have to do is sit at his desk and his laptop, which has worked flawlessly for years, will suddenly fail.  So I start to wonder if I should don a tin foil suit or at least a pair of foil gloves to mix the show tonight.  More seriously, I am really starting to worry if this console is going to make it through the show.  I ask Sato if there is another Pro 6 available.  He does some more digging into diagnosing the problem, makes a few phone calls and tells me that there isn't another surface available for tonight but he's spoken the the Midas tech in Japan and has been instructed what to do to get us through tonight.  When we finally restart the console, to my horror the files page is completely empty.  EVERYTHING that was in the console is gone.  I had saved to my USB and am now praying that the file is not corrupt.  We load my USB and the file comes up, however I never had a chance to store during soundcheck since  it had locked up. So, all I have is what I did at line check and I had done some major changes during soundcheck.  I do my best to remember those changes and duplicate them but this has me frustrated, annoyed, and very anxious about tonight's show.  I'm also regretting my decision to go with digital.
Language and cultural barriers
Sato speaks very little English but we communicate pretty well.  He was my system tech on the first Mr Big tour I did in 2009 and we worked so well together that I have requested him on every tour in Japan since.  He is very much the Japanese equivalent of Cliff Downey, my favorite Clair System tech here in the U.S.  We had a bit of an awkward start on that tour in 09.  I could tell he wasn't used to working with a woman FOH Engineer, or likely even a women on the audio crew.  I knew he was sizing me up from the very start, most likely thinking I was one of the band guys girlfriends or something like that.  When I first attempted to speak to him, he told me "No English".  Ok. I explained through our Monitor Engineer, what I wanted and how I liked to do things.  I'm pretty hands on and I like to tune the PA. I also like to set up and tech my FOH.  That doesn't happen in Japan.  You walk in and it's already done. It is made clear that you are a guest in their country and they take much pride in having things exactly the way you want them.  You walk away at the end of the show and it will be exactly like you left it the next day but in a different city.  Pretty amazing.  Anyway, he would noise the system, make sure everything was up and running, time aligned, etc… and hand it over to me.  He did whatever I asked but was pretty gruff and as far as I could tell he didn't seem to think much of me.  UNTIL…. about the 2nd or 3rd show.  I was tuning the PA and went upstairs to listen from the second level.  I could hear that something was wrong and concluded that the second box from the top of the line array on house left was missing mids and highs.  I went downstairs to tell Sato and asked him to check the amps, figuring that it was most likely one of them was turned off.  He immediately rebuffed me and said  abruptly, 'everything is on'.  I calmly explained that there is something wrong upstairs and house left if missing mids and highs from the second box. Again, he shook his head and grumbled.  I asked once more, would please check the amps.  He almost stomped up to the stage.  I shook my head and went back to FOH.  Sure enough a few moments later he came walking out to FOH, head hung low and said "Michelle, you were right, one amp turned off.  It's ok now."  I said, "cool thanks."  That was it, I think he knew right then and there that I knew my shit and wasn't just here for show and his whole attitude towards me changed.  He even started speaking a tiny bit of English to me.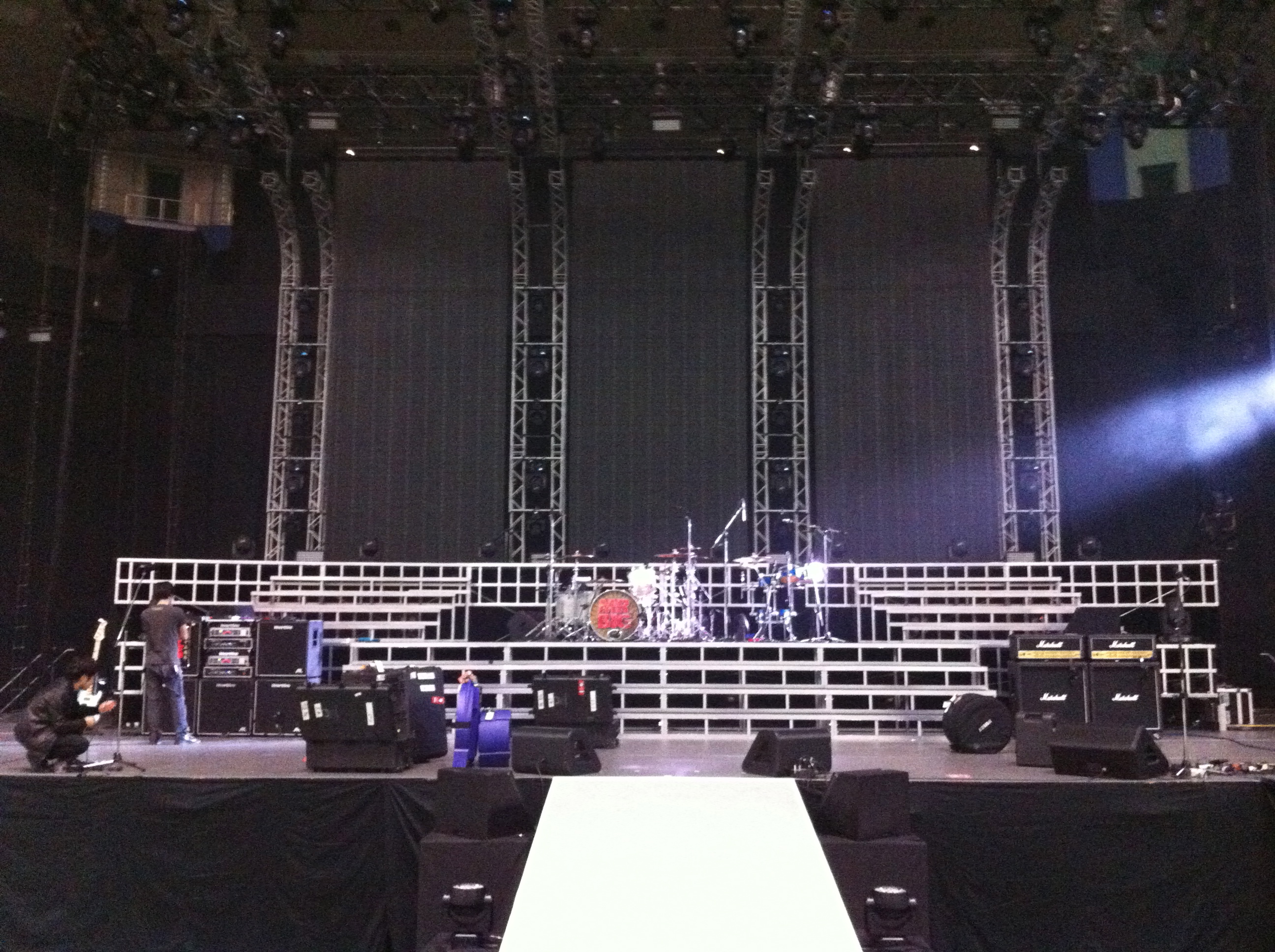 Sato does some work on the board before the show and tries to reassure me that it will be fine now but we are both nervous and crossing our fingers.  Not a good feeling.
It's just about show time and I am watching the patching page like a hawk to make sure nothing drops out.  Thankfully everything works.  It's not a smooth show for me as I spent the first few songs trying to get back to where I was at soundcheck.  I pulled it together but was never completely happy with my mix.  I have a laundry list of things to work on for the next gig.  But for now, I am just happy my console didn't die on me.
Morioka- Second show in Japan
The day went smoothly.  My console worked flawlessly and I had a good show.  Sato and I both feel a bit of relief.
Sendai- Third show in Japan
We came to Japan in 2011 just three weeks after the Tsunami that devastated the northeastern part of the country.  It was a pretty moving experience.  The fans had begged the band to not cancel their tour and please come as planned.  I think they mostly needed some sense of normalcy amidst all the tragedy.  We were able to play all of the shows as scheduled except for Sendai because the venue had sustained too much damage.  This would be the first time in Sendai since the Tsunami.  The show was great, the fans were great but my console once again had issues. We get through the show without any major problems but I am not at ease. The next show is Budokan, it's sold out and the band is filming a live DVD.  I cannot afford the risk of something happening to the stop the show.  I talk to Sato and our Japanese Production Manager about it.  We are in agreement that the desk needs to be replaced.  A few phone calls later and I'm told I will have a Midas Pro 9 waiting for me at Budokan.
Immediately after the show in Sendai we go to the train station to take the Shinkansen from Sendai to Tokyo.  Travel through most of Japan is by train or bullet train.  It's awesome!  No dealing with airport security and crowded planes.  Just show up whenever you want because the trains are always on schedule, but don't be late or you'll miss it.  It's comfortable and easy.  When we arrive in Tokyo we are shuttled to the Conrad Hotel, which I like to pretend is my Japanese apartment.  It's one of the nicest hotels I've ever stayed in.  Every time I've come to Japan with Mr Big, we've stayed at this hotel while in Tokyo.  I've probably spent a good ten days to two weeks at the Conrad over the course of three tours.  Just don't eat or drink here or you'll go broke.  It cost me about $15 U.S. for one beer at the hotel bar.  Luckily there are a variety of inexpensive places to eat and drink in the building just next door.  It's also a short walk from Ginza.
We have the day off in Tokyo before Budokan so I decide to do a little shopping.  I walk over to Ginza to Toy Park, a fun toy store with all kinds of interesting toys and gadgets.  About an hour later, I've managed to take care of all of my Christmas shopping for the niece and nephews and also add a couple cool Star Wars and Godzilla pieces to my collection.
Tokyo- Show number 4- Budokan
Budokan is a special gig for Mr Big, but it's always kind of a high profile, high stress show.  The guest list is off the charts, so many people from management to label reps, radio, friends, family, etc…
AND we're filming it live for a DVD.  I've got a Midas Pro 9 to replace the problematic Pro 6 and Sato and I spend a few minutes transferring the file and configuring it.  Other than having to re-label all of my aux returns, everything seems to be as it's supposed to be.  We've got a lot of extra PA in here today- side hangs for the upper bowl, micros hidden on subs under the wings for the sides, P2s for front fill and cover in front of the B stage.  I-3s and B subs flown as well as BT218s on the ground.  Sato and the Clair crew did an excellent job of getting smooth, even coverage throughout the arena.  The rig sounds great and I barely need to do any work to it.  Sato tells me that I should let him know if I want more sub.  He did quite a bit of tweaking on the low end to clean it up.  Soundcheck goes well and afterwards, as per tradition, the band, crew, and entire Japanese Udo crew take a group photo on the stage.
I finish up some programming and head to dinner.  Guests are filing in backstage, Masa Ito (famous Japanese radio personality), Kaz Hirose (editor in chief of Burrn! magazine), Mr Udo (biggest concert promoter in Japan), musicians- Jimmy Paxon and Zack Alford, and a long list of others. You can feel the anxiety and excitement in the air as it gets closer to show time. As the show begins I quickly realize I am going to have trouble seeing the stage. After I get through the first song, I look at Sato and point to the floor, make the outline of a box with my hands and stomp on the floor- trying to let him know I need something to stand on. He looks at me and nods but goes to the Lake system controller. The band finishes the next song and I look at Sato and motion again for something to stand on. I realize that he thinks I am asking for more sub. I finally see a small case that would make suitable step stool and manage to communicate my needs to Sato in a way he understands. We laugh when he finally gets it. It's really time for me to start brushing up on my Japanese. We all have a fantastic show- band, crew, and audience.
Osaka- Day off
We take an early train from Tokyo to Osaka. The crew has the day off but the band is heading to Koshien Stadium to sing the national anthem for the kick off of the 2014 Japanese All Stars series of baseball.
[mlbvideo id="36912093″ width="400″ height="224″ /]
For most of this tour, we've been traveling so much that by the time I get to my hotel, get settled in my room, grab some food….I'm exhausted and don't have the attention span for much of anything. We get to Osaka early enough for me to have almost a full day off so after having lunch with the crew, I go for a walk, do a little shopping and spend the rest of the day trying to get caught up on work. We're staying in another swanky hotel, the St Regis, and the hotel rooms comes with 'Butler Service'. There is a button on the phone that connects me directly to my butler. I keep trying to think of things to ask him for, after all, I've never had a butler before. :- )
We have two shows in Osaka, things are going smoothly and we've definitely hit our groove. The crew pay a visit to the infamous Rock Rock bar in Osaka after the second show. Rock Rock is one of my favorite bars in Japan. Seiji, Yoko, and the staff always take really good care of us and the music and atmosphere is excellent, not to mention the drinks. It's a good thing I had a late lobby call the next day.
Hiroshima- Show seven in Japan
Another easy day and great show. Possibly the best audience yet. The crowd was on their feet, singing along with fists in the air for the entire show.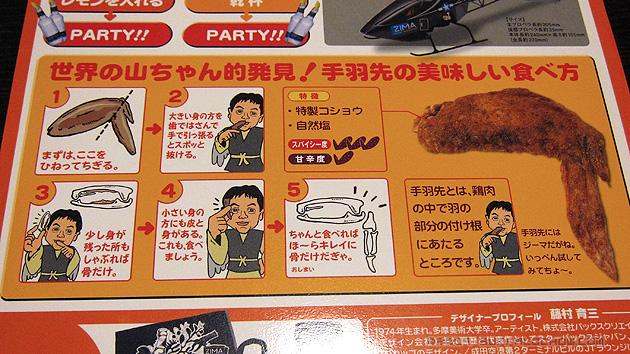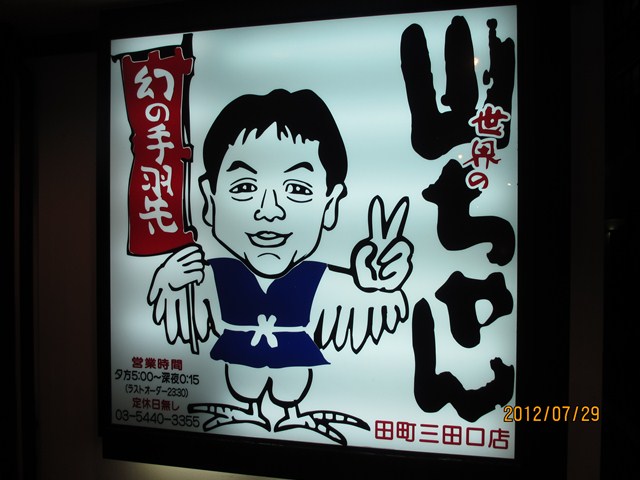 Nagoya- Chicken Wings!
We have a day off and everyone is amped up and ready for some good eating. I had my first taste of Nagoya chicken wings on the last tour. They are delicious and I've been looking forward to this for days. Band and crew head over to the restaurant for dinner and we order up a massive pile of wings among other tasty treats.
Fukuoaka-Final Japanese show
It's a sad day. This is our last show in Japan and we are all very sad to be leaving. It's been a terrific tour and we've all enjoyed every minute of it. The UDO staff, CLair Japan, and all of the Japanese crew have been wonderful and we will miss them. Until next time….