By: Michelle Sabolchick Pettinato
If you missed last month's blog be sure to get caught up before continuing with part two here.

Day 3 Show day, Shillong India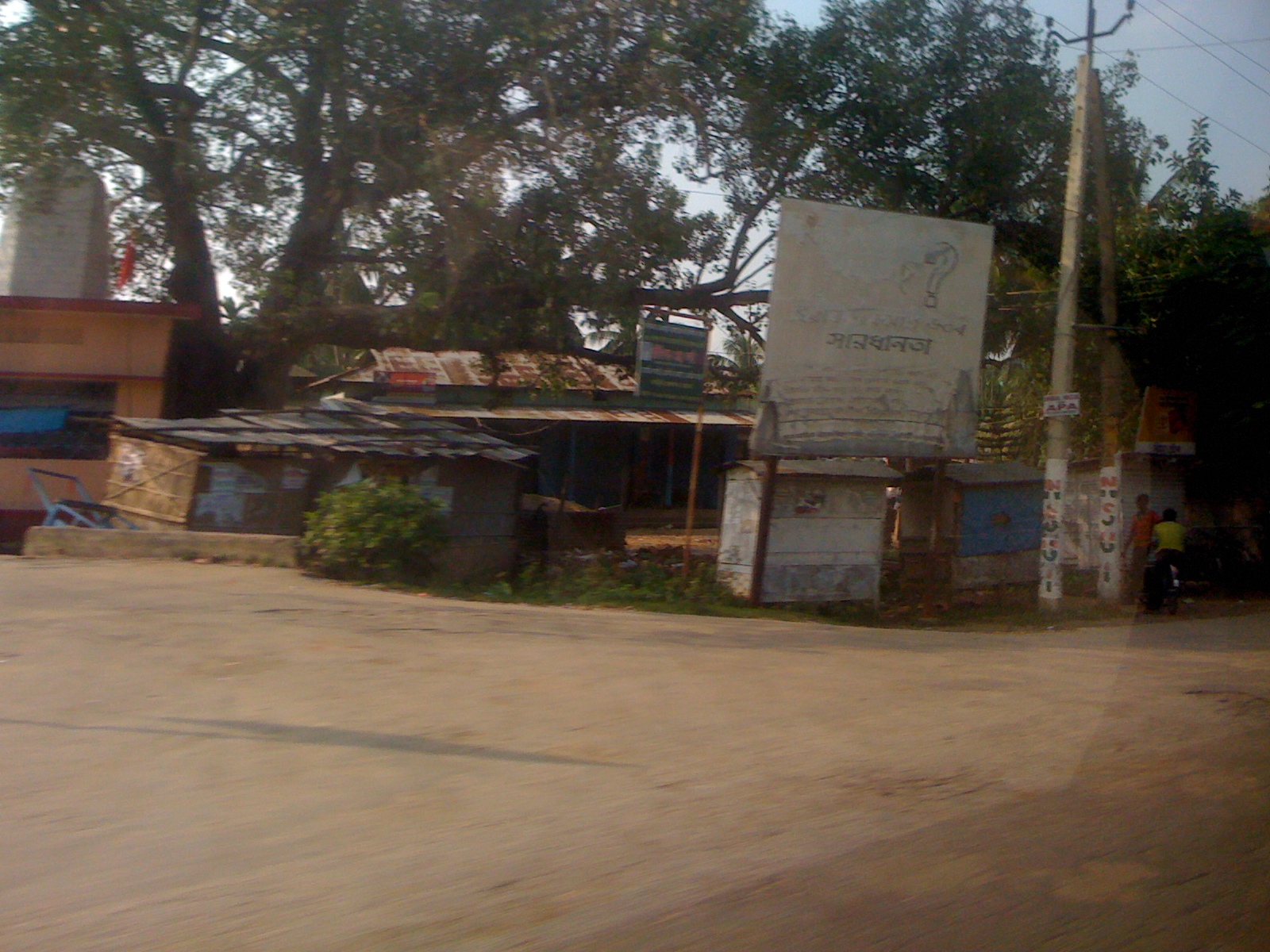 The local promoter hires several taxis for the crew to be taken from the Ri Kynjai hotel to the gig in the center of Shillong. The drivers speak no English and we all take a deep breath and cross our fingers that they know where we are going, since we clearly don't. The drive takes nearly an hour, winding down the mountain past miles of nothing but shanties and dilapidated shacks. The poverty here is overwhelming, and the condition of most of the structures and the few actual buildings is alarming. About 35 minutes into the drive, myself and the monitor engineer who is in the car with me, start to get a bit concerned since we were told the venue is about 20 minutes drive from the hotel. We spend the next 15 minutes or so zig zagging through the city streets which would be impossible to navigate on our own, until we finally reach the venue- an outdoor polo field in the heart of the city.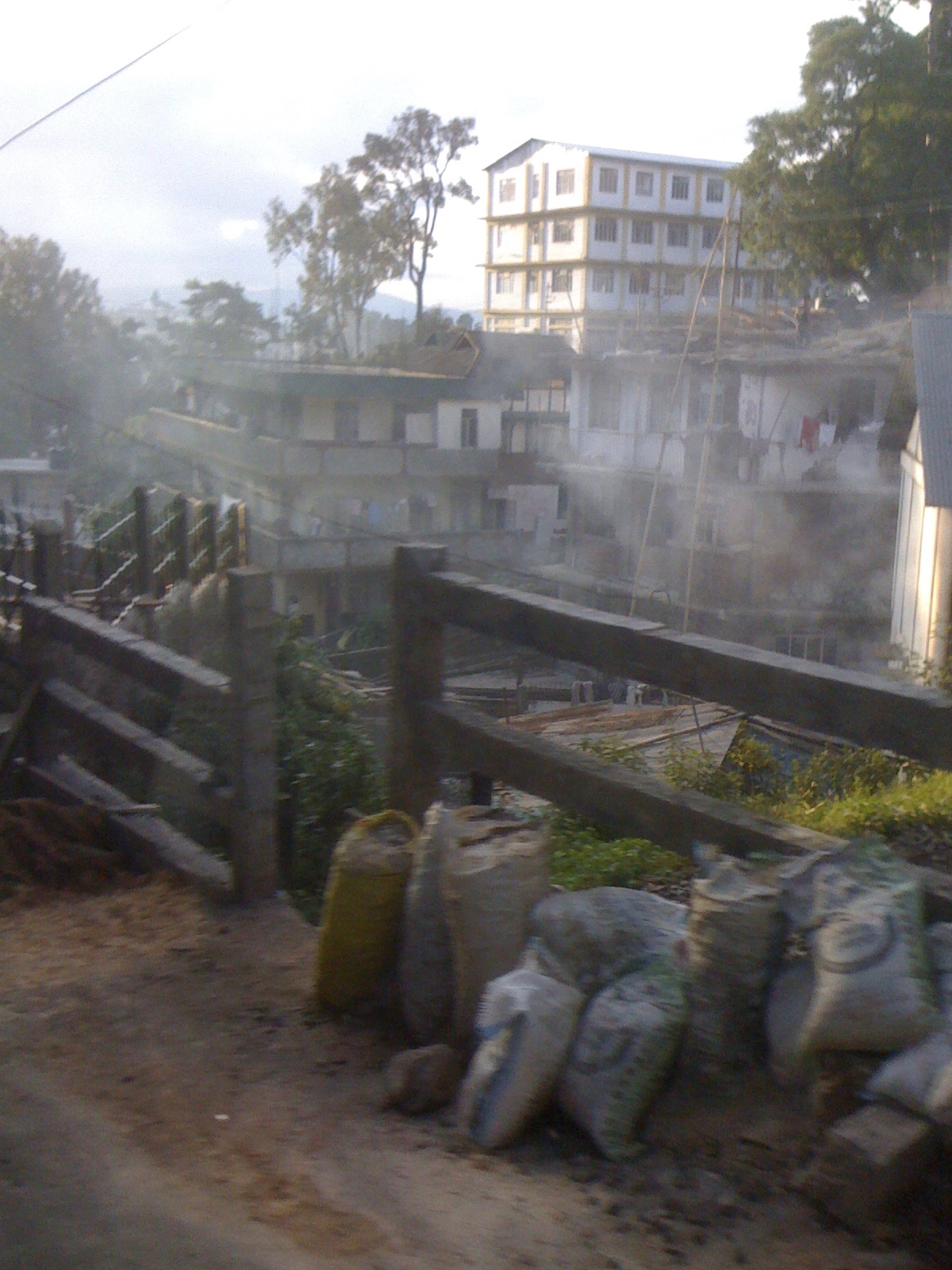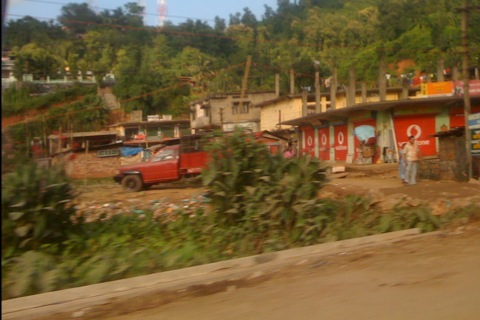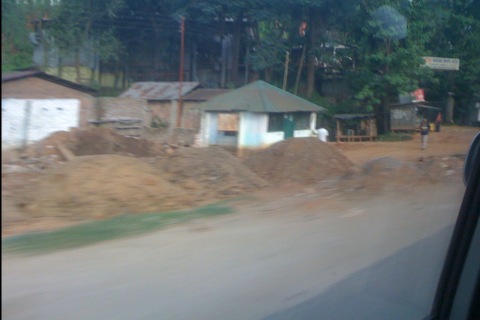 It's another day of sorting out problems with the gear. We're using rented backline for all of these shows and just flying with the essentials- guitars, pedal boards, snare drum, cymbals and such. All in, it's about 18 pieces of gear. All of the amps, guitar cabinets, and drum kit are locally provided, as well as all of the audio gear, which keeps things interesting to say the least. The quality of the equipment ranges from top of the line to really sub standard. The PA systems are all brand new Nexxo line array, but the guitar amps have certainly seen better days. The splitter- well you can see for yourself.

We spend hours chasing down problems and troubleshooting until we finally get everything working. From the stage, FOH looks like a giant tiki bar. It's akin to a raft being held up with bamboo. It consists of several pieces of shoddy wood, about 4 feet above the ground and there are no steps. You've got to climb your way up and down through the bamboo poles and rusty iron. Nails are sticking out of the wood here and there and right now I'm just glad I'm not one of the spot ops who have to climb up to the second level as I'm not sure how structurally sound this thing is.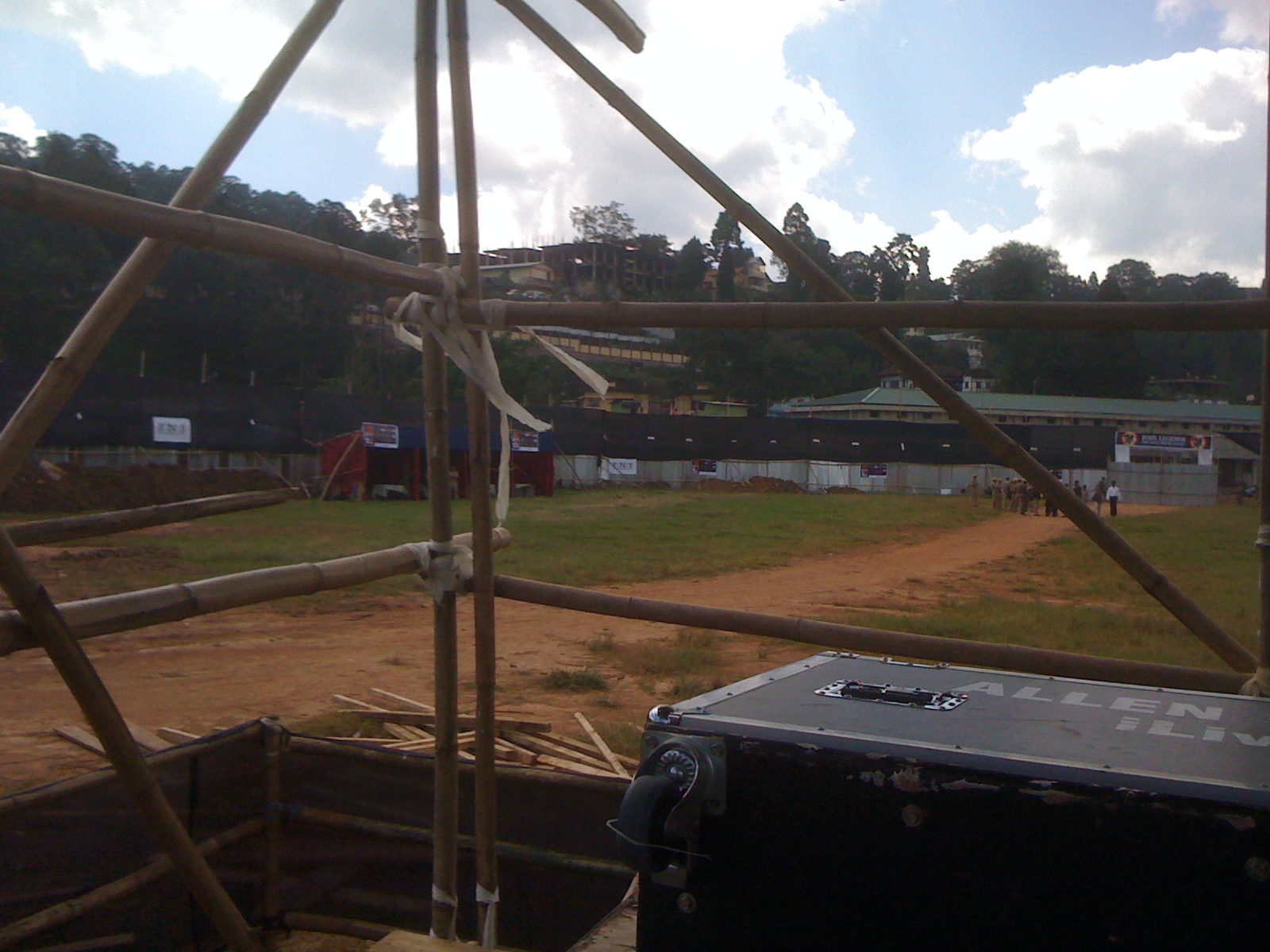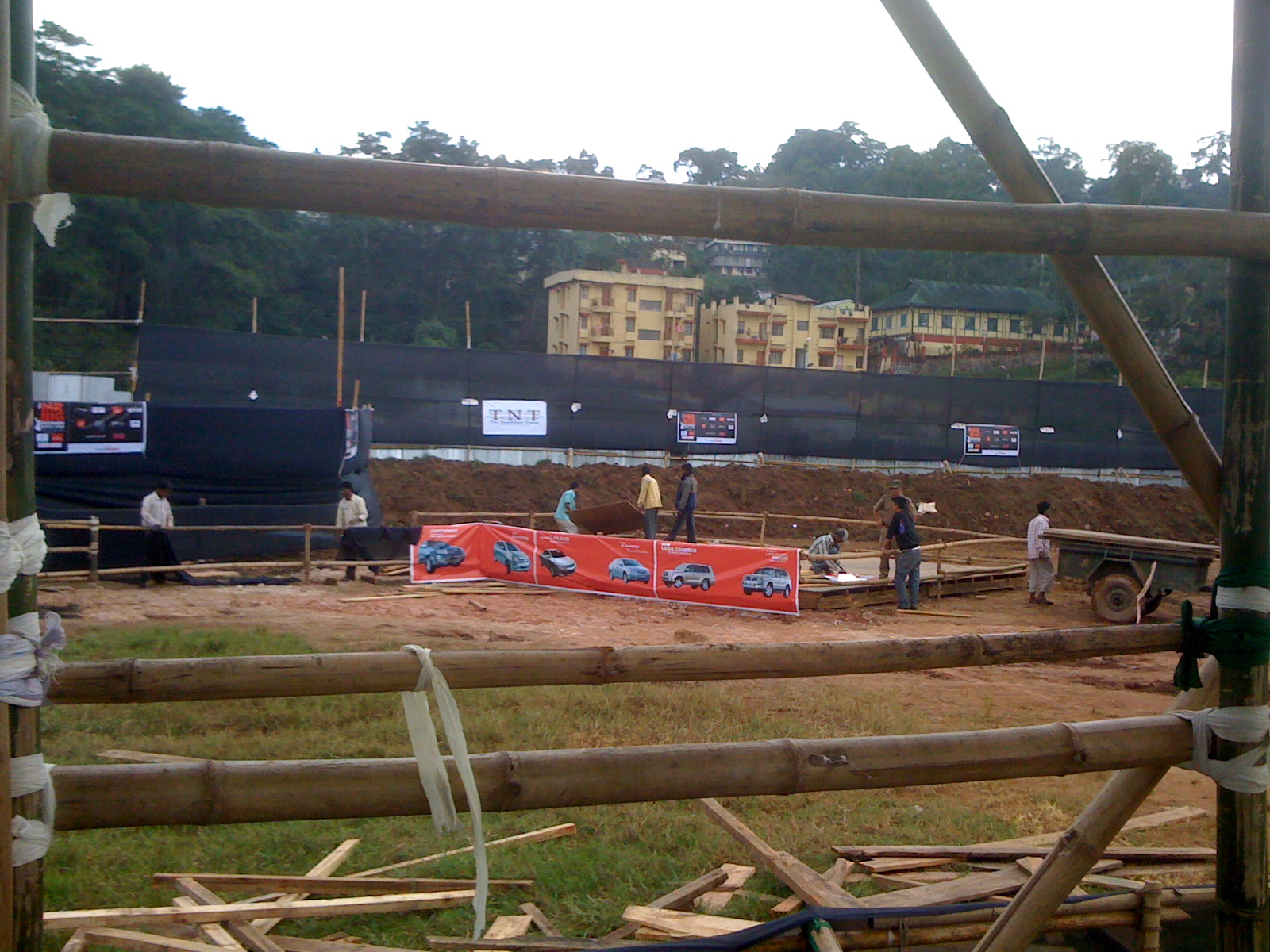 The band puts on another great show after which, we're hustled by the promoter into a small fleet of vehicles backstage. Overzealous fans surround us banging on the windows. It's chaotic and unsettling as we're not certain that everyone is in fact present and accounted for as we start driving away. We have a few wanderers in the touring party and we don't want to leave anyone behind for fear of them being lost forever.
Driving to the venue from from the hotel this morning, we passed no landmarks to speak of. English is not widely spoken here, or at least if it is, it's not acknowledged. Even here in the city there is no cell service, no way of contacting each other. It's not like you can just go and knock on someone's door and ask to use their phone. If by some slim chance they actually had a land line, you'd have no idea who to call, a fact that is not the least bit comforting. There is no way any of us would be able to find our way out of here, you can't just hail a taxi and we have no address or info for the hotel, other than it's name. The promoter has already started sending vehicles away, so all we can do is hope that he has accounted for everyone. It's another 40 minute drive winding back up those same crazy roads to the hotel, only now in the dark.
Day 4 oh boy, is it really only day 4?
Another travel day and Hooray! we get a bus!!!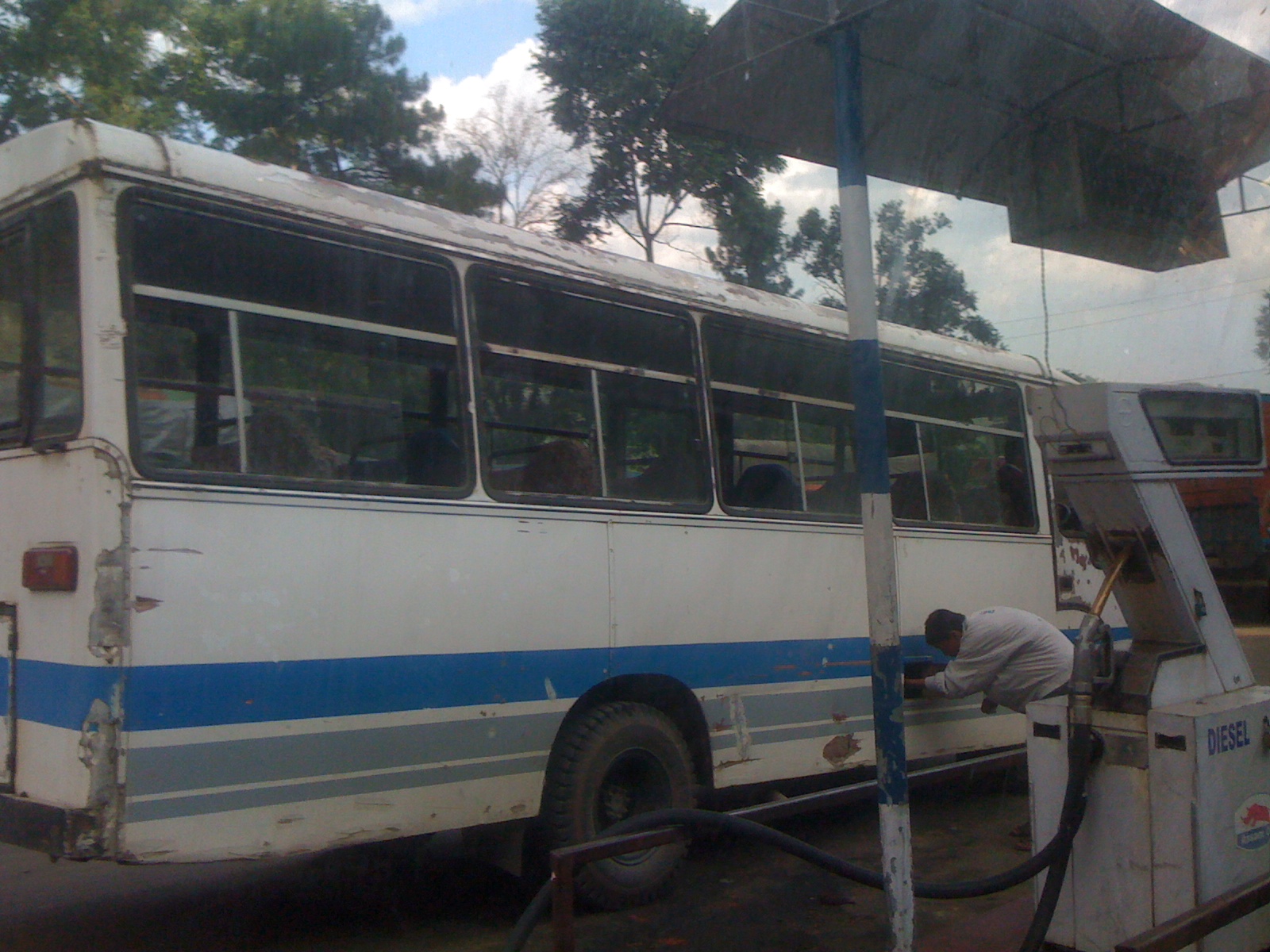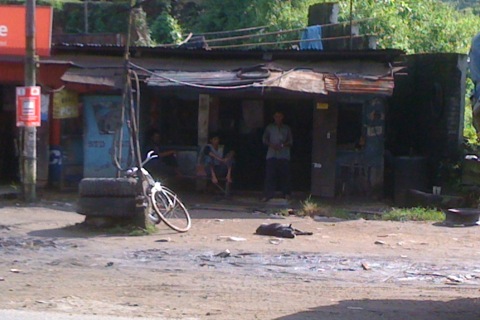 Just Kidding….
We climb into our trusty vans for the 4 hour drive back to the airport on the roller coaster of windy roads. I'd really feel bad for anyone who gets car sick. About an hour into the trip one of the vans gets a flat so we pull off at the local Flying J. ( I wish!) A flying J here would be like being at the Cheesecake Factory right now. Tire changed and we're back on the road. Three hours later and we finally reach the airport. The airport- Our bass player best described it as the cantina bar from Star Wars (something I could relate to). Two flights later and we arrive in Dimapur. And I thought Scranton had a small airport.
Dimapur
I Like camping, I like camping, I like camping……ok people have survived much worse, I can survive this. Here we are at the Niathu 'resort' and I use that term loosely. I'm no girly girl, but I've grown used to a few amenities in my 40+ years. For instance, hot water, a real shower as opposed to a tub with a hand shower and nowhere to hang it, a shower curtain, hell a curtain on the bathroom window, a hotel room without a side dish of malaria, ok let's just cut to the chase a Super 8 or a motel 6 would be awesome at this point. Despite the dismal accommodations, our host Carolyn, a young woman in her early 30's, is very nice and wonderfully hospitable. We're not quite sure if she is the manager or the owner of the hotel. She shows each of us to our respective rooms.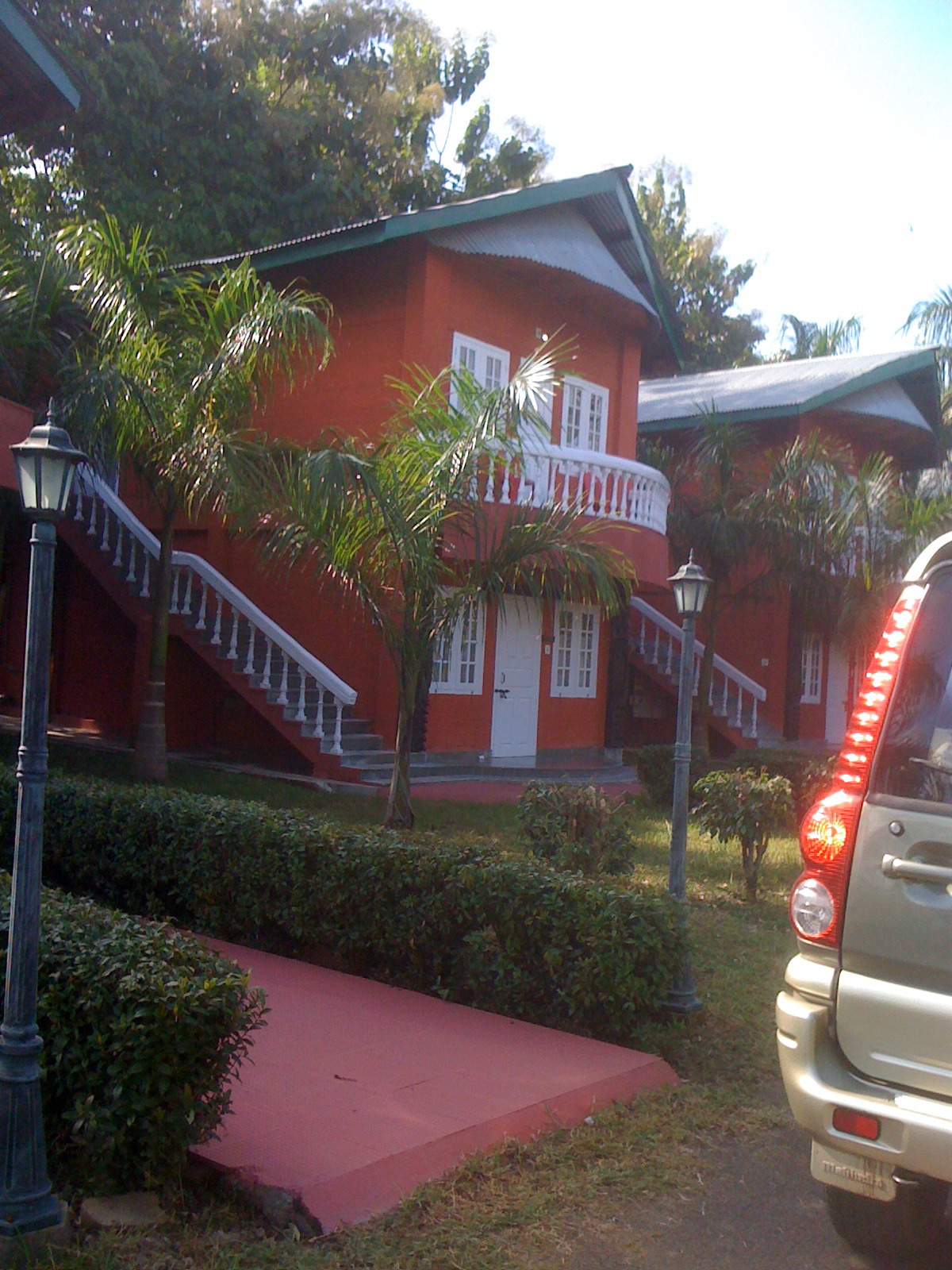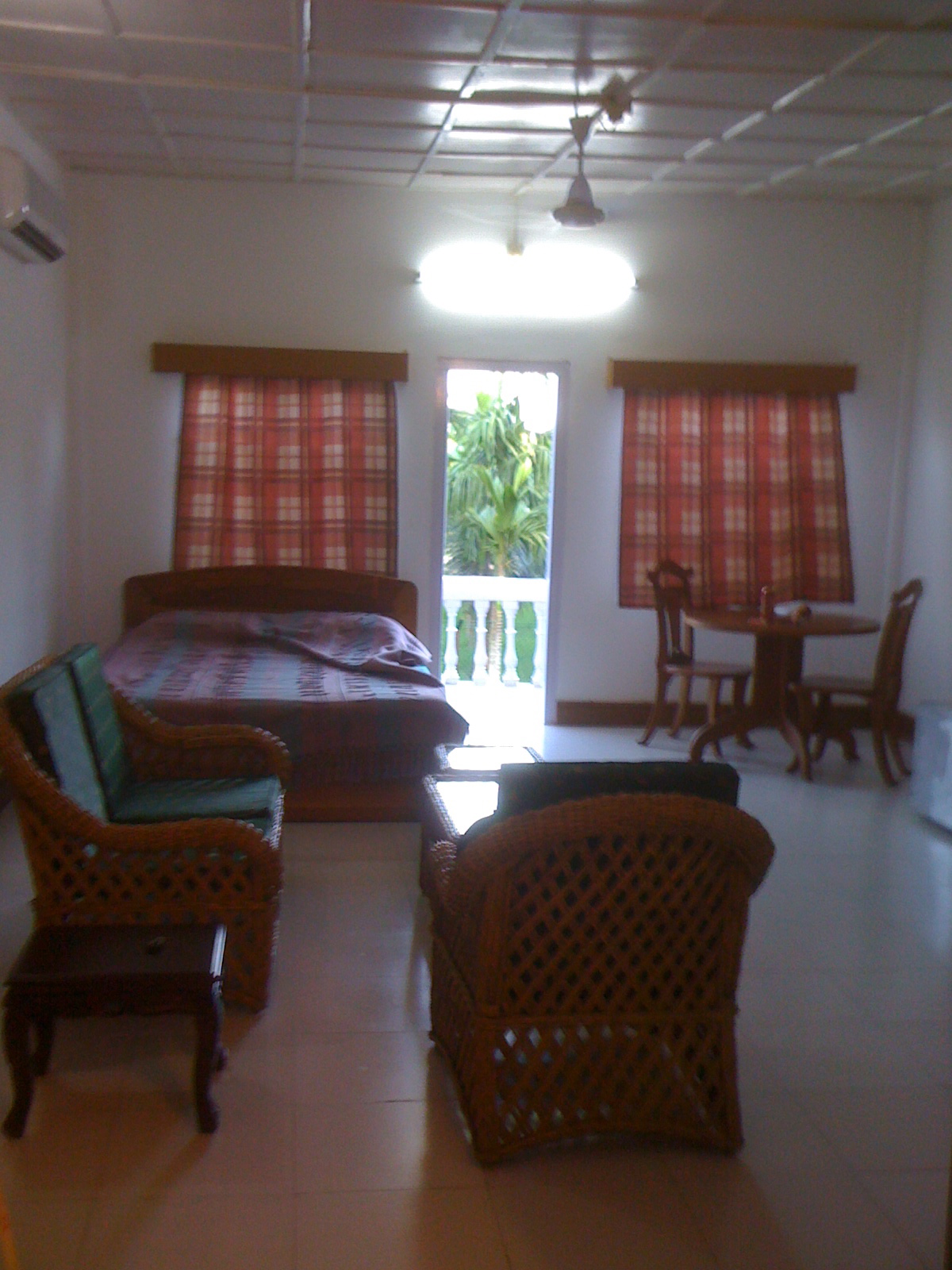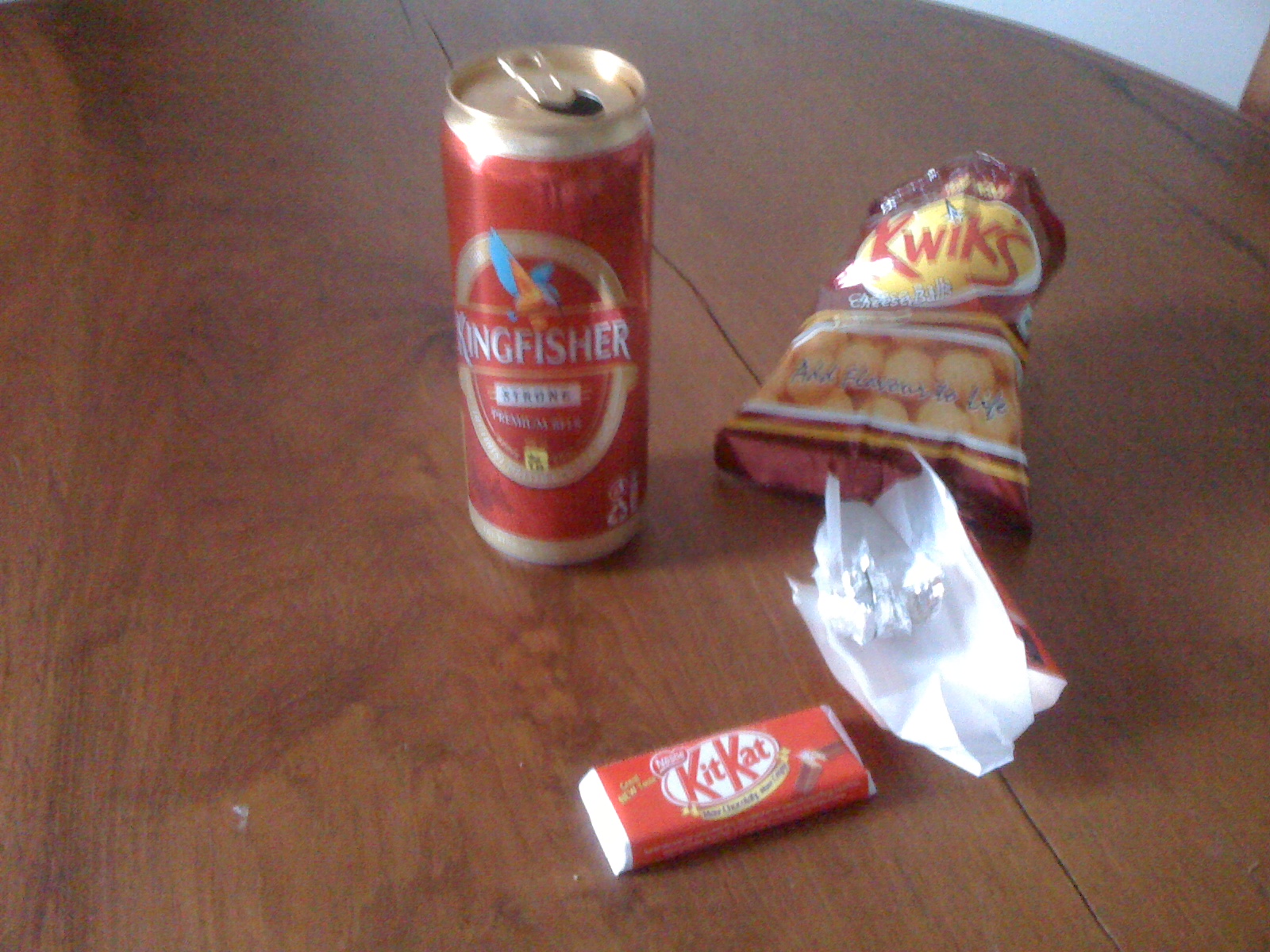 The rooms are in what looks like little cottages, and they are building what I'm assuming will be the real hotel about 100 yards away. When I get to my room, she tells me there are cold drinks and chocolate in the fridge. Thank God for chocolate and beer! I hope they have a lot more of it because the only way I'm going to get to sleep tonight is by getting so drunk I forget where I am. Finally, we have a day off/ travel day where we arrive at our hotel before 7pm, and this should have been the day we only had 4 hours to spend in the hotel, because I cannot imagine what I'm going to do for the next 36 or so hours we'll be spending here. I might be hanging out at the gig a lot longer than normal. And what's with the bucket of water in the bathroom?


We are told there will be dinner in the hut next door at 5, so we arrive to find some Chinese food that was probably warm at some point but not anymore. The good news is there is beer and what seems like an endless supply of it. So, here we all are having dinner by candlelight because the power keeps going off, eating cold food which is actually tasty but a bit worrisome, anyone heard of salmonella? Yes, this decadent, glamorous life of a rock and roll star, bring on the dancing girls – or not. Any of you who are fans of "Animal Planet" or the Discovery Channel know there is nothing more exciting than watching the circle of life. Ok, well yeah there's a lot of things more entertaining but that's what we've got. High up on the side of our dining hut are four geckos fighting over an assortment of crickets, bugs, and moths swarming the light bulbs, oh and here comes a praying mantis but he seems to lack motivation. We are mesmerized or is it anesthetized, by this spectacle of nature.

I go back to my room after dinner and find it crawling with bugs. Since there is nothing else to do I figure I would sit on the balcony. Big mistake, when I open the door there is a massive swarm of flying critters due to the light bulb above the door. No balcony for me. I walk into the bathroom and as I turn on the light a gecko scurries across the wall out the 4" gap between the wall and the roof. Greeaat, geckos in my room. I've been through this before and when those things start barking in the middle of the night it always reminds me of the scene with the velociraptors in jurassic park. I turn off the light while I find my pals to continue drinking, hoping the bugs will vacate. When I've finally consumed enough beer to relax enough to fall asleep, I return to my room and it's a bit less populated. While I'm getting ready for bed, I notice these little black bugs keep dropping on to the sheets. I brush them off and five minutes later there are more. I sleep with the overhead fan on full speed, all the lights off and the covers pulled up tight over my head. Through the night I hear the geckos barking over head, crickets chirping and god knows what else….of course all of it is in my room. I feel things landing on me as I try to sleep and pull the cover tight to flick them off. This is bullshit.
I feel like we're being held hostage, I had to drink about six beers just to relax enough to fall asleep and not worry about the gecko living in my bathroom, the endless supply of bugs falling on my bed and god knows what else I can't see. There isn't running water 24 hours/day, they shut it off at night and randomly through the day, that's where the bucket of water comes in. They haven't mastered electricity either as the power comes and goes through the night as well. It's just not funny anymore this is totally third world and we're right in it and there is absolutely nothing we can do because this is probably the nicest place around. We couldn't even turn around and get back on a plane because there won't be one until tomorrow. There's no where else to go, no contact with the outside world, not even a phone in the hotel room, hell I don't even think this place has a front desk. We are so screwed.
Having survived the night, I wake up to find that the door next to my bed (which leads to the balcony), appears to be moving. It's almost entirely covered in these disgusting silverfish looking bugs and there are dead black bugs all over the floor by my bed, it's a good thing I have my shoes nearby. They've finally turned the water back on so I attempt a shower, it's ice cold- no hot water and of course there's no shower curtain so the entire bathroom get soaked as I wrestle with the hand shower and try to get clean with not so clean water.
I start to wonder if I'm over reacting or just being too much of a girl, and I'm relieved to find out that everyone is as vexed about our situation as me, I'm in good company. Even the band, who are all pretty tough guys, are feeling apprehensive and edgy. None of us, except the TM for a few brief moments, has had cell service since we arrived in India. There has not been a single land line to be had anywhere since we left Bangalore. No TV, no internet, no boat, no bike, no motor car- you know the song. The only English speaking people we've encountered are the handful of local production crew traveling with us. We've had no information from the local promoter regarding flights, hotels, names, phone numbers, addresses for anything. We're really feeling very isolated and not the least bit secure. During the handful of days that we've been here, most of what we've seen and driven through has been appalling and hard to comprehend- people doing back breaking work without simple tools because the tools cost more than the labor, buildings that would never pass code in the U.S. (It's no wonder why when there is an earthquake here, there is so much destruction), miles of shacks and shanties built on top of each other. It's a country of contradictions, so many people living in utter poverty and horrid conditions yet seemingly unaffected by it. So many with nothing but yet they have the money for a concert ticket. Women and men walk barefoot along the dirt roads, dressed in beautiful vivid colors and crisp whites, and I cannot for the life of me figure out how they can get their clothes so clean with such dirty water? How in this century can there be so many people living without clean, safe water and reliable electricity, things most of us take for granted?
It's just a lot to wrap your head around.
Stay tuned for part three next month.