When I was 17 and an intern at Interscope Records in New York City, my boss, head of radio promotions, said to me, "Don't get into this business. The music business is a terrible business."
I can handle it. I thought to myself. I looked at the photos on the shelf next to her desk. "Haha, yeah, it seems pretty crazy. Hey is that you and Eminem?"
"We've been together since the beginning. He is a true artist."
I sort of listened. And I sort of knew what she meant. Mostly I was thinking about how badly I wanted to prove, mostly to myself, that I could handle it.
When I was 11, I learned to play finger style blues guitar from the guitar teacher and music store owner in my town. He is now one of my closest friends, but at the time we barely knew each other (also I was 11, and he was a man who owned a music store so…yeah). One fall day he hosted an open mic at our community center. We never had stuff like that going on in town, so I didn't even know what an open mic was. He encouraged me to perform, and I ended up playing "Foolish Games" and "Save Your Soul" by Jewel, and an old swing number called "Believe." I was so nervous I was shaking. My dad filmed the whole thing on our camcorder, which my little brother recorded over a week later when he and his friends wanted to document their backyard dinosaur-bone excavations.
For my 12th birthday, my dad took me to see Ani Difranco headlining the Falcon Ridge Folk Festival in nearby Hillsdale, New York. He bought me a pentagram—I was really into Wicca at the time—and sat on the grass hill with me, surrounded by RV hippies and babies on boobs, and watched Ani give herself to us. Her body was a channel, and her voice and guitar were the message. She hit the strings so hard that the buzzing and the sliding out of tune became part of her songs. She roared her lyrics like a lion, completely free of all fear. It felt like the first time she'd ever been in this moment, and simultaneously like she'd always been in this moment. She was her, and she was us. And yet she was beyond herself and us. I don't know how or why, but I wanted to do that, and I felt like maybe I could. So I decided to try.
A few days later I performed a song I'd written for my dad and grandparents. It was called "I Am A Puzzle, " and the guitar part was inspired by Ani's playing. The lyrics were:
   I am a puzzle
   I am hard to complete
   it's hard to find the whole thing
   and then put it all together
   but I have a missing piece
   I have a part of me missing
   if you have a puzzle
   and you wanna see
   the whole damn thing
   you're gonna need
   that last piece
I don't remember exactly how 12 year old me felt at the time. But I do feel like those lyrics, however silly, bore an uncanny resemblance to my life that came later.
There are so many pieces to this puzzle.
I spent my teen years performing songs like "I Am A Puzzle" and "Tears On My Pillow," and "Crying and Cold"  to farmers, bikers and any friends and parents I could get to come out to whatever Columbia County bar and cafe would let me play. I took great pride in my ability to make bikers cry when I sang the sad songs.
That summer at Interscope was the only summer since I was 14 that I didn't have a paying job, and I didn't know what to do with myself. I was living off the student loan I'd taken out earlier that year. I mostly stayed at home and worked out acoustic covers of my favorite songs by The Knife.
For my birthday in July, my then-boyfriend gifted me a Focusrite audio interface and a pair of AKG headphones. He'd given me a bootleg version of Logic 9 and was adamant it was going to be my "new favorite thing." My grandparents gave me an SM58, which I'd asked them for. In my spare time between school and work, I would play in Logic. Over the next year or so my boyfriend and I collaborated quite a bit. But we ran into issues because he didn't have to work and I did. I would get frustrated that he was making more than me, and he would want me to sing the things that he'd written. But I wanted to write and produce too. Was I territorial and stubborn? Or was I just in a different position than him?
Writing good songs was one piece of the puzzle. Producing was another. And yet another was the balance of work (for money to live) and art. It was becoming painfully obvious that the cards I'd been dealt in that regard were not the most generous.
In the years since then, I have experienced all kinds of resentment toward those that have more cushion/support/time/money/etc. But resentment is a heavy thing to carry around, and I decided at some point to stop carrying mine. Perhaps it was when I realized that, even though I'd spent most of my life working on music, I still had many many pieces of the puzzle to find and put together before I was going to have a career.
Ten years later, I wonder where I would be if I'd heeded the advice to stay out of the music business. I have never truly considered another path aside from that of a musician and artist. Sometimes I feel overwhelmed by the complexity of it all. But mostly I still feel like I want to prove, mostly to myself, that I can handle it.
---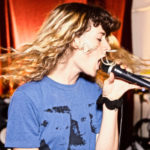 Elana Carroll is a songwriter, producer and performer who has been making original music for 15 years. She holds a BA in music and critical theory from Bard College at Simon's Rock.
Elana's interests as a writer/producer span from electronic and dance to pop and country, and she co-writes with other artists as well. Her current focus is on teaching (she will be teaching a Beats by Girlz class this fall), and her own project, Party Nails. She feels it is part of her purpose in this life to "normalize" non-males in the music business through performance, teaching, and mentoring. She is particularly fascinated with popular culture and music in the age of technology.