By: Michelle Sabolchick Pettinato
You've finally got your first tour, hurray! Now what?
There is a lot of preparation that goes into a tour. Of course the bigger the tour, the more planning needed, but even a small club tour needs some forethought. For this blog, I am going to concentrate on a club/theater tour and mostly from the perspective of being hired to mix FOH.
The basic information you should have is:
Input list
Stage plot
Monitor needs
Technical spec
Let's start with the Input List and Stage Plot.
If you haven't worked with this band before you'll want to contact them to find out exactly what's going on on stage. Start with the Production Manager or Tour Manager if there is no PM. They can tell you what kind of venues you'll be seeing. They will also advise you with regards to the budget and whether or not the band will be carrying any production (sound, lights, etc.) or if the production will be provided locally.
After you touch base with the T.M. and/or P.M., you want to talk to the other sound engineer if there is one. If you are hired to do FOH, call the Monitor Engineer and vice versa. You two want to make sure you are on the same page with all audio information. If this person has already been working for the band, she/he will be your best source of info for putting together the input list and stage plot. They will also be able to give you insight into things like personalities, stage volume if the singer has terrible mic technique and any other issues related to the performance.
Depending on the type of act, there may or may not be a music director. If there is, this would be the next person to contact. If there is no other sound engineer or PM, the MD will be able to advise you as to exactly what the instrumentation is on stage.
Finally, reach out to the band members directly to nail down the details of their particular position and needs.
The questions you need answers to are:
* How many people on stage?
* What is the instrumentation, who plays what?
* Where are they located on stage?
* How many vocals? Are they RF or hard wired?
* Are there any tracks?
* Does the band carry any gear, i.e., microphones, in-ear monitors, console, etc.
* Are the amps on stage or off? What is the stage volume like?
* If you will be mixing monitors from FOH or are the monitor engineer, you will also want to find out what each member's monitor needs are. (More on this later)
! TIP !
If you are joining a tour that is already in progress, it's a good idea to get a week or two of shows under your belt before you start making any major changes. This will give you a chance to feel out the situation and see what's working and what's not. Simple changes to the input list can be handled on a daily basis. But if you do want to make any big changes (microphones/consoles/etc.), it's better to wait until the next leg of the tour unless there are any major issues that need to be resolved immediately.
Other good things to know:
What issues, if any, the band has been having with their sound?
What are their ideas about how they want to sound? What do they want you to achieve with the mix? Some artists have a very clear vision of what they want to sound like, and some leave the mix completely up to the FOH engineer. You want to find out what your artist is looking for.
Once you have gathered as much info as you can about the band/artist, you can create an input list and stage plot. The input list and stage plot can contain as much or as little information to suit your needs. The more detail you can provide on both of these the better.
The Input List
The input list should contain at minimum: Snake Channel, Input, Microphone, type of mic stand, and inserts if required.There are a couple of ways to go about the order of inputs. If you are mixing monitors from FOH, it's pretty straight forward. If there is a separate monitor console, it is possible that FOH and Monitors will have two very different input patches according to each of their needs.
! TIP !
While not absolutely necessary, it is a good idea for either the FOH or Monitor input patch to be 1:1 with the snake patch. It simplifies things and saves time when tracking down a bad input.
*You can create your input list to follow your input patch.
*You can start from one side of the stage and work across to the other.
*You can start with the upstage inputs and follow with downstage. It's entirely up to you, but it's a good idea to try and keep inputs that are within proximity to each other on the stage, close to each other in the input patch. Doing this creates less confusion when patching sub snakes into the main splitter or snake.
! TIP !
Think about your approach to mixing the show. Do you have an input or two that needs a lot of attention, for example, a lead vocal that needs to be ridden all night, or perhaps several vocals that need to be blended for harmonies? Anything that you might need to be frequently tweaking during the show should be placed in a convenient spot on the surface so you can access it quickly. When I mix on analog, I like to have my lead vocal in channel 24 because it's right next to the VCAs where I spend most of my night. I always try and build my inputs out from the master section with the inputs I need to adjust most frequently as close to the VCAs as possible. Inputs that don't need a lot of attention can live at the far ends of the desk. Digital consoles vary in their design, which requires more thought when designing your patch. Does the console have layers or pop groups or can you put any input anywhere? Think about this and your workflow when you are figuring out your input patch.
Microphones
If you are not carrying any microphones, you'll want to give a couple of options for anything not considered standard. If you are carrying microphones, just state what microphone is on what input.
Mic Stands
Does the input require a short boom, tall boom, tall straight, etc.? Pretty self-explanatory.
Inserts
Do you require any inserts, and where do the go?One final note on input lists, if you are going to be relying on local production and a variety of consoles, you should plan accordingly. You will probably end up making adjustments to your input patch for the console du-jour. With that in mind, keeping things as simple as possible will make your life much easier.Here is an example of a very basic input list: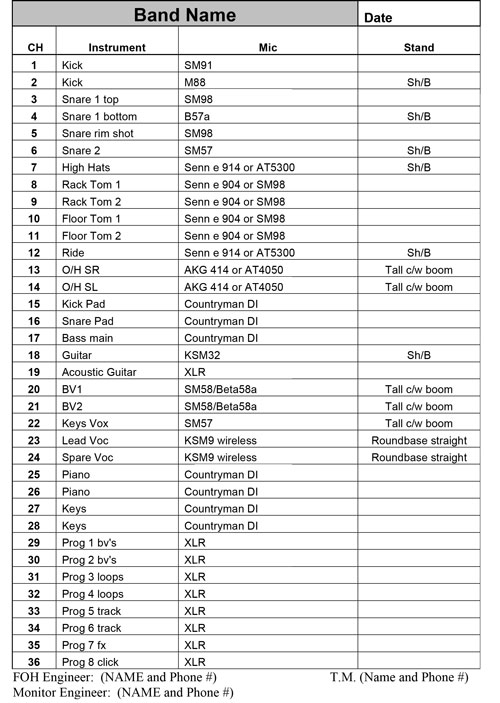 The Stage Plot
Now that you've got an idea of who is playing what and where on stage, you can create a stage plot.
The Stage Plot should show the location of everyone on stage and the backline. You can include things like distances from the drum riser to the downstage edge, the distance between the backline and vocal mics, location of specific inputs, AC drops, tech locations and monitor world, etc., anything relevant to the stage.
Again, the more information you can provide the better. The bare minimum would be the position of everyone on stage.
Here are two examples: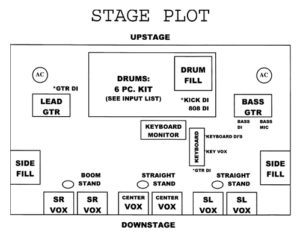 You can create stage plots in any drawing program, Word- using shapes, PowerPoint, etc. You can find a list of software and apps to design a stage plot here.
Both the input list and stage plot should contain contact info for both FOH and Monitor Engineer and Production Manager or Tour Manager.
Monitors
If you are doing monitors from FOH or if you are the Monitor Engineer, you'll need to find out what the band's monitor needs are. Do they use in ears or wedges or a combination of both? Are monitors done from FOH or do they require a separate monitor console? What does each of the members need to hear in their monitor mix? Do they need side fills? Does the drummer need a drum sub and wedge or just a wedge? You get the idea.
Once you've got these items sorted out you can start working on a technical spec. I'll focus on that in the next blog.