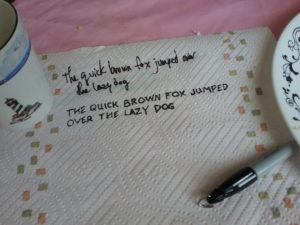 In the age of computers most drafting is done with sophisticated software, however not every production meeting is done in the office.  What happens when you are asked to make changes a bar or café away from your desk? And if the changes are only half thought out, is it necessary to delete several hours worth of work to accommodate them?  Hand drafting is the old world solution to a new world conundrum. I was fortunate enough to learn hand drafting in a theatre-specific drafting course (computer-aided drafting was covered later). Besides the basics of drafting, it covered an entertainment business requirement:  how to do your work at a bar with little space and little resources. The final exam was to draft stage plots on diner placemats while eating and conversing with classmates (in my case delicious Finnish pancakes with thimbleberry jam). So, besides it being the best final exam ever, it was one of the most applicable.
The key is clarity.  A stage plot is useless if your hungover future self is unable to read the mess of beer stains and drunken scrawl. This might mean you have to take your time or use several napkins. Do not be afraid to write clarifying notes, especially when your drunk brain is not on the same wavelength as your sober one.  Also, I generally print in all caps if I want someone else to read my handwriting. There is a proper way to draft each letter that involves methodical straight edges and deliberate italics, which I struggle to follow.  In any case, it is probably best to avoid cursive. The letter 'M' is a good guide for spacing between words. If there is any chance of someone other than you using your napkin sketch as a reference, then avoid shorthand.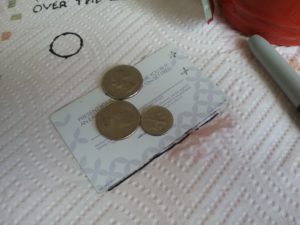 Clarity in sketches comes from straight lines and consistent proportions.  Discount cards are great straight edges, cocktail napkins for paper, and coins and picks are useful for curves.  In my diner final, I was restricted to what I generally carried on my person, so I used a pen and a student ID. If a more complicated sketch is required of you, start by using boxes and lines to set up proportions.  From there the more organic shapes can be estimated, and usually intricate details can be listed for later rendering in a more appropriate workspace. Also be mindful of the scale of the actual dimensions and proportions.  Sometimes drawing a figure to represent a 6-foot tall human will make the error of the 18 inch Stonehenge obvious before its construction. A handy guide for drawing humans who look humanesque is to start by drawing seven evenly spaced horizontal tick marks.  In between the top two ticks is where the head is, the second, third, and fourth tick marks are for the upper body as four vertical parallel lines. Finally, the last half of the tick marks are for the legs with three vertical parallel lines. This little figure is useful for anywhere you want to upgrade from a stick figure:  lighting plot, mic plot, set design, and even storyboards.
If this article seems relevant to your work environment, then practice drawing shapes and writing in block print.  With time it should become faster and easier, and your sketches will make more sense. Sketching is one of those hobbies that can easily be an on set pastime or make a long bus trip seem shorter.  There is a whole segment of the art community dedicated to quick sketching of the scenery around the artist: Urban Sketching. It is like people watching, but with style. And if you need inspiration, look at Sylvia Massy's artwork of the audio world.  Or if you have a more literary bend, you could work on calligraphy, and have the hottest slates at the studio. Okay, you do not have to master bar sketching, but working in a little practice here and there will up your communication game.
---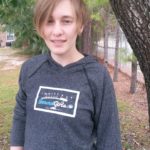 Nicole Kirch is a North Carolina based recording engineer and musician.  In her short career she has worked on location sound, post-production, stage crew, and electronics.  Her love of sound stretches to almost every niche.  Nicole holds a BA in Sound Design from Michigan Tech (the first female to graduate from the program) and a BS in Electrical Engineering Tech from Austin Peay State University.   She believes in female empowerment and independent music.