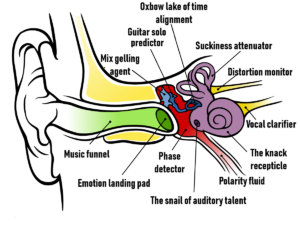 Imagine if, on the first day of school, your teacher had stood up and said "Look, we're going to try this thing called reading. It isn't for everyone. Some of you will just have an eye for words, and some of you won't. If you find you don't have the knack, you might as well just leave it." I like to think that would be greeted with a bunch of toddlers falling over laughing, but you would expect that questions would be asked about the teacher's career choice at the very least. It is absolutely ridiculous to think that the ability to read is predetermined and cut and dry, so why do we listen to people who say only those with an ear for music can become great sound engineers?
The jury is still out on whether there is such a thing as an innate, genetic talent for hearing and music. Even if there is, the thing about genes is they very, very rarely account for the whole spectrum of differences amongst the population. A gene might give you a head start, but the environment in which you grow up can influence the development of that skill as much, often more. Even for child prodigies, an initial flair gets nurtured (or perhaps smothered) by parental encouragement and hours upon hours of daily practice. It is much the same with sound engineering. Some people might take to it quicker than others, but everyone benefits from practice and study. A skill being hard-earned does not negate its value, otherwise, why would we bother going to school? When I started out I was in awe of what my more experienced colleagues could pick out in a mix, and how quickly they could not only detect but identify the cause of a problem. I didn't think I'd ever be able to do it. I'm still far from perfect, but there are plenty of sounds I don't even think about how to fix now; I've heard them so many times I automatically know what to do. I'm still discovering new aspects of my favourite songs that I've listened to since I was a teenager. Fancier professional earphones can only partly explain that!
So where has this belief that only the golden-eared chosen few can make it in the music industry come from? I suspect it's people who have been told all their lives that they have an ear for music. When people do well, they like to find logical reasons for that success. The special gifts that they are born with, combined with what they feel was hard work, mean they deserve everything they have earned. Of course, they often do, but too few people acknowledge the roles that the help of others and luck play in a field as fickle and competitive as ours. Similarly, if you don't make it, it is easy to say that you simply weren't cut out for it, that you didn't have a good enough ear. Only successful people want to believe that they live in a meritocracy. In reality, it takes the support and advice of countless colleagues and a big chunk of luck, in addition to skill and determination, to get your break. However, this doesn't mean you should give up now. You can work to improve your knowledge and skill set and grab as many opportunities as you can. Put yourself in the path of luck as often as possible and be ready when it hits.
Anyone who knows me knows I'm not one for baseless positive thinking. I don't think we can all become astronauts, as long as we simply believe in ourselves: there aren't enough shuttles, and someone has to do all the other less exciting jobs. However, someone does have to be the astronaut. Someone has to mix that fantastic up and coming band. Someone has to system engineer that stadium tour. Someone has to do all those myriad jobs that don't get as much attention but can be just as satisfying (and often better paid!) like RF tech, comms tech, or installation engineer. Who gets to decide? Your school music teacher? That lighting guy? Some blogger? What do they know? Even if an ear for music is encoded in your chromosomes, are they suddenly geneticists? How did they get a sample of your DNA anyway? Don't be put off by other engineers telling you that you don't have what it takes either. However subconsciously, they are reassuring themselves that they deserve to be where they are and are trying to protect themselves from competition.
In research on geniuses, one of the most important factors is their passion for their subject, known as the 'rage to master.' They study and practice so intensely not just because they've been made to, but because they want to because they must. They don't feel right if they aren't working on their "thing." The author Hunter S. Thompson once wrote a brilliant letter when he had been asked for life advice, in which he advocates finding a lifestyle you enjoy and creating a career around it, rather than the other way round: "The goal is absolutely secondary: it is the functioning toward the goal which is important." Let's be honest, sound engineering is competitive, but you don't need to be a genius. If sound is what you love, don't wait for some authority to tell you that you have what it takes, to give you permission to do it. Decide now that you are one of those special people, and just do it. The Department of Who Does and Doesn't Have an Ear for Music will never know. Maybe you won't make a living out of it, but the only way to find out is to put yourself out there, learn, practice and improve. Even if you never get a gig bigger than the local bar, if no one hears your mixes, if no one subscribes to your podcasts, the important thing is that you enjoyed the process, and so the net positivity of the whole world is up.
---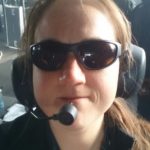 Beth O'Leary is a freelance live sound engineer and tech-based in Sheffield, England. While studying for her degree in zoology, she got distracted working for her university's volunteer entertainments society and ended up in the music industry instead of wildlife conservation. Over the last ten years, she has done everything from pushing boxes in tiny clubs to touring arenas and spends a lot of her life in muddy fields working on most of the major festivals in the UK. She has a particular passion for flying PA, the black magic that is RF, travel, and good coffee.