By: Kelly Levstek
I got word this week that I'll be working a corporate conference in Novi, Michigan March 20th-22nd. It's a two day conference for a prominent beauty line. I will be working the gig with my fellow co-worker and long time veteran of live sound, Rod Price. He'll be showing me the ropes and teaching me to fly my first V-dosc rig.
This past Friday I prepped the gear and got the layout for the stage. We will be using a small setup with two d&b hangs of three V8s, one V12, and two T10s. We also will have four E3 speakers for monitors and d&b MAX for wedges. FOH and monitors will be run on a small compact console, the Yamaha DM1000.There will be four   playback lines ( 2 CD Players, Left & Right), four video lines (2 separate feeds left & right), and two RF lines.
I had another co-worker, Bennarr, also known as "B" give me a hand in setting up console and patch the FOH rack. The FOH rack consisted of two CD players, an EQ Station, and the FOH 28 pair box. B showed me how to patch everything correctly to the 28 pair box, the 28 pair box split out into three pa-cons with male XLR fan outs to the console.
There is another 28 pair box for Monitor World and a 350 ft snake of a 28 pair, AC, and Pa-Con cables running from FOH to Monitors. I patched the Monitor 28 pair box with the two lines of RF, 12 lines of mic inputs and ran from two separate 12 pair cables to stage XLR boxes, and one line of COM.
We then checked all of the amps by sending pink noise from the console and checked all of the speakers. We also checked each input channel on the console, each RF mic, and the input boxes for stage. I then set up one line for COM, once we determine how many feeds the backstage area will need can run more stations. The last thing I checked was COM headsets and belt packs. Then we loaded it into the truck and it's off to Michigan we go!
Stayed tuned to find out how the gig went.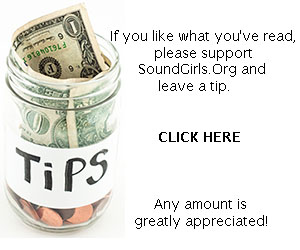 All pictures courtsey of d&baudio.com